Let us face it; this year, 2022, has been a tough year for most gamers, users, and browsers alike. Those of you in search of a powerful GPU model for your PC machine might be wanting for more from the segment.
That is a difficult ask because the market has seen a slump of late, and you might find it extremely difficult to get a new graphics card for yourself. When you own a decent GPU model, then you might want to make use of it.
However, when you do not own one and are using an obsolete model, then it is safe to say that you are getting desperate. When you are part of the last group of people, we may not have some good news for you.
But we can give you some suggestions through this comparison review so that you can take our advice and get something noteworthy for yourself. In this post, we will be comparing two phenomenal GPU models produced by two top-notch manufacturers in the market.
They are the AMD Radeon RX 580 8GB vs the Nvidia 1650 Super models. Nvidia and AMD have been in this industry for many years now. They know what the consumer expects from them. But it is not necessary that all products should satisfy you.
Some of them might not, while some may. That is our job to test, review, and then give our verdict on them. Nvidia Turing-based products have come out over the years. The competition from AMD seems to have spruced things up between the two.
The maker has filled the lineup of the mid-range and the top-end products as well by using the Super term on them. Like the one, we are about to discuss about, the GTX 1650 Super. While the earlier model, the GTX 1650, was a decent one, this unit seems to have nailed the right spots.
There were some minor drawbacks in the performance of the earlier model. But the maker has solved all of them in this model, apparently. We are also astounded to note that Nvidia has priced the products somewhat aggressively.
We normally use this term for AMD models if you read our reviews. However, for a change, we are going to be using it for an Nvidia model. There is a first for everything. It comes above the GTX 1650 and below the GTX 1660.
You will be stunned to note that the GTX 1650 was released for $150 in April 2019. That is pretty cheap, but the product lacked some features to make it competitive. This model, on the other hand, comes for under $160 and has some power.
Can the RX 580 8GB model fight the war against the GTX 1650 Super easily? Now, the AMD RX 580 8GB is their top 1080p contender. Read on to know whether it can take on the fight against Nvidia's GTX 1650 Super GPU.
AMD RX 580 8GB
Nvidia GTX 1650 Super
PROS
PROS
The design of the GPU is opulent.

It comes with a lower multi-monitor.

There is a video playback power use.

The model is much quicker than Radeon RX 480.

It has a similar price to that of the Radeon RX 480.
The design of the unit is relatively small and elegant.

The model can reach 60 fps or more in many titles.

It is pretty SFF-friendly.

It is able to offer you with a stunning performance.

The product is affordable.
CONS
CONS
The product consumes more power.
The fans can get very loud.
CHECK ON AMAZON
CHECK ON AMAZON
Price & Availability
The AMD Radeon RX 580 8GB GPU is priced under $300. Now, AMD seems to have got it all wrong here. Right from the start, we have been critical about their pricing for this particular unit.
We really don't understand the logic here, but that is how things are for the moment. Unless they reduce the price drastically, you are not going to end up with a brand for a value product. When you own the RX 580 8GB for even $500, you may be able to sell it for at least $100.
That is allowed. Likewise, if you get the AMD RTX 3070, which is priced under $1400, you can sell it for only $500. You get the idea. So, we would suggest that you wait for a few more years to let the price come down before dreaming of getting one for yourself.
The Nvidia GTX 1650 Super GPU is priced under $160. The base model costs you the given amount, but the top-end version can go up to $230 at the most. Nvidia seems to have got it to spot on here.
It is splendid across all games. The model is comparable to the Radeon RX 580 as a single frame only separates them. This is almost the same as what we viewed on the earlier GTX 1060 6GB model is somewhat slower than the 1650 Super resulting in more performance.
When you have under $200 and are looking for an exceptional product, then the model should be a fantastic choice for you. Nvidia has got it right this time for a wonderful change. But the AMD still has that potential performance ability that can make life hard for the GTX 1650 Super.
AMD RX 580 8GB vs Nvidia GTX 1650 Super – Specs
| Specifications | RX 580 8GB | GTX 1650 Super |
| --- | --- | --- |
| Interface | PCI Express 3.0 | PCI Express 3.0 |
| Chipset | | |
| Chipset Manufacturer | AMD | NVIDIA |
| GPU Series | AMD Radeon RX 500 Series | GeForce GTX 1600 Series |
| GPU | Radeon RX 580 | GeForce GTX 1650 SUPER |
| Core Clock | OC mode: up to 1355 MHz Gaming mode: up to 1340 MHz | 1755 MHz |
| Stream Processors | 2304 Stream Processors | 1280 |
| Memory | | |
| Effective Memory Clock | 8000 MHz | 12000 MHz |
| Memory Size | 8GB | 4GB |
| Memory Interface | 256-Bit | 128-Bit |
| Memory Type | GDDR5 | GDDR6 |
| 3D API | | |
| DirectX | DirectX 12 | DirectX 12 |
| OpenGL | OpenGL 4.5 | OpenGL 4.5 |
| Ports | | |
| Multi-Monitor Support | 4 | 3 |
| HDMI | 1 x HDMI 2.0b | 1 x HDMI 2.0b |
| DisplayPort | 3 x DisplayPort 1.4 | 1 x DisplayPort 1.4 |
| Details | | |
| Max Resolution | 7680 x 4320 | 7680 x 4320 |
| Virtual Reality Ready | Yes | Yes |
| Cooler | WINDFORCE 2X | Double Fans |
| Thermal Design Power | 300W | 100W |
| Recommended PSU Wattage | 500W | 350W |
| Power Connector | 8-Pin | 6-Pin |
Design
The design of the GPUs of late has been the talk of the town. Users are specific that their products come mildly designed. As far as GPU models are concerned, they need to be neatly designed.
PC designers do not want to find it challenging to place the model inside the PC case. This was something that bothered many developers a decade ago. Today, you can find them opulently handling the situation.
Can the AMD RX 580 8GB change the situation anyway? That is what we are going to find out. Does the Polaris, Enhanced come hard to the Nvidia model? If you look at the graphics card, there isn't much to talk about.
The maker hasn't done anything noteworthy or made significant changes to it. The Sapphire's Nitro+ Radeon RX 580 Limited Edition card comes with two BIOSes that have different clock rates.
If you look at it from the outside, it has a decent appearance. Yes, it is somewhat vintage in looks, but also not that cheap looking. You will note that the plastic fan shroud resembles a polished metal.
It measures ideal for all PC cases. There is a good depth of 3.5cm, making it a medium-size dual-slot card. The cooling technology present in the unit is fantastic. You can get a nice look at Sapphire's heat sink and two 6mm heat pipes.
Likewise, the Nvidia GTX 1650 Super GPU is based on the Turing architecture. You will want to know that it does not come with no RTX support here for ray tracing. However, you can note that it brings GDDR6 to the table versus the non-super using GDDR5.
The memory capacity is at 4GB, which can be a concern for some titles running ultra-settings. You would want to be careful with memory-heavy games. It has a 1,530 MHz base clock and a 1,500 MHz (12,000 MHZ effective) memory clock.
It also has a Turing NVENC encoder and not the Volta encoder. This was present in the previous GTX 1650 model. The NVENC encoding slows down the use of the CPU, but it immensely enhances the performance when using higher-resolution encoding and decoding.
This is a 2-slot card that is relatively compact for you to see what is inside the slot below it. That means you can fit several of the models without facing any problems. But check the PC case before doing that.
Performance
The performance of any graphics card is crucial for ensuring that the PC device works well. This is also the case here. The AMD RX 580 8GB GPU model is a unit that has a new batch name of the AMD Radeon RX 480.
Yes, that is right. When you have made use of either the Radeon RX 480 or GeForce GTX 1060 6GB, then trust us, you have not made a significant upgrade for yourself. Our tester thought the AMD Radeon RX 580 is for gamers who own older graphics cards.
However, this unit offers you with DirectX 11-based apps. Moreover, it helps ensure that it has a growing list of DX12 titles. This means you are getting playable performance for the 2560×1440 resolution coming in at the highest quality settings.
Besides, the maker wants to ensure that it is enhancing the software that supports the graphics processors. However, the main issue with the model would be the high-power consumption under load.
Moreover, it is not of a next-gen product. The Nvidia GTX 1650 Super seems to provide better performance than the previous model released by them. The Super model does come with minor changes, though not many. But it is enough to provide you with the required performance.
The power consumption is not too much at 100W in the Super (from 75W). It does operate like most of the AMD products that are running on sale today in the market in 2022. Sadly, the primary problem would be 4GB of VRAM.
It lets the card be capable of running several titles using Ultra settings at 1080p. Since some of the titles come with memory, this results in the grounds of performance when the AAA title needs to get rid of the data.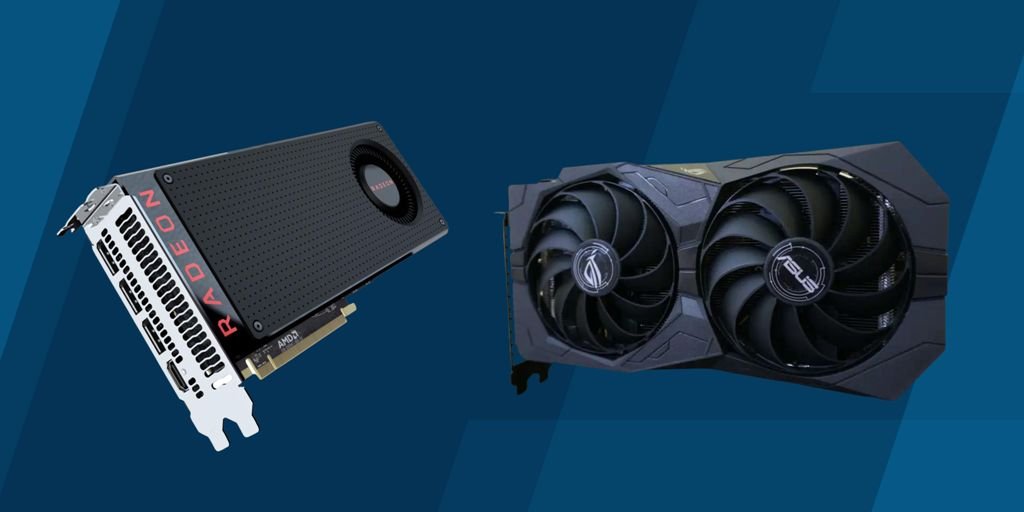 It comes with the cooling technology that is much better than what is actually present on most of the graphics cards. During testing, we did not notice much fluctuation in the graphics cards' temperature.
This is why the GPU model components on it are much cooler, even though the graphics card works at the same temperature in the silent mode. The stress test that was done showed excellent results.
The fans spin at around 1500 RPM, which is a massive increase as compared to that of the gaming laptops. When you push it to boost mode, you do not get a similar kind of result. The speed is consistent, which reflects in the balanced curve.
The results were somewhat baffling to most of the reviewers. There is a reason for that. The model can spin slightly slower than when it is on a heavy load. Here the fan controller was set to react according to the load changes.
You would want to know that the gaming loop generates huge spikes. The noise levels are acceptable, though—it reasonably ensures that you have an immersive experience when gaming.
We can find some quieter models in the market, but this is able to provide you with a spectacular balance between size, weight, and performance. The GTX 1650 Super comes up with the titles around 60 fps or higher.
You can adjust the settings to medium to improve the fps. You will want to know that the GTX 1650 was able to get over the 60fps mark on some titles, though not all. However, the GTX 1650 Super was able to get to the 90fps on these titles.
It is suitable for working on the resolution when you are making use of the medium settings. This shows that the maker has been able to get the RX 580 and make it deliver more value for users.
It makes it the best value budget graphics card. Though the RX 570 is quite competitive at $130, for an additional $40, you can make use of the GTX 1650 Super for yourself and enjoy the benefits.
AMD RX 580 8GB vs Nvidia GTX 1650 Super Benchmarks
3D DX9 Graphics Benchmark
3D DX10 Graphics Benchmark
Average Score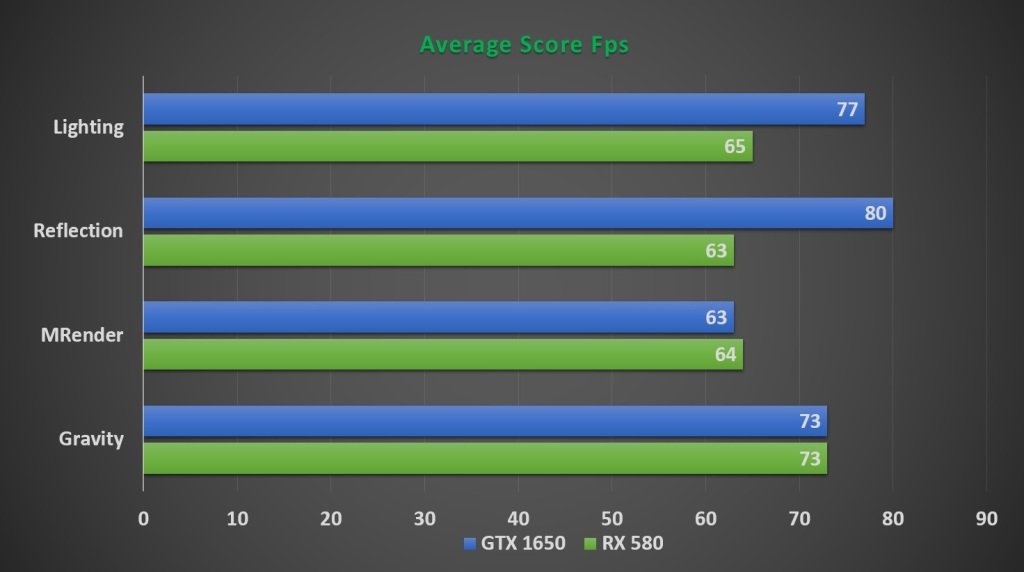 Overclocked Score
Gaming EFps
Summing Up
AMD has given a ridiculous price for the Radeon RX 580 GPU at close to $300. Though the starting unit comes at around $230, the top-end model at almost $300 is not inviting. This was quite surprising from the maker that is known for its aggressive pricing.
Though the features are spectacular and noteworthy, the price may deter many users from opting for the Nvidia model that was discussed here. The Sapphire Nitro+ model comes priced at around $276 and is not bad for itself.
However, the next step would be the GeForce GTX 1070 that has been put for $370 or more. Those of you who are seeking value may want to check out the basic models that can compete with Sapphire's performance.
The GeForce GTX 1060 6GB makes use of the complete GP106 GPU. It is because of this the maker can produce something like a slightly faster Radeon RX 580. It may come with stunning features like 9 Gb/s GDDR5 memory.
We may assume that the 580 does not come with a similar price and is sold for another price. This could be possible because the Radeon RX 480 was sold at a different price altogether. Gaming enthusiasts can enjoy the game with smooth frame rates at 2560×1440 for less.
It is evident that Nvidia wanted to delay the details about the previous GTX 1650. We felt it was a pointless GPU model because most of the units came with PCIe power connectors, and the others were full-height cards.
However, the GTX 1650 Super comes infused with extraordinary powers. That was quite apparent during the testing. We found that the GPU unit is more than what others can think of it from the price.
They have played their cards well on this one. Nvidia deserves some credit for this by taking on AMD by the collar. It is a really competitive product. We are eagerly waiting for the Radeon RX 5500 to be pitted up against this to see how things fare.
We felt that the MSI Gaming X version of the GTX 1650 Super is a fantastic product; it looks incredible, runs pretty quietly, and is cool under pressure. It is safe to say that the GTX 1650 Super is a phenomenal model to count on for your gaming needs.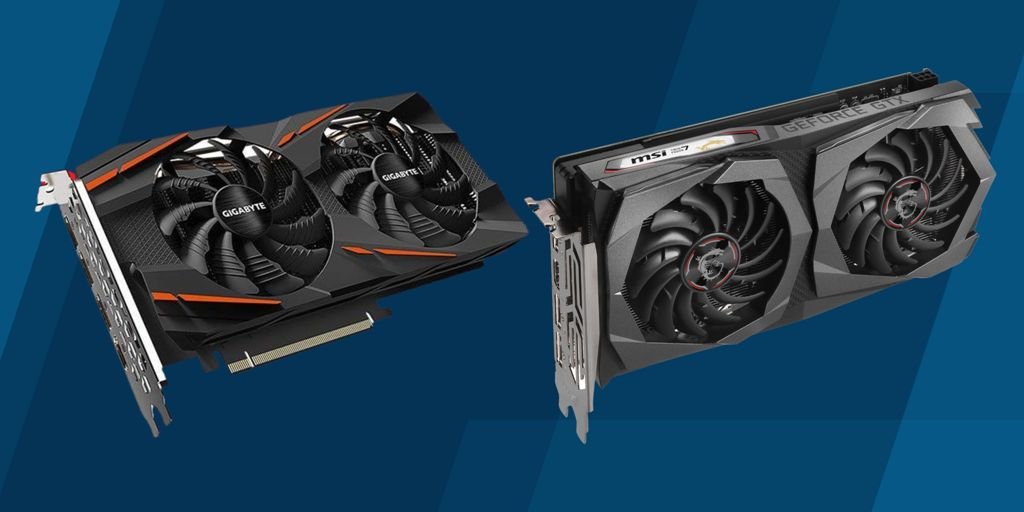 Verdict
So, what could be the verdict? The AMD Radeon RX 580 8GB GPU has the same Ellesmere GPU found on the previous model. But there are higher clock rates. Though the graphics card is somewhat expensive, we found them worth it because of the additional performance.
The Nvidia GTX 1650 Super GPU is a fantastic model that is released by the maker for users. We felt that this unit provides you with more value because of the cost price and the features that are infused inside it.
For example, you can hit close to 60 fps or more using several titles when you are running 1080p resolutions for under $180. Besides, it comes SFF-friendly at more than 6″ in length but felt that the fans could have sounded quitter during extreme pressure on it.
James Smith has always been intrigued by electronic products since his childhood. After his post graduation in electronics from a popular university, he decided to pursue a career in the electronics sector. But his calling for writing about these marvellous pieces of work got the better of him. That is how UBG was started. With a writing career spanning more than 12 years, James has worked on several hundred product reviews. During his free time, he like to spend time with his pet dog and relax in the swimming pool.