In recent years we have seen fantastic growth in wireless earbuds. These days people like them more than traditional wired earphones and headphones. There are so many companies in the wireless earbuds market, and the two major players are Apple and Beats by Dre. These companies continuously taking audio technology into the next label. Today, we have chosen two earbuds Apple AirPods Pro 2 and Beats Fit Pro, to compare. While we compare these earbuds, we will look in detail at some crucial factors like design, build quality, sound quality, and comfort to understand which earbuds are better and which you should choose.
AirPods Pro 2
Beats Fit Pro
PROS
PROS
Improved sound quality with H2 chip and redesign
Slide controls for volume adjustment
Personalized spatial audio based on ear shape
6 hours for earphones, 30 hours with case
Enhanced noise cancellation performance
Clear and powerful sound with good transparency
Physical button controls for easy operation
Active noise cancellation for immersive sound
H1 chip for smooth pairing and switching
CONS
CONS
Limited app customization
Higher price point
Midrange somewhat suppressed in the sound
May not appeal to everyone's style preference
CHECK ON AMAZON
CHECK ON AMAZON
Apple AirPods Pro 2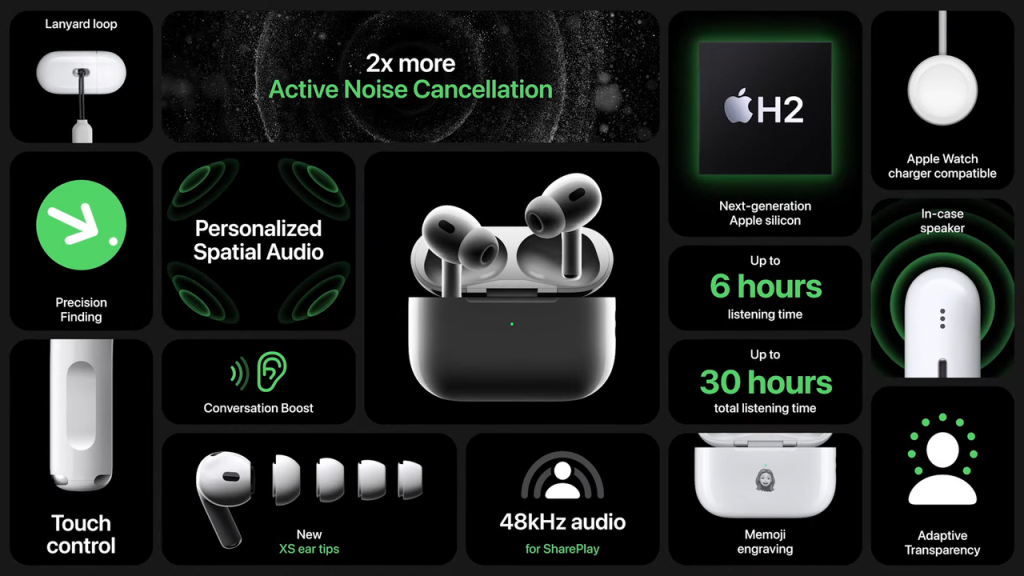 The AirPods Pro 2 has many similarities to its 1st generation AirPods Pro. Still, Apple added some important features like a strap hole and speaker hole for enhanced convenience and sound output to make it more comfortable and improve sound quality. The personalized spatial audio feature provides the sound based on ear shape. Improved noise cancellation and external sound capture functions create an immersive audio environment. The H2 chip helps improve the sound quality, enhancing the midrange and bass frequencies. In the AirPods Pro 2, you will get the slide controls on the stem, giving you direct access to volume adjustment. The upgrade Bluetooth 5.3 support will improve connection stability and latency, while compatibility with LE AUDIO technology is promising.
Apple AirPods Pro 2 Key Features
Released on September 23rd, 2nd generation AirPods Pro.
Minimal design changes from the original AirPods Pro.
Added strap hole for convenience.
Added speaker hole next to the Lightning port.
Improved sound quality with the new H2 chip and redesigned driver.
Slide controls on the stem for volume adjustment.
Personalized spatial audio feature using ear shape recognition.
Improved noise cancellation and external sound capture.
Bluetooth 5.3 support for enhanced connection stability and low latency.
Potential future compatibility with LE AUDIO technology.
Improved microphone audio quality.
Battery life: 6 hours for earphones alone, 30 hours including the case.
IPX4 waterproof rating.
Beats Fit Pro
The Beats Fit Pro mainly focuses on active lifestyles, and they come with so many color options, which is the best thing about these earbuds. The H1 chip makes these earbuds very convenient to integrate with Apple devices. The physical button controls will give you easy access to these earbuds on the go. They come with active noise cancellation, which helps you to adjust the external sound according to your convenience. You will like the design and comfort of these earbuds as they provide you with a secure fit. The sound quality is vibrant, and they come with 6 hours of battery life with noise cancellation active. So we can say that the Beats Fit Pro are the best earbuds available in the market when you compare them with similar range buds.
Beats Fit Pro Key Features
Released on January 28th, focused on active lifestyles.
Features active noise cancellation for immersive sound.
External sound capture function for situational awareness.
Equipped with the H1 chip for seamless integration with Apple devices.
Physical button controls for easier operation.
Comfortable fit with stable wing tip design.
Battery life: around 6 hours with noise cancellation active.
Supports automatic device switching for the Apple ecosystem.
Compatible with Apple Music spatial audio and head tracking.
App customization and tracking support.
Supports spatial audio for an immersive sound experience.
Available in black color.
IPX4 water resistance for protection against light moisture.
| Specifications | AirPods Pro 2 | Beats Fit Pro |
| --- | --- | --- |
| Noise Cancelling (Active) | Yes | Yes |
| Connection Type | Wireless | Wireless |
| Wireless Connectivity | Bluetooth | Bluetooth |
| True Wireless | Yes | Yes |
| Water Resistant | No | Yes |
| Built-In Microphone | Yes | Yes |
| Carrying Case | Yes | Yes |
| Microphone Features | Standard | Noise cancelling |
| Headphone Fit | In-Ear | In-Ear |
| Battery Life | 6 hours | 6 hours |
| Battery Life (with Case) | 30 hours | 18 hours |
| Works With Siri | Yes | Yes |
| Ear Tip Sizes Included | Extra small, Large, Medium, Small | Large, Medium, Small |
| Fast Charging | No | Yes |
| Manufacturer's Warranty | 1 year | 1 year |
Design and Comfort
The AirPods Pro 2nd generation will give you the same feel and design as the AirPods Pro. If you are a person who likes the 1st generation design, you will like the 2nd generation design and comfort. AirPods Pro 2 will give you some extra options, like different ear tips, allowing you to make these earbuds fit according to your ear size. As we know, Apple has loved it for a while, so you will get only white color options for these earbuds. On the other hand, the Beats Fit Pro will give you many color options, allowing you to choose them according to your test. These earbuds are best for sports enthusiasts and active users. They come with a circular wingtip design that will give you the best stability during movement and exercise, making them a perfect choice for workouts. However, it's worth mentioning that the Beats Fit Pro's fit is slightly tighter and uncomfortable when we use them continuously for two to three hours. But If you're planning to use your earbuds for intense workouts with short breaks, then the Beats Fit Pro's design might suit you better.
Sound Quality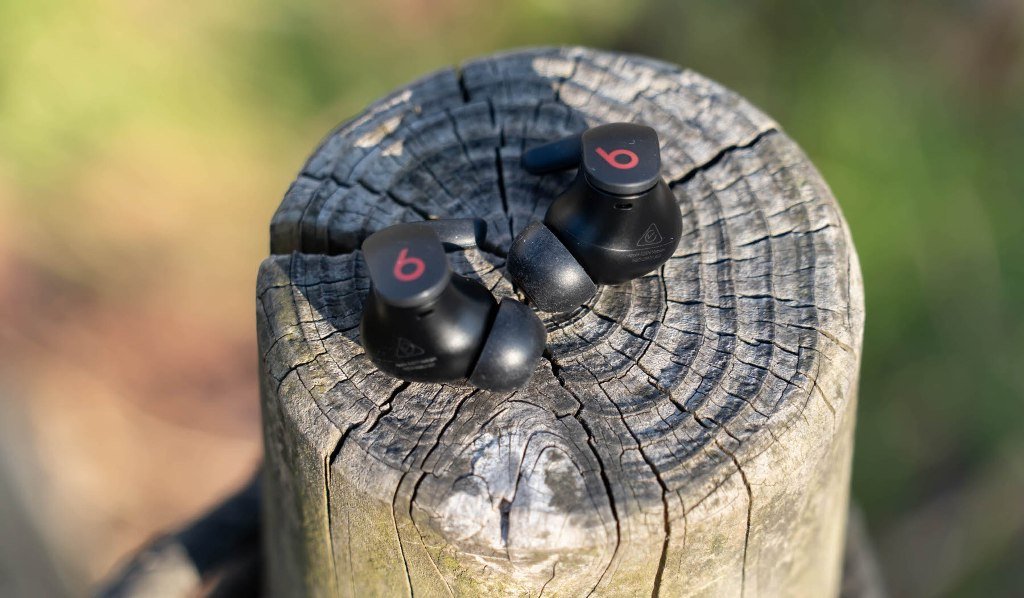 We all know the importance of sound, especially when talking about wireless earbuds. Regarding the sound quality of the AirPods Pro 2nd generation, you will get almost the same quality as AirPods Pro with slight improvement. They improve the bass quality, and it's well-balanced, which will give you a more satisfying sound quality. The best thing about the improved bass is that it does not disturb the other frequencies. The adaptive external sound capture with a customized setting allows you to customize the listening experience according to your surroundings. The improved noise canceling and the adaptive feature make the AirPods Pro 2 the best choice for different environments. When it comes to the Beats Fit Pro boasts a sound it provides energetic and powerful audio. The bass quality of the Beats Fit Pro makes it stand out, which provides a sense of energy and motivation. You can use these earbuds comfortably in noisy places, which makes these earbuds ideal for workouts. Still, you may not find the sound quality of Beats Fit Pro better than AirPods Pro 2, But they are best for people looking for a more dynamic and bass-heavy audio experience. The compatibility with spatial audio and head tracking makes the Beats Fit Pro's best during music and movie playback.
Features and Functionality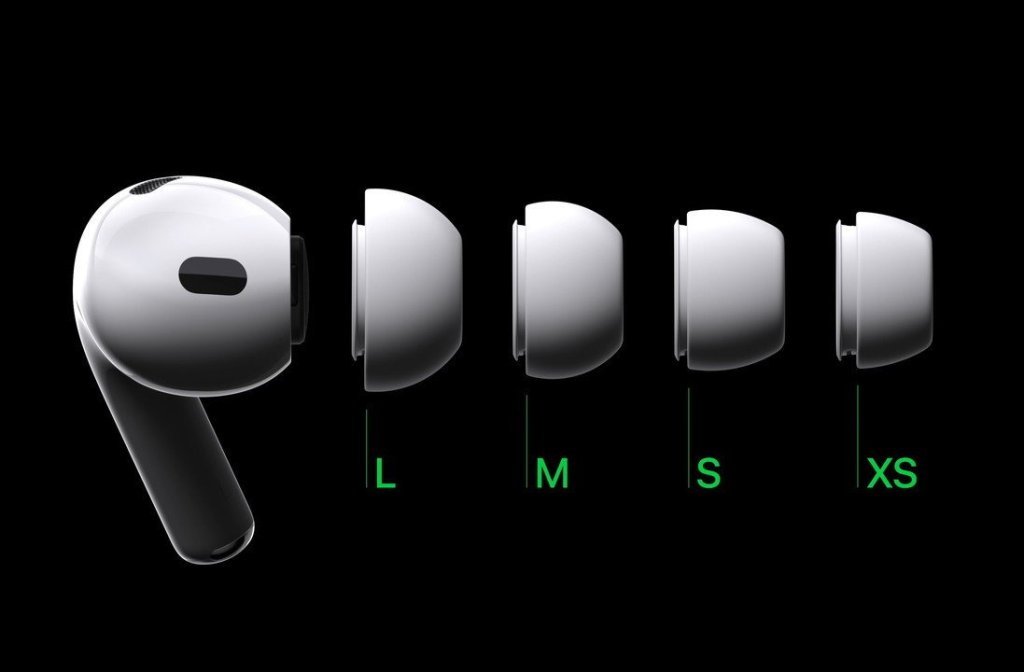 What are the things we look at while buying wireless earbuds? Well, they are the features and functionality, and we only buy the product when we are completely satisfied. So we look into the AirPods Pro 2 features. You will get so many which enhance these earbuds according to the user convenience. You can adjust the volume using a sensor, an additional feature not available in the AirPods Pro. The best thing is that you can easily integrate them with your Apple Watch charger, expanding charging options and giving you the flexibility to keep your earbuds powered. But you will not get a USB-C type charging option, which might be a drawback for some people.
Regarding the features of the Beats Fit Pro, You can have options like spatial audio and head tracking, which are the best option for the user who loves to listen to music and watch movies. You get the physical button controls compared to the touch sensors of AirPods Pro 2, which is also a good option for adjusting settings, and some peoples feel this option is better than touch sensors. Beats Fit Pro gives three ear tip sizes to fit these earbuds perfectly.
Connectivity and Compatibility
The AirPods Pro 2 and Beats Fit Pro come equipped with Apple's H1 chip, ensuring seamless connectivity and switching between Apple devices. But the Beats Fit Pro also gives you seamless connectivity with Android devices, making it a more versatile option for Android and IOS users. The Beats Fit Pro pairs with Android smartphones without constant switching, simplifying the user experience.
Battery Life
We can't ignore the battery life as it's the most important wireless earbuds feature. You will get an impressive battery life of up to 5 hours on a single charge in Apple AirPods Pro 2. When combined with the charging case, which provides multiple additional charges, users can enjoy up to 24 hours of listening time before recharging the case. This convenience ensures that the AirPods Pro 2 can easily last a full day of usage. On the other hand, the Beats Fit Pro gives a similar battery life of up to 5 hours on a single charge. However, the charging case provides a slightly shorter additional charge compared to the AirPods Pro 2, resulting in a total listening time of around 20 hours with the case. While still offering ample battery life, users might need to recharge the case more frequently than with the AirPods Pro 2.
Price
As of the time of writing, the Apple AirPods Pro 2 is priced at a premium, reflecting its advanced features and integration within the Apple ecosystem. AirPods Pro 2 price is very high compared to the other earbuds with similar features. If you are an Apple fan, then the price of AirPods Pro 2 is not high. Regarding the Beats Fit Pro price, it's a budget-friendly option with impressive audio quality and features. The competitive pricing makes the Beats Fit Pro the best option available for users looking for something solid without breaking the bank.
Conclusion
In wireless earbuds, the second-generation Apple AirPods Pro and the Beats Fit Pro offer amazing features tailored to different user preferences. The AirPods Pro 2 provide an amazing audio experience with adaptive sound capture, which makes them the best option for users who want to use the earbuds in various environments. While the Beats Fit Pro mainly focus on users who do physical activity like sport and workout. The sport-oriented design, powerful, bass-heavy audio profile, physical button controls, and Android compatibility make them the overall best option.
Well, the choice is yours, if you are a person who does not care much about the budget and loves Apple products, then you can go with the AirPods Pro 2, But if you consider budget and looking for something with similar features to AirPods Pro 2 in lower price then you can go with Beats Fit Pro.
James Smith has always been intrigued by electronic products since his childhood. After his post graduation in electronics from a popular university, he decided to pursue a career in the electronics sector. But his calling for writing about these marvellous pieces of work got the better of him. That is how UBG was started. With a writing career spanning more than 12 years, James has worked on several hundred product reviews. During his free time, he like to spend time with his pet dog and relax in the swimming pool.