You may be tempted to choose gaming headsets that are priced less than the $50 mark. Rightly so. They provide you with average sound quality, a decent microphone, and a robust design. However, you can never have an immersive experience or get the audio quality that you want.
That is why you may want to go for gaming headsets that are priced under $300 when you actually care about sound quality and comfort. Just like you worry about the visuals, you stand to benefit exceptionally through a top-end product.
This comparison review will be looking at the Astro A40 TR vs SteelSeries Arctis Pro gaming headset. Yes, they belong to the top-end segment. It is one of Astro's top-shelf units and the third expensive set in the segment.
This is a simple yet elegant gaming headset coming with an exceptionally comfortable frame. However, when you plug it into a Mixamp Pro TR That unlocks Dolby Audio 7.1. Besides, you adjust the equalizer settings for top-notch sound quality.
We can assure you that you may not find a unit that comes with superb directional audio quality. The audio reproduction was suitable for critical listening. They are open-back, meaning that they cannot isolate noise and will leak the sound.
We found them quite huge and not suitable for travel. However, the cable length was excellent and ideal for entertainment purposes. The SteelSeries Arctis Pro is another perfect choice for a gaming headset.
It comes with an excellent package that is a nicely designed, comfortable unit and has 7.1 surround sound. Additionally, gamers can connect close to 3 consoles or devices. The flexibility that the headset offers you is intense, with Bluetooth letting you pair a smartphone.
Let us read the review carefully and learn more about these two excellent headsets.
ASTRO A40 TR
STEELSERIES ARCTIS PRO
BUY NOW
BUY NOW

PROS

PROS

It comes with a sturdy and aggressive design.

The comfort quality is mind-blowing.

The audio quality is exceptional with EQ and presets.

It has an exceptional boom microphone.

The unit is priced affordable at $250.
The headset comes with a durable design.

It has a comfortable fit to it.

The audio and microphone reproduction are spectacular.

Gamers can play games effortlessly with Bluetooth.

This is a brand for a value product.

CONS

CONS

Though the design is good, it has poor noise isolation.
The bass and treble delivery can vary at times.
| SPECIFICATIONS | ASTRO A40 TR | ARCTIS PRO |
| --- | --- | --- |
| Product Name | A40 TR Wired Stereo Gaming Headset | Arctis Pro Wireless Stereo Gaming Headset |
| Brand | Astro Gaming | SteelSeries |
| Sound Mode | Stereo | Stereo |
| Connection Type | Wired | Wireless |
| Built-In Microphone | Yes | Yes |
| Carrying Case | No | |
| Headphone Fit | Over-the-Ear | Over-the-Ear |
| Adjustable Headband | No | No |
| Compatible Platforms | PlayStation 4, PlayStation 5, Windows | |
| Warranty | 1 Year | 1 year |
DESIGN & COMFORT
Any top-end gaming headset should come with sublime design & comfort features. Does the Astro A40 TR and the SteelSeries Arctis Pro have it in them? The A40 TR is eloquent in design with sleek and shapely features.
We found that they are comfortable for having on during prolonged gaming sessions. That was something nice to notice. Several top-end models come with a rigid fitting that can be annoying for those wearing glasses or having long hair.
None of that was found in the A40 model. The earcups are massive and can easily fit into your ears without causing any discomfort. We liked the fabric also as it was quite soft and pleasant on your skin.
Though the headset is heavy, the headband does a fantastic job of evenly weighing the frame on your head. SteelSeries is known for the comfortable fitting and styling. It comes with a curved metal headband.
That is quite robust and light at the same time. Besides, the ski goggle-like elastic fantastically adjusts into your head. We liked the earcups as they are massive and spacious. They could fit in any size besides the earpads that come well-padded.
The padding is breathable and excellent on the skin. Sadly, the elastic strap length can be limited at times and cause a dent in the flexibility. The shape of the metal frame cannot be expanded. Though the fitting is good, it can be a hindrance for some gamers.
BUILD QUALITY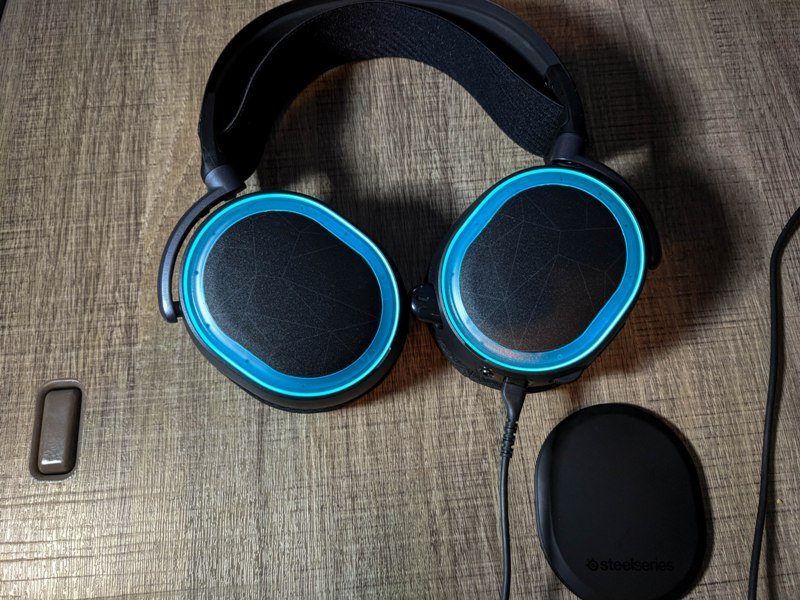 You do not want your $300 gaming headsets to break easily. Luckily for you, both the Astro A40 TR and the SteelSeries Arctis Pro are solid units. They do not get damaged easily. However, you may not want to drop them accidentally or intentionally.
The materials in the unit are exceptional, and the build quality is sturdy. We found that the earcups are very dense. The headband is open and hollow. There is some plastic mid-section placed on the headband.
But it is flexible and doesn't feel resistant to the metal frame. On the other hand, the SteelSeries Arctis Pro gaming headset is designed nicely. Like the GameDAC, the Pro comes using a similar robust design and dense earcups.
While the hinges and earcups are plastic, the headband is a combination of silicone and metal materials. We found that they can withstand several drops. Gamers would be delighted to know that the earcups have removable backplates.
On the right earcup, you can find a removable battery. This model comes with two operational batteries. Its microphone is robust and flexible. You can also bend it in different ways. Interestingly, we found that replacements coming in different color combinations can be bought in the unit.
On the whole, the A40 TR and the Arctis Pro wireless headset come with exceptional features that you could want in a gaming unit. It comes in an understated package, which is ideally suitable for all-day comfort.
AUDIO PERFORMANCE
When it comes to gaming, then the A40 TR knows how to play its magic on you. Gamers can identify the sounds of despair and gunshots. Our tester found plenty of clarity, and the highs were just mind-blowing.
The screams and the hisses were just too good. It comes with sufficient punch for the low, and you can experience a bang of launchers and grenade. Coming to music, the A40 TR can impress you with its top-notch sound quality.
You will notice that bass-heavy songs are handled well. The deep and full sounds are produced without much distortion. Since it comes with an open-back design, stereo imaging can be enjoyed well.
It comes with a frequency response of 20 to 20,000 Hz meaning you have found a masterpiece. When you are keen on exploring another dimension of audio quality, then you can add another $100 and get yourself the MixAmp Pro TR.
All you need to do is connect it to the MixAmp's 3.5 port, and you are set to do it. The game audios, microphone input, and voice chat can be adjusted seamlessly. The Arctis Pro comes with a digital to analog converter.
It comes with its own amplifier circuit. The GameDAC beats the converters that you usually find in laptops and gaming devices. You can also use it to customize your sound experience. It comes equipped with an OLED display for a top-notch user experience.
What really makes the Arctis Pro impressive is that the audio difference between the analog and the digital mode is not there. Gamers commended the gaming headset about that feature and were highly impressed.
With a frequency response of 10 to 40,000 Hz, the SteelSeries Arctis Pro sound quality is one of the best in the business. It offers you with a clear and crisp sound. We found it exceptional for watching TV and gaming as it can give you an immersive sound experience.
MICROPHONE PERFORMANCE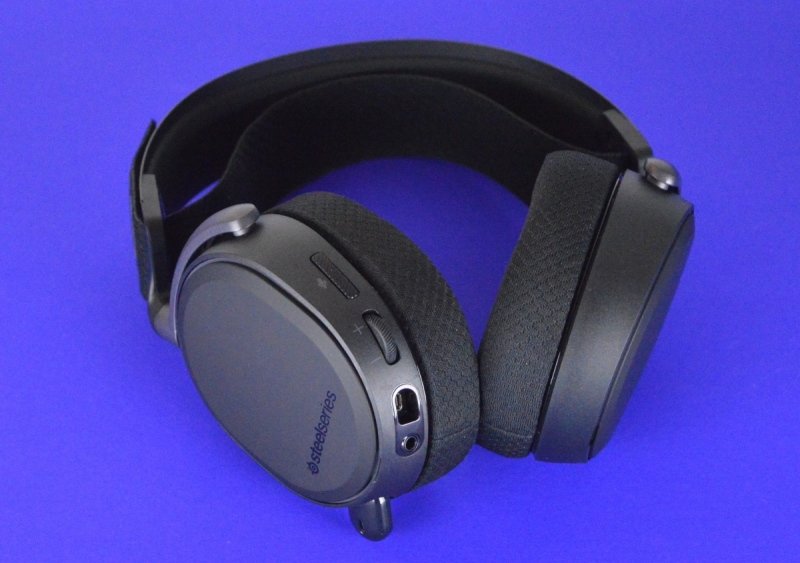 The Astro A40 TR is a wired gaming headset coming with an exceptional microphone. A top-end unit can provide gamers with an outstanding mic. That is what we expected from the A40, and it has not failed to disappoint.
We noticed that the recording quality of the boom microphone is remarkable. The LFE (low-frequency extension) was at 20Hz. That is a good figure, and the HFE (high-frequency extension) at 4kHz is incredible.

This results in having your speech crisp and in detail. The SteelSeries Arctis Pro boom microphone came with the opulent recording quality. They were full-bodied and detailed. We liked what we heard.
Sadly, it does not come with any volume control, which can be a bit of a bother. If you are somebody who is particular about the volume, then you may have to look elsewhere. However, we liked the feature, where it slides into the earcup when you are not using it.
This is a feature that you do not commonly find in many high-end gaming headsets. If you are particular about the sliding microphone, then you may find the helpful unit. All in all, the headsets did a fantastic task in handling the audio performance.
COMPATIBILITY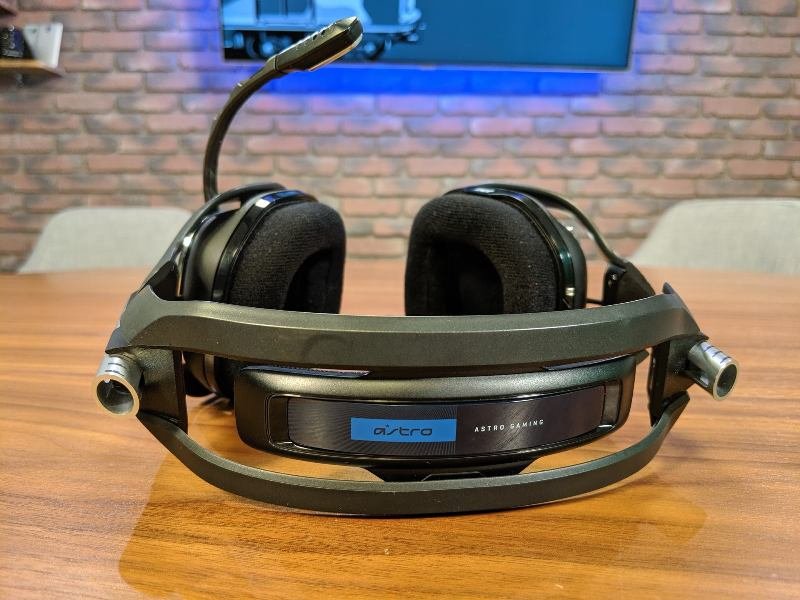 As we said at the beginning itself, the Astro A40 is an excellent option for gaming. They are comfortable to wear for extended hours of play. They come in a wired design, meaning; you can instantly connect the device or console and get started without delay.
This is an excellent advantage over the wireless headset, which can take time to set up gaming consoles. It comes with a dock providing you with great controls and inputs. Gamers can effortlessly customize the input according to their preference.
The dock consists of a regular line-in audio jack, USB cable, and optical input. You can seamlessly plug it into your PC or laptop. Both audio and microphone were compatible with the Xbox One.
On the other hand, the SteelSeries Arctis Pro is an excellent gaming headset. We were pretty impressed with the boom microphone capturing the voices clearly even in noisy surroundings. We found the wireless transmitter having exceptional tweaking audio on the go.
Sadly, it does not come with any microphone adjustable control. The noise isolation was poor too. The USB wireless transmitter base is used here, and the unit's battery can be charged. The transmitter can be inserted like a cartridge.
Overall, the A40 TR can work flawlessly on your PC, laptop, PS4, Xbox One, and Nintendo Switch. Weighing at just 360grams, you can take with you wherever you want. The same can be said about the Arctis Pro as you work seamlessly on your PC, laptop, PS4, Xbox One, and smartphone.
It comes with surround sound mode and DTS Headphone:X v2.0, weighing at less than 350grams.
PRICE
Both the gaming headsets are priced under $300. The Astro A40 TR is priced at $250, and you can get it cheaper during the sales period. Likewise, the SteelSeries Arctis Pro is priced at $285, which is slightly expensive compared to the A40 TR.
However, it boils down to the features in the end. If you are alright using the wired gaming headset in the form of the A40 TR, then it is okay. Besides, you may have to compromise with the flexibility too.
If the $35 price difference does not mean anything to you, then what you are getting for yourself is a sublime model that is wireless, feature-rich, and infused with outstanding elements.
VERDICT
The Astro A40 TR is acceptable for mixed usage. It was produced mainly for gaming purposes because of its sublime amp with inputs and controls. Additionally, the gaming headset comes with a powerful microphone for online games.
The SteelSeries Arctis Pro gaming headset is better than the Arctis Pro GameDAC and Arctis 7. The reason for that being it comes wireless and has Bluetooth support. Gamers can pair them with smartphones, too, because of the removable microphone.
But the gaming headset does not isolate noise. It offers a barrage of connectivity options and balanced sound that is excellent for listening to songs, watch movies, and gaming—now coming to the crucial part of our comparison review, choosing the winner.
The SteelSeries Arctis Pro gaming headset is more versatile than the Astro A40 TR because of the wireless design. Users may want to have that mind henceforth. Choosing a wireless design is more advantageous.
Besides, the Arctis Pro comes with a dual-battery system where you can never run out of operation and be used on Bluetooth. The Astro A40 TR is a sublime model that comes with its benefits and problems.
When you are keen on listening to opulent sound quality, then this might be comfortable. Otherwise, it is an Arctis Pro gaming headset all the way.
James Smith has always been intrigued by electronic products since his childhood. After his post graduation in electronics from a popular university, he decided to pursue a career in the electronics sector. But his calling for writing about these marvellous pieces of work got the better of him. That is how UBG was started. With a writing career spanning more than 12 years, James has worked on several hundred product reviews. During his free time, he like to spend time with his pet dog and relax in the swimming pool.