Gaming monitors are a crucial piece of electronic equipment when you want to view your images properly. Whether you are a professional gamer, stock trader, browser, writer, or even a programmer, you would appreciate a good quality monitor on your table.
A good quality monitor helps you to be productive, view the content easily, and perform your work efficiently. This is vital when you are under constant pressure to meet deadlines and complete your projects before time.
Not to mention, it is also helpful for those of you who just want to view top-notch images on your monitor. Today, we are going to be talking about two phenomenal gaming monitors on the market.
We are going to be doing a comparison review on the BenQ Mobiuz EX3210U vs Gigabyte M32U_2500 monitors. The BenQ Mobiuz EX3210U monitor is a 31.5″ & 4K 144Hz model that is capable of providing you with a wide range of visual quality on your gaming console and PC.
Though it comes with some amazing features, we were pretty unhappy with the price tag. It is much better than the competitors, like the Aorus M32U monitor. It also comes with the required VA panel for offering a high native contrast ratio.
It has the capability of producing stunning, eloquent, profound, uniform blacks. The low input lag ensures that the response time is quick. Professional gamers would appreciate the FreeSync support and G-SYNC compatibility.
We were not entirely pleased with the ergonomics of the monitor, and the angles could have been improved. The Gigabyte M32U_2500 monitor is a 32″ model that comes with a 144Hz refresh rate & 4K features.
You would truly appreciate this monitor when you like playing with consoles like the Sony PS5 and Xbox Series S|X. Some additional features include a built-in keyboard video and mouse switch (KVM).
There is a large monitor that provides you with high resolution, ideal for multi-tasking. You would delight in the smooth clarity of the pictures. But the unit has a low contrast ratio and may not be a perfect choice for viewing in a dark room.
But it comes for a price tag that is almost unacceptable for most of us. Many users were quite amazed at the product's pricing, which might be its undoing in most cases. The short version is that it is a fantastic monitor for hardcore gamers who appreciate good images.
Let us read to find out more about the two sublime models and find out which of among them is a good investment and worthy of your time. We have given the winner at the end of the post.
BenQ EX3210U
Gigabyte M32U
PROS
PROS
The monitor comes with an opulent design.

The unit is sturdy in build quality.

It has a wide range of attractive features.

It comes in eloquent colors.

There is a fantastic HDR performance.

The product is fast & responsive.
The unit has a fantastic design.

The model comes infused with outstanding build quality.

It is pretty bright for use in any room of your choice.

It also comes embedded with the QHD resolution.

The monitor has a stunning visual.

There is a good collection of gaming features.
CONS
CONS
It is pretty costly.

There is no USB-C.
It is more expensive than the BenQ model.

Users were disappointed with the average speakers in there.
CHECK PRICE ON AMAZON
CHECK PRICE ON AMAZON
Pricing & availability
The BenQ Mobiuz EX3210U monitor is priced under $350. The model was released on the market in December 2017. Yes, it is a 5-year-old model, and some of you might wonder why you should get it.
That is why we have prepared this comparison post for you to highlight some of the notable features for you so that you can decide on it. The Gigabyte M32U_2500 monitor is priced under $800.
At the time of writing, the product comes for a discount of $680. So, after reading this post, if you are interested in this model, you might want to place an order as soon as possible. The product was released on the market in August 2021.
This model comes with some spectacular features that make it likable. Moreover, the product is newer compared to the BenQ model. But BenQ specializes in the production of monitors in the market.
You can decide based on what you read below.
BenQ EX3210U vs Gigabyte M32U Specs
| Specifications | BenQ EX3210U | Gigabyte M32U |
| --- | --- | --- |
| Name | BenQ MOBIUZ EX3210U IPS 4K LED FreeSync Gaming Monitor | GIGABYTE M32U 32″ LED 4K UHD FreeSync Premium Pro SS IPS Gaming Monitor |
| Brand | BenQ | GIGABYTE |
| Operating System Compatibility | Windows, Mac | Apple iOS, Windows, Mac |
| Model Number | EX3210U | M32U-SA |
| Refresh Rate | 144Hz | 144Hz |
| Maximum Resolution | 3840 x 2160 | 3840 x 2160 |
| Contrast Ratio | 1000:1 | 1000:1 |
| Display Type | LED | LED |
| Panel Type | IPS | IPS |
| Synchronization Technology | FreeSync Premium Pro | FreeSync Premium Pro |
| Aspect Ratio | 16:9 | 16:9 |
| Curved Screen | No | No |
| Brightness | 300 candela per square meter | 350 candela per square meter |
| Screen Size | 31.5 inches | 31.5 inches |
| High Dynamic Range (HDR) | Yes | Yes |
| High Dynamic Range Format | VESA Certified DisplayHDR 600, HDR 10 | VESA Certified DisplayHDR 400 |
| Horizontal Viewing Angle | 178 degrees | 178 degrees |
| Touch Screen | No | No |
| Number of HDMI Inputs | 2 | 2 |
| Number of HDMI 2.1 Inputs | 2 | 2 |
| Number of HDMI HDCP 2.2 Inputs | 2 | 1 |
| Number of DisplayPort Ver 1.4 Inputs | 1 | 1 |
| Number of USB 3.0 Type A Ports | 4 | 5 |
| Headphone Jack | Yes | Yes |
| Wall Mountable | Yes | Yes |
| VESA Wall Mount Standard | 100mm x 100mm | 100mm x 100mm |
| Tiltable | Yes | Yes |
| Adjustable Stand Height | Yes | Yes |
| Anti-Glare | Yes | Yes |
| Built-In Webcam | No | No |
| Integrated Speakers | Yes | Yes |
| Width | 28.6 inches | 28.18 inches |
| Weight | 9.5 pounds | 16 pounds |
| Warranty | 3 years | 3 years |
Design & Features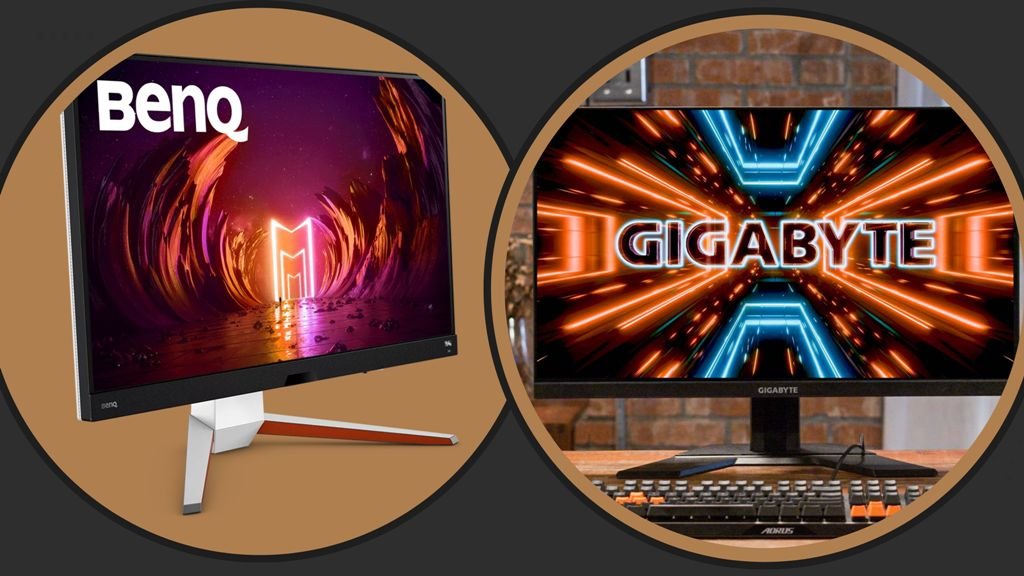 The design & features of a monitor are incredibly vital for ensuring that it is able to provide you with the right image quality. The BenQ Mobiuz EX3210U monitor comes with an exceptional design and robust build quality.
You do not want the model to be produced from some cheap quality material, making you to replace it every alternative month. This is especially after you are spending more than $300 of your cash.
The Mobiuz lineup has some stupendous monitors that have the ability to produce opulent images—coming to the body structure of the monitor. It is made from a silver base and red accents, having a matte black & white chassis.
The 31.5″ is a huge monitor and would be ideal for viewing movies, playing games, and even coding purposes. So, if you want to place it on your table, then you must have a large desk or set it up on the wall.
You may require some help when setting it up. But it is not the heaviest in the market at the moment. Most of the BenQ models do not come with RGB lighting, but this one does have it. The strips are attractive and provide you with some lighting when placed in a dimly lit room.
BenQ is known for its durability, which is why they are a head above the rest in this segment. It does not shake or vibrate when you are using the model. The settings on it and the features are simply incredible.
There is an OSD joystick with hotkeys, a remote, and a dedicated HDRi mode button for gaming purposes. You can find that the stand provided in the model comes with height adjustments, tilt, and swivel.
The VESA mounting feature is present on it, and you can use multiple setups. Users would be delighted with the connectivity options present on it. You can find 2 HDMI 2.1 slots and DisplayPort 1.4.
The audio system was not up to the mark. Though there is a 5-Watt woofer and the built-in TreVolo speakers, the sound performance was lagging somewhat. The Gigabyte M32U_2500 monitor is designed elegantly.
But if you look at the Gigabyte monitors, they come with a bold & aggressive design. You feel like they are meant for gamers. But this one is somewhat different. It is a 32″ large model that comes with a decent weight of 23 pounds, along with an attached stand.
The build quality of the monitor is note-worthy, and you would be glad to see that it comes with having stunning setting. It is pretty slim in design and offers you with an opulent display quality feature.
You can see that the bezels are thin and come slightly wider at the bottom. Some users thought that it was more of a business model than the gaming one. But that is alright as long as it is able to provide you with what you are looking for.
We liked the stand because you can adjust it according to your preference. You can move it around, move it backward, forward, and even swivel it. These are some common features found on most monitors.
There are plenty of connectivity ports found on the monitor, which is a good sign. Now, you can do so depending on your requirement. There are 2 HDMI 2.1, 5 USB ports, 1 DisplayPort 1.4, and the headphone jack.
A notable feature here is the KVM feature, which enables you to use the monitor's display function on your USB-C smartphone to control your keyboard or mouse. On the whole, the design & features found on both models were competitive for the price.
Display & Performance
Now, we come to the display & performance of the models. Apart from the design and features, the display & performance is the most critical aspect of any monitor. After all, the main purpose of using a model in the first place is because of the display & performance.
The BenQ Mobiuz EX3210U monitor is a 31.5″ large monitor that has an IPS panel. So, you can view stunning images with the resolution of 3840 x 2160 4K feature. There is also a 1ms boosted response time & a 144Hz refresh rate.
You can notice that the backlight comes with a 300 cd/m2 output and a 600 cd/m2 peak. The unit is the ideal model for use as a desktop version. The pixel density offers you with output. You can perform a wide range of tasks like reading, writing, gaming, and coding with it.
The details provided on the visuals are good, and you can just about do any kind of task that you want with a pleasant experience. That is the main thing here. Users noted that there was no leakage in the images.
You are given blur-free images on the model. It is compatible with G-Sync & FreeSync. The Gigabyte M32U_2500 monitor offers you with exceptional gaming performance. When searching for a solid model, then the right balance is hit on above 27″ & 4K.
The 32″ model comes with a lot to boast of the price quote. Most users must be wondering if they should spend $700 on a monitor. Our answer is yes. The moment you switch on the monitor, you can find out why it belongs to the top-end monitor market.
The sheer amount of image quality, no blurs, and amount of color provided in there has to be seen to believe. It comes with a refresh rate of 144Hz and is suitable for use on the PS5 and the Xbox Series X.
The speakers did an excellent job in providing you with eloquent music quality, unlike the BenQ, which requires more improvement. But it sounded somewhat flat, which is a common feature found on most monitors.
The OSD was systematic and provided you with all the required information. You could not complain about that. The moment you use the power-on button, you are provided with a basic navigational menu.
Depending on your settings options, you can do so. There are some helpful gameplay details provided in there as well. Using the different picture modes, you can choose the proper input source that you want.
We liked the response time of the monitor at 60Hz, which is relatively better than what is found on the Gigabyte M28U monitor. You may want to make use of the off overdrive setting because it does pretty well on the setting.
It does provide you with the right amount of brightness, which is a standard feature for any model that is priced above $600. When you do your gaming in HDR, then most of the games come nicely balanced.
You may find little difference in the peak brightness of the model when going to different activities. Sometimes the display quality is not as good as it should be because some of the scenes are quite dim.
The brightness reduces the peak brightness, removing some of the fine details of the images present. All in all, it is a good choice for multi-tasking. It comes embedded with a stunning monitor of real estate and a very high native resolution. This provides you with a high pixel density and sublime content display abilities.
Conclusion
We have come to the end of our comparison review between the BenQ Mobiuz EX3210U vs Gigabyte M32U_2500 monitors. Our winner in this review is the Gigabyte M32U monitor. Both these monitors come with stunning features & impressive specifications.
The BenQ Mobiuz Ex3210U monitor is BenQ's flagship product. It comes with some fantastic features, like the 144Hz 4K monitor that provides you with opulent colors and brilliant visuals. The pricing seems to be something that the maker has to work on.
You can find other models priced under $200. So, there is a massive $100 difference between this one and a wide range of different units that are present in the market. Besides, you won't be able to find the USB-C port there.
Overall, we liked the design, build quality, and the wide range of functions that were provided by the manufacturer in the monitor, which makes it a sublime investment. The Gigabyte M32U_2500 monitor is a top-end model.
We want to begin with the pricing of the monitor. It is a very expensive model that costs close to $700. That is a lot of money for a monitor. You certainly don't want to end up choosing a monitor that costs more than a decent laptop.
What are the particular areas in it that make it give a run for its money? Well, you have some incredible features in there, like the built-in KVM switch and GameAssist. This is a must for professional gamers and other users.
The image visuals, average audio production, and ghosting make it the okay choice for some of you. Dare we say, the Corsair Xeneon monitor & the Dell S3220DGF monitor costs much cheaper and can offer you with almost the same features.
Better, you can even choose the same brand model in the form of the Gigabyte Aorus FI32U. It does almost everything that the M32U_2500 can. The M32U_2500 is good in its way, and you have to understand what you are going to get and, obviously, what you are not going to get.
But it still makes sense to get one for yourself when you are a serious gamer and appreciate good visual quality. It is okay if you are not somebody who delves into audio reproduction. Otherwise, you will want to choose some other unit.
The BenQ Mobiuz monitor could be the better one as it comes 250 nits brighter, 600 nitsvs350 nits, and is 850g lighter. The Gigabyte M32U monitor could be the better option as it has a 20% higher refresh rate, has USB Type-C, 4 more USB ports.
There is also a 3cm bigger height adjustment range, supports portrait mode, and it comes with a 2W more audio output power. It also supports BFI & has a sleep timer. On the whole, the Gigabyte M32U_2500 monitor provides you with a quicker refresh rate, picture handling, and input lag.
We liked the design & ergonomics present in the Gigabyte monitor, along with its 2 HDMI 2.1 ports. Of course, the BenQ is good in its own way, providing you with an eloquent contrast and better image handling capabilities.
James Smith has always been intrigued by electronic products since his childhood. After his post graduation in electronics from a popular university, he decided to pursue a career in the electronics sector. But his calling for writing about these marvellous pieces of work got the better of him. That is how UBG was started. With a writing career spanning more than 12 years, James has worked on several hundred product reviews. During his free time, he like to spend time with his pet dog and relax in the swimming pool.