The best ergonomic mouse can enhance your gaming, and working, and not cause any pain on your wrist. The mouse can provide you with several connectivity options, offer exceptional battery working life, and come infused with an ergonomic design.
If you are somebody who is spending more than 40 hours every week on the mouse, then you must be familiar with wrist fatigue. It can be painful, stressful, and annoying to say the least. Is there a solution for this, where you do not have to strain your wrist muscle?
Luckily, for you, we have just the right solution. You may want to make use of an ergonomic mouse. Doing that, helps you to reduce your fatigue, and muscle activity from long working sessions.
Some of you might want to use an ergonomic mouse that comes with the traditional design. However, you will be delighted to know that there's a lot more than that on offer in the current market.
How to take care of your wrist health?
Before we read about the list of the best ergonomic mouse in 2023, we may want to understand why it is crucial that we take care of our wrist health. You see, you use both your arms and hands to perform a wide range of activities in a day.
Hands are the most vital parts of a body, and it is your duty to take good care of them. While sitting in front of a desk for 8-10 hours a day, five to six days a week is a normal activity, you may want to ensure that you use the right postures and equipment.
Besides using a comfortable workspace, you may want to also use an ergonomically designed mouse. You can find several vertical or tilted designs, where you can place your wrists, arms, and hands, in a more neutral position.
Doing that helps in decreasing the tendon and muscle tension. Though there are some mixed views on whether the ergonomic mouse can reduce the chances of carpal tunnel occurring, it can help get rid of the discomfort.
Best Ergonomic Mouse in 2023
We have gathered a list of the best ergonomic mice that is available in the market in 2023. We have given you their features, pros & cons to help you find the one that fits your work style. Without wasting time, let us proceed to learn about the various ergonomic mouse designs.
1) Logitech MX Vertical Wireless Mouse
Our search for the best ergonomic mouse in 2023 begins with the Logitech MX Vertical Wireless Mouse. Logitech is a Chinese manufacturer that has been producing opulent devices and computer peripherals for several decades now.
You know that they are capable of offering you with stunning models in the market. The model comes with an advanced ergonomic design. You can grip the mouse in a natural handshake position with its unique 57-degree angle.
It prevents your forearm from getting twisted and also decreases your muscular strain by 10%. This is based on a Logitech Study, in September 2017, compared to the traditional non-vertical mouse.
The unit has a 4000 DPI high-precision sensor that offers you with precise tracking, which needs less than 4x hand movement. Whether you are gaming or doing your regular tasks, you can perform your tasks effectively.
Talking about gaming, you can now navigate seamlessly on three PCs or laptops. You can do a wide range of tasks like copy images, texts, and so on, using Logitech FLOW. As if that is not enough, you can use three Windows or Mac PCs through the wireless USB unifying receiver.
This is included in the package. When you are not comfortable with that, then you can always make use of Bluetooth or the USB-C charging cable. You will be amazed to know that the mouse can work for 3-4 months on a full charge.
With a minute of charge, you can work with it for close to 3 hours. Of course, the battery depends on your use, and work conditions. Heavy users can expect a low performance, while light users can notice a massive improvement in the battery.
The model is priced under $100. Overall, it is a stunning mouse that has been produced by Logitech. The maker always seems to impress us with its products. When you are looking for an ergonomic-designed mouse, then it has got to be this unit.
2) Anker 2.4G Wireless Vertical Ergonomic Optical Mouse
Second, on our list is an interesting product from the makers of Anker. We present to you the Anker 2.4G Wireless Vertical Ergonomic Optical Mouse. This model is a wireless vertical ergonomic designed optical unit.
It comes with the scientific ergonomic design of the handshake wrist position. This helps you to use the mouse effortlessly, without placing more pressure and strain on your arms. Now, you can work for lengthy hours, without experiencing discomfort.
The unit has three DPIs of 800 / 1200 / 1600 Resolution Optical tracking technology. You can choose the one that offers you with opulent sensitivity over most of the standard models. Moreover, the unit gives smooth and precise tracking on a wide range of surfaces.
The buttons are easily accessible and offer you with a lot of convenience for activities like browsing, gaming, and reading. It is ideal for readers, writers, accountants, IT consultants, and gamers as well.
After 8 minutes of idle time, it automatically switches off to power-saving mode. You need to just press the left or the right button for it to work. The model weighs around 3.4 oz, which is not heavy.
We feel that is the right weight, and comes with the 2.4G USB receiver, and 1 instruction manual as well. The maker provides you with an 18-month hassle-free warranty. We may inform you that this kind of model may take some time to get used to.
Once you are done with that phase, you will fall in love with this product because of its sublime usage. Does it come with any flaws? Users have pointed out that the model uses too much power.
So, if you are somebody who is conscious about the battery life, then you might want to look elsewhere. The model is priced under $50. It is quite cheap for a mouse that comes embedded with several features.
Moreover, when you are looking for a model that has a handshake grip, which is easy to use, and comes with an 18-month hassle-free warranty, then you know what to do.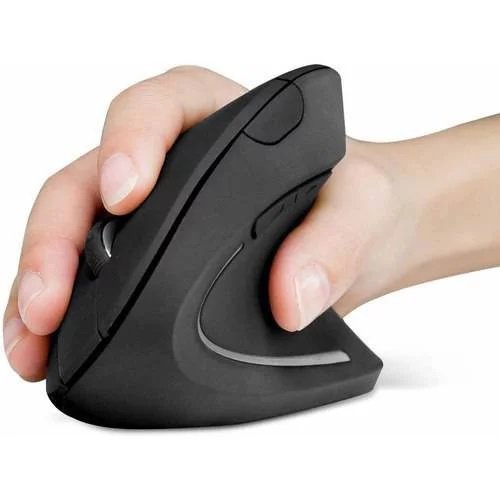 3) Microsoft Bluetooth Surface Arc Mouse
Up next, we have a model from the IT behemoth, Microsoft. We give to you the Microsoft Bluetooth Surface Arc Mouse. What is special about the model? It comes arched-shaped, hence the name.
Besides, it has a barrage of features that we will be reading about, which made us want to include the model on our list. The mouse can work on any Windows 10 / 8.1 / 8, and Bluetooth 4.0 or higher.
The model has a bendable tail and is slim. You can shape it into the arch position and work with it. Once you are done, you can straighten it, and place it inside your pocket, backpack, or bag, and move around effortlessly.
It comes with an optimized design for the most natural interaction. There is also an innovative full scroll plane that allows you to use it both vertically and horizontally. The model comes infused with a wireless frequency of 2.4 GHz.
The unit comes with some attractive colors that you can choose of your choice. Unlike, other makers that provide you with black, white, and silver colors, Microsoft provides you with more than that.
The model is priced under $60. It is reasonably priced as well. So, if you are using any of the Surface laptops, and Windows systems, then you are going to be doing yourself a favor by getting one of these.
4) Corsair Nightsword RGB
Are you a professional gamer? If then, you would love the next model, the Corsair Nightsword RGB – Comfort Performance Tunable FPS/MOBA Optical Ergonomic Gaming Mouse. Corsair is no stranger to the world of gaming & ergonomic mice.
They are almost on par with makers like Logitech and Apple. You can bet that their products are among the top ten computer peripherals write-ups. The model comes with two sets of weights and six mounting locations.
It provides you with more than 120 different weight and balance configurations. Besides, the Corsair software automatically can detect the unit's center of gravity in real-time and helps you to adjust the weight between 119g and 141g.
The model has a custom PixArt PMW3391 native 18,000 DPI optical sensor and adjustable DPI resolution steps. This provides you with total sensitivity customization and ultra-accurate tracking.
The mouse has an exceptional build quality with a comfortable contoured shape. Users have commended the fact that it can naturally fit your hand along with rubber grips. There are also fully programmable buttons, giving you the game advantage of powerful macros.
Users have mentioned that the model is somewhat heavy, and not portable due to the design. When you are alright with that, then it is fine, otherwise, you might want to see some other model.
The model is priced under $90. The ergonomic mouse is somewhat expensive for a mouse. But it can be used for gaming, and regular uses as well. If you are a gamer and have $100 to spend on a mouse, then this model might serve your purpose.
5) Apple Magic Mouse
You can't have a list of ergonomic mice, without the mention of Apple. The Apple Magic Mouse, though expensive, is a popular model that finds several users, especially from the Apple clan for obvious reasons.
Apple, just doesn't fall to impress, do they? The electronic manufacturing giant has produced some sublime devices over the years. Apart from their MacBook, their mice are also very popular among users globally.
The unit has a slim, compact, and ergonomic design. It can connect to the MacBook Air or Pro wirelessly through Bluetooth. It has a rechargeable internal battery, and that means, you do not have to replace them.
It has a simple setup where you just need to connect and move around with it. The multi-touch surface offers you with the ability to do simple gestures like scrolling & swiping. It also comes with an optimized foot design to glide smoothly on your table.
Users have complimented the incredibly durable internal battery that powers the mouse for almost a month before it requires a charge. It works with the USB-C o the lightning cable, which you can use to pair on your MacBooks or iPads.
Of course, this being an Apple product can't work with the Windows OS products. The unit can work with a Bluetooth-enabled Mac with OS X 10.11 or later. Moreover, you can use it for an iPad with iPadOS 13.4 or later.
We did notice that the charging port comes at the bottom of the unit, making it quite an uncomfortable placement. The model is priced under $65. It is an expensive model, apart from that we could not really find any other major flaw that is worth mentioning.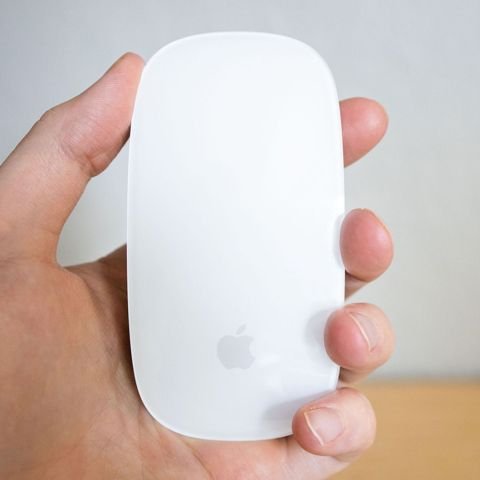 6) Logitech M570 Wireless Trackball Mouse
Our final product is the Logitech M570 Wireless Trackball Mouse. This model is the second product from Logitech. It is a unique model with the trackball placed separately for usage. Those of you with hand or wrist issues will find this sublimely designed.
You do not have to chase the mouse because the trackball controls everything with your thumb. There is no need to move your arm for moving the cursor. Besides, it is designed elegantly ensuring that the shape blends with your hand, for amazing control all day long.
The mouse can work for up to 18 months without changing batteries. We were delighted to know that it comes with a convenient battery indicator that enables you to know when the battery levels are low.
There is a tiny, wireless receiver that remains on your device, and lets you add compatible devices. Users have complimented the Logitech Advanced 2.4 GHz wireless, where you can get the reliability of cordless convenience of quick data transmission.
You can connect up to six compatible wireless devices. The model is priced under $30. As you can see the unit is quite cheaply priced for you to use. All in all, the unit comes with amazing features, and stupendous abilities that are very hard to ignore.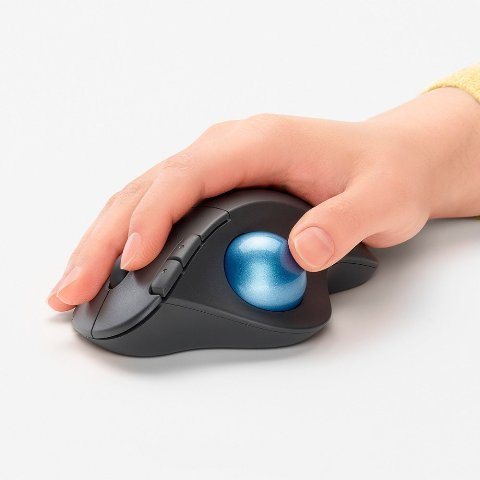 Conclusion
This is it. We have come to the end of the post. We hope that you were able to benefit from it and were able to make up your mind. We have provided you with the best ergonomic mouse in 2023.
Our winner is the Logitech MX Vertical Wireless Mouse because it came with exceptional features like a unique 57-degree angle & 4000 DPI high-precision sensor. When you want a vertical mouse, then Anker 2.4G Wireless Vertical Ergonomic Optical Mouse would be ideal.
Likewise, we also felt that the Microsoft Bluetooth Surface Arc Mouse is an excellent choice for scrolling both vertically and horizontally. Have we missed something in hindsight? If then, please do let us know in the comment section below, we will be delighted to hear from you.
Is it worth getting an ergonomic mouse?
It is worth getting an ergonomic mouse because it reduces the tension & pressure on your wrist. We balance our hands on the bottom side, and not on the sides. Besides, they are light & easy-to-use.

When you are using a heavy unit, then you might want to consider getting an ergonomic, lightweight mouse. All the models provided by us on this list are lightweight and extremely portable.
How to choose an ergonomic mouse model?
We felt that two factors that are worth considering are the type you want, and the scroll positioning. Whether, you want a vertical or traditional unit, and a pointer finger or thumb. Ergonomic models come in this shape, size, and design for you to choose from.

Most of the ergonomic mouse unit postures ensure that your hand is placed in a similar manner to a traditional mouse. Your hand is placed flat on the mousepad. However, some designs allow you for using the claw grip more effectively.
Is the touchpad more ergonomic than a mouse?
You can switch to a touchpad if you want because it comes with some advantages over the traditional mouse unit. It offers you with a higher productivity level and is much better for your wrist health, and neck.

Besides, it provides you with an all-day comfort on your hands, arms, and shoulders. At the end of the day, it depends on your requirements, style of work, and preferences. They are also affordable.
How ergonomic is the Apple mouse?
The Apple mouse is a fantastic mouse model because it comes infused with several awesome features. It is a slick model, very smooth to use, and is absolutely ergonomic. It is simple to use and work with.

There are no grooves or curves unlike most of the traditional mouse units in the market. You can rest your hand properly, get a proper grip, and it is an overall great experience. Sadly, it is quite expensive.
Which mouse is better Logitech or Microsoft?
We feel that the Logitech mouse model is better than the Microsoft units. That is because, they come portable, have robust build quality, and have several features in them. Like the programmable buttons provide you with better control when gaming and for regular work purposes.

But the Microsoft model comes designed with an ambidextrous design, that is easy to use. Moreover, it is light to take around with you.
James Smith has always been intrigued by electronic products since his childhood. After his post graduation in electronics from a popular university, he decided to pursue a career in the electronics sector. But his calling for writing about these marvellous pieces of work got the better of him. That is how UBG was started. With a writing career spanning more than 12 years, James has worked on several hundred product reviews. During his free time, he like to spend time with his pet dog and relax in the swimming pool.