Last Updated on November 9, 2022 by James Smith
We are in 2022, and the hardware market is getting better day by day. You can find several gaming hardware options that can suit anybody easily. Among the hardware options, the GPU model is the most popular product available in the market.
You could be a video editor, professional video editor, or live streamer; you can choose from the choices in the market. In this post, we will be discussing about some of the best GPUs for video editing & rendering.
You can use the graphics units for a wide range of purposes like video editing and also editing using a 4K monitor. However, we may want to clear some misconceptions. Some of you feel that the GPU model is not the most vital component for video editing.
Your CPU, SSD, and RAM come in the beginning, and then the GPU. While it may be right to a certain extent, it is not completely correct. But the GPU unit does help you to perform a wide range of applications and video editing tasks.
Without using them, you can't get them completed. That is why we have compiled a list of the best graphics cards for you in this post. Please do understand the models are currently in very short supply due to production shortages.
Your favorite models might not be available right now, and you may have to wait for some time. These GPU units can be upgraded on your PC machines and not your laptops. But you can increase the performance of your GPU in your laptop with the external graphics card (eGPU).
It can be attached via Thunderbolt. Unfortunately, we will be looking at only the internal graphics card used on your PC device. We have always had this debate between Nvidia & AMD models. Which one is the best in the market in 2022?
We will be discussing on that at the end of the post. They both are good enough to meet your requirements. The GPU model is primarily dependent on your requirements. While a low-profile GPU unit is sufficient for some of you, others might need a top-end GPU model.
When you don't have a PC device of your own, but plan on building a unit, then you can make use of the APUs with the help of the integrated Vega graphics. Now, we can learn about the GPU models in the market for 2022.
The best GPU models for video editing & rendering
You can find two brands in the market as of now, the Nvidia & AMD models. You can choose either of them. They are that good; you can be assured of tremendous performance from their GPU models.
Earlier, many users would have preferred Nvidia GPU models, but today, you can find better models from AMD. Now, you can work effortlessly on large high-resolution video files with graphics card model units, which are capable of phenomenal performances.
Let us read about the best GPU for video editing and rendering in 2022.
1. Nvidia Titan RTX
The Nvidia Titan RTX is our first GPU model that is available in the market today, in 2022. When you want stunning performance, then you may want to make use of a consumer-level card like this one.
It is truly a fantastic choice for gamers. If you are a professional gamer, then you would love to use it on your PC device. The model shows its caliber in tasks like video editing, CAD work, and in machine learning.
This model is part of the Quadro series from Nvidia. It is not a consumer-level card because it is a top-end model. Several gamers may not benefit from the graphics cards. Users have commended the product because of its exceptional ability to perform.
It is a powerful card and makes use of 2 8-pin connectors. That means you need to have a proper power supply. You have to be content with Nvidia's fan design and gold shroud. There are 4608 Cuda Cores, 576 Tensor Cores, and 24GB of GDDR6 memory.
It also comes with a 1770MHz Boost Clock. You would be delighted to know that the 24GB VRAM enables you to view fantastic quality videos. You can use it on two monitors effortlessly. The only minor issue with this GPU model is that you need to tune the fan profile.
That is because when the GPU unit is running at full load, then you need to make use of an additional third-party cooling technology. The card is priced under $3000. Yes, it is expensive, but it comes with incredible features that most models do not have at the moment.
When you want exceptional performance from the GPU model, then go for this.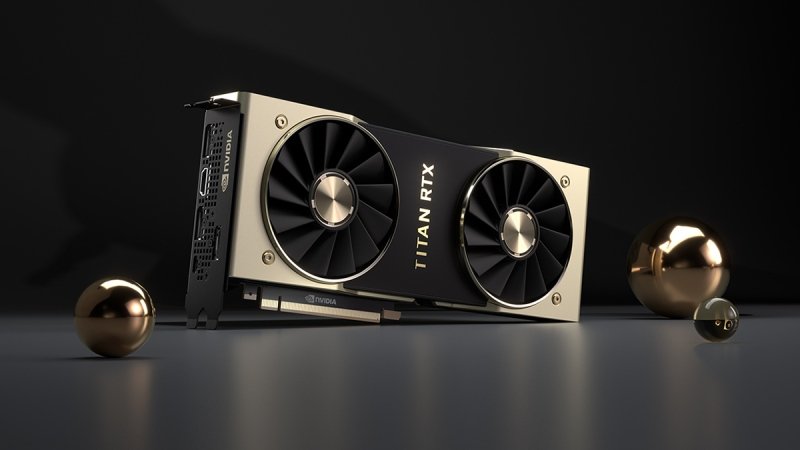 PROS
The model is a powerful Turing consumer card.
The unit is future-proof.
It comes with plenty of VRAM.
It has exceptional gaming capabilities.
The product comes with amazing driver privileges.
CONS
The model is quite expensive.
The Nvidia Titan RTX GPU model is a spectacular unit. When you are a heavy user and want to get exceptional performance, then you need to make use of the best model that is there in the market today, in 2022.
2. Nvidia GeForce GTX 1660 Super
Our second GPU model on the list of the best GPU for video editing and rendering is the Nvidia GeForce GTX 1660 Super. Luckily, this unit is not as expensive as the one we just read above. We understand that most readers are looking for mid-range, budget models.
If that is the case, then you would love to work on this amazing unit. This unit may not be the most powerful out there, but it can undoubtedly get your tasks completed on time. You may not require a lot of power when doing video editing and rendering work.
Yes, you may get more out of the 1660Ti GPU model, but it is quite expensive than other units. You will be glad to know that this unit has a similar TU116 processor as the 1660Ti; however, the memory is somewhat slower.
That is not going to make a huge deal when you want to make use of video editing purposes. Unless you may want to work on the closed captions, work on ProRes 4K footage, and motion graphics.
The unit just does not slow down. When you have a brilliant fast SSD feature in it, then you can call it a mid-range consumer-level card. It works pretty well with third-party aftermarket cooling systems.
You do not get this feature using top-end GPU models. It also comes with 6GB of GDDR6 memory that has sufficient headroom space in the workflow. All in all, this model is also a 1080p gaming beast having phenomenal video editing abilities.
The card is priced under $368.
PROS
The unit is highly versatile.
The model is phenomenal for 1080p gaming purposes.
It provides you with exceptional value for money.
It has a fantastic editing performance.
The product comes with a Turing NVENC encoder.
CONS
The product comes with no RTX/DLSS support for gaming.
The Nvidia GeForce GTX 1660 Super is a good product that comes infused with exceptional features. It is similar to the GTX 1070 GPU model if you overclock it. You may have to enhance the power to do that.
3. Nvidia GeForce RTX 2070 Super
Did you know that picking this GPU model for the third spot was quite strenuous? That is because we did not want to go into the top-end stage of the market. However, the Nvidia GeForce RTX 2070 Super is perhaps the best option when you can spend some money.
The main talking point of this GPU model would be its pricing of it; for most of you, that is the best that you would require for your needs. You cannot say the same for video editing and rendering.
There is always the Quadro & Titan card that you can purchase, but this is the better option for you. The GPU unit does not do much better than the RTX 2060 Super in the video editing aspects of things.
It comes with decent features like super-fast 8GB of GDDR6 memory. The graphics card also works fantastically in the top-end ProRes 4K footage. When you want to make use of a top-end processor, you can reap the benefits of doing so.
The VRAM of 8GB comes embedded with more motion graphics, and graphics-accelerated projects are much easier to perform. You can note that the Turing NVENC is capable of doing its tasks too.
Some of them, like the live streaming, are exceptional. This is the reason why we want to choose this model as the best high-end graphics card for video editing. The card is priced under $450.
The GPU unit is less than the $500 mark making it reasonably priced. However, when you are looking for a cheaper model, then you will need to look elsewhere.
PROS
The unit has a fantastic design.
There is sufficient VRAM for top-end quality codecs.
It provides you with exceptional performance.
The card has incredible power.
The product comes with a good cooling system & is ideal for 1440p gaming.
CONS
It is quite expensive.
The unit has been edited to the 2060 Super unit.
The Nvidia GeForce RTX 2070 Super is a stunning model. It comes with everything that you may want to have. This mid-range card has a wide range of features that can make any kind of work possible for your gaming or professional use.
4. AMD Radeon RX 5600 XT
Next, we have the AMD Radeon RX 5600 XT. Yes, finally, we have an AMD GPU model on our list of the best GPU for video editing. The GPU unit is undoubtedly a fascinating graphics card in the market in 2022.
The reason for that is that they decided to price it down further. AMD is reigning over Nvidia because of its pricing strategy. Nvidia may want to take a leaf from its book if they're going to stay in the market for a long.
It is priced similarly to the variants of the RTX 2060 and an average 1660Ti model. It is a great video card; if you are keen to use a GPU model just because of the performance & price, then it is a great video card.
The unit makes use of the Navi 10 processor, 6GB of GDDR6 memory, and 2304 Shading Units. There is also the 192bit bus width. It is an excellent performer for doing both gaming and productivity.
The GPU unit can manage the 4K video effortlessly, but you may have to reduce the motion graphics. Sadly, the unit is not likable when you are rummaging through videos. But like we said before, this model is a mid-range one that costs affordable.
Besides, it works sublimely on the MacBook. If you own an Apple PC device, then you would love to make use of this one. We are not too sure about the Nvidia models. Though you can extract immense performance from the Nvidia GPU units, the same cannot be said about AMD.
Users can get the external GPU enclosure; then, they can place the GPU unit inside for phenomenal performance. This is the simple reason we felt that the AMD model is the right one for AMD graphics cards for video editing.
The card is priced at less than $1300. We understand it is not cheap, exactly, but according to AMD, the unit is reasonable in price when you are speaking in the Apple language. Apple users would surely understand what we mean by that.
PROS
It is a fantastic model for the macOS.
It comes with extreme 4K footage.
The unit is impressive for 1080p gaming.
The model is stunning for productivity as well.
The product is priced somewhat reasonably.
CONS
Sadly, it has only a VRAM of 6GB.
There are driver problems.
The AMD Radeon RX 5600 XT is genuinely a fantastic model released from the stable of AMD. When you are looking for a model that has exceptional performance, decent pricing, and excellent features, too, then look no further because this one has your back.
5. Nvidia GeForce GTX 1650 Super
Fifth on the list of the best GPU for video editing and rendering is the Nvidia GeForce GTX 1650 Super. Yes, we are back to the Nvidia models because they seem to have more comprehensive capabilities than the AMD ones.
But that does not mean the AMD models are not good enough or capable. They are stunning and good in their own way. But we just feel that they are compatible with most of the PC devices in the world.
Perhaps, Nvidia has mastered that flaw and is working hard to release models that can be used on almost any PC gaming machine you like to design. Anyways, coming to this graphics card, it works alright for video editing and rendering purposes.
That is our primary purpose in this post, after all. Let us say that you spent most of your savings on the other components of your outdated PC device. You are left with a small amount for the GPU. This is when you would understand the value of the Nvidia one.
It is a budget model and may not exceed your performance aspects. However, you will be quite impressed when you read through the features. It comes with the TU116 processor, which is found on the 1660 Super, Boost Clock of 1725MHz, and has 1280 Cuda Cores.
It also comes with 4GB of GDDR6 memory. However, what kind of performance can you expect from the model? For the 1080p video editing performance, you can get a decent one. When you pair it with the processor, then you will be amazed to know powerful it can get.
Not to mention, things may slow down when you fire up DaVinci Resolve. You may want to understand that the DaVinci Resolve consumes most of the GPU features that are present inside it.
The 1650 Super may keep up with the other models if you want. But it is not as good as you may want it to be. When you make use of Adobe software or Adobe Premiere, there is some benefit to using it.
The card is priced at less than $599.
PROS
The unit has a sublime design.
It is an excellent entry-level card.
It has a good editing performance.
The model is fantastic for 1080p gaming.
It is incredibly affordable.
CONS
There is some struggle in the DaVinci Resolve.
It is not meant for intensive editing.
When you are in search of a budget model that provides you with reasonable performance, then the Nvidia GeForce GTX 1650 Super should be on your list. The model comes cheap, has powerful features for the price, and is a workhouse.
6. Nvidia GeForce RTX 3090 Founders Edition Graphics Card
Our following product is the Nvidia GeForce RTX 3090 Founders Edition Graphics Card. It comes infused with tremendous potential and capabilities. You will soon find out why by the time you finish reading.
Users have highly recommended the unit because of its performance. That is the specialty of the Founder's Edition model. One user recently has upgraded from a Zotac 2080 Ti and found that most of the games work splendidly.
Besides, gamers can also work on intensive games with better quality sublimely. Professional gamers feel that the GPU model works incredibly well. Sadly, they are not meant for those of you searching for a budget model because of the cost.
They are incredibly expensive. When you are looking for a graphics card priced between a 2080 Ti and a 3090, then we would suggest that you spend more and get this GPU unit. Of course, you can wait for the price to reduce.
The card is priced under $2200. This is, again, one expensive model from Nvidia. But we couldn't resist ourselves from having a Founder's Edition GPU model on our list. You have to shell out the money when you want exceptional performance.
PROS
The design of the model is exuberating.
The power of the unit is fantastic.
It comes with amazing performance.
It has a good cooling system.
There is a splendid gaming ability.
CONS
The Nvidia GeForce RTX 3090 Founders Edition Graphics Card is an expensive GPU model. When you are in search of a powerful, reliable, durable, and exceptional GPU unit, then you might want to make use of this kind of graphics card.
7. AMD Radeon RX 6800XT
The following product is the AMD Radeon RX 6800XT. Like we said, Nvidia has taken advantage of the fact that they have been in this market longer than AMD. Besides, AMD is only making progress in the last 10 years under a leadership change.
If you look at video editing and rendering use, then the AMD GPU models are definitely not the best recommended. But if you make use of Apple devices, then you may want to make use of the AMD models.
The top-end 6900XT GPU unit provides phenomenal performance on the Apple product. Consequently, the pricing of the GPU unit may not be justified for some of you. But the pricing stands the same when you want some time to blend with Apple products.
Please make sure that the variant of RX 6800 XT is shorter than 310mm. Otherwise, it may not fit inside your Mac Pro. The card is priced under $950. The features found on this GPU model are too eloquent to keep aside in today's competitive market.
PROS
The axial-tech fan design is improved with more fan blades.
There are dual ball fan bearings.
It comes with a MaxContact heat spreader.
It has a 144-hour validation program.
It has an all-aluminum shroud, reinforced frame, and metal backplate.
CONS
The price of the card is quite expensive.
The AMD Radeon RX 6800XT is one of the best that is present in the market today. You would want to make use of the unit, although you are not a fan of the AMD model. That is because it comes embedded with outstanding features and abilities.
Nvidia vs. AMD For Video Editing In 2022
As we said, we will be discussing about Nvidia vs AMD at the end of the review. Many users seem to have this dilemma about getting the latest GPU models in 2022. The confusion is whether they should choose the Nvidia or AMD model.
Though there is no concrete proof that the Nvidia model being better than the AMD model or vice versa, the manufacturers make use of a different architecture. Perhaps, you may have read our comparison GPU model reviews.
The results are almost close, and the winner is based on mild advantages. We usually give preference to the price & performance. Before 10 years, it was Nvidia without much of discussion, but AMD has now done a phenomenal job in designing splendid models.
Nvidia GPU models have a stunning CUDA architecture that is widely supported and optimized. Likewise, Nvidia models are suitable for applications using Adobe Premiere Pro. However, AMD GPU models are not that far off in implementing the DaVinci Resolve.
If you want to perform incredible video editing on Premiere, then you may want to use AMD; while you want to get optimum performance, then Nvidia models might be helpful. It is all about preference.
How to choose the best graphics card?
It can be quite tedious when you have to choose the best GPU model for yourself. There are several hundred models to choose from in the market. However, only some of the units can satisfy your requirements.
Besides, choosing them can take a lot of time in research and reading the reviews given online. Instead, we have provided you with the factors you need to know before making a choice. Here are some of the factors that you must know when choosing the GPU model for yourself.
Power draw
The power draw of the PC model is the most crucial of all the factors that could possibly be present. It is vital for all computer configurations and enables to avoid the PC system from crashing and experiencing malfunctions.
It varies from GPU model to GPU unit. While some GPU products consume 120Watts, some can take in 300 Watts or more. The top-end GPU units can consume more power compared to the other computer components combined.
Cooling system
The cooling system of the GPU unit also matters. You might want to know that overheating of the model can cause several damages to the card on your PC unit. Make sure that your GPU model comes with a sublime cooling system.
Size
The size of the GPU unit is the next thing you would want to consider when choosing one for your PC machine. The length of the top-end dedicated models is usually between 10.5″ – 11″ and tends to occupy 2 to 3 expansion slots.
Multi-card scaling
There is also the multi-card scaling option that you need to think about. That is because you may want to connect several GPU units inside your PC case. To do that, you can make use of the CrossFire X or NVLink but pairing GPU units having different architectures cannot be done.
FAQs
Which GPU is best for 4K video editing?
The best GPU for 4K video editing is Asus AMD Radeon RX 5700 XT, Gigabyte AMD Radeon VII, EVGA Nvidia GeForce RTX 2070 Super & Nvidia GeForce RTX 2080 Founders Edition. You can consider them when you want your GPUs to perform well on your system.
Is RTX or GTX better for video editing?
It depends on the kind of video editing that you plan on doing. There can be a slight difference in the quality when you use an RTX 2080 and 1000-series GTX card. However, you can gain more VRAM from the GTX GPU model than the RTX 2080 GPU unit.
How much GPU do I need for 4K video editing?
You would require a GPU unit that has at least 768MB RAM. However, in the real world, there could be a usage of 1GB RAM. You would want to know that the top-end GPU models can make a difference from the low-end ones.
How much RAM do I need for video editing?
This again depends on your requirements. When you need to perform a high task, then you would want to use a powerful RAM of 32GB or more. However, when you need to perform simple tasks, then 8GB or 16GB RAM should be sufficient.
Does GPU make video editing faster?
The GPU model does not necessarily make your editing quicker or something like that. However, it can make the appearance or affect the design quality of the tasks. Supposing you are working on an important project, then the GPU unit may matter in 4K and 8K video editing.
Conclusion
There you go. We have ended the post on some of the best GPU models for video editing in 2022. We hope you enjoyed reading the post, just as we had fun writing it for you. The above were some of the best GPU models.
Please note that the GPU model is very crucial for your video editing tasks because they have the ability to make or break your projects. So, don't shy away from spending on the GPU models for your PC device.
We do not have any favorites in particular because they are all capable of providing you with what you want. Each of the models comes with their own features that can surely suit your needs.
You would want to know that the best graphics cards for video editing are a wise investment. Although they can cost some money, as you can see from the price quote in the above models, they will save you on the workflow, that otherwise might shrink your initial outlay.
James Smith has always been intrigued by electronic products since his childhood. After his post graduation in electronics from a popular university, he decided to pursue a career in the electronics sector. But his calling for writing about these marvellous pieces of work got the better of him. That is how UBG was started. With a writing career spanning more than 12 years, James has worked on several hundred product reviews. During his free time, he like to spend time with his pet dog and relax in the swimming pool.