When you want to know more about the best noise-canceling headphones, to reduce the background sound, then you would want to make use of the below ANC headphones to enable you to concentrate on the sound that you always liked.
When you want some peace and respite from the regular sounds & noise of the outside world, then you may want to do something about it. Listening to all the sounds of nature or the noise of the people around you can be disturbing at times.
This could be when you are taking the subway on a 1-hour journey to your workplace or when traveling in an airplane. You do not want to be annoyed with all the noise that is happening around you.
Noise canceling is a required feature in today's heavily populated world. There seem to be people everywhere you go. It could be school, college, university, and even in the parks. Anyone can benefit from the best noise-canceling headphones.
In today's write-up, we will be reading about the best noise-canceling headphones in 2023. Apart from blocking the outside noise, the ANC headphones can also offer you with a comfortable fitting and provide you with the latest technology as well.
They also come infused with an in-built microphone that helps you to pick up the sound clearly. There are also out-of-phase sound waves that can get rid of the outside noise effortlessly. Having so many costly choices, we have provided a list of the best ANC models you can get.
Best Noise-Canceling Headphones in 2023
Below are some of the best noise-canceling headphones for 2023. You could be a regular commuter by bus or train. Perhaps, for somebody who wants to listen to some quality music or listen to a podcast, the best type of headphones is those with noise-canceling features.
Most noise-canceling headphones are those that come for a price. They are often priced more than $200, with some premium models costing more than $400. We have done our best to provide you with top-notch models that are reasonably priced.
Let us read to know more about the best noise-canceling models that are available.
1. Sennheiser Momentum 4 Wireless
We begin our journey in the list of the best noise-canceling headphones in 2023 with the Sennheiser Momentum 4 Wireless. Sennheiser is a German brand that has been in this market for many decades.
Along with some popular makers like Bose, they have produced some stunning headphone models over the years. Let us read and find out why the Momentum 4 Wireless is ranked first on the ANC list.
The audio resolution with Sennheiser's signature sound is simply numero uno. You can also personalize your sound using the Sennheiser smart control app. You can remain immersed in the music with the adjustable transparency mode with which you stay in touch with the world around you.
The model comes with exceptional comfort and long battery life. These two factors are quite crucial for any ANC headphones. When you switch on the ANC feature, then it tends to consume more power.
This model comes with up to 60 hours of playback time with fast charging. Moreover, it is lightweight, has a foldable design, and comes with a padded headband that has deeply cushioned ear pads.
You can wear them for several hours, without feeling any kind of discomfort. The headphones have a low-friction hinge mechanism that easily adjusts to your head. This gives you a great fit without any excess pressure on your head.
The microphone calls are excellent with four digital beamforming microphones. They can provide you with a top-notch voice pick-up and reduce the wind noise for optimized calls and give you with simple access to a voice assistant.
The package comes with everything that you would require, headphones, a carry case, USB-C charging cable, audio cable 3.5mm and 2.5mm jacks, and even an airplane adapter. The model has a speaker frequency range from 6 Hz to 22 kHz.
The model is priced under $380. It can be considered expensive, and if you feel that it is beyond your budget, then you may want to look elsewhere. However, when you want sublime audio performance, a powerful ANC feature, and a top-notch microphone, you got it in here.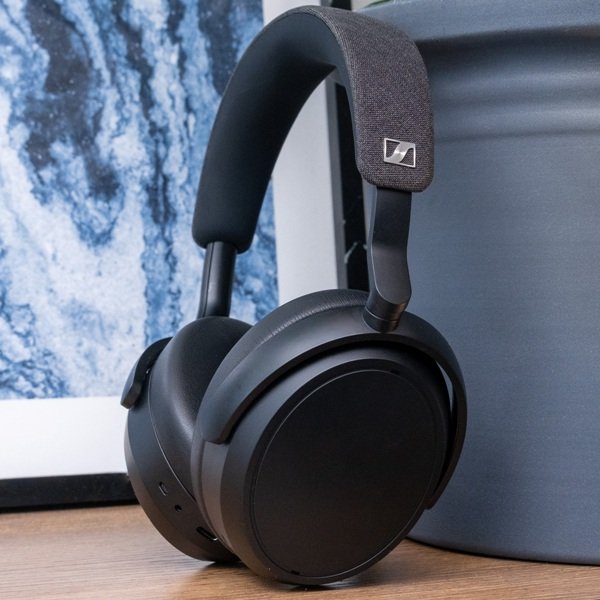 2. Bose Noise Cancelling Headphones 700
Second on the list of the best noise-canceling headphones in 2023 is the Bose Noise Cancelling Headphones 700. Bose is one of the front runners in the ANC headphone category. They have been producing amazing models over the last few years.
No headphone or earbuds list can be completed without the mention of Bose. The German maker is way beyond its time with opulent models that are infused with awesome technology. This model comes with 11 levels of active noise canceling that can allow you to enjoy music, podcasts, videos & calls without distractions.
It provides you with an astonishing sound that is crisp and has clear details. The music quality is deep and comes with a full bass. The wireless headphones can offer you with some exciting, lifelike sound, that is balanced at every volume level.
The voice pickup is revolutionary with a microphone system that can easily adapt to the windy environments. When you are on a call, you know that the person at the other end can hear you properly.
You are provided with easy access to voice assistants like Alexa and Google Assistant. You can do a host of things on that like adjust the weather, music, navigation, and more. There is also an intuitive touch control on the earcups.
The model is produced from a lightweight stainless-steel headband. Its earcups are tilted to provide you with the perfect fit. Now, you can comfortably wear these Bluetooth headphones without any discomfort.
The battery life is simply amazing at 20 hours on a single charge. You can now listen to Spotify sessions, by tapping and holding the right earcup. This is possible using iOS devices. There is also the Bose smart device or the Amazon Echo device for placing calls with the Alexa mobile app.
You can use the Bose Simple Sync technology with select Bose smart soundbars for a personal TV listening experience. The independent volume controls let you lower or mute your soundbar while keeping your headphones as you like.
There is also a 33feet or 10-meter range of Bluetooth connectivity. So, now if you are away from your smartphone, then you need to press and hold the Bluetooth button on each device to sync the sound.
The model is priced under $380, which is the same as the earlier Sennheiser model that we just read about. It is costly but comes embedded with tremendous features & specifications that you may not find on most of the other ANC headphones that are sold in the market.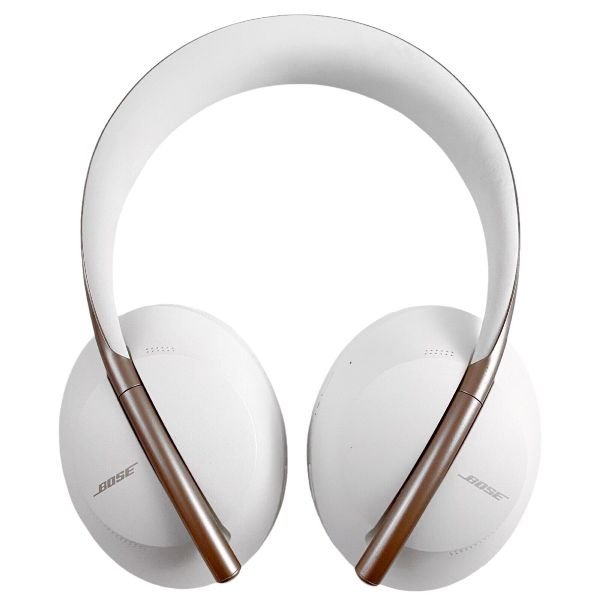 3. Sony WH-1000XM5
Third on the list of the best noise-canceling headphones in 2023 is the Sony WH-1000XM5. Sony is a popular headphone maker and where the pioneer of the ANC feature as well. You can't have a list without giving credit to them.
The Sony R & D department has worked tirelessly to ensure that the ANC feature headphones are provided to the masses. The WH-1000 series headphones are a result of that. Most of this series has been famous among users around the world.
This model comes with the industry-leading noise cancellation-two processors control with the help of 8 microphones. There is an auto NC optimizer, using which the noise canceling is automatically optimized.
It is able to offer you with stupendous sound performance that has been engineered to perfection with the help of the integrated processor V1. It has a crystal-clear hands-free calling feature with 4 beamforming microphones, advanced audio signal processing, and precise voice pickup.
The battery life is good at 30 hours with a quick charging feature as well (3 minutes charge for 3 hours of playback). The model is quite comfortable to wear because of the lightweight design with soft-fit leather.
It has a multipoint connection that allows you to quickly switch between devices if you want to. You can make use of the redesigned case to carry your headphones effortlessly. You can make use of the intuitive touch control settings to control volume, pause, play skip tracks, activate your voice assistant, and answer phone calls.
You will find the speak-to-chat and quick attention mode to stop your music and allow the ambient sound. Using the instant pause/instant play music can automatically pause the headphone when taken off and start again when put back on.
4. Shure AONIC 50
The Shure AONIC 50 headphones are next and come with immense ability to take you into another world of music. The American company has ensured that they dominated the luxury headphone market along with makers like Bang & Olufsen.
Shure is a popular headset maker that can provide you with premium goods. Let us read and find out more about this model. The unit has been designed & engineered with no cords and wires, just listening.
The noise canceling is adjustable and the environment mode is useful too. You can now get rid of the distractions to get a truly immersive listening experience. You can then hear the outside world by using the other mode.
The connectivity is sublime with a range of up to 30 feet (10 meters). You can now pair this model with smartphones, tablets, and laptops. You stand to gain close to 20 hours of battery working life.
It has been designed to withstand the wear & tear of travel. You can now fold it flat for portability using the protective carrying case. However, a user has mentioned that the earphones do not fold, we are not sure about that aspect.
It supports multiple codecs including Qualcomm aptX, aptX HD, Sony LDAC, AAC, SBC aptX, and low-latency audio. The model comes with a 3.5mm analog audio input to stay connected to any device, like airplane entertainment systems, USB-C digital input, and high-resolution audio.
The model comes priced under $300. This is an expensive model on our list. It comes with everything that any audiophile would want to desire on the headset. Why not get one today, and find it out yourself?
5. Bang & Olufsen Beoplay H95
Our final product is the Bang & Olufsen Beoplay H95. Bang & Olufsen is one of the most popular headphone makers in Denmark. They have put Europe on the map, along with Germany which has the greatest number of headset manufacturers.
But Bang & Olufsen are not strangers to the market and have been around now for a very long time. They know what consumers want and are doing likewise. The model comes infused with a powerful battery life of 38 hours of playtime on a single charge with ANC.
The unit provides you with phenomenal sound quality through customized titanium drivers. This produces an advanced adaptive active noise cancellation. Its sound quality is simply amazing with two 40mm titanium drivers with neodymium magnets.
It has been done likewise to improve sound precision and increase the low-frequency response. Thanks to the multiple built-in microphones, they now allow for clear chats with anybody you want.
The luxurious model is designed with the best materials you can find in the market, including titanium, lambskin leather, and memory foam. The over-ear headphones are extremely comfortable thanks to the elegant, foldable design.
The maker has provided a robust hard case to store your headphones. It is helpful when you are traveling and comes lined with matching textiles on the inside. It also has a customizable sound EQ, where you can customize your audio preferences with Beosonic tuning.
This can be got on the Bang & Olufsen app. The headphones are simple to use and easy to set up if you want. The Bluetooth pairing through the Bang & Olufsen app can be done without hassle on Android, iPhone, and iPad.
The model comes priced under $900. This is the most expensive model on our list. We thought about that aspect when writing the write-up. However, when you want something that is luxurious, and spellbinding, then it has to be this model.
Conclusion
There you go. We have ended our discussion on the best noise-canceling headphones in 2023. We hope that you were able to understand more about the ANC headphone models and were able to make your decision.
If you haven't then we suggest that you read the post again. Perhaps, you may have missed out on something. We have provided you with everything that you need to know about the ANC models.
Did we like something? We felt that the Sennheiser Momentum 4 Wireless & Bose Noise Cancelling Headphones 700 were strong contenders for the top model. However, it is not necessary that we have to see eye to eye on that aspect of things.
However, the other headphones come with their own unique capabilities and powerful ANC features. Did we miss out on something? If then, please do write to us in the comment section. We would be glad to hear from you about your thoughts on the ANC headphone models.
Why are ANC headphones so expensive?
The ANC headphones are usually costly because of the numerous features, apart from the ANC, that are present in them. Besides, they come with opulent microphone ability, they are durable, and are produced from lightweight, but expensive materials as well.
Is it worth investing in noise-canceling headphones?
Why not? Instead of getting an under $50 or $100 headphone, which might be good for only listening to music, you might as well, get yourself a decent pair of ANC headphones that can last you several years.

When you are serious about music and can afford $200 or under $500, then you should consider one of the above-listed headphones. We can assure you that you will be taken into a different world with the ANC switched on.
Does noise cancellation block all noise?
Please beware that not all ANC headphones can block out the noise completely. While it might be a good thing because when you are traveling outside or crossing the road, then you should beware of the happenings of your surrounding.

The models that we have listed come with a solid ANC feature that can block noise completely. You can't hear anything, once you have turned on the ANC feature. Makers like Sennheiser, Sony, and Bose, have improved the technology, so their noise-canceling works eloquently.
Do noise canceling impact sound quality?
The ANC feature when switched on does not impact the sound quality of what you are listening to. In fact, it sounds better because you can now hear everything with immense clarity. Besides, when you are on a call, then you can use the ANC feature if you are on a busy street, and not be able to hear anything.
What is the disadvantage of noise canceling?
Sadly, noise canceling does come with some disadvantages, namely pain in the jaws, slight headaches, mild dizziness, and some pressure on the ears. The ear pressure is similar to what you experience when you are traveling inside an ascending airplane.
James Smith has always been intrigued by electronic products since his childhood. After his post graduation in electronics from a popular university, he decided to pursue a career in the electronics sector. But his calling for writing about these marvellous pieces of work got the better of him. That is how UBG was started. With a writing career spanning more than 12 years, James has worked on several hundred product reviews. During his free time, he like to spend time with his pet dog and relax in the swimming pool.