The gaming mouse industry is evolving slowly. The right kind of models is coming out in the market. You can find a wide range of gaming mice today. Today, we are going to be looking at two phenomenal gaming mice.
They have made noise in the market and have the capability to entice you too. They are the Glorious Model O Gaming Mouse vs the Logitech – G502 Wired Optical Gaming Mouse with RGB Lighting.
When you plan to upgrade your gaming mouse, why not give these two gaming mice a try for yourself. The Glorious Model may not have been heard before by most of our readers. That is fine, but what about the Logitech model.
You would have heard and used the Logitech peripherals before. They have been in this industry for quite some time now. The makers of the Glorious Model were concerned about the weight of the gaming mice present in the market.
They felt that the gaming mice on offer are quite heavy and do not help gamers as they should. They designed and produced the Glorious Model O gaming mouse based on that. It is quite elegant and beautiful to look at.
They have created one of the lightest RGB gaming mice of all time. If you look around the market, you can find models with elegant designs, having printed shells; some have drilling holes in them, while others have the same traditional shape and texture.
This is somewhat like the Logitech models. However, the Model O comes with a unique and special design for professional gamers. It weighs only 67grams and little lower than what you can find in the Razer Viper Ultralight.
On the other hand, we have the Logitech G502 gaming mouse. As you know, Logitech ensures that its products come nicely designed and in the proper shape. We noticed that it provides outstanding ergonomic support for your thumb rest.
There are several programmable buttons and a sniper button. It could come in handy for FPS games. There is low click latency and many CPI ranges, though it can be heavy for gaming use. However, you can adjust the weight depending on your requirement.
Let us read to know further about the gaming mice and which model to choose for yourself.
Glorious Model O
Logitech G502

PROS

PROS

The model comes with a lightweight and cable that is flexible.

The unit feels quite solid and nicely designed.

There is a low click latency found on it.

It has an MTBF of 20 million clicks switches.

It comes with a decent appearing RGB lighting.
The model feels elegantly designed and built.

The unit has a flawless sensor.

It is infused with buttons that can satisfy your requirements.

It comes with adjustable weights that can move 5 options.

The gaming mouse has eloquent LEDs.

CONS

CONS

The side buttons could have been nicely done.
The DPI indicators do not light up as often as they should.
Glorious Model O vs Logitech G502: Design & Comfort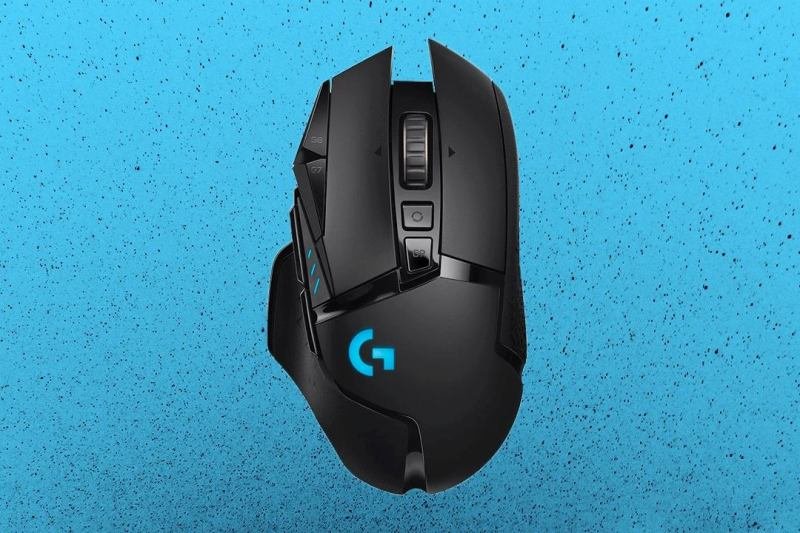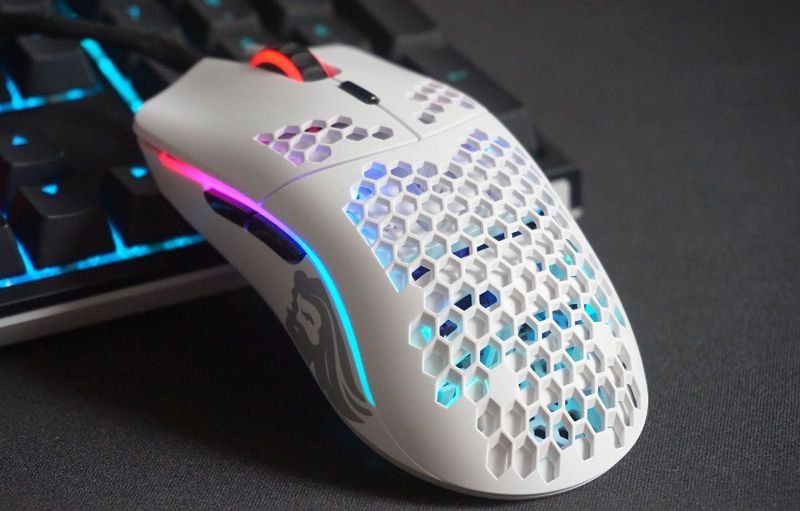 The Glorious Model O Gaming Mouse has an elegant style and is infused with customizable RGB lighting. Users can find that it is present on each of the sides. There is also lighting inside the mouse and on the scroll wheel itself.
The unique design makes it stand out from the rest of the models you would have seen in the market. It is available in 4 colours of glossy black and white, matte black and white. Our tester found the glossy black the most attractive.
Its lighting is able to shine nicely on the honeycomb designed holes that are present on it. You can also find the logo on the side of the mouse. Otherwise, there is nothing much else to talk about its design.
It is quite plain and simple. When you are keen on using a similar design gaming mouse, then you can choose the Vancer BT. L Gretxa. So Glorious Model O is not the only model that comes with a honeycomb design on it.
You cannot use it as a portable unit as it may not fit inside the laptop cases. It may not be a problem for those of you looking for a gaming mouse to use on the table. If you want to use something smaller, then you can consider using the Model O-.
It is a lightweight gaming mouse that comes with a few customization options that make it quite light. When you want a lighter mouse, you can consider the Pulsar Xlite. If you are not excited about the honeycomb design, then you can use the Razer Deathadder V2 Mini.
It is produced from plastic material. When we used it or moved the model around the table, there was no noise. The design will allow the dirt and dust to accumulate over time, causing it to become non-functional.
You may want to keep an eye on that. It was comfortable to use and work with. But not ideal for people with smaller hands. This mouse is wired and can't be used wirelessly. However, there's a wireless version of it, the Glorious Model O Wireless.
Besides, the cable is lightweight and flexible too. There are 6 buttons that are programmable with the companion software. The sensor's performance is phenomenal, has an amazing CPI range, and is consistent.
Besides, it has a low click latency. The ambidextrous design is comfortable for any grip style. However, you may find it that suitable for smaller hands. You can consider the Model O much smaller and lighter than this gaming mouse.
The unit weighs more than 10grams lesser than the Logitech G Pro Wireless. When you are worried about the weight of your mouse, then you know what to do. The ultra-light gaming mouse comes nicely built; it is solid and has a honeycomb pattern design.
The Logitech – G502 Wired Optical Gaming Mouse with RGB Lighting has a scroll wheel that can unlock for free scrolling and has left & right tilts. This feature used for horizontal scrolling is rare in most gaming mice.
If you have seen the earlier models of Logitech or the G502 itself, you would know the looks. There are not many changes done to it. You can find the moody, dark, angular, and similar designed products that they have always been.
Its build quality is fantastic and comes with the primary buttons and grips. You can find the glossy plastic and the extra buttons. We did notice that the scroll wheel is quite shiny and also metallic.
You can toggle the mouse using the awesome scroll wheel that is found on it. The model allows the wheel to spin nicely for a good turn. Our tester thought that the angles on the mouse were hard. You may want to use it gently otherwise; it could hurt you.
Not something that you should be worried or concerned about. Many users may not like it if they have smaller hands as it comes quite large. The design of both the gaming mice is similar in this aspect.
It is a classic that comes with an exceptional design and a new sensor on it. This makes it more ideal for competing with most of the gaming mice present in the market. There are so many things on it that will make you like it.
While some can prefer the design, angular appearance, and ton features, the fit might not be to everybody's liking. But when you are alright with the gaming mouse's design, then there is nothing much left not to like it.
Glorious Model O vs Logitech G502: Mouse Performance
The Glorious Model O gaming mouse comes with an incredible CPI range on it. The CPI that is found on the model is good. You can move it slowly or work on it quickly; there shouldn't be issues doing that.
Its lift-off distance is 1.2 mm, and using the adjusting modes; you can make it just under 2.4 mm if you want that. When you require a wider CPI range, then you might want to consider the HyperX Pulsefire Haste.
You can find 2 extra side buttons from the 6 programmable buttons present on it. There is a scroll wheel, a left and right-click button, and a small DPI switching button. Users can work multiple profiles but are used with the software.
It comes with a standard incremented scroll wheel having no horizontal tilt. The scroll wheel is good, moves nicely, and works as a button. You can customize it if you want to. The mouse clicks are quiet and do not necessarily disturb others working around you.
It comes with fantastic software, offering several customization options. If you want to work on it on the macOS, you can't. If you are keen to use a gaming mouse that works on Windows and macOS, you can use the SteelSeries Aerox 3 Wireless.
The Logitech G502 gaming mouse comes with a 1,000Hz polling rate. You can find the 1ms response time and no shortcoming whatsoever in this aspect. It offered you with superb tracking using it.
The DPI range of 100 to 16,000 was provided with an immense upper limit. There weren't any odd hand movements, and the tracking at max speeds could be done over 400 inches/second. However, the maximum acceleration was 40Gs and not more.
It has 4 polling rate options 125Hz, 250Hz, 500Hz, and 1000Hz. They can be set likewise. You can make use of the 4 CPI presets/profiles. When you are keen to use a mouse with a sniper button, you may want to consider the Corsair M65 PRO RGB.
All the buttons found on the gaming mouse can be reprogrammed except the one that is found on at the rear of the scroll wheel. The software can be used for assigning the G-Shift button to enable more commands.
You can use a profile switching button and CPI switching button for letting you cycle on presets. The scroll wheel was second to none. You can feel every step that you move and go through. When you are excited to use a gaming mouse with a scroll wheel, then see the Razer Basilisk V3.
The G HUB is, as always, immensely tremendous, coming with several customization features on it. You feel completely at home with the gaming mouse. There is an onboard memory for saving your settings and retaining them as and when you want.
Our tester played some games like Black Ops and Overwatch. We are delighted to let you know that the results were exceptional. It did not let us down at all. The buttons feel & provide confidence with minimal actuation force and sufficient resistance from mis clicking.
This mouse is fully compatible with full customization support for Windows and macOS. You get the feeling as if you are using a top-end model with it. The model is most suitable for all kinds of users.
Glorious Model O vs Logitech G502: Price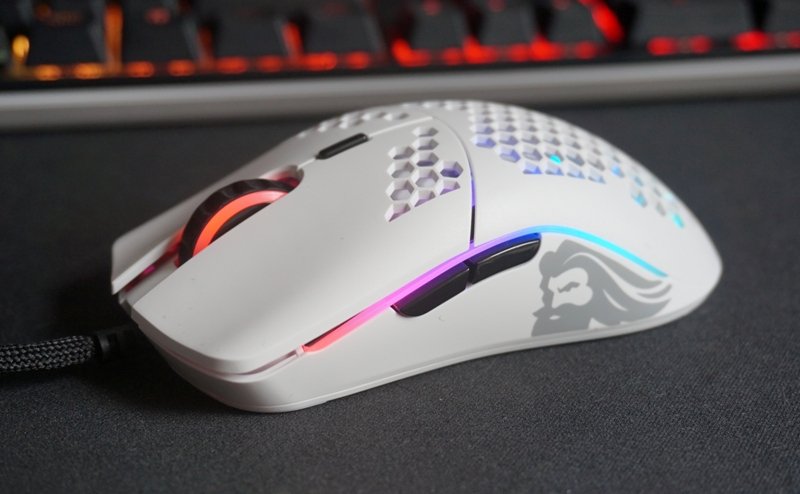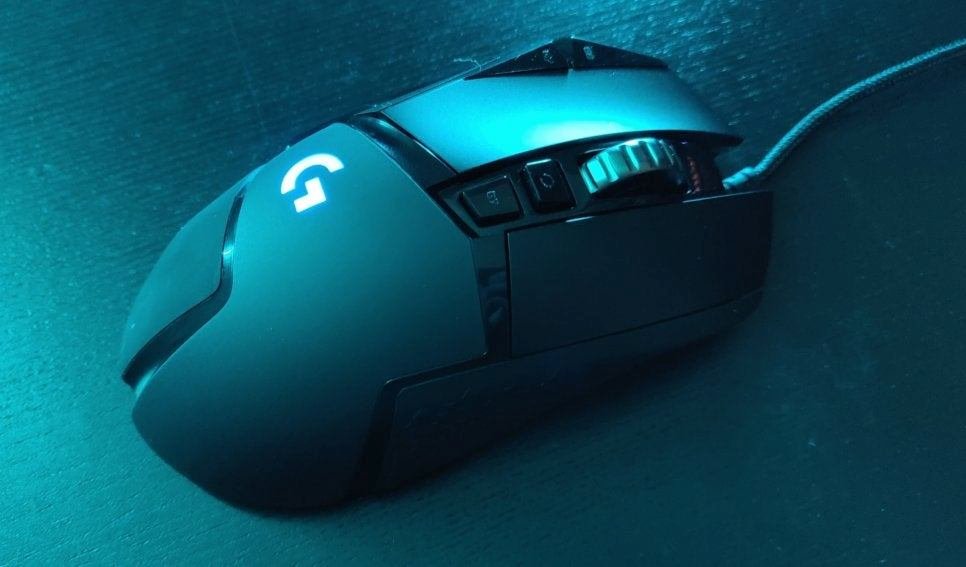 The Glorious Model O Gaming Mouse is priced under $65. When you search for a gaming mouse that comes with the right kind of shape, it has to be this model. The size and the style of the unit is ultralight good for medium and large hands.
It is designed for speed, control, and comfort. The cable is flexible, allowing you to use it accordingly with no drag on it. They are virgin PTFE that can glide on the mousepad flawlessly. It is value for money because you get a precise unit, which comes with a good software suite.
The Logitech – G502 Wired Optical Gaming Mouse with RGB Lighting is priced under $80. It has close to 11 programmable buttons that provide you with customizable control over your gameplay and work too.
Users will be glad to know that the unit comes with adjustable weights. You can now arrange close to 5 options from 3.6gram ensuring a personalized balance and weight. It is compatible with all OS works effortlessly on most of the devices available in the market.
Glorious Model O vs Logitech G502: Verdict
We have concluded the comparison review between the Glorious Model O Gaming Mouse vs the Logitech – G502 Wired Optical Gaming Mouse with RGB Lighting. We hope you enjoyed reading it and made up your mind about the gaming mouse of your choice.
If you haven't, then you may want to read it again. The Glorious Model is second to none for office purposes. The model comes nicely designed and built; you can feel it comfortable when using it.
But as it is a wired unit, it can be problematic for some of you. This is especially when you have a small table to work on. However, you can program all the 6 buttons found on the model. When you have small hands, then you can find the grip on the mouse harder to feel.
It has a flawless sensor performance and a very good choice of components infused in it. Otherwise, it is exceptional to use for gaming and ideal for FPS games. Besides, the low click latency, remarkable DPI settings, and adjustable polling rate make it outstanding to work.
You can play with it enough for marathon gaming sessions. But when you have small hands, then you might want to consider using them because they can be too large for you to hold. Besides that, the Glorious Model is a flawless mouse to work and play with.
Likewise, the Logitech G502 is a good mouse for office use. The ergonomic design of the model is phenomenal. Logitech seems to have got it right with this model. Probably, one of the advantages of being in the gaming industry for so long has worked well for them.
The unit comes with thumb rest, and it feels good for working throughout the day without hassle. Not to mention, users can make use of the free-scrolling mode. There is a button that is in the rear of the scroll wheel.
You can use the mode for navigating documents and for browsing endlessly. Besides, you can also use the left and right tilts for horizontal navigation purposes. You will be glad to find customization features with the help of the customization software found on it.
It can enable you to reprogram all the buttons. This model is a wired unit and has a stiff cable. Not very ideal working on a small table and quite large for many users with small hands. They may not reach the buttons.
It is fully compatible with both Windows and macOS. Our winner in the review between Glorious Model O vs Logitech G502 models is the G502. The Logitech G502 comes with low click latency and a customizable CPI range.
James Smith has always been intrigued by electronic products since his childhood. After his post graduation in electronics from a popular university, he decided to pursue a career in the electronics sector. But his calling for writing about these marvellous pieces of work got the better of him. That is how UBG was started. With a writing career spanning more than 12 years, James has worked on several hundred product reviews. During his free time, he like to spend time with his pet dog and relax in the swimming pool.