Last Updated on July 21, 2022 by James Smith
When you are looking for the best keyboards in the market for 2021, then we might have you covered. That is because we are going to discuss about two exceptional models in the market. They are the Logitech G213 keyboard vs Corsair K55 keyboard.
These two keyboards come with a lot asking for users. Gamers, browsers, and regular users as well might be in search of a top-notch keyboard that can help them with their games and work. The Logitech G213 Prodigy keyboard is a budget model that is priced at less than $60.
It comes infused with decent features, including rubber dome switches. Though the material used is plastic, it gives you with a premium look and feel of it. The ABD keycaps ensure that the keys are protected and do not break down that quickly.
The backlight is zone-lit and does not have brightness control. Its customization can be embedded with the help of the software. Logitech provides you with the G HUB software that offers you with intense capabilities.
Users can effortlessly operate on several devices with the macOS and Windows systems. You can make use of the model due to its comfort and dedication. The actuation force is quite low, enabling you to type well.
There is not much pressure felt on your wrist, which is a good thing. You can also find that it comes with an in-built palm rest that gives adequate comfort when typing. You can note it comes with several media controls, but they are quite limited in number.
It also has Logitech G Mech-Dome keys for a superb tactile response. Similarly, there is the Corsair K55 keyboard that makes use of the rubber dome switches. That model does not provide you with tactile feedback similar to the mechanical switches.
These are found in the gaming units. The model comes with 6 additional macro keys. They are macro programmable and can be customized according to your preference. Keys are quite stable and nice to type.
However, some users said that they are quite heavy and need more pressure. While it is good to ensure that keys are robust and durable, everyone may not like it. There is a zone lit RGB backlighting.
You can make use of it in dark areas without any hassle. That means you can't change the lighting using each of the individual keys. Though this feature can be acceptable for gamers, most would not prefer this kind of setup for competitive games.
It is quite exceptional and perhaps one of the best we have reviewed so far when you see the performance. Without much ado, let us now delve into the comparison review and find out more about these two phenomenal models and the winner mentioned at the end of this post.
Logitech G213
Corsair K55

PROS

PROS

The keyboard comes elegantly designed.

The keys bounce quite nicely on the model.

It comes with a decent weight that makes it appear of premium quality.

It is quite comfortable to type and do your gaming.

The unit has a positive keystroke, and they are spaced eloquently.
The keyboard is elegant in looks.

The unit is quiet for gaming & typing.

It provides you with spectacular ergonomics.

It is compatible with several operating systems, including macOS & Windows.

The model is priced affordable for all kinds of users.

CONS

CONS

The palm rest present on the keyboard cannot be removed.
Some gamers said that the keys felt kind of heavy.
Logitech G213 vs Corsair K55: Keyboard Specifications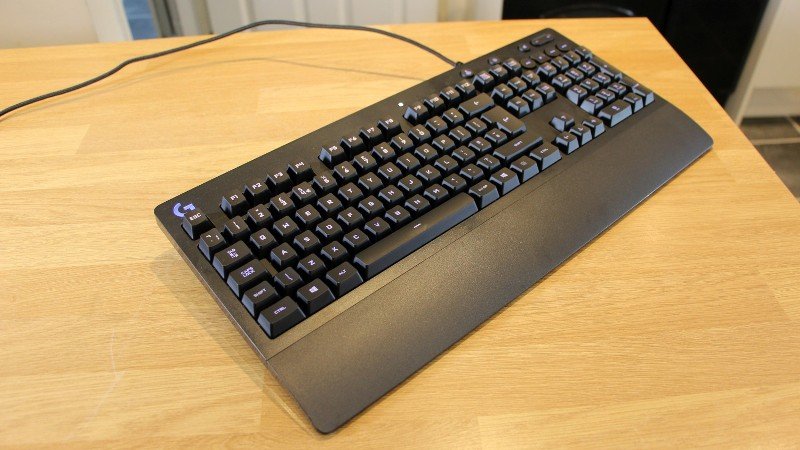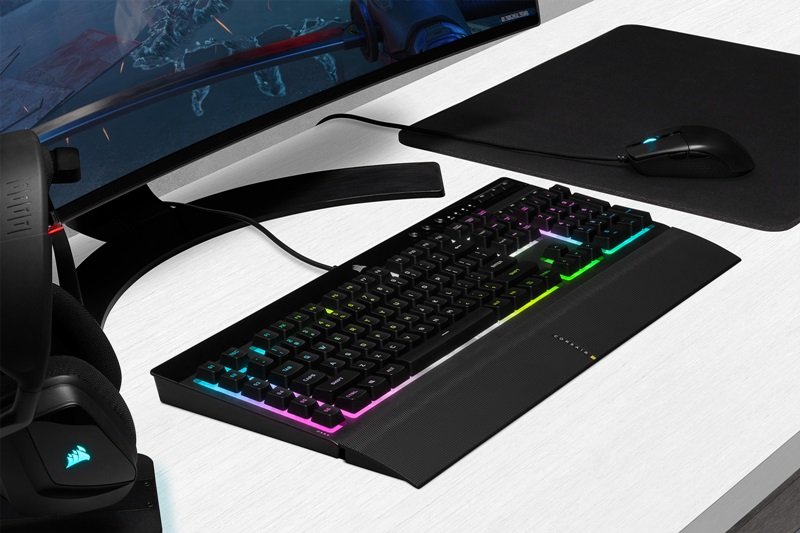 The Logitech G213 Gaming Keyboard with Dedicated Media Controls is full-sized and large. It comes with a removable palm rest that you can detach when you do not want to use it. This helps you to save on space.
It's built quality is just above medium and not likes the models that we have reviewed. It comes produced from plastic, and the board can be flexed when you want. This is a notable feature of it.
Besides, we noticed that ABS keycaps are slightly cheap quality. They could have been done better. The cable is braided, and the rubber strip that comes on the under of the unit prevents the board from moving and falling around.
The maker has said that it is resistant to water, but we have not tried it out. So, we cannot advise you on that aspect. We suggest that you don't try it out either. That is because this is a budget model and is priced at less than $50.
You cannot expect too much from it. Users have appreciated the ergonomics of the keyboard. The palm rest is exceptional, and you can use it for prolonged periods of time without hassle. We also noted that the backlit color could be selected using the G HUB software.
Suppose you did not know that Logitech software, the G HUB is second to none in the market. Please note that the backlighting comes zone-lit, and you can make use of close to 5 zones that are present in there.
Users can find that it comes with a dedicated button that can help you switch on or off the backlight as and when they want. Sadly, there is no setting for the brightness using the software.
Sometimes, you can see that it is not bright, and you cannot see properly in the dark. When you want to use the mechanical unit that comes with backlit keys, you can use the Razer BlackWidow keyboard.
You will be delighted to know that the cable is quite durable and is braided. Sadly, it is not detachable. Its rubber dome switches are quite the same as found on the SteelSeries Apex 3. The Corsair K55 RGB Gaming Keyboard is a complete size keyboard that takes a lot of space.
It is due to palm rest. It can be removed if you want. The design and the build quality of the unit are quite phenomenal. We felt that it was on par with the Corsair K68 RGB keyboard. There is plenty of plastic on the unit.
You can also flex it if you want. You will notice that the keycaps come with ABS laser-etched legends. They feel a little mushy when you type, but they are quite stable. The ergonomics feel quite good on the model and when use single incline that comes with it and the wrist rest.
We found that the backlighting is quite weird. It is alright, but not like what you can find on most of the units, like the Corsair K68 RGB. Unfortunately, you cannot customize the RGB lighting on each of them.
However, the brightness setting can be changed to low, off, medium, and even high, when you want. When you want to use the customized options, you can consider using the elegant Razer Cynosa Chroma.
There is a lengthy cable that enables the reaching of PC effortlessly. It cannot be operated wirelessly. If you want a wireless keyboard, you can consider using the Corsair K57 RGB Wireless Gaming Keyboard.
The keyboard comes with several additional features on it. The keys can be macro-programmable, not the Windows key lock. You can use the keys for performing either 1 or 4 functions. You can find 6 dedicated macro keys present on the left side.
Logitech G213 vs Corsair K55: Typing Abilities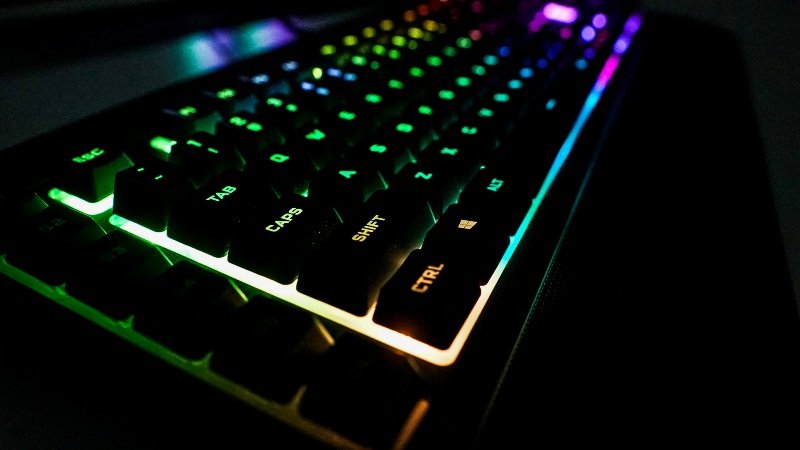 The typing quality of the keyboard is not really up to the mark but is acceptable. It comes with rubber dome switches. Its tactile feedback is soft and alright. Overall, the experience is quite satisfactory.
The keys present on the keyboard are robust, and the ABS keycaps are quite cheap. But you can rest assured about the typing as it is quite light. This is ideal for those of you who prefer to type for long periods of time.
The noise from the G213 is not loud at all and will not bother others sitting around you. The Logitech G213 has great software support. The G HUB allows you to customize the backlighting zones and set macros to any of the function keys, but you can't set macros to every key like on the SteelSeries Apex 3 TKL.
There's no onboard memory, so all profiles are saved within the software. When you want to use a gaming keyboard with software to save settings to onboard memory, you can use the Corsair K55 RGB PRO XT.
The compatibility of the keyboard is good, and you can work splendidly on Windows. Besides, you have ample access to the customization options present in there. Additionally, with macOS, you can't use the scroll lock and pause.
Otherwise, all the keys work on Linux. However, you would want to there is no support for onboard memory on the software. You will want to know that you have no other variants of this model as of now.
This budget model comes along with units, including the Logitech G915 LIGHTSPEED and the Logitech G Pro Mechanical Gaming Keyboard. The keyboard is ideal for mainly office purposes. We are not confident about it meeting the gamers requirement, though you can give it a try.
As we said, the typing is light and quite fast. There is a pre-travel distance that is quite higher. At this price point, you can compare the model to the SteelSeries Apex 3. The Corsair K55 keyboard has a medium typing ability.
The typing is good, but it could have been even better. Because the keys come quite soft, and you do not register them elegantly. Few users can feel stressed out operating the keyboard for a lengthy period of time.
There is ample space between the keys, and there is no reason why you can feel difficult when typing in there. If you want a keyboard with splendid typing capabilities, you may want to use the SteelSeries Apex 7 TKL.
It is like the rubber dome switches, that can operate quietly. The model will not be a botheration for other people around you. This keyboard has excellent latency. Even competitive gamers will not see the delay in there.
You would want to know that the Corsair iCue software is second to none in the market, which could make the difference here. They provide you with great features. It ensures that the keys are macro-programmable, and you can easily change the RGB zone lighting using the software.
There is no onboard memory on it though the maker claims to have provided it. It offers you with exceptional compatibility with most devices. This is a crucial aspect for any keyboard. The model is compatible with Windows devices.
However, on the macOS, you can work on everything besides the pause & scroll lock buttons. You can work on Linux, but not on the media keys. So, if you are a Linux user, then you have to sacrifice on the media keys.
When you want a model that works splendidly on Linux, then you can consider the HyperX Alloy Core RGB. It can be purchased in black tone having rubber dome switches. You can use the wireless version of the Corsair K55 that has keys that are individually lit.
Readers may want to note that the keyboard does not do well compared to top-end models. However, it is an outstanding choice when you are in search of a model for casual gaming, and a few of the rivals include the SteelSeries Apex 3 and the Razer Cynosa Chroma.
Logitech G213 vs Corsair K55: Price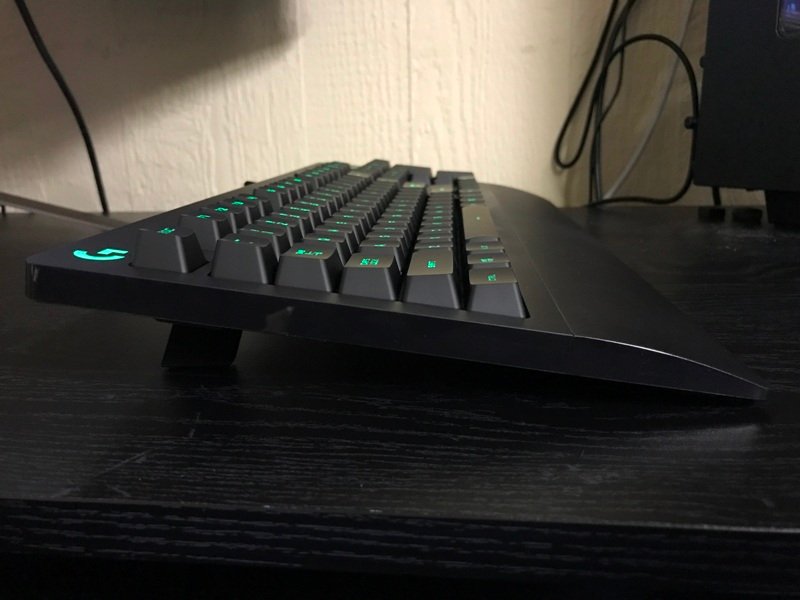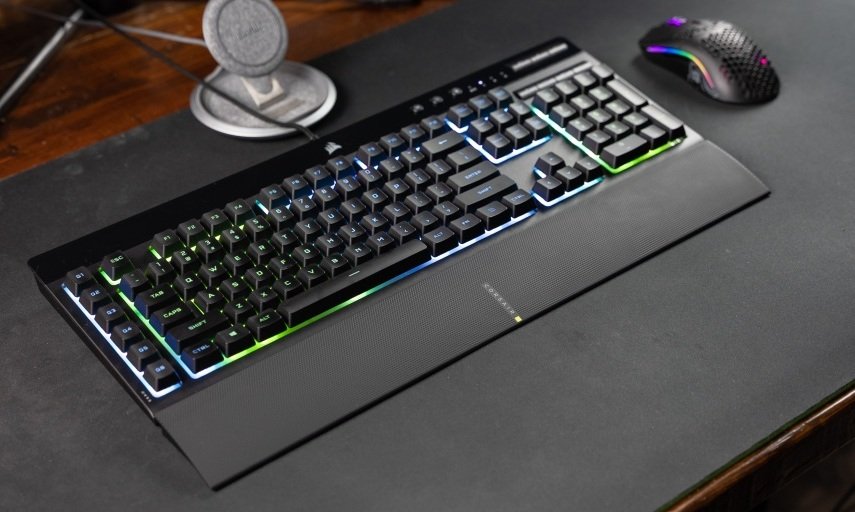 The Logitech G213 Gaming Keyboard with Dedicated Media Controls is priced under $56. Gamers are much delighted using the keyboard. It comes with remarkable features like the tactile performance keys that are responsive.
It does not come with an LCD display. However, a dedicated media control allows you to play, skip, adjust, and pause the keyboard. A nifty feature in that. The unit lets you customize the key lighting, 12 function keys, custom commands, etc.
The Corsair K55 RGB Gaming Keyboard is priced under $50. It is priced slightly cheaper than the Logitech model. We do not see the difference in the price has an impact on the buyers at all. You can notice that there are dedicated volume and media playback buttons.
It helps in the control of the media, not disrupting your game. There are also intuitive lighting modes and RGB backlighting that offers intense options for light. The keys are responsive.
The keyboard has a rubber wrist rest that can be detached as and when you want to do it. These small features ensure that you can play or work comfortably using the keyboard for the marathon gaming sessions.
Logitech G213 vs Corsair K55: Verdict
We have concluded our comparison review on the Logitech G213 Gaming Keyboard with Dedicated Media Controls vs Corsair K55 RGB Gaming Keyboard. These are two stunning models that come infused with remarkable features.
As we said at the beginning of the post itself, our winner will be challenging to choose. The Logitech G213 Prodigy unit is a good keyboard that one can use for gaming and working. You will prefer the rubber that is nicely used on most of the switches on there.
Besides, it comes with immense low actuation force enabling you to type quite light and comfortably too. The pre-travel distance is high, which makes you feel a little responsive at times. But you can manage with that kind of responsiveness all in all.
The backlighting and the quality of the design of the keys are not top-notch. However, they are manageable but could have come slightly better. When you see the distinct function keys, they are quite programmable.
Sadly, they are no dedicated macro keys to be used for MMO games. It is ideal for gaming and office usage. The model does not make too much of noise when you are typing. That is a good thing for you as the wrist is not stressed.
Like we said, the actuation force is quite light. There is tactile feedback that can make you feel not very good about the model. You would notice that the board can be flexed simply along with the ABS keycaps that tend to shine with the buildup of dirt and oils.
The unit comes with adequate support for both Windows and macOS. Likewise, we also have the Corsair K55 RGB Gaming Keyboard is an excellent option for gaming. The switches are made from the rubber dome and need some amount of pressure on them to register.
This may not be to everyone's liking. It feels quite sturdy, and the keys come with good space. Our winner, in this comparison review between the Logitech G213 keyboard vs the Corsair K55 keyboard, is the Corsair K55 model.
James Smith has always been intrigued by electronic products since his childhood. After his post graduation in electronics from a popular university, he decided to pursue a career in the electronics sector. But his calling for writing about these marvellous pieces of work got the better of him. That is how UBG was started. With a writing career spanning more than 12 years, James has worked on several hundred product reviews. During his free time, he like to spend time with his pet dog and relax in the swimming pool.