When you are looking for a decent pair of wireless Bluetooth earbuds, then we have your back. You see, in the review, you are going to read about two incredible models that are making a lot of noise in the market.
We are going to read about Master & Dynamic MW07 Plus vs MW08 wireless Bluetooth earbuds. The wireless earbuds market is already filled with plenty of options to choose from, and as if that is not bad enough, we see several new players in the field.
If you look around, you can get overwhelmed by the number of choices that are present in the market. There are several eloquent models from makers, including popular brands Sony, Bose, Apple, Bowers & Wilkins, etc.
The Master & Dynamic MW07 Plus earbuds are a successor to the famous MW07 model. Besides, they also have the MW07 Go earbuds, a cheaper version of the MW07 Plus & MW07 models.
It is slightly more affordable than the other wireless earbuds. Master & Dynamic have a lot of thinking to do with the current situation in the market. What is so special about the MW07 Plus?
We begin with the design and the materials used in manufacturing them. M&D seems to be concerned about their name for producing luxury headphones and has managed to retain it each time they released a model.
They have offered you with the 10mm beryllium drivers present in the earlier unit. Sadly, there is not much left to talk about because they are almost the same as the MW07 earbuds. If they have infused some more distinct features, then it becomes easier to sell.
You can utilize the ANC present in the earbuds as they are one of the best in the market, almost on par with the Apple models. Using the ambient listening mode, you can easily hear everything that is happening around you.
When the MW07 unit was released in 2018, they were pretty popular among users. M&D wishes to continue the same with the MW08 model. The Master & Dynamic MW08 wireless Bluetooth earbuds are a flagship model from the maker.
It surprises most of us with the fundamentals of any wireless Bluetooth earbuds. Apart from being stylish and elegant in looks, it is exceptionally stunning in the audio performance department.
It comes with a good microphone enabling you to experience great calls, and the battery working life is quite good too. The ANC cannot be called the best but is definitely right up there among the select best in the industry if you want to know.
So, how good is the MW07 Plus compared to the MW08 earbuds when there are already few models within the same maker vying for attention? That is for you to find out, by reading this post, and know the winner given at the end of the article.
Master & Dynamic MW07 Plus
Master & Dynamic MW08

PROS

PROS

The model comes with a great Bluetooth 5.0 that operates within a 30m range.

The unit has aptX support for more functions.

It comes with a noise-canceling feature in it.

It has an extended battery working life of 9 hours that is quite good for earbuds.

There is the IPX5 water-resistance feature in it.
The model has a top-notch microphone ability.

The build quality is second to none.

It comes with Bluetooth 5.2, SBC, and aptX features.

It has ANC that is available in a few modes.

There is an IPX5 rating offering water-resistant.

CONS

CONS

The charging case that comes with it can become scratched quickly.
It does not come with the EQ management in the app.
| SPECIFICATIONS | Master & Dynamic MW07 Plus | Master & Dynamic MW08 |
| --- | --- | --- |
| Name | MW07 PLUS True Wireless In-Ear Headphones | MW08 True Wireless Noise-Cancelling In-Ear Headphones |
| Brand | Master & Dynamic | Master & Dynamic |
| Noise Cancelling Active | No | |
| Sound Mode | Stereo | |
| Connection Type | Wireless | Wireless |
| Wireless Connectivity | Bluetooth | Bluetooth |
| True Wireless | Yes | Yes |
| Water Resistant | Yes | Yes |
| Built-In Microphone | Yes | Yes |
| Headphone Fit | In-Ear | In-Ear |
| Battery Life | 10 hours | |
| Warranty | 2 years | 2 years |
Master & Dynamic MW07 Plus vs MW08: Design & Comfort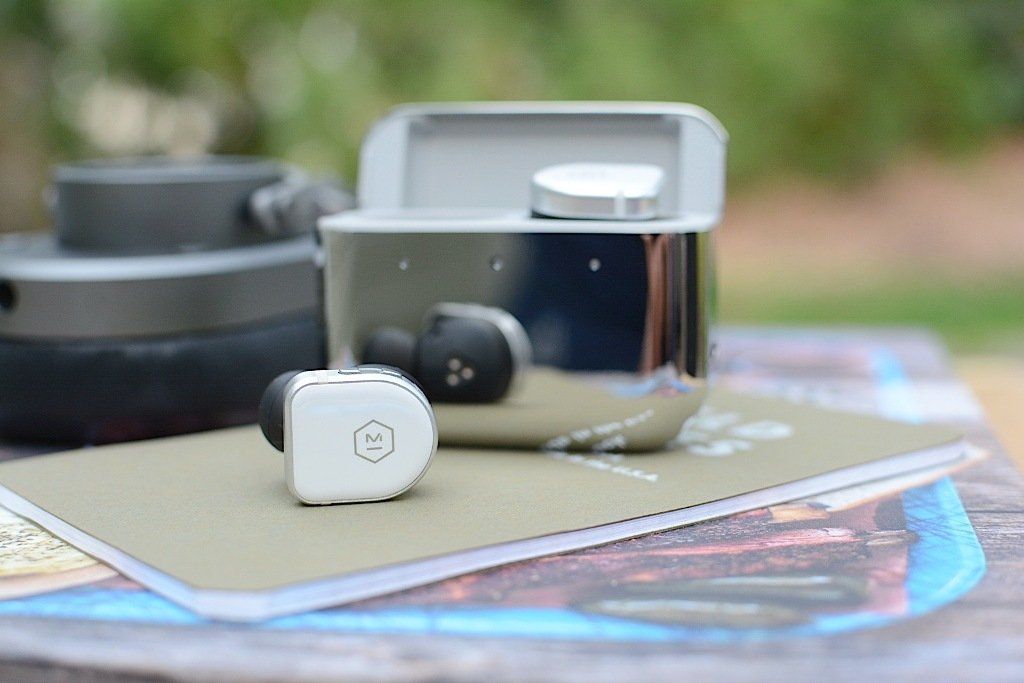 If there was a segment where M&D could excel, it would be the design and looks hands down. This is the same as the Master & Dynamic MW07 Plus wireless Bluetooth earbuds with their elegant appearance.
The moment you notice it, you can effortlessly identify the elegant manner in which it has been crafted for consumers. As far as the design and looks go, they are simply magnificent. Probably, they are the best at the moment, surpassing Apple AirPods.
However, when it comes to the fit, this is an entirely different story from our point of view. When you notice other makers, they tend to produce earbuds that can completely disappear inside your ears.
M&D, for some reason, has decided to opt for the other way and design it quite visible. We say that it is bad or anything like that, but it takes some time to get used to it. You cannot wear them and expect them to fit correctly.
You can feel some discomfort initially, just like most of us did. However, once you can get used to the fit, it does not have to become an issue at all. When you wear them, others know that something is hanging out of your ears.
It does not have to be a bad thing if you look at the stunning design that comes with it. Consumers can select the design from the various colors that they are produced in, and most of them come attractively.
It has prominent ear tips, and the fins are also present in there. The seal of the earbuds is quite amazing and does not push very hard inside your ears too. That is a good thing to know about the model.
For whom are the MW07 Plus earbuds ideal for wearing? Travelers who regularly travel to work and office might prefer using it during those long train rides and journeys. Those of you wanting to use premium designed earbuds as these are nicely done.
If you are an athlete on the lookout for an elegantly designed product, this model might be ideal for you as they have the IPX5 rating. The Master & Dynamic MW08 wireless Bluetooth earbuds have a lightweight scratch-resistant ceramic.
The earbuds come with a stainless-steel charging case. They are elegant in design. Instantly you feel that you are looking at a premium product. This is something that most of you may not feel when holding the Apple AirPods or similar price point units, barring ones from Sony.
Most of the wireless earbuds have this annoying trend of being produced from plastic. They are pretty apparent without even holding them. However, M&D has gone the additional mile to ensure that you are a proud owner of a luxury model.
It is always lovely holding a metal casing product that is shining and opulent in appearance. Our tester felt that they deserve better among the noise-canceling models in the segment today. That does not mean that this model has no plastic.
There is a small bit of it that is quietly hidden in the D-shape of the outer housing. Who might consider this model? You could be a traveler wanting to use comfortable, elegant, and intense noise-canceling earbuds.
Users who appreciate style and don't mind spending a bit more than the traditional earbuds. Finally, those of you who want to flaunt your earbuds in front of your friends or colleagues along with using the powerful Bluetooth codec support.
Master & Dynamic MW07 Plus vs MW08: Build Quality
You can rest assured about the build quality of the M&D models. They are amazingly stunning. Users have applauded them for their durability. They can easily last you several years without getting damaged that easily.
The Master & Dynamic MW07 Plus wireless Bluetooth earbuds come with exceptional durability. You can say that they are slightly better than the earlier models given. The manufacturer seems to have got the ability to produce eloquent models for users.
We have a grudge against the carry case as it is made from cloth. Yes, the price point is not beyond $300, but they could have provided you with the stainless steel like the one found on the MW08.
We hope that it does not affect the winner of the models in the end. However, you can get ear tips that are pretty opulent to see & use. The package comes with 5 pairs of silicone ear tips and 3 pairs of the fit wings.
Besides the ones that are found with the sport earbuds StayHear Max ear tips & Bose QuietComfort earbuds, these are unmatchable. If you look closely, you can notice that they come with a comb-like structure.
They provide you with immense flexibility for the size of your ears. We did not find irritation using it. They ensure that the fitting is good. We especially liked the unboxing experience of the unit.
It truly gives you with a luxurious feel that you are using a spectacular model. The earbuds look and feel quite premium for any user. They come with a stylish accessory ensuring that you are making use of something that is beautifully crafted.
The Master & Dynamic MW08 wireless Bluetooth earbuds are one of the most comfortable. Their build quality and durability are second to none. They come with close to 5 pairs of silicone tips for you to select from, and you can easily find one that fits your ears.
The model comes in attractive colors too. The carrying case comes with the USB-C and beautiful-looking LEDs in the front of it. Sadly, they can have fingerprints on them quickly, which you might want to know.
Apart from that, the model is sublime, exceptionally designed. The unit is produced from the metals that make them last for several years due to the premium materials used to produce the model.
Master & Dynamic MW07 Plus vs MW08: Audio Performance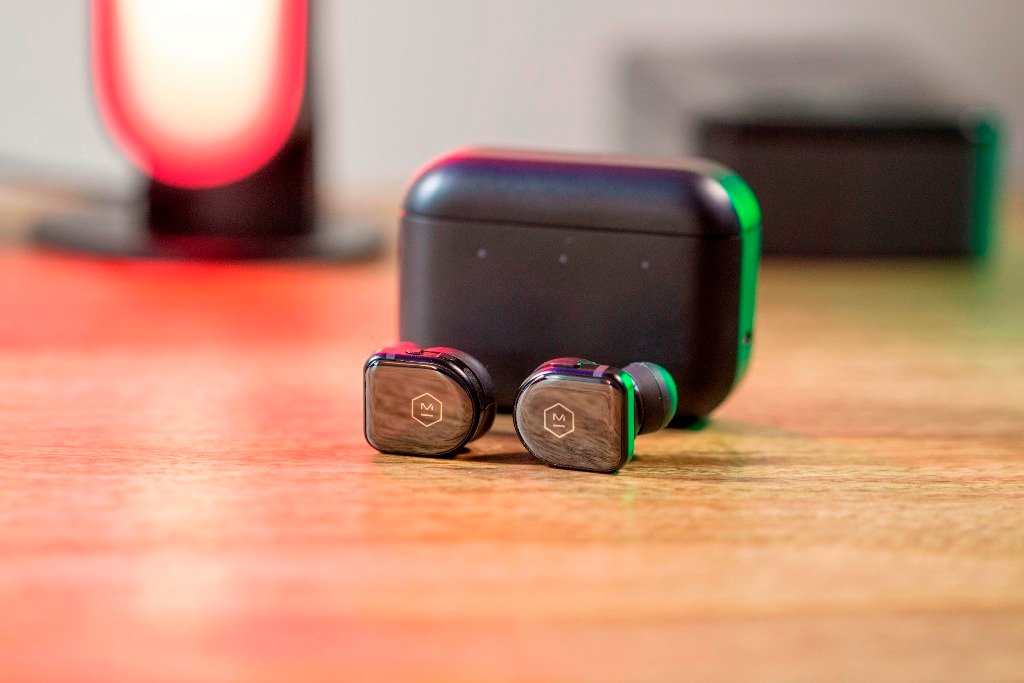 The audio performance is next for review. For any earbuds or headphones, for that matter, this segment is quite crucial. Our tester felt that the noise canceling (ANC) feature was not really the best in the market.
That does not mean it is no good. The background sound is aptly reduced, and you can also not hear them very often. With the ANC switched on, dryers, washing machines, vehicle engines, subway trains, you might listen to them gently.
The passive isolation of the model is quite stunning. It comes with earbuds that are elegantly fitted in them. The noise-canceling hardly affects the high frequency that is present in them. The sounds like 1kHz and more tend to affect the user.
This is when makers produce earbuds that come with effective ear tips that create a barrier between the sound and the ears. Doing that ensures your ears are safe to listen to the music & songs.
Using them inside the office can make you hear mild noises like the sound of the keyboard. Yes, there can be some improvements done to them. The frequency response for the earbuds is not high either, coming in at the 3kHz mark.
Its music quality is flawless, and you can hear just about any genre of songs you want to. Similarly, the Master & Dynamic MW08 wireless Bluetooth earbuds come with remarkable audio performance.
It is due to the massive 11mm beryllium drivers. These can offer you with a piece of eloquent quality music to your ears that are immensely warm & rich. You can alternate between the noise canceling and the ambient mode for listening to great songs.
You can get fantastic sound quality from them because they give you music with a punch. Most of the songs come with immense detail in them. Our tester thought they were good enough to be compared with the AirPods & Sennheiser Momentum True Wireless 2.
Music like pop, jazz, and classic appear with some melody in them. However, when you tend to increase the volume, it can sound louder with a better punch in them. The ANC is remarkably well produced in this model.
The ambient mode variants include voice & awareness that sound very notable. It sounds incredibly opulent. Using the awareness mode, you can listen and hear everything that you have to.
The hearing capacity is enhanced because you can hear objects that are quite farther away from you. All in all, both models come with a stunningly eloquent audio quality. We were quite delighted using them and were not able to differentiate between them both.
Master & Dynamic MW07 Plus vs MW08: Microphone Performance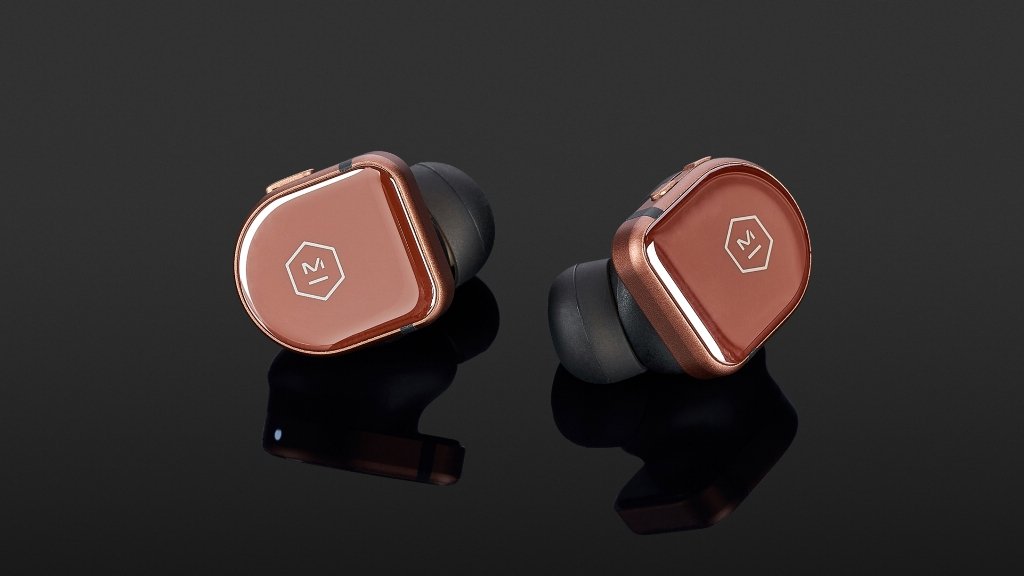 The Master & Dynamic MW07 Plus wireless Bluetooth earbuds microphone is opulently done. You can hear what you say; it is quite straightforward and audible for the people who are listening to you. It comes with a 6-microphone talk ability that also has proprietary wind noise reduction.
This feature is suitable for providing you with a clear call under any surroundings and environments. They are integrated microphones and sound incredibly splendid. It makes an ideal alternative to using the smartphone microphone.
You can effortlessly notice the difference between the two of them. You can find that the microphone has 2 beam-forming microphone arrays. They are present for each of the earbuds, and you can use them with the mono mode.
Our tester found some mild range in the voice. It depends on the voice that comes out of it. When you have a loud voice, then it sounds slightly better. However, if the voice sounds a little low, then it may not sound that clear from the 150-400Hz range.
Similarly, the Master & Dynamic MW08 wireless Bluetooth earbuds have a splendid microphone. It is able to connect to you with the help of Bluetooth 5.2. This one provides you with extraordinary support that can be used on aptX and AAC codecs.
Users have said that the earbuds have connectivity issues from 20 feet of the smartphone. Our tester spoke to several users from outside, and they responded positively. He was quite clear and understandable outdoors.
Master & Dynamic MW07 Plus vs MW08: Compatibility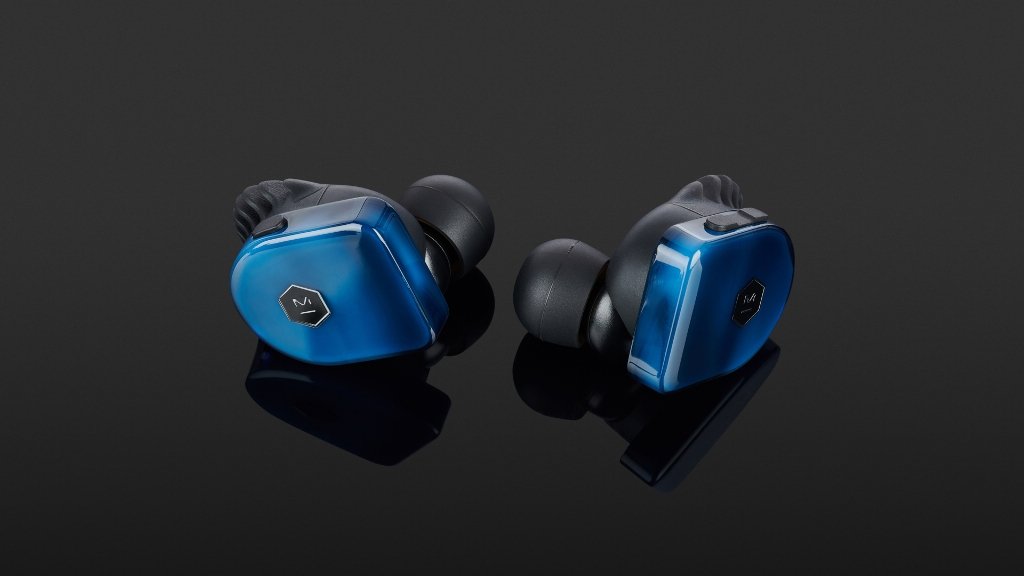 The compatibility in the Master & Dynamic MW07 Plus wireless Bluetooth earbuds is amazingly excellent. It comes with the Bluetooth 5.0 aptX for providing you with sublime streaming. You can use it when operating iOS and Android devices as well.
The Bluetooth codec comes with plenty of improvements from the previous version. If you are using the iPhone, then you may not be able to notice the difference. If that is so, you might want to select the AirPods or the AirPods Pro alternative having AAC support.
They work with close to 30 meters, quickly on par with the MW07 Go earbuds. When you are using the earbuds or taking them out with you, the audio comes infused with excellent features.
You receive a powerful battery life of 22-hours for playing. Similarly, you can also make use of the Master & Dynamic MW08 wireless Bluetooth earbuds. It offers you with many physical buttons on them.
They do not come with touch control. It is the same found on most of the earlier models. You can find a volume on the left earbud and a multifunction on the right earbud. The pushing of the buttons needs some time to get used to because of the astonishing design of the model.
This model has the connect app without the EQ adjustment. It comes with a battery working life of close to 12-hours along with 30-hours. They also have a steel case that comes with it. Consumers will be glad to find out that it comes with the ability to charge 50% in 15 minutes.
You cannot compare it to the Samsung 360 audio or the Apple spatial audio. Some users complained that the charge reporting was faulty. They said they had been using it for 3 hours, and the charge showed 90% remaining, which was incorrect.
Master & Dynamic MW07 Plus vs MW08: Price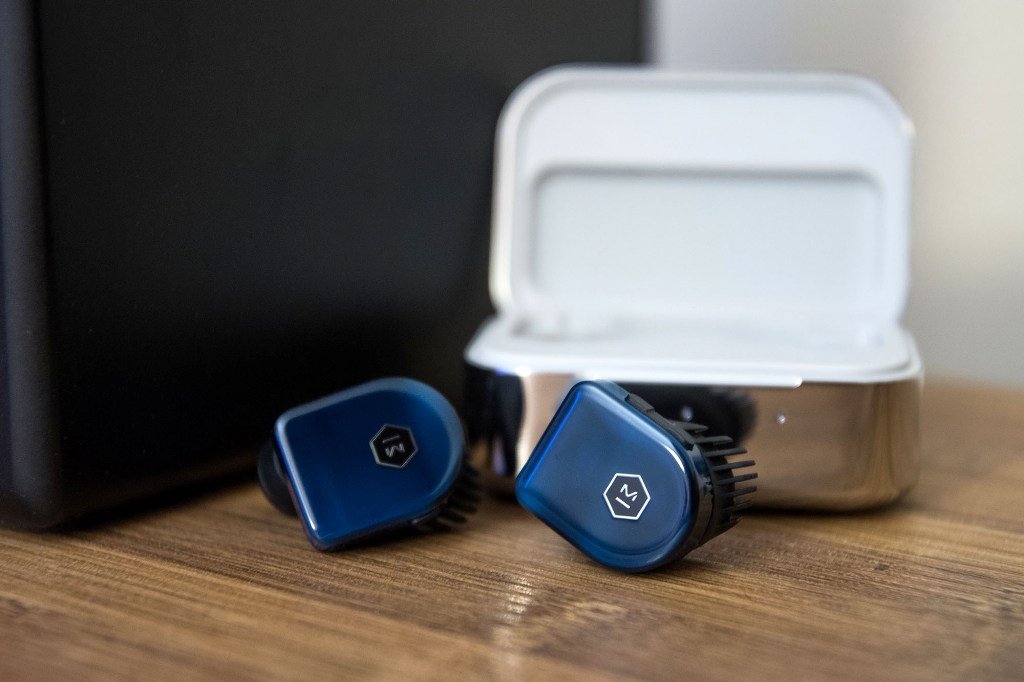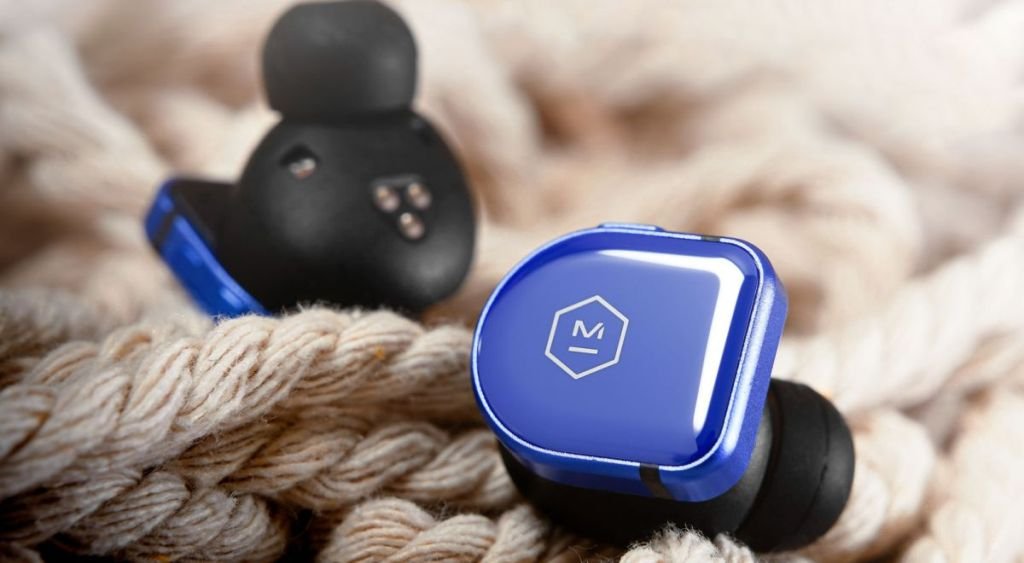 The Master & Dynamic MW07 Plus wireless Bluetooth earbuds are priced under $250. The earlier model came with one flaw, the pricing. Many reviews put up the same thing that they provide you stunning audio performance and comfort.
We thought that they might affect the makers so that they could reduce the price, but unfortunately not. Master & Dynamic have decided to go with the same price range. Please note that you can pair them with a single device only.
Others might be attracted to the Sony WF-1000XM3 as it comes priced under $230. However, when you are keen on using an elegant model, then you may want to consider this one. The Master & Dynamic MW08 wireless Bluetooth earbuds are priced under $300.
They come in a barrage of colors to choose like black, white, brown, and blue. When you look for the brown and white model, they come infused with a steel case. In the black earbuds, you can notice that it has a black case in them.
Master & Dynamic MW07 Plus vs MW08: Verdict
This is it. We have ended our comparison review on the Master & Dynamic MW07 Plus vs MW08 wireless Bluetooth earbuds. The Master & Dynamic MW07 wireless Bluetooth earbuds come with stunning features & specifications.
We were quite amazed to see the new features and enhancements in the earbuds in this model. The improvements in them are pretty plenty, and they also come with the IPX5 rating. The MW07 earbuds had only an IPX4 rating.
That means that if you are going to use them in the rain or work out, that should not be a cause for worry. It has Qualcomm's aptX codec support. You can find that the unit has the support for Bluetooth 5, offering operation up to 100 feet.
The left or the right earbuds can be used for making phone calls. We also liked the quality of the microphone. It is quite awesome & splendid. In the MW07 unit, you could use only the left earbuds.
Though the unit has most of the features like the ANC and battery working life from the MW07, it has notable features in it. For the price point, they are quite unbeatable at the moment in the market currently.
The Master & Dynamic MW08 wireless Bluetooth earbuds feel unique when you see a complete market with plastic earbuds. They give you a nostalgic thought when you look at it. You can notice the blend of metals that not only make it appear premium but phenomenal too.
M&D has always strived hard to offer consumers with opulent sound. This model is an example of their hard work. They have managed to develop and manufacture a truly excellent product. Some of you might argue that for the price point, you can expect more from it.
Fair enough, but the MW08 surpasses the expectations of many gamers. We do not deny the fact that the model falls short of a few features that they could have implemented in them. Our winner in this comparison review between Master & Dynamic MW07 Plus vs MW08 wireless Bluetooth earbuds is the Master & Dynamic MW08 unit.
We highly recommend it and feel that it is worth the price point quoted, delivering both style and quality. But the MW07 Plus model is also simply terrific coming with active noise canceling feature, excellent battery working life and the IPX5 rating along with it.
The model is not a bad choice either when you are looking for a pair of earbuds that comes with plenty to say about.
James Smith has always been intrigued by electronic products since his childhood. After his post graduation in electronics from a popular university, he decided to pursue a career in the electronics sector. But his calling for writing about these marvellous pieces of work got the better of him. That is how UBG was started. With a writing career spanning more than 12 years, James has worked on several hundred product reviews. During his free time, he like to spend time with his pet dog and relax in the swimming pool.