When you are in the market for a noise-canceling headset, you might get confused with the number of options you have. As if that were not sufficient, Apple too has taken the plunge with their models recently.
This has taken things further, and you have plenty of choices for now. Typically, most gamers might be intrigued with the Bose 700 gaming headset as it comes with spectacular features and microphone capabilities.
Having said that, we will be looking at two fantastic models that are on par with the Apple and Bose gaming headsets. They are Microsoft Surface Headphones 2 vs Sony WH-1000XM3 gaming headsets.
They provide you with better features for a lesser price. When you get similar performance for cheaper rates, then why not make use of them, right? First, the Microsoft Surface model enabled us to see how it could perform at a top rate compared to the market units.
Our tester felt that the comfort was good, the audio was eloquent, and the ANC was simply mind-blowing to say for wireless technology. We cannot blame this kind of performance coming from the Windows maker themselves.
The Headphones 2 is the successor of the earlier model released from Microsoft. Though we did not find too many differences, they were worth the time. We were quite pleased with the feedback from the headset.
It comes with a new Bluetooth 5.0, and the unit can support the aptX codec. You will be happy to know that they have enhanced the battery working life to 16 hours. Though the adjustable active noise canceling is good, it needs some improvement.
Our tester also noticed that they come with inconsistent bass and treble delivery. The Sony WH-1000XM3 gaming headset offers you with outstanding audio performance and battery life. It is comfortable to use for prolonged hours and comes with an intuitive Bluetooth-enabled model.
It's default audio can be slightly on the bass. You can adjust it through the EQ in the companion app. We are quite sure that only one model might fit your needs and audio requirements. To find that out, please go ahead and read the comparison review that we have prepared for you.
We have also mentioned the winner at the end of the post.
Microsoft Surface Headphones 2
Sony WH-1000XM3

PROS

PROS

The model is quite comfortable and lightweight in design.

The adjustable active noise canceling feature is impressive on it.

It comes with easy-to-use controls.

It has an Omnisonic sound that wraps you in your favorite music.

The unit has a newer Bluetooth version.
The model has an excellent fit for prolonged hours.

The noise cancellation feature on the unit is incredible.

It has phenomenal battery life.

It comes with a neodymium magnet.

The unit has a sublime microphone.

CONS

CONS

The unit has a bulky design.
It has a high latency when you are watching videos.
| SPECIFICATIONS | Microsoft Surface Headphones 2 | Sony WH-1000XM3 |
| --- | --- | --- |
| Name | Surface Headphones 2 | WH-1000XM3 Wireless Noise-Cancelling Over-the-Ear Headphones |
| Brand | Microsoft | Sony |
| Noise Cancelling (Active) | Yes | Yes |
| Connection Type | Wireless | Wireless |
| Wireless Connectivity | Bluetooth | Bluetooth, NFC |
| True Wireless | No | No |
| Built-In Microphone | Yes | Yes |
| Carrying Case | Yes | Yes |
| Headphone Fit | Over-the-Ear | Over-the-Ear |
| Battery Life | 18.5 hours | 30 hours |
| Warranty | 1 Year | 1 Year |
DESIGN & COMFORT
The design & comfort of the Microsoft Surface Headphones 2 gaming headset is quite good, actually. It is similar to the previous model and is identical to it. You will be amazed to notice the headset's light gray appearance with wide earcups and an elegant design.
But you can now rotate the earcups to a particular element of 180degrees. Isn't that awesome? Our tester was quite thrilled by it. The headphones come in 3 colors, including black, gray, and glacier.
Placing them on our heads, we did comfortable and were able to sit through a long session. They are nicely padded and come produced from a silicone material that is relatively light on your head, so there is not much tension to them.
Few users have felt that it is quite shallow for them. We are not quite sure about it because we did not feel anything of that sort when we had them on for prolonged sessions. Similarly, the Sony WH-1000XM3 gaming headset provides you with fantastic comfort.
It comes with 2 tone finish with a pleather material, and the look is alright. However, the metal frame is quite stunning, and the earcups are quite the same as the earlier models. Sony does not need to meddle with them because they are quite comfortable to say.
It has a contrasting accent present on the vents and the logo. We found that the headband was quite soft too that fit your head beautifully. This means that they do not cause any stress. Users cannot compare it to the Bose QuietComfort 35 II as they are quite good.
The control scheme is quite nice to work, and swiping them up & down is really easy. You can make use of the rewind and tracks if you want to skip them quickly. If you want, you can use a sensitive pad that can mute the audio when you want to become attentive to your outside.
You can find an ambient button that activates the aware mode, which you can then use Google Assistant. This can be done instead of using the app when you want. Our tester found not much difference between this model and the earlier unit at high volumes.
The model is similar to the closed-back headset that does not come very breathable. Gamers who are accustomed to breathable models may not be happy lot with it. Indeed, the airflow is decreased immensely when the headsets when running and working out.
BUILD QUALITY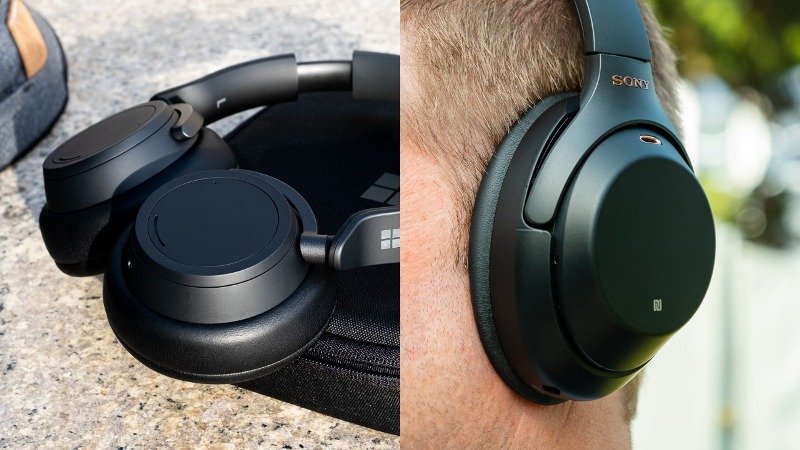 The Microsoft Surface Headphones 2 gaming headset comes with efficient controls that are quite simple to work. It is touch-sensitive and is present on the earcups that use some taps that can control the music and the call commands.
You can notice an infinity dial on the earcup on the unit. The left side comes with the ability to adjust the noise-canceling, and on the right side, you have the control volume. There is also a default voice prompt that is suitable for the noise canceling controls.
The headset beeps if you reach the min/max of each of the dial control. It may not be the most comfortable and lightweight, but they get the job done effortlessly. You can place the earcups into a swivel position and flat.
This element is suitable for keeping them inside a bag. The case protects the gaming headset from dirt and other forms of damage. Besides, no water can enter inside. You are not advised to use it when it is raining or spill water on it.
All in all, they come nicely designed and built. You can make use of the plastic and the headband that is present on them. It comes with a slim metal frame that ensures that it comes robust for handling few of those nasty falls if they occur.
The Sony WH-1000XM3 gaming headset has a good built quality. It appears elegant, and you should be able to notice it can bear a few of those accidental falls. The headband design is new, much different from the usual, but dense.
It has a coating on it that some gamers were not very pleased about. Unless you wear it on and use it, you will not know. But that is alright with us. The unit comes with the hinge and yoke design that is found on models made by them.
They are elegant in design and very durable than most of the gaming headsets that we have reviewed in the market. It is an excellent and well-produced model that can last you for years. We may not feel that they are on par with the Bose models, but they are quite close to them.
AUDIO PERFORMANCE
The Microsoft Surface Headphones 2 gaming headset comes with an excellent audio quality that is suitable for EDM. You will lose some clarity during the high frequency that you might want to think of as it can affect the vocals or instruments.
Its frequency response is quite average, and the bass delivery varies when your earcups are not placed rightly on your head. This is especially for individuals with long hair and those wearing glasses.
You can find inconsistency in the performance in the treble range. Likewise, the unit's bass is remarkable, and there is a slight lack in its rumble. You will notice that the headset response is quite overemphasized and does not come with a boom in the bass.
Its mid-accuracy is excellent and quite balanced. You may notice there is slight underemphasis when you listen to the high-mid for the lead instruments and the vocals. You will want to beware that the treble accuracy was not up to the mark.
Its response was underemphasized on the entire range, and the treble was not really in sync with what you want to hear. This feature can immensely affect positioning as the whole of the lead instruments and the vocals.
On the other hand, you have the Sony WH-1000XM3 gaming headset that comes with a heavy bass with the model. The unit is ideal for hearing music that comes with ample thump in them. You can also say that it can come with an under-emphasized response in the treble.
If you are not satisfied with what you are hearing, you can always use the Sony Connect app. This element provides you with several audio presets and graphic EQ that can fine-tune to enhance your hearing capabilities.
Its frequency response is awesome, and you can expect consistent performance from them. Both the bass and treble range are exceptional and relatively consistent. Overall, we liked what we were able to hear from the unit.
The bass accuracy was splendid, and the games sounded like they should on a top-end gaming headset. You will like using it for listening to music and playing amazing games. But when you want to use the high bass, you must utilize the app that comes with it.
MICROPHONE PERFORMANCE
The microphone of the Microsoft Surface Headphones 2 unit is quite functional. For a unit that comes priced less than $250, the microphone functioning was acceptable. It comes with an integrated microphone and in-line microphone with detachable audio cable too.
Our tester found that the recording ability of the unit was average, not more. This wasn't very pleasant in an otherwise good model. If you want to use the integrated microphone, then the voice is quite audible and lacks some detail.
You will want to know that they come with an adaptive integrated microphone. The noise handling ability was splendid in performance. It is something that you can quickly achieve in the real world.
The microphone is not able to separate the voice from the background noise. When you want to make a podcast, the voice can be bluffed, and the unit cannot capture your voice. The microphone on the Sony WH-1000XM3 unit is quite astonishing.
Its recording capability is not really where you wanted it to be. Similar to most of Bluetooth devices, the recorded speech sounds quite dull and thin. It comes noticeably muffled and lacks more detail in it.
The noise handling ability of the microphone is excellent, and those at the other end can hear you alright if you are calling them from a noisy street or office room. The person at the other end might not be able to listen to you clearly, which you may want to think.
COMPATIBILITY
The compatibility of the Microsoft Surface Headphones 3 gaming headset is quite good. You can easily pair them up with the kind of device you are interested in. They come with what is known as Omnisonic sound offering 13.6mm drivers that are powered by buds.
These models are quite stable, and you can wear them when you are jogging in the park. Besides, they are wireless, and the fit is also good. Not to mention, they come with no cables with them, so you can move around as freely as you like.
When using with your Android device, you can make use of Spotify by tapping it three times. You also have the screen-free integration that comes with Microsoft 365, allowing you to read your emails and do a lot more with various apps.
Pairing is relatively easy on the device as it operates with the Bluetooth version 5.0 supporting the aptX codec. The PC latency is relatively high and works effectively when streaming YouTube videos, though the android devices appear to be a lot less.
The Sony WH-1000XM3 gaming headset provides you with sublime compatibility features. The unit is relatively easy to use though they are slightly on the heavy side. Its connect app is splendid and lets you use several options with them.
It comes with a broad range of features, including an in-app media player, a graphic equalizer with presets, and options for the sound position. You can also calibrate the ANC directly using the application without having to hold the NC/ambient button.
The headset has a splendid battery working life of 30 hours that is relatively high. Sadly, it does without feature a true smart auto-off timer. You have to disconnect it to switch it off from the other device used in operation.
When you want a spectacular device, there is none that can match the features present on the Sony headset. The Sony WH-H910N wireless may be recommended as it comes with 40 hours of playback, but this model gets the job done effortlessly.
PRICE
The Microsoft Surface Headphones 2 gaming headset is priced at less than $250. Our tester felt that the model lives up to the expectations with a 10.5dB/mW higher sound pressure level and its 0.8 Bluetooth version.
You can charge it is faster than the Sony unit discussed about in this post. You will also want to know that it comes with a mute function and has a straight plug. The Sony WH-1000XM3 gaming headset is priced at less than $350 and cannot be considered cheap.
Our tester agreed with the price point after using it. The Sony WH-1000XM3 is the better unit because it has 16Hz lower low-frequency, has passive noise reduction, and 20000Hz higher high-frequency.
Not to mention, you can find the neodymium magnet, 10h higher battery, lighter by almost 35g, and has 1 more microphone. It also comes with an L-shaped plug. We do not see them appear on discounts and sales for the moment because they are relatively new and splendid.
Microsoft Surface Headphones 2 vs Sony WH-1000XM3: Verdict
This is it. We have ended the comparison review between Microsoft Surface Headphones 2 vs Sony WH-1000XM3 gaming headsets. They both are sublime units. The Microsoft Surface Headphones 2 are ideal for use indoors and outdoors.
The noise-canceling element on the headset is good enough for usage. You can decide depending on the amount of sound that you want to get rid of. Our tester felt that it is an ideal model for use when in commute.
It comes with a 16-hours battery working life that is quite decent but not up to the mark compared to most other gaming headsets available in the market. Though it does not come with a neutral sound profile, it sounds enjoyable with the companion app.
You will be delighted to know that they are nicely compatible with several devices and consoles using TRRS audio cable. The Sony WH-1000XM3 gaming headset is ideal for use in your apartment or home as well as outdoors.
They block out the noise immensely well without any issues. You will want to know that their high-bass range is quite reasonable, providing you with a sublime audio quality. Our tester was also highly impressed with the sound quality when listening to the music.
It offered you with intense treble and bass accuracy, enabling you to see the results clearly. The model provides you with present and detailed vocals when you listen to any kind of genre. The audio performance can be stupendously adjusted with the companion app.
The winner in the review is quite apparent. It has to be the Sony WH-1000XM3 because it simply comes with several features and a much better battery working life. It also provides you with neutral sound quality than the counterpart in this post.
We liked its virtual soundstage feature that comes with immense room ambiance presets. But you will want to know that the Microsoft model comes with the ability of multi-device pairing easy-to-use controls and work seamlessly on gaming consoles of your choice.
James Smith has always been intrigued by electronic products since his childhood. After his post graduation in electronics from a popular university, he decided to pursue a career in the electronics sector. But his calling for writing about these marvellous pieces of work got the better of him. That is how UBG was started. With a writing career spanning more than 12 years, James has worked on several hundred product reviews. During his free time, he like to spend time with his pet dog and relax in the swimming pool.