When you are in search of earbuds, then you might want to look for the best. Talking about the best, there are many models from Sony, Apple, and the like. Two popular brands that have cut into the segment are Sennheiser and Jabra.
Though Jabra may not be as popular and widely used as the Sennheiser models globally, their products are pretty decent, beautifully designed, and exceptional. Today's comparison review will read about the Sennheiser CX 400BT vs Jabra Elite 75T earbuds.
Sennheiser began their quest into the earbuds segment with their Momentum True Wireless 2. It was quite a beauty, and the masses accepted it with glee. Now, the maker has produced a magnificent unit in the form of the CX 400BT.
The main issue with the Momentum True Wireless 2 earbuds was that it was quite expensive. Why do you spend so much money when this model is priced way lesser? The CX 400BT comes priced under $200.
That is almost lesser by $100 at least, if not even more. When everybody in the market is jostling for earbuds, this pair makes a decent appeal to them. If you search for them, then having numerous choices in the market is a good strategy in a competitive segment.
The model is a worthy contender with the likes of the Apple AirPods and Sony WF-1000XM3. Sennheiser model has aptX audio codecs support, 7mm audio drivers, and lengthy battery life. Of course, there are always powerful audio capabilities of the brand that have made it popular.
When you want to rely on the features alone, you will want to look at the Sony WF-1000XM3. However, it does not have any active noise cancellation feature. While the sound quality was good, they came with disappointing battery performance.
On the other hand, the Jabra Elite 75T earbuds are an exceptional product. It is the successor to the Elite 65T earbuds. Since that model, the maker did not seem too keen on providing the market with an update.
Thankfully, they did, and we now have the Jabra Elite 75T model. They are genuinely a dazzling pair of wireless earbuds. Its design is splendidly done, the audio profile is tremendous, and they are relatively smaller than most models found in the market.
Besides, you stand to get a mighty 27 hours of battery along with the active noise canceling feature. We noticed that the noise delivered came with thump and rumble. It is safe to say that the earbuds come with everything that was wrongly done in the Elite 65T unit.
It also comes with waterproof and can remain submerged for 1 meter. The maker has also given you the over-the-air update active noise cancellation. Does it sound exciting? Let us now read the review and find out who the winner is shown in the end.
Sennheiser CX 400BT
Jabra Elite 75T

PROS

PROS

Their build quality is very durable.

The design of the earbuds offers you outstanding audio.

It provides you with a stunning app and good touch control.

It has a highly adjustable onboard EQ.

The model was released one month longer than the other unit.
The unit comes with a compact charging case and earbuds.

The headset has a dynamic, lively sound.

It has graphic EQ and presets through the companion app.

It comes with IP57 water-resistance rating.

The price is slightly lower than its counterpart.

CONS

CONS

It does not come with wireless charging.
The product comes with a large charging case.
| SPECIFICATIONS | Sennheiser CX 400BT | Jabra Elite 75T |
| --- | --- | --- |
| Name | CX 400BT True Wireless Earbud Headphones | Jabra – Elite 75t True Wireless Active Noise Cancelling In-Ear Headphones |
| Brand | Sennheiser | Jabra |
| Connection Type | Wireless | Wireless |
| Wireless Connectivity | Bluetooth | Bluetooth |
| True Wireless | Yes | Yes |
| Wireless Range | 33 feet | 33 feet |
| Built-In Microphone | Yes | Yes |
| Carrying Case | Yes | Yes |
| Headphone Fit | In-Ear | In-Ear |
| Battery Life | 7 hours | 5.5 hours |
| Battery Charge Time | 1.5 hours | 2.2 hours |
| Works With | Siri, Google Assistant | Siri, Google Assistant, Amazon Alexa |
| Warranty | 2 Years | 2 Years |
DESIGN & COMFORT
The design & comfort of the Sennheiser models has always been the main factor for their popularity. We do not see any difference in this unit. The Sennheiser CX 400BT earbuds come with a small design.
Once you wear them, you understand why there does not have the active noise cancellation. Otherwise, the fitting was matchless. It can offer you a sheer leakage-free noise capability in your ears.
That means the outside noise is nicely blocked out, and you can find yourself in a calm environment. You can press it gently when you want to wear it on your ears on that excellent fit. Sadly, due to its design flaw, there is no option when somebody wants to talk to you.
Our tester found this feature quite annoying and obviously does not recommend it for travel. You may want to pay heed to those important announcements during the commute, and this model may not favor that aspect.
The Samsung Galaxy Buds Live could have done a better job in this situation. Overall, the design & comfort of the Sennheiser model was top-notch and came with stupendous elements in it. Likewise, the Jabra Elite 75T earbuds have an elegant appearance and look sharp.
Not to mention, it is smaller than the Elite 65T earbuds. That means you should have no problem getting the right fit in your ears. Additionally, the unit comes with another design element in the form of the IP rating: IP57.
The maker has designed such that they can be in 1 meter inside water and dustproof as well. That also means you can use it outside seamlessly without worrying about them getting wet in the rain or dust storm.
Another feature that caught our eyes was the built-in magnets that came with it. This aspect allows it to join them together. It does not come out quickly. As far as the fitting goes, the Elite series had none, and the same can be told about the Elite 75T model.
It comes with the best on-ear stability and grip control. Our tester even wore them and made some exercise moves. Much to his delight, it did not fall out. We felt that it could be the silicone tips that come with an excellent fit on your ears, preventing them from slipping out like that.
You can wear them for at least 2-3 hours without feeling any discomfort. That time limit is sufficient. Please do note that wearing earbuds for a more extended period can damage your ear canal, so wear them for 2 hours and then take a small break, if you will.
Both the models have a decent design & comfort features embedded in them. You can wear them for few hours without feeling uncomfortable. We felt that though the Sennheiser model is good, the Jabra had that slight edge because it did not slip out that easily.
BUILD QUALITY
The moment you lay your eyes on the Sennheiser CX 400BT earbuds, you notice it is not very attractive. That is alright because the build quality is always one of the best here. They made use of the color options of white & black that may not have been a proper decision.
You can notice that there is no charm that is incredibly lacking found in most units out there. For example, you can see that the Apple AirPods come with a good look. We also noticed that the charging case found in the model was quite large.
The unit was much larger than the Sony WF-1000XM3, and that is a good thing. You can effortlessly place it inside your pants and move around quickly. The earbuds are produced from a plastic body.
Its build quality is sublime, and there is absolutely no doubt in it. However, users may not feel light when placing them on their ears. It comes with an exceptional fitting and sits quite comfortably inside your ears without causing any discomfort.
The model has a dual finish to it that gives an elegant appearance. You can notice the sides having matte on them. Not to mention, the perfect black color applied nicely on the outer part of it.
It comes with excellent build quality. Sadly, they do not come with the IP rating making them unusable outside if it is raining or there is a storm brewing. Users can also customize the controls present there.
Consumers can find the brand's logo right there, and they certainly won't mind it showing off. The Jabra Elite 75T earbuds have decent build quality but do not match the Sennheiser models.
The Sennheiser ones are incredibly done and can last several years despite those annoying falls. It is quite portable and can seamlessly fit inside your pockets. The model comes with magnets. They do not fall out, and you can ensure that they are safe with you.
A small but nifty feature that other makers can implement. The charging case in the Elite 75T model was much smaller than the earlier unit, and you can easily fit it wherever you want. Besides, we noticed that it comes with a flat bottom for you to keep on a table.
You can open & close the case as you wish to do so without much hassle. It gets charged using the USB-C, and that is a splendid thing to know. The model has the IP55 rating for water and dust protection.
Our tester appreciates the stability that you can get from the earbuds. They come in almost more than two sizes. So, you can find the one that fits your ears quickly. Even though it does not come with the stability fins, we noticed that they remain put inside your ears.
Some moderate physical activity can be done using it. When you want to ensure that the models stay wireless, you can give the Beats Powerbeats Pro Truly Wireless or Jaybird Vista Truly Wireless that come using the stability fins.
AUDIO PERFORMANCE
The audio quality was never a strong contender for Sennheiser models. We sadly feel the same for this particular model as well. Though there are some magnificent changes on the outside, it is what on the inside that counts at the end of the day.
The Sennheiser CX 400BT earbuds come with 7mm audio drivers. Its sound performance is on par with most of the Sennheiser models released into the market. That is sublime and comes with exceptional sound processing.
You can say that they are almost on the same level as the Sony WF-1000XM3 unit. There is a neutral sound quality from them with little or no artificial region in frequency. Unfortunately, we did not find the EQ as well, and that was a disappointment.
Using the EQ, you can get some flexibility on the content. The vocals sounded good, and so did the instruments played on the songs. We did find some noise distortion. This is the same as getting on the other model, the Sennheiser Momentum True Wireless 2 earbuds.
Users hear the fine details of the music and the songs as soon as they put on the songs. The same can be said about the model; you can listen to low bass in the songs when you want. Still, you can hear the sharpness happening on the vocals keeping the volume high at times.
The Jabra Elite 75T earbuds come with a spectacular sound performance. The manufacturer has produced a software update for the active noise canceling (ANC) feature. Our tester was delighted with the audio quality the moment he placed them on his ears.
We assure you that you, too, would feel the same. The model comes with a V-shaped audio performance offering you eloquent quality. You will also be glad to find that the consistency o frequency response is good.
However, the treble was slight of the track. This aspect depends on the fit and the sound quality. When you can get the right kind of fit, the audio is remarkable. Users may not find some issues in the treble response when they use the earbuds.
It provides medium bass accuracy. You can also notice that it is overemphasized, and that immensely enhances the punch to the music. Few users might not like it, that that is how it is. This underemphasis may be on the high bass that produces low sound on the instruments.
MICROPHONE PERFORMANCE
The Sennheiser CX 400BT earbuds come with an integrated microphone. The unit's recording quality is average and cannot be described as sublime. Though you do not have to find it problematic for audio to be slim, it lacks detail.
Its noise handling was exceptional and was able to give you the kind of voice that you wanted. However, the microphone use is challenging to be heard when speaking in an environment where there is a lot of noise.
Similarly, the Jabra Elite 75T earbuds have an integrated microphone. You will want to know that the recording ability of the microphone is average. The sound quality comes quite audible and slim.
It comes with good noise handling. The unit does not provide you the clarity that you will require when you want to hear yourself in a noisy environment. When speaking to somebody in a quiet place, you can be heard loud & clear.
If you want a Jabra model that provides you with a stunning recording capability, you can verify the Jabra Steel Bluetooth model. It comes with a mighty boom microphone that works stupendously.
COMPATIBILITY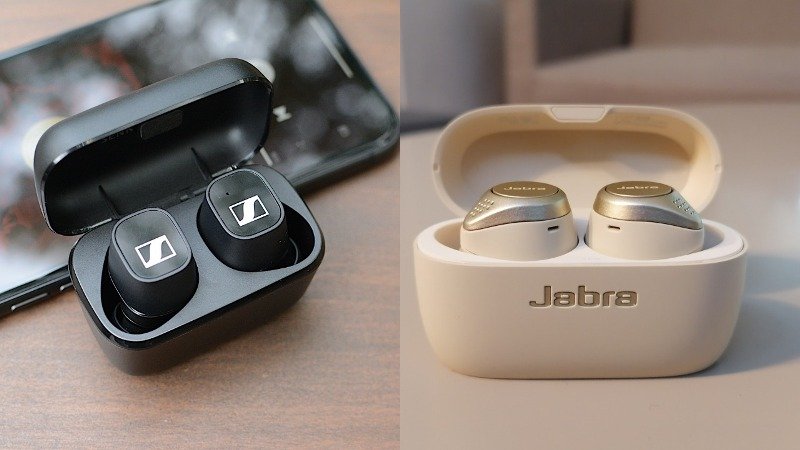 The compatibility of the models is acceptable. However, they cannot be termed as splendid or exceptional. The Sennheiser CX 400BT earbuds can be connected to your devices using Bluetooth connectivity.
You cannot use the wired option at all. It comes with a short USB-C cable that is used to help to charge the case. Users can work on them on PCs that are enabled using Bluetooth. However, you will want to notice that they do not come compatible with PS4 & Xbox One as well.
No, it does not come with the wireless charging feature. You can make use of the official apps. With that, you can make changes to the controls. On the other hand, the Jabra Elite 75T earbuds come with outstanding Bluetooth connectivity options.
It does not support NFC pairing, but you connect to 2 devices simultaneously. You can switch the audio using the PC and the smartphone. It comes with low latency when you are streaming videos on your Android device and iOS.
Similar to the Sennheiser model, they come with Bluetooth and cannot be used as a wired unit. You can charge them using the USB-C cable. Unfortunately, it cannot work with the Xbox One. The unit offers 20 hours of working battery life.
PRICE
The Sennheiser CX 400BT earbuds are priced at less than $200. These earbuds are priced at $20 more than the counterpart in this review. However, can the maker justify that amount is what we want to see in the market?
Users have claimed that they believe and trust on Sennheiser delivering on their products. Sure, the earbuds are opulent in design, come with incredible comfort, and provide you with decent audio quality.
The Jabra Elite 75T earbuds are priced at less than $181. After a long break, the maker has decided to update their models. Our tester was incredibly impressed with the new design, breathtaking audio quality, and improved battery life.
Though they are pitted up against a barrage of competitors, you will want to know that the maker has got several aspects of the model right on the spot. You can get it in 6 colors, and the lowest price point is close to $150 on Amazon.
However, you can get the wireless version for close to $250 on Amazon that comes in an exciting dark grey tone and navy color. When you are keen to experience the sound at a different level, this unit is meant for your needs.
Sennheiser CX 400BT vs Jabra Elite 75T: Verdict
There you go. We have ended our discussion about the Sennheiser CX 400BT vs Jabra Elite 75T earbuds. We hope you were able to make up your mind about the best earbuds. From the beginning of the review, we have insisted that the Sennheiser model faces stiff competition from the likes of the Jabra and Apple models.
It was never going to have things easy. One look at the specification sheet, you can immediately notice that the unit does not contain the active noise cancellation. This element is an essential feature for any earbud model.
You can find it on the Sony WF-1000XM3 unit. For the price range, the model offers consumers decent features otherwise found in most earbuds. They usually come infused with an exceptional battery, solid build quality, and sensational audio.
These models are alright for a fair bit of and listening to music if you will. Users can also use them for some exercising as well. Sadly, they struggle to block out the bass noises that come out from outdoor like buses, trains, and during your commute.
You will be delighted to know that the model comes with a graphic EQ with its companion app. Similarly, the Jabra Elite 75T earbuds are a splendid set of devices ideal for general listening purposes.
Our tester instantly noticed the V-shaped audio that comes with immense power, and you can see the thump from the model. If you are alright with neutral audio, then it is okay. The unit also has an in-ear design and closed-back element in them.
It provides users with sufficient soundstage from them. The Sennheiser CX 400BT earbuds have features like Bluetooth aptX, 1mm bigger driver unit, 0.1 newer Bluetooth version, and a 15Hz lower frequency.
Besides, it also comes with a 1000Hz higher frequency. The Jabra Elite 75T earbuds come with sweat resistance, have active noise cancellation, are weather-sealed, and are dustproof. The model is also water-resistant, has a 0.5h longer battery life, and 2 more microphones.
Our winner in this comparison review between Sennheiser CX 400BT vs Jabra Elite 75T earbuds is the Jabra Elite unit. They excel in comfort, provide you with an exciting sound profile, and quickly isolate the outside noise. However, the Sennheiser model is worth a look.
ALSO READ
James Smith has always been intrigued by electronic products since his childhood. After his post graduation in electronics from a popular university, he decided to pursue a career in the electronics sector. But his calling for writing about these marvellous pieces of work got the better of him. That is how UBG was started. With a writing career spanning more than 12 years, James has worked on several hundred product reviews. During his free time, he like to spend time with his pet dog and relax in the swimming pool.