In this Comparison, we will be going through two amazing router models in the market today. They are the TP-Link AX1800 Smart Wi-Fi Router AX21 router vs the TP-Link Wi-Fi 6 AX3000 Smart Wi-Fi Router AX50 router.
If you are looking for a change in your router at home or office, then today might just be the right day to do that. TP-Link has been in the market for quite some time. They know what they are producing and have made some sublime products through the years.
It is not surprising to note that they are a top-notch manufacturer of routers. They have their own supply chain that enables them to produce products cheaply. Besides, they are reliable. Otherwise, several manufacturers do not have that kind of setup for them.
The TP-Link Archer AX21 router is an ideal choice when you require something that comes with the Wi-Fi 6 feature in it. The speeds of the AX1800, the OneMesh option make it an attractive one. Additionally, the price point of under $100 makes it a good choice.
Users who are finding it nothing short of a challenge in updating their routers can consider this unit. Why not? It comes with most of the latest Wi-Fi 6 features in it. Besides, the model only cost under $100.
The AX1800 router offers you with complete support for Wi-Fi 6. Consumers will be delighted in knowing that it produced quicker speeds than similar under $100 models. The router is most ideal for medium homes or apartments that are present in compact space.
But do note that it does not provide you with several features. When you require a stable but powerful model that is affordable, then this has to be on your list of purchases this year. When you are not used to the term, 802.11ax then it is simply known as Wi-Fi.
It can work seamlessly on the Wi-Fi 5 hardware too. Now, data can be sent to and fro with exceptional speeds. They are much quicker than sent by the Wi-Fi 5 models. They work effortlessly in a dense atmosphere.
We also have the TP-Link Archer AX50 router has a multi-gig 160MHz Wi-Fi 6 connection. The AX3000 connection is able to offer you with a 5GHz capacity. It is much quicker than what is found in the counterpart having 2402Mbps. Read the Wi-Fi 6 and Wi-Fi 5 Key Differences.
This model comes with better features than present on the AX21 model. However, it is going to cost you more than that unit. We try our best to understand these two models better. Moreover, we will also try and highlight some of the main differences between the two units.
This will immensely help in knowing who the winner is. You might want to stop what you are doing and fasten your seat belts for this post. Both the models come with spectacular features, and it was going to be extremely difficult to point out the winner in the end.
TP-Link Archer AX21
TP-Link Archer AX50

PROS

PROS

The model offers you a sublime AX1800 Wi-Fi 6 connection.

The unit has around 4 ethernet ports for faster connectivity.

It has ample USB storage support.

It comes with OneMesh coverage expansion.

The model is cheaper than the counterpart.
The unit has a quick AX3000 Wi-Fi 6 connection.

The unit has 4 ethernet ports & 160MHz support.

It has incredible USB 3.0 storage support.

It comes with the OneMesh expansion.

The router has important TP-Link Home Care security and parental controls.

CONS

CONS

It has no tri-band connection.
HomeCare needs a smartphone app and login account with TP-Link to work.
TP-Link Archer AX21 vs AX50: Design and Features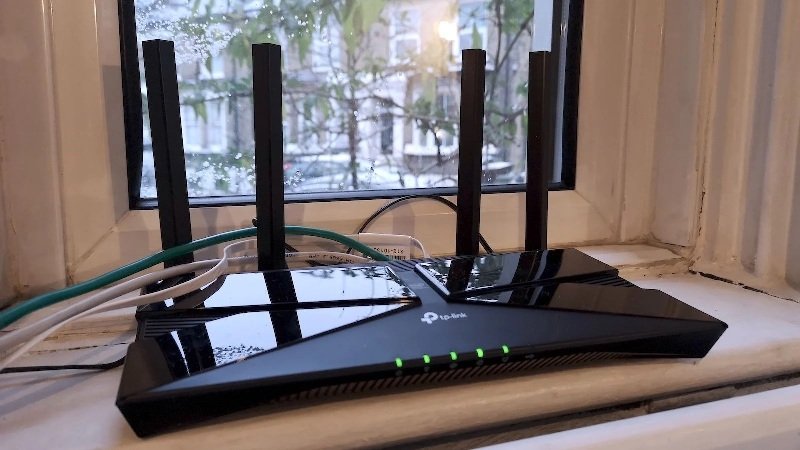 The TP-Link AX1800 Smart Wi-Fi Router AX21 router is designed pretty elegantly. We normally do not use the word unless we mean it for routers. If you have perhaps read our comparisons, then you might be familiar with that.
It belongs to the AX1800 router series. That simply means that the unit supports Wi-Fi 6 connectivity. The number 1800 stands for the combined speeds of the bands present in there. The model comes infused with a USB 2.0 jack and 4 Ethernet ports at the rear.
You can also find the primary WAN port in the blue color. It is a dual-band router that has with a 2.4GHz band that can work for 574Mbps. The transfer rate is pretty decent, coming at 1201Mbps.
But please do realize that you can connect a single band at a time. Our tester feels that you may want to make use of the higher features by next year. The model is produced from plastic. There is a switch for using it.
With the iOS or Android device, you can operate the TP-Link's Tether app. You can also make use of the night mode. Not a very important feature, but usable if you want to. This is for those of you who prefer working at night.
Our tester found this app much easier, better, and faster to work on. It is much quicker than what you find on the Netgear Nighthawk app, which is one of the best in the market. There is no lag in the performance basically from the router.
The TP-Link Wi-Fi 6 AX3000 Smart Wi-Fi Router AX50 router comes nicely packed. You would think that you are handling a premium model. These small things make a huge difference in the trust-building of the customers.
That shows just how dedicated the manufacture is to provide customers with a top-notch product. The model names and the features are clearly mentioned there. Though both the models look the same from the front and the top, you need to check the rear to note the differences.
This model is infused with the USB 3.0 port, not the USB 2.0 port. Additionally, when you look underneath the box, you can see that the model numbers and names are quite different. It comes with 4 antennas that can be swivel-able but not detachable at the back of the model.
It also comes with another feature in the form of Home Care that we will read about shortly. This comes with QoS, antivirus, and Parental Controls. There is no link aggregation to combine the 2 LAN ports into a 2 Gbps connection.
There is also a standard web interface. The browser should be pointed to the device at the IP address, a default one at 192.168.0.1. You can also do that by logging on to the website tplinkwifi.net.
It comes with the Wi-Fi customization feature that you normally may not find on other under $150 routers. We appreciated this feature because you can blend two bands in a single network.
You can do that through Smart Connect and use two separate SSIDs. The router channel can also be changed along with the channel bandwidth. It adequately supports the 160 MHz channels that are the main feature of any similar model.
Surprisingly, some expensive models like the AmpliFi Alien router do not have this feature. Like most of the TP-Link routers, it has a set standard of the network. Some of them include port-forwarding, Dynamic DNS, IP reservation, and others.
You can also find a built-in VPN server. This feature helps you to host a home office. We liked the Home Care feature on the router. This is an essential part of any router. That is because it comes with the Tether mobile app.
Users have to log inside with the TP-Link account. The app usage is tremendous, and you can use them for free for a lifetime. All in all, the routers come with a very opulent design and features that justify the price points of both of them.
TP-Link Archer AX21 vs AX50: Setup and Performance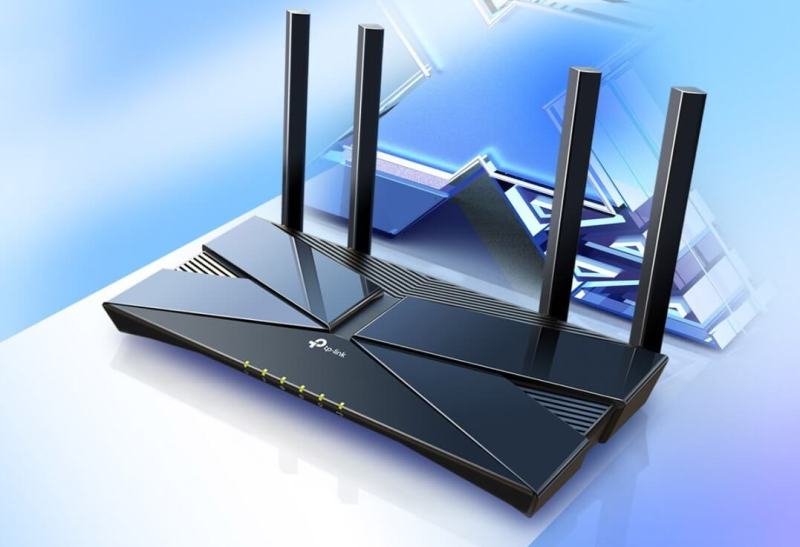 The TP-Link AX1800 Smart Wi-Fi Router AX21 router offers a simple setup and amazing performance. It is much better than the other models found in the same price range of under $100.
They are the AX1800 routers, the Asus RT-AX55 and the Netgear R6700AX. The AX21 router performs quite well and offers you with slightly better speed. For a typical American house, it was able to provide a couple of spots in there.
The download speeds from the AX21 router were splendid. However, the upload speeds were somewhat slower than the other two units. You will enjoy the low latency that is offered on the model.
Because it provides you with a quick connection when you are using a video conference or online communication, there is a distinct advantage of using Wi-Fi 6 speeds as it works quite quickly.
Among the 3 models, the download speeds were very minor. But that left the winner in the form of the AX21. That shows that if you are looking at under $100 model, the model is a stunning unit.
But when you use them on the latest iOS and Android models, the Wi-Fi 6 connectivity works stupendously. You can expect to see speeds of close to 200Mbps and 150Mbps on the iPad Air. However, when your internet connection is a powerful service provider, then it works fast.
The TP-Link Wi-Fi 6 AX3000 Smart Wi-Fi Router AX50 router comes with similar coverage capabilities. We found it weird when users wanted more coverage from the router. If that is the case, you might want to use the Archer AX90.
But the AX50 model is perhaps one of the best models out there in the market. The router comes highly recommended for homes and apartments. With the help of the OneMesh, you can enhance the router's features and powers.
Did you know that the OneMesh enables you to utilize the TP-Link wireless connectivity a little more? The same login details can be used on the Wi-Fi for your home to connect to devices. You can also find another exceptional feature in the form of HomeCare.
This is software that helps you to make use of the most advanced security features. For example, devices in your home do not access unwanted websites if you do not want to. Besides, the infected devices are also isolated with this feature.
You would love to know that it comes with splendid parental controls as a parent. They help with the website blacklisting and setting the time of the devices schedule. Now, you can control what all your children are allowed to access and not see.
They also give you with a report at the end of the week or month. Our tester noticed that the unit is able to support the 160Mhz channel width. Since it does not come with a multi-gig port, you can generate 1Gbps from it.
On the 5Ghz band, you can get 660Mbps to 800Mbps, which is pretty good. The Wi-Fi coverage area was fantastic, and it can give you close to two buildings mileage. That is something that we have not seen in a very long time.
There was no disturbance in the Wi-Fi signals at all. Does this router come with any drawbacks? It gets slightly warm, and some users have claimed that it can work longer. Users do not have to worry about that.
When you make use of any model, it is going to get heated up no matter how long you decide to work on it.
TP-Link Archer AX21 vs AX50: Price
The TP-Link AX1800 Smart Wi-Fi Router AX21 router is priced under $100. It comes having outstanding coverage. Users can get immense Wi-Fi coverage using the router. That is possible because it can grasp the signal strength on devices that are found far away.
There is beamforming technology used along with 4 high-gain antennas. You can also find the advanced front-end module (FEM) chipset. With the help of the powerful Quad-Core processing, minimal latency is achieved seamlessly.
It works eloquently on most internet service providers, including Verizon, AT&T, RCN, Xfinity, Spectrum, etc. The TP-Link Wi-Fi 6 AX3000 Smart Wi-Fi Router AX50 router is priced under $130.
The model also has next-gen 3 gaps speeds. It has a 4-stream dual-band router that can provide amazing speeds of 2402 Mbps on the 5 GHz band. It can offer users with breathtaking speeds for gaming and live to stream.
You can also connect on several devices as and when you want. This aspect of it is possible because of the OFDMA technology present in the model. The lag can be drastically minimized on devices and applications.
We can vouch for the fact that the AX50 router provides you with exceptional sublime entertainment. You can now perform live streaming on 4K videos, game online, and communicate through chat with massive decreased lag.
TP-Link Archer AX21 vs AX50: Verdict
We have ended our comparison on the TP-Link AX1800 Smart Wi-Fi Router AX21 router vs the TP-Link Wi-Fi 6 AX3000 Smart Wi-Fi Router AX50 router. We hope that you enjoyed reading the comparison and have made your decision.
If you haven't, you can always read the post again. The TP-Link Archer AX21 router is a fantastic model that comes infused with tremendous potential. It offers you with incredible speed and performance, most ideal for a small family looking for a phenomenal device.
Users can connect devices that are compatible with the Wi-Fi 6 effortlessly. It can work stupendously in a 2-bedroom independent home, as we read above. The unit offers you top-notch connectivity and can expand the coverage using the One Mesh extenders.
The same user details can be used. Likewise, we also have the TP-Link AX50 router that is infused with exceptional connection features. With the quick Wi-Fi, 6 connection users could connect several devices simultaneously.
It comes with 160MHz support enabling you to have remarkable speeds on top-end smartphones and laptops. The Home Care software comes with outstanding antivirus security and impenetrable parental controls using custom profiles.
The TP-Link Archer AX21 router is much better than the AX50 model because it has DoS protection, comes with universal Plug n Play, and supports mesh Wi-Fi. The model also is able to support WPA3, has a PPTP server, and is quite cheaper than the other unit.
The TP-Link AX50 router is better as it comes with 1201Mb/s higher Wi-Fi speed, comes with IPsec passthrough, and you can find the external memory slot. In this comparison, our winner is the TP-Link Archer AX21 router vs TP-Link AX50 router, the TP-Link AX50 unit.
The AX21 model is slightly cheaper than the AX50 unit. But that is no reason for denying the latter its ability to work well under trying conditions. It works just fine, enabling you to access the internet as and when you want, besides performing a wide range of activities under $130.
James Smith has always been intrigued by electronic products since his childhood. After his post graduation in electronics from a popular university, he decided to pursue a career in the electronics sector. But his calling for writing about these marvellous pieces of work got the better of him. That is how UBG was started. With a writing career spanning more than 12 years, James has worked on several hundred product reviews. During his free time, he like to spend time with his pet dog and relax in the swimming pool.