The gaming mechanical keyboard segment has seen it all. Today, we will be presenting you with two top-notch models that are in a league of their own. So, it does not really matter which unit you are going to choose in the end.
They both are worth the money and time. Corsair has been producing electronic models for quite a while. You can find them in the gaming headsets segment. The market is abuzz with their gaming headsets that are known for their resilience and exceptional features.
The same can be said about their gaming keyboards like Razer is a popular name in the gaming keyboard segment. You would have definitely heard about them if you had been in the gaming industry for a few years, at least.
Their gaming keyboards are known for their luxurious features and distinctive features. Today, we will put Corsair K95 RGB Platinum vs Razer Huntsman Elite mechanical gaming keyboards to the test and find out which one is the better.
We can tell you one thing now, they both did exceptionally well, and it was hard to choose the winner. Rumor has it that Corsair was the first brand to implement RGB lighting into the keyboards.
We won't be surprised to know that. The K95 Platinum model elevates things to a new level that we have not seen in a long time. It comes equipped with the Cherry Speed switches, 16.8 million color options, and 8MB of memory for customization options.
Additionally, the build and design of the mechanical gaming keyboard are second to none. We were spellbound with the quality of the material and design that was used. You can find the military-grade aluminum frame in it.
Though you may not be happy looking at the price tag of $200, which is quite a lot of cash for a keyboard, it is worth it. Besides, you also have Corsair's iCUE software that can be complicated for new users to work with.
It is a handsome lad that provides you with grace personified. Not to mention, the model comes with a full-sized keyboard. You can find 6 macro keys that are present on the left of it. These are most ideal for users who want to make use of the several key options in there.
Similarly, you also have the Razer Huntsman Elite mechanical gaming keyboard that comes infused with its own outstanding features. The model has the same price tag as that of the former unit.
It is part of the Huntsman models that comes with the purple and red switches. We liked the red-colored unit because they felt pretty elegant in any surrounding. The keyboard is relatively lightweight and responsive, which is a good thing.
Their typing was good, but few users have claimed that they are quite hollow, which may not be something you would want to hear. This is mainly for a gaming unit. However, the build quality was stunning and outstanding, on par with the top 3 sold in the market.
You can find dedicated media controls and the RGB light present on it. You will be glad to know that it comes infused with under glow LEDs. Besides, it comes with a wrist rest for you to keep your wrist easily on there for some time.
You can customize the keys along with the help of the software. Not to mention, you can also customize the volume dial too. The Razer Synapse 3 software can be accessed through Windows and is quite simple to work and operate.
Without further ado, let us read the entire review and find out more about these two unique models, along with the winner also.
Corsair K95 RGB Platinum
Razer Huntsman Elite

PROS

PROS

The keyboard comes with an excellent K95 Platinum design.
The unit has the Elgato stream deck support.
It comes with several onboard profiles that are useful.
It has a new and developed rest for your wrist to use prolonged time period.
The product has the acclaimed PBT double-shot keycaps.
The keyboard is very responsive to your commands.
The model comes infused with several keys that are macro-programmable.
It comes with full RGB backlighting.
It has an adequate ergonomic feature for you to type continually.
The product comes with dedicated media controls for instant usage of entertainment.

CONS

CONS

It does not with too many upgrades compared to the earlier K95 Platinum.
There are no dedicated macro keys for MMOs.
Corsair K95 RGB Platinum vs Razer Huntsman Elite: Keyboard Specifications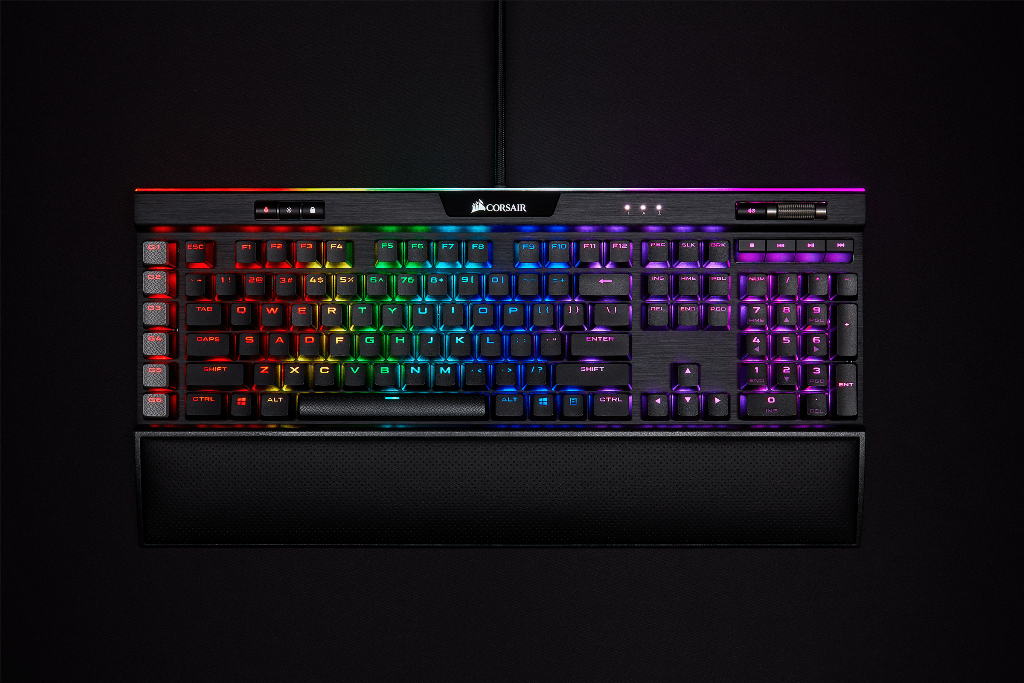 The keyboard specifications of the Corsair K95 RGB Platinum vs Razer Huntsman Elite mechanical gaming keyboards are similar. They can offer you the spectacular capability of playing games, ample responsive, and the speed of typing.
Not to mention, they come with all-important RGB lighting. It will be tough to differentiate both, but we will do our best for you. The K95 Platinum keyboard comes in good shape and design, produced from aluminum.
We noticed that the Platinum model is relatively narrow when compared to the Huntsman Elite. That is because the 6 macro keys that are present make it look like that. While some users were happy about this development, some were skeptical.
Our tester noted that they are ideal for playing games because you can reach them and, more importantly, use them in a timely manner. The shortcut buttons on it are perhaps the most notable feature because you have a wide range of them.
Users can find the lighting toggles, volume wheel, gaming modes, and media controls. These are easy to use and within your reach. You can compare this design to that of the much cheaper Logitech G910 Orion Spectrum at $180, but the Corsair Platinum nailed it elegantly.
However, the model can be on par with some other models, namely the Razer Blackwidow Chroma, priced under $170. As a user, you can make use of the programs elegantly. You can find close to 3 sets of the macros on the keyboard's 8MB memory that comes built-in.
The unit weighs 2.8 pounds making it exceptionally lightweight for you to carry to the other room. When you want you can take it to your friend's place or somewhere else with ease. There is no hassle in packing it inside your backpack and moving it out.
Now coming to the central part of it. The model comes with the Cherry MX Speed switches that need you to press 45 grams of speed. The travel is only 1.2mm, which is quite acceptable as the normal range is close to 2mm.
Please do note that the MX Speed is linear in design. That means that they are pretty sensitive, and you may not require to press them entirely down to activate them, for those of you who play a lot of MOBA and MMO might want to make use of this keyboard.
When you want more, you can get it from this model. It comes with media controls that are dedicated, including a USB 2.0 port, a volume wheel, and an 8MB storage space. In this, users can store the lighting profiles of their choice.
We liked the wrist rest that is produced from rubber. A small but exciting feature that enhances your comfort for you. This is way better than those ones made from plastic. This feels a lot secure and elegant to use.
Our tester felt that it was the Rolls Royce in a mechanical gaming keyboard. Well, we can only read more to find out if that is the case. The Razer Huntsman Elite mechanical gaming keyboard comes infused with its own features and specifications.
It comes with several innovative features in that make it the best option to buy for you. This model has hybrid optical switches. It makes use of lasers for registering the strokes on keys. That reduces the debounce and immensely increases the life of the keys on the board.
You will be delighted to know that it is the most durable keyboard in the market, having close to additional 50 million clicks. Yes, they can be quite loud. When you are somebody who cares about the noise, then you might want to look elsewhere.
Its actuation and the click are produced quite differently. Due to that, the hysteresis problem found on most of the Platinum keyboards is not in here. The key travel is also exceptionally less. The actuation point decreased to 0mm, and you need only 45grams of force to press the keys.
It made its first appearance during the Huntsman Tournament Edition. You know that the manufacture knows what they are doing with the keyboard and have the right direction. However, the Huntsman does not have additional features as it does not support macros and a USB port.
As far as comfort goes, the Razer unit is much better, thanks to the rubber wrist rest that enables you to play a bit longer. Your hands, especially the wrist area, do not get tired of doing things like gaming or typing.
| SPECIFICATIONS | Corsair K95 RGB Platinum | Razer Huntsman Elite |
| --- | --- | --- |
| Name | K95 RGB PLATINUM Mechanical Gaming Keyboard | Huntsman Elite Full Size Wired Opto-Mechanical Clicky Switch Gaming Keyboard |
| Brand | CORSAIR | Razer |
| Lighting Type | RGB | RGB |
| Form Factor | Full-size | Full-size |
| Keyboard Technology | Mechanical | Optical |
| Key Switch Behavior | Linear | Clicky, Tactile |
| Wireless | No | No |
| Numeric Keypad | Yes | Yes |
| Keyboard Type | Gaming, Programmable | Gaming, Programmable |
| Warranty | Not available | 2 Years |
Corsair K95 RGB Platinum vs Razer Huntsman Elite: Typing Abilities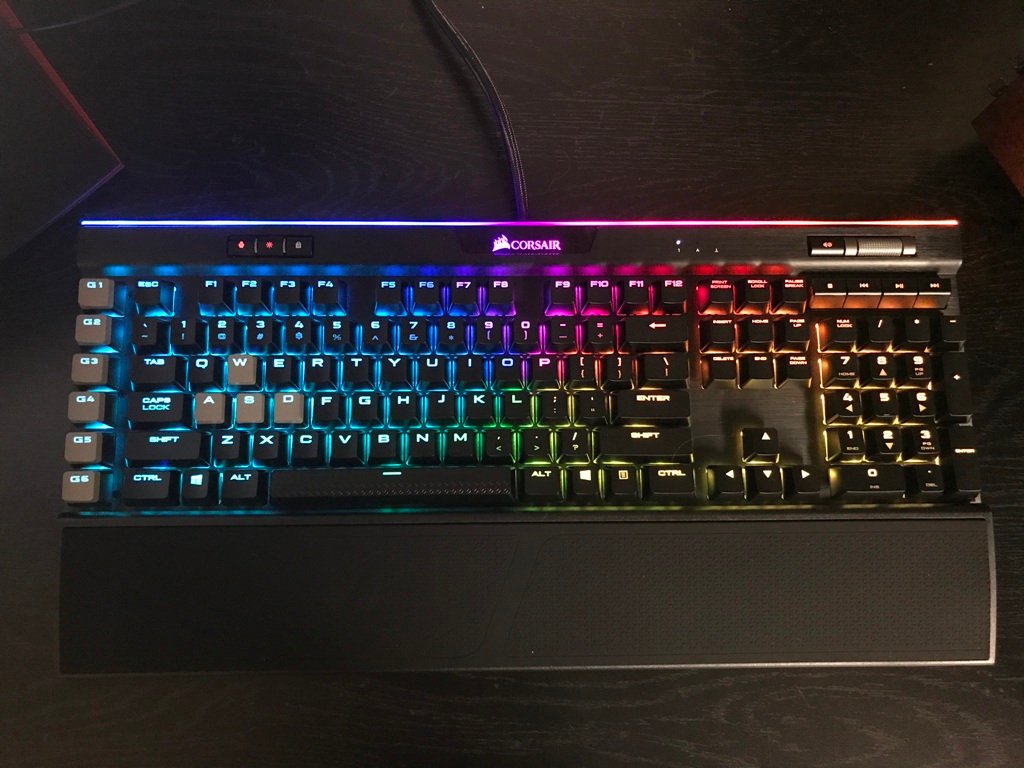 We begin with the Corsair K95 RGB Platinum gaming mechanical keyboard software. The maker's iCUE is generally known for its complicated process. However, you will be happy to know that it has been a lot simpler to operate & work over the last few years.
It provides you with several unique templates and stunning colors pulse, rain, & wave that appear on the keys. You can efficiently perform the customization as you want with the color profiles of your choice and requirement.
However, this is where the Razer Synapse software makes things a lot easier. Though you might be happy using Corsair, the software should have been simpler to use and work with. You can do a lot more with the Razer software as far as customization is for you.
The iCUE software offers you the ability to customize your keystrokes on the unit as you want. We felt that the keyboard has a good wrist rest in the market. Besides, the product comes produced from military-grade aluminum and provides you with ample support.
Sadly, the wrist rest will attract a lot of dirt, and you need to clean it constantly. You can also see that it comes with an X arrangement. The cables are bundled in the under part of the unit. However, it can only be used for the device plugged in the USB to not come in your path.
The Razer Huntsman Elite comes with splendid sync. It is possible because of the hardware of the maker. It partners with other brands like Philips, offering you the Philips Hue and accessories from more than 30 makers.
The backlit keys can support close to 168 million colors seamlessly. We found that the typing was just about alright. That is because the linear optical switches do not make things quite simple for you.
However, the wrist rest is there, and hence we do not feel any discomfort. The keyboard is not that responsive, and you may not be able to know whether the keystroke is done or not. The same was found on the Razer Huntsman Tournament Edition gaming keyboard.
The latency is pretty low, meaning; you may have to use the Razer Huntsman V2 to get a responsive feeling. However, the software gives you a lot desired, and you can now reassign the keys accordingly.
The program macros, volume dial, RGB backlighting can be customized as and when you want. Each of the keys can be customized as it needs to. You can save several profiles on them with the help of the cloud sync option.
It comes with spectacular compatibility, and you can work on Windows without facing too many issues on it. When you want to work on the macOS, you might want to forget the Pause/Break, Context menu, Screen Lock.
With Linux, all the keys worked as they must. As there is a lack of software support on macOS, the customization is quite limited. Overall, both the gaming keyboards come nicely designed and provide you with decent typing capabilities.
Corsair K95 RGB Platinum vs Razer Huntsman Elite: Price
The Corsair K95 RGB Platinum Mechanical Gaming Keyboard is priced under $200. Is the price worth it? The model is currently priced at $165. So, there is a discount of almost $40 there. If you are keen to get it, then you might want to place an order quickly.
This model comes infused with stunning features like per-key RGB backlighting. You can notice a 19-zone Light Edge at the top that offers exceptional lighting effects and plenty of customization options.
The Razer Huntsman Elite Gaming Keyboard is priced under $200. According to the NPD Group, Inc, US Retail Tracking Service, it is the best-selling gaming peripheral in the market in America. The unit is quicker than the legacy mechanical switches.
It is the razer optical switches that work with the actuation of light. Users will be glad to know that the keys work quicker than light at 15 mm. The feedback is also firm and excellent, giving you immersive gaming sessions with your family or friends.
Corsair K95 RGB Platinum vs Razer Huntsman Elite: Verdict
There you go, we have concluded the review between the Corsair K95 RGB Platinum vs Razer Huntsman Elite keyboards. Both are quite good in their own way and come with unique features too.
The Corsair K95 RGB Platinum mechanical gaming keyboard is an exceptional model that comes with a breathtaking style and design. It looks premium and has 6 macro keys that everybody may not approve of.
However, when you take a look at the market, most of the other keyboards may not be able to manage with it. The unit has a metal body, shortcut buttons, and a smooth response. It is worth considering if you are okay with the software that takes some time to get used to.
A significant drawback about the Corsair K95 is that it does not have too many features compared to the earlier K95 Platinum keyboard. That was a big disappointment and something that you can expect from a model that is priced under $200.
All in all, the K95 RGB Platinum keyboard is popular among the masses. You would be delighted to know that it is among the top 5 bestselling models in the country. However, you can also consider models like the Razer Huntsman & Logitech G810 Orion for the same price point.
The Razer Huntsman Elite mechanical gaming keyboard is a splendid model infused with several amazing features. The model has linear optical switches that make it quite responsive because of the low actuation point.
You also have RGB lighting that ensures you can work or play in low lighting conditions. These customization options are good, too, where you can make use of the dedicated media control for the volume dial.
Sadly, it does not have dedicated macro keys for MMOs. Overall, the Huntsman Elite keyboard is a decent unit to consider. The unit is among the top 3 selling models in the world. At the same time, you have other alternates like the SteelSeries Apex Pro & Roccat Vulcan TKL Pro.
The Cherry MX Speed and Razer optical linear are both good enough. So, despite using any of the models, your playing experience will be the same in them. It brings us to the versatility and the ergonomic features of both keyboards.
Our winner between the Corsair K95 RGB Platinum vs Razer Huntsman Elite keyboards is the Corsair K95 Platinum because of the versatility and sturdy design. But, when you want to have an excellent experience with the unit, then the Razer Huntsman Elite would come in useful.
James Smith has always been intrigued by electronic products since his childhood. After his post graduation in electronics from a popular university, he decided to pursue a career in the electronics sector. But his calling for writing about these marvellous pieces of work got the better of him. That is how UBG was started. With a writing career spanning more than 12 years, James has worked on several hundred product reviews. During his free time, he like to spend time with his pet dog and relax in the swimming pool.