Sennheiser, in partnership with Epos, produces some of the best gaming headsets in the world. Though their products are pretty popular among gamers and users, they tend to miss the mark at times.
Today, we have decided to review two of their budget models. They are the Epos GSP 300 vs 302 gaming headsets. Let us read and find out whether they are sublime models and hit the mark.
Firstly, Sennheiser is known for its top-end or premium models. The name resonates with pricey models. You can find fantastic units for $300. But it is heartening to note that many makers have understood the importance of budget models in the market.
The GSP 300 model comes with opulent comfort. We noticed that you could wear the gaming headset for prolonged hours without any issues. The build quality and sound performance are quite acceptable.
The unit comes with a spectacular microphone and is worthy on its own. It has a good connection in the form of a 3.5mm analog and offers basics from a feature's perspective. Our tester did not get the significance of the blue cushions present on the headset.
The black and blue tones don't make much of a sense. Likewise, the Epos 302 gaming headset comes with remarkable features on it. The headset is similar in design and comfort to the Epos 300 model.
It has earpads that are quite bulky and angular in shape. They connect to the band with the help of a tilting joint. The microphone on the model is phenomenal. It comes with a large head and bendable arm.
You have plenty of options in them, as in they are compatible with all devices and gaming consoles. We found that quite attractive for under $100 budget units. Though you have a plethora of options to make, you can consider these two models based on their features.
Our review takes a deep analysis of the gaming headset, the design, comfort, audio, microphone, and compatibility. You will be delighted to know that the GSP 302 is cheaper than the 300 unit, but can it go the distance? It is for you to find out at the end of the review.
Epos GSP 300
Epos GSP 302

PROS

PROS

The unit is quite comfortable to wear for a prolonged time.
The product is lightweight.
It has a phenomenal audio quality under a $100 headset.
It offers you with awesome compatibility.
The model is cheaply priced.
The headset has an eloquent design.
The build quality is rugged typical of the Sennheiser model.
It has a stunning sound feature.
It comes with a robust microphone quality.
The product is priced cheaply, under $60.

CONS

CONS

The features can be improved.
Some users complained about the sound.
| SPECIFICATIONS | Epos GSP 300 | Epos GSP 302 |
| --- | --- | --- |
| Name | GSP 300 Closed acoustic Stereo Wired Gaming Headset | EPOS Sennheiser GSP 302 Gaming Headset |
| Brand | EPOS | EPOS |
| Noise Cancelling (Active) | No | Yes |
| Connection Type | Wired | Wired |
| Built-In Microphone | Yes | Yes |
| Carrying Case | No | No |
| Microphone Features | Adjustable | Adjustable |
| Headphone Fit | On-Ear | On-Ear |
| Adjustable Headband | Yes | Yes |
| Warranty | 2 Year | 2 Year |
Epos GSP 300 vs Epos GSP 302: Design & Comfort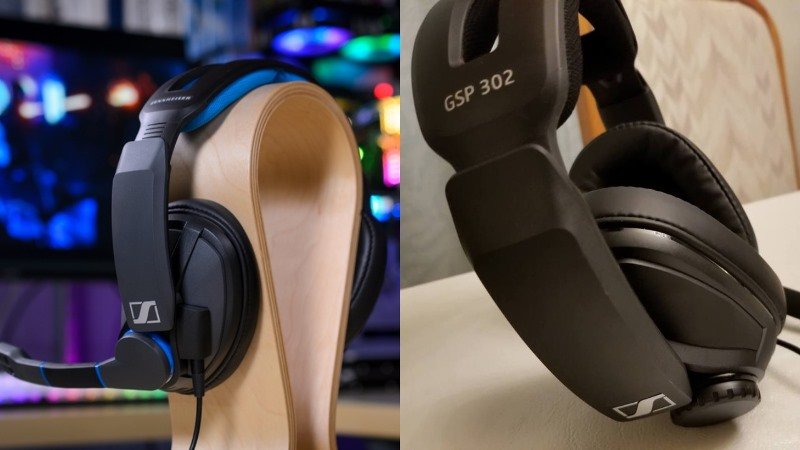 The word Sennheiser is bang on with the design & comfort. They are designed well and come with exceptional features on them. The Epos GSP 300 unit is made from plastic. Besides, the model is exceptionally lightweight.
You can easily adjust the headband on it by tilting the joints. That should do. However, you can also make use of the earpads that are used in leatherette. It provides adequate sealing around your ears.
If you are a gamer wearing glasses, then you may not find the headset comfortable to wear. The usage of the headphone is quite simple. Our tester did not notice too many things in the headset.
You do not have to find your way through this thing, actually, when you can get a bit confused using other models. Whether that is a good or bad thing, we don't know. But, for under $100, you know that you have a winner in here.
The microphone is quite large and nicely done. The head is moving up. You can mute it by simply flipping it along with a click sound heard when you put it on. You can find a huge volume dial on the right side.
Our tester has always liked the minimalistic design of the headset. The packaging of the headset came quite as a surprise. When you open a Sennheiser model, you are excited. Sadly, we were quite amazed at the few features and blandness in there.
Though it is not bad or unattractive by any means, you will be slightly fazed due to that. The unit's design comes with the black & blue color tones on it does not help your cause either. You can find a portable microphone and not a single distinct feature on it.
On the other hand, we have the Epos 302 gaming headset that comes with its own set of features in tow. Our tester found that it is pretty similar to most gaming headsets. They usually come with large ear cups and a headband them that fits nicely on your head.
The left side, you can notice the microphone that moves up and down if you want it to. Like we said above, besides the microphone, there is nothing much too really speak of here. However, this is a budget model from the German maker.
You cannot blame them for delving into the market with a minimal design model. You can easily mute the microphone as and when you want. The earcups fit nicely and bring a good fit for you to extended periods of gaming.
You can find the logo on the headband. There is a 4 feet cord for you to use. That is about it.
Epos GSP 300 vs Epos GSP 302: Build Quality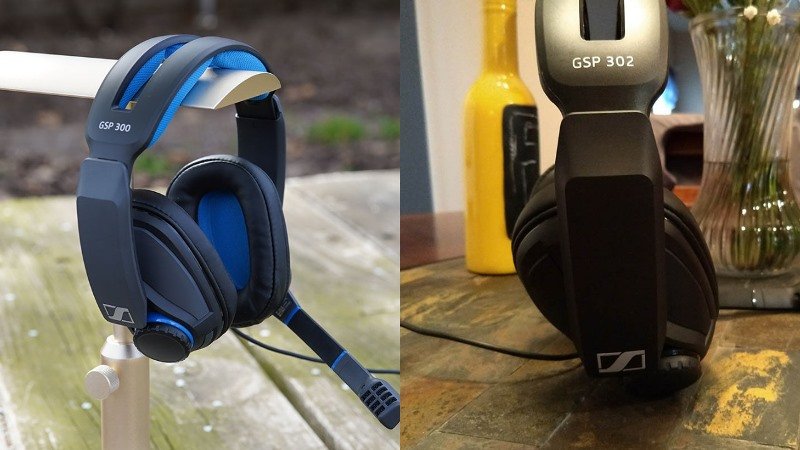 You may have an idea now about the build quality. The Epos GSP 300 has the trademark Sennheiser robust build in it. It can be instantly found the moment you notice the model. Our tester found wearing it immensely wonderful.
The sealing of the headset is stunning. Its earcups come with faux leather that feels fantastic. They are also quite breathable. The balance of the headset is just right on your head. Our tester was pleased with the fitting on the head.
It comes with a snug sealing on the head. We could wear the GSP 300 unit for several hours without any issue. You can use it for watching videos and listening to music; it does not matter. The black color is commonly found throughout the headset.
Sennheiser was not known for its usage of colors on their devices. We could understand that feeling with this particular model. The black & blue tones do not blend with each other at all. Since you will be wearing them without having to look at them, no issues.
The 300 series come with a good finish, though. The GSP 301 has a satin finish, while the GSP 302 comes with a black finish. Similarly, the Epos GSP 302 comes with splendid build features. This is something that nobody can argue with the Epos gaming units.
They are sturdy in design and can last you several years. You will be amazed to know that many gamers often change their units, but when they use the Sennheiser, they use it for a lengthy period.
Its overall comfort is something that it can boast of. The noise cancellation feature in the unit was something that we appreciated. They produce broadcast-grade quality sound. It features enhanced bass that many users may not adhere to, but it is acceptable.
Epos GSP 300 vs Epos GSP 302: Audio Performance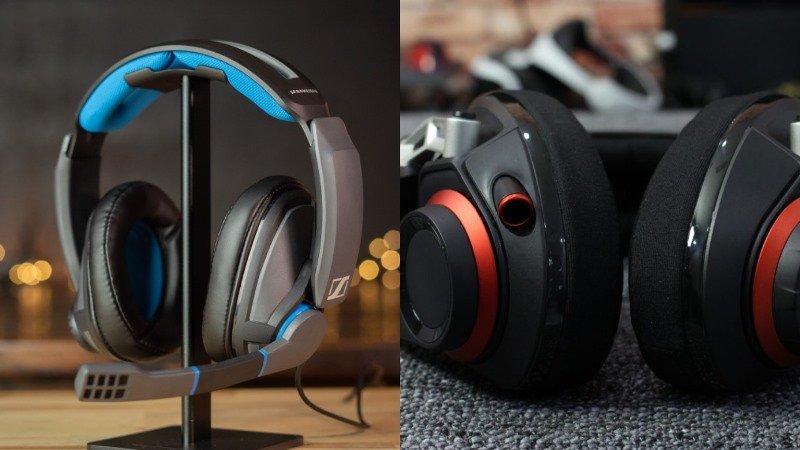 The Epos GSP 300 gaming headset comes with exceptional sound quality. We played some games like League of Legends and Dauntless. Our experience was just about good. You cannot call it astonishing, but alright.
More importantly, the sound was accurate. When you play games like FPS and car racing, you need to hear the right kind of sounds for judging correctly. This was something that we were appreciative of in the headset.
You can find a pronounced de-emphasis that is got in less than bass range. The frequency response is all about what you want to listen to. However, you may hear music where the bass is relatively low in volume.
For example, in songs, the guitar sounds quite normal but audible. Hearing small noises like footsteps behind you and reloading is quite lovely. You can also effectively talk to your teammates.
Thanks to the noise cancellation feature, you should not have any issues with the sound happening around in your home. It is quite an in check. Similarly, the audio quality of the Epos 302 headset is good.
We loved the audio performance found on the unit. You can enjoy the sound performance coming out of it. Our tester listened to music, and everything was fantastic. Few users have mentioned to us that the sound is different on their MacBook than on the PC.
We did not try that out. However, if you have a MacBook, you can use the smooth audio from it. On the bright side, our tester tried it on his smartphone and got outstanding audio quality from it.
The same could not be said when we used on the Xbox One because we could hear everything. During gaming, despite the loud bombings around you, one can listen to everything. This audio quality is simply outstanding as you can use the headset for hearing the sound.
Epos GSP 300 vs Epos GSP 302: Microphone Performance
The Epos GSP 300 gaming headset comes with an opulent microphone. We made use of the Microsoft voice recorder and tested the voice in different microphone positions. It did not come with too much background noise, which is a nice thing to know.
Our voice was clear for chatting and discussing matters of importance with clients. Not to mention, it is an abundant unit for gamers. However, the microphone quality is light, so users need to increase their volume a bit to be audible properly for the other person in line.
The Epos GSP 302 gaming headset has a good microphone. Our tester tried the microphone on the PC and the Xbox and received decent feedback from teammates. We are not sure about the other devices and consoles.
However, the sound was good, and our conversation was made friendly. The person at the other end had no issues hearing us. Besides, the background noise level was medium; despite that, the volume was heard quite well on the side.
In this sense, our voice was clear and audible. That is mostly what you want to hear when using under $100 headset. The maker says that you can use the smartphone but did not try it out. However, we can assure you that the noise will be smooth.
All in all, the microphone of both GSP 300 and GSP 302 was excellent. For the budget model, they came pretty swell. We cannot complain or ask from them. You would be delighted to use them for gaming or professional purposes with friends and your clients.
Epos GSP 300 vs Epos GSP 302: Compatibility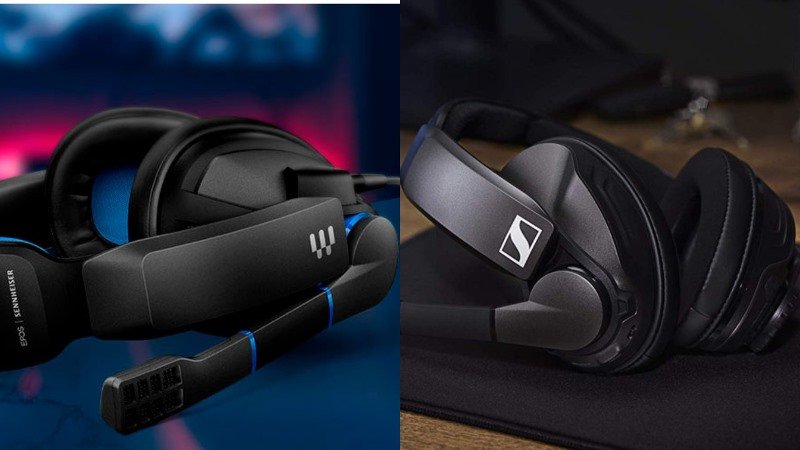 The compatibility of the Epos 300 and the Epos 302 gaming headsets is decent. You can operate the model on your PC, Xbox One, smartphone, PS4, and Nintendo Switch. The Epos 300 model works splendidly with the 3.5mm cable on the various devices and gaming consoles.
Not to mention, you also need a 3.5 dongle to do it. The unit defaults as a split microphone connection; it cannot work with Nintendo Switch chatting. When you utilize the dongle, it works fine.
We felt that the 300 should have come with software to enhance the sound quality. There is no USB or software to handle. You can make use of the 3.5mm cable for audio and microphone. With the adapter, you can plug into a single 3.5 mm jack for smartphones and gaming consoles.
Likewise, the Epos 302 comes with a good compatibility feature of working with devices. You can connect on the PC, PS4, Xbox One, smartphones, Nintendo Switch, and tablet if you want. It works alright with them.
The unit can be connected pretty straightforward. You would be glad to work on them without much hassle at all. They sound good too. The comfort of the unit comes into play here because you can instantly feel the audio effects.
Epos GSP 300 vs Epos GSP 302: Price
The Epos GSP 300 is priced under $100. Our tester felt that it was rightly priced. It comes with exciting features in the form of XL memory foam pads, bass-heavy sound for an immersive experience, and a microphone with a lift-to-mute boom arm.
The Epos GSP 302 is priced under $55. Our tester thought that a price difference of almost $50 could sway in favor of the Epos GSP 302. It comes with stunning features and specifications too. The design of the headset is good, the audio performance is remarkable.
Sennheiser is known for top-end models that cost on par premium gaming headsets. However, they provide you with two models priced well below the $100 price range. Most other brands at $100 cannot beat their microphone capability and build the structure.
Epos GSP 300 vs Epos GSP 302: Verdict
We have ended our review on the Epos GSP 300 vs 302 gaming headsets. Hope you might have made up your mind about the gaming headset of your choice. If you have not, then please read our review again.
The Epos GSP 300 is a fantastic gaming headset that comes with top-notch features. You have excellent comfort and wear it for several hours together, and the build quality is always there. Sadly, when you compare it to a $60 headset from the same brand, you can ask yourself whether you want to make use of it.
It has enough compatibility with the usage of several devices and gaming consoles. We were highly impressed with that. Besides, you have an abundance of options in the market that provide you with several more features than the unit.
For a $100 model, the lack of decent features is appalling. Those of you who are into gaming might want to prefer still to use it. It comes with sufficient versatility for use as an audio headset. Simply put, the Epos GSP 300 gaming headset is a prodigious model coming with all the features that you would want to see in it.
The unit can put a smile on any gamer. However, it does not do set itself apart from the competition in its price range. Similarly, the Epos GSP 302 gaming headset comes infused with outstanding features like Xbox One, Mac, PC, PS4, and PCV 05 adapter.
Users will find other competitors with Sennheiser having the price within the $60 range. Gamers would blush with pride when they hear the audio quality, sound from the microphone, and the black design.
We have already made our decision clear in the audio segment of the post itself. Our winner in the Epos GSP 300 vs 302 gaming headsets is the Epos GSP 302 model. It comes with spectacular audio, fit, microphone, budget, coming with a recommendation before getting something else.
The Epos GSP 300 unit is a good one coming with what you may prefer. You may want to consider it when you are particular about the comfort of the model. Several gaming units come with splendid features on the headsets. This model fitting was hard to beat, period.
James Smith has always been intrigued by electronic products since his childhood. After his post graduation in electronics from a popular university, he decided to pursue a career in the electronics sector. But his calling for writing about these marvellous pieces of work got the better of him. That is how UBG was started. With a writing career spanning more than 12 years, James has worked on several hundred product reviews. During his free time, he like to spend time with his pet dog and relax in the swimming pool.