You would agree with us on the fact that Fossil is currently the market leader in watches. They have managed to produce some exceptional models over the years that make them the numero uno when it comes to wristwatches or anything that is associated with it.
Today, they have done better by producing unique smartwatch models. Of course, it was not a surprise move because they are pretty good enough to do so. If you haven't used any of their models yet, then you sure have no idea what they are capable of providing you with.
You would be surprised to know that the last few years have seen their sales rising immensely. Isn't it a good sign for them? Today, in this review, we are going to take a look at their two popular smartwatch models, the Fossil Gen 6 vs Fossil Gen 5 smartwatch.
These models have been doing pretty well for the manufacturer. But we need to know what the best among them is. This is when many kinds of factors come into play if you want to really make sure to choose the ideal model among them.
We can assure you that making the right decision will take time because they both are good. That is because you will want to know some of the significant differences between the two. When you want to make sure that you invest your money correctly, then you need to upgrade your existing model.
Why Fossil model? They are nicely designed, come with a robust build, and have a lot of features. The Gen 6 model comes with the latest Snapdragon 4100+ processor. But if you want, you can upgrade the unit to Wear OS 3 this year in 2022.
The Gen 5 model is elegantly designed and comes infused with a barrage of features in them. But they are just not up to the mark when compared to the Gen 6. As a user, you won't be focusing only on the design aspects of things.
You would want your product to provide value, and that is something we noticed the Gen 6 model was able to provide us with. Using the Gen 5 model, you are getting an old model that comes with a decent platform but may become outdated shortly.
What are the main differences between these two amazing models? What do you need to know before choosing the best model? That is why we have prepared this review just for you. As you read further, you can learn more about the price, design, processor, battery, and pros & cons.
We have mentioned the winner at the end of the post.
Buying guide before getting a smartwatch
Here is the buying guide for the smartwatch. You need to know some of the main features before getting one for yourself. Below are some of the factors that you would want to beware of when buying a Fossil smartwatch for yourself.
Design: The design of the model is a crucial factor. You do not want to be struggling when wearing a watch on your hand. It should not be too heavy or too light either. It must fit your hand properly and come nicely designed.
Compatibility: These days, most smartwatch models are compatible with other operating systems. For example, Apple watches are only compatible with macOS software. That is not the case because you can work with the Fossil model using Android and macOS as well.
Waterproof: It is a feature that is quite commonly found on most models.
Battery life: The battery working life of the smartwatch must come adequately quite well for your capabilities. Moreover, it should have a quick charging feature present in it.
Fitness tracking: It must come with the fitness tracking features like the heart-rate monitor, GPS, gyro sensor, etc.
Speaker and microphone: Most of the models come with this feature. When you want to attend calls, when you are away from your smartphone, then you should be able to do it.
Connectivity: The connectivity features should be top-notch. You do not want to struggle to hear yourself or others when communicating with them during a trail or hike outdoors.
Price: It must be affordable for your financial expectations.
Fossil Gen 6
Fossil Gen 5
PROS
PROS
The model has an excellent design to it.

The unit comes in two size options.

It also comes with GPS, HRM, and NFC.

There is enhanced health tracking.

It has the mighty Snapdragon Wear 4100+.

It is eligible for a Wear OS 3 upgrade.
The unit has a fantastic design to it.

The model has GPS, HRM, and NFC features.

You can find the activity/sleep tracking.

It comes with Google Assistant & built-in mic/speaker.

There is onboard GPS & heart-rate monitoring.

It also has the Google Pay feature for use.
CONS
CONS
It is pretty expensive.
The model has one size option.

It is not eligible for a Wear OS 3 upgrade.
CHECK ON AMAZON
CHECK ON AMAZON
Pricing & Availability
The Fossil Gen 6 smartwatch is priced under $300. It has been available in the market since September 27, 2021. It has two sizes that are of 44mm & 42mm. It is lightweight & weighs only 140 grams. The Fossil Gen 5 smartwatch is priced under $257.
It has been available in the market since August 2019. It comes in only one size, and that is 44mm. It weighs only 79 grams. The Fossil smartwatch can be got from the website, and you may want to make use of Extrabux to get 2% super cashback from Extrabux.
You can avail of the sign-up bonus, and it is free to join, along with a $20 welcome bonus. There is also Amazon & Walmart, where you can make use of 4% super cashback.
Design
The design of most Fossil watches is generally sublime. You can be assured that the same is done for smartwatches. We liked the design features of the Gen 6 smartwatch. It comes flawlessly done.
The design features are suitable for women & men as well. So, if you are planning to gift it to somebody close, your partner, your friend, or your parents, then you can do so flexibly. It comes in vibrant colors of Gray, Black, and of course, Rose Gold, suited for women.
You can get them in two size options that are 42mm and 44mm cases. It makes use of 22mm and 18mm straps. You can choose the straps that you prefer for your working out. The case comes in steel, silicone, and leather.
We really liked the leather, but it may not be suitable for somebody who regularly uses the gym. You can find the right blend of the buttons and the touchscreen present on there of the devices.
It comes with a few tweaks that make it somewhat different from the Gen 5 model. Otherwise, they look pretty much the same. A ridge present on the edge of the bezel is the main difference between the smartwatches and interesting than the edges on the Gen 5 unit.
All in all, the design is quite similar to its predecessors. It is something that the maker might want to work on. Though their models are reliable, durable, and designed efficiently, their design is similar to each other.
The design of the Fossil Gen 5 smartwatch is pretty elegant and admirable. You would love the design concept used on the model. It is a good-looking model. It comes in one size, and is of 44mm, and has a wide range of colors like Rose Gold, Smoke Stainless Steel, and Black.
We liked the fact that it can blend with the accessories that you want to wear. Maybe you want to wear it to the gym. Perhaps, you want to put it on for a meeting or conference with your clients, then go right ahead.
Otherwise, you can simply wear it with your night suit. The watch suits any sort of clothing and anytime absolutely. You can find that it comes with 3 buttons and a large middle button that seems to be the standard design concept for most of its models.
You can use the large middle button to scroll through the apps efficiently. You can use the other buttons to use the apps and the category settings. At the rear of the smartwatch, you can find that it has an optical heart rate monitor that sticks out a bit.
This feature is usually not visible on most of smartwatches, and you can make use as the resting spot for the magnetic charging puck. On the whole, the design of both models is good, but we liked the Gen 6 a bit better than the Gen 5.
Battery life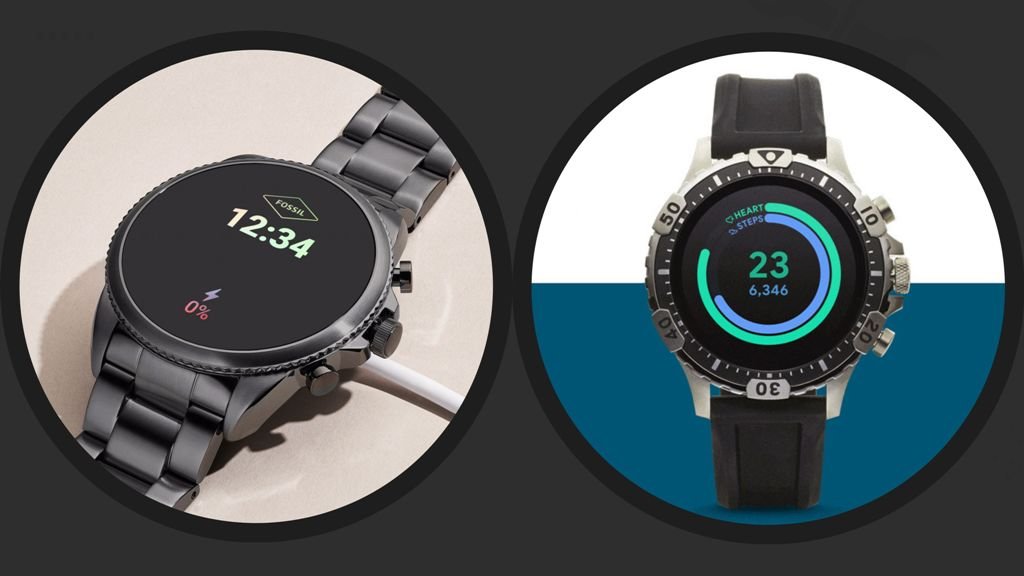 The battery working life of any smartwatch is a vital feature. This is especially when you want to go outdoors. You cannot charge the model when on a trail or hike. So, it should at least provide you with 24-or-48 hours of battery life.
The Fossil Gen 6 smartwatch comes with better battery life than the Gen 5 model. The battery life for both units is above 24 hours. But the Gen 6 offers you with a quick charging ability. This makes us choose the Gen 6 model.
Processor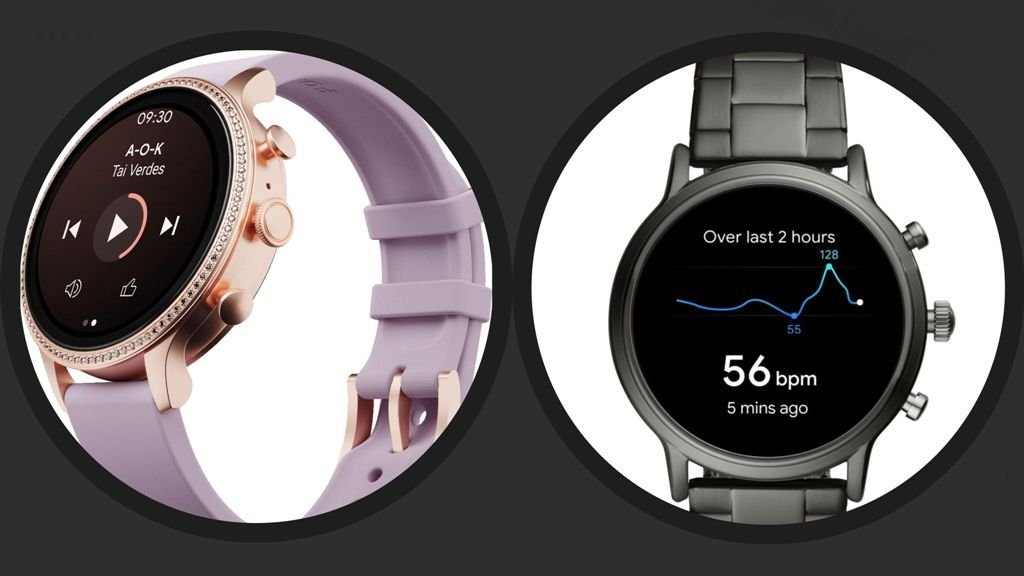 The Fossil Gen 6 smartwatch has a Snapdragon Wear 4100+ processor. The processor is much quicker and faster than the Fossil Gen 5 model. It is a 12nm chip when you compare it to the 28nm process of the 3100 chip.
There is an enhancement of the working ability by more than 20%, which is good. You would be delighted that it also comes with the QCC1110 co-processor in the 3100 chip. This way, it is able to handle the always-on display mode feature and perform small tasks.
The Fossil Gen 5 smartwatch has a Snapdragon Wear 3100 processor. It is not as quick as found on the Gen 6 smartwatch. So, if you want a good model that can work fast, then you might want to choose the Gen 6 unit.
Bluetooth & Sensors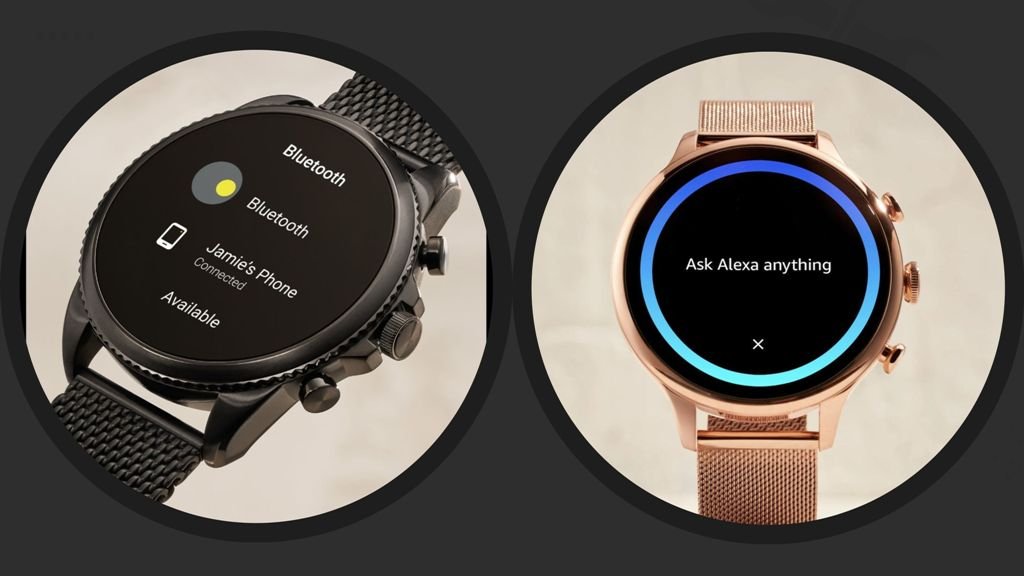 The Fossil Gen 6 smartwatch comes infused with Bluetooth 5.0 connectivity in comparison to the Bluetooth 4.2 found in the earlier model, the Gen 5. This ensures that it can provide you with quick communication ability to save time and battery life.
The model also has the SPO2 sensor for blood oxygen measurement. This is a new feature that was started in this model. Now, you can measure your blood oxygen to see how your blood utilizes the oxygen.
It is helpful for you to understand how you sleep and when climbing. This is ideal when you are outdoors hiking and biking on a trail. The Fossil Gen 5 smartwatch comes with the Bluetooth 4.2 LE connectivity feature that makes sure you can go outdoors.
But some of the connectivity features are not top-notch like the one that is found on the Gen 6 model. We were pretty impressed with the Bluetooth found on the new model. You can easily send messages and even reply to calls on the mountain trails.
FAQs
Is it worth buying Fossil Gen 6?
Yes, it is worth considering the Fossil Gen 6 smartwatch. That is because the specifications are ideal for having the apps on it. Besides, you can also store music on it. The Snapdragon 4100+ processor is just simply amazing, and your model never crashes.

Its user interface is excellent and awesome. You will delight with the connectivity present on the smartwatch as it supports NFC, Bluetooth 5.0, Wi-Fi, and GPS.
Is Fossil Gen 6 a good smartwatch?
Compared to the previous models, the Fossil Gen 6 smartwatch is definitely a good improvement over most of the others. It comes infused with a wide range of features & specifications on it.

The model has a good tracking performance, and it allows you to track your blood oxygen levels efficiently. Moreover, you can also get the exact heart rate and use other features as well. Kudos to the maker for producing an exciting model.
Is the Fossil Gen 5 worth it?
When you are not keen on using some of the advanced features & specifications and are on the lookout for a cheaper model, then the Fossil Gen 5 smartwatch is a good purchase. The model comes with a stupendous design, astounding performance, and aesthetics.

There is also plenty of customizability in there. However, you may be slightly disappointed with the battery working life without turning sensors on and off. But it is much cheaper than most of the other models and stands durable.
Does Fossil Gen 6 have a temperature sensor?
Yes, the Fossil Gen 6 smartwatch has a temperature sensor feature in it. Now, you can easily monitor the changes in the temperature along with the exertion so that you can avoid getting into hyperthermia.

There is also an exciting feature in the form of the compass that allows you to do a wide range of outdoor activities. You can monitor your games, use apps, and navigate as well. You will be amazed to know that it can measure barometric air pressure.
Does Fossil Gen 5 have an oxygen sensor?
The Fossil Gen 5 smartwatch comes with an oxygen sensor that lets you track your body's oxygen levels. You can also make use of the biometrics approximates & heart rate along with the fitness levels of your body.
Verdict
This is it. We have come to the end of the comparison review between the Fossil Gen 6 vs Gen 5 smartwatches. We hope that you were able to make your decision based on the review. Fossil has done a good job designing these two models.
Our winner in this review is the Fossil Gen 6 smartwatch. The latest model from Fossil comes embedded with several advanced features like OS performance, SpO2 blood oxygen monitors, and many others.
There are just too many features & specifications that are not present on the Gen 5 model. You would love this model for all the right reasons. Besides, the charging time is also quite good. You can also upgrade to the Wear OS 3 platform.
Users can select from the two available size options. You would be amazed to find out that these models will be upgraded to the Wear OS 3 this year. Though you may need to wait, you know that this expensive model is certainly not an outdated product.
It is worth considering this unit when you want to lose weight, go outside on an adventure or just want to use an attractive model with plenty of features. Otherwise, you can stick with the Fossil Gen 5 smartwatch.
A year ago, we could have said that the Fossil Gen 5 smartwatch was the best model in the market. Sadly, the times are changing, and you can find several models that are cheaper than this model, providing you with stunning features.
We liked the design of the smartwatch and the specifications. But they do not just make any sense, and it would be wise to reconsider. You can't upgrade the Wear OS 3 platform, and the support for the older versions of Wear OS can be stopped completely, leaving you in the lurch.
You are better off without the model. Yes, the Fossil Gen 5 smartwatch does come with appeal in them. But the features don't have much future. When you are going to give $200 for a smartwatch, then it better be worth the price.
That is why you may want to use the new Fossil Gen 6 smartwatch. Yes, they are kind of more expensive than other models, but they come with an array of features and distinctive capabilities.
Keeping these factors in mind, we strongly recommend that you seriously think of going with the Fossil Gen 6 smartwatch than the Fossil Gen 5 smartwatch. You can now order your Fossil Gen 6 smartwatch from Amazon, Fossil, and the like.
James Smith has always been intrigued by electronic products since his childhood. After his post graduation in electronics from a popular university, he decided to pursue a career in the electronics sector. But his calling for writing about these marvellous pieces of work got the better of him. That is how UBG was started. With a writing career spanning more than 12 years, James has worked on several hundred product reviews. During his free time, he like to spend time with his pet dog and relax in the swimming pool.