Do you hear some weird noises when using your keyboard? Are your switches sounding odd when you press them for typing? If then, it is time to lube them. That is correct. Just like you pour some lubricating oil on other surfaces, you may want to do the same here.
Whether you are using a mechanical or traditional keyboard, it is important that you ensure the keyboard switches work just fine & smoothly. What better way, than to lube them? In this post, we will be reading about how to lubricate keyboard switches.
Why to lube your keyboard?
Enhanced acoustics.
A quiet actuation.
No rattles and scratches.
Decreased tactile bump.
Fun to use.
Yes, it is a time-consuming activity, but it comes with its own ability to ensure that your keyboard is smooth and perfect to use. When you want a top-notch keyboard model to work with, then you might want to lube the keyboard.
Tools required to lube the keyboard
There are different tools that are required for you to lube the keyboard model. We have discussed them briefly.
1. Lubricant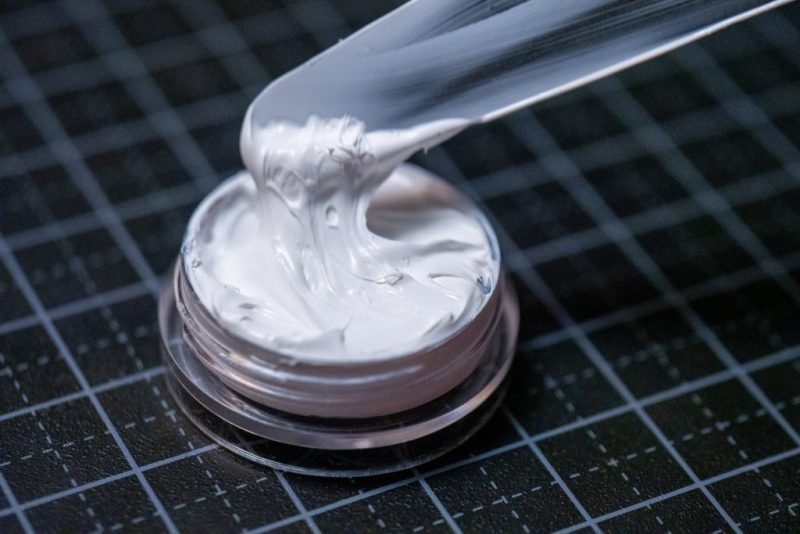 Choosing the best lube for your keyboard can be quite tricky if you are not sure about things. That is because not all keyboards can be lubed. That is right. Some keyboard models do not require lubrication, while others do.
You would want to know that there are three kinds of switches that include linear, tactile, and clicky. The kind of switch that you are currently using at home or the office will decide on the kind of lube that you need for your keyboard model.
Best lube for tactile switches
The best lube for your keyboard model is the one that comes with a lower viscosity. They are a good choice for tactile keyboard switches, and that is why we may suggest the Krytox 105. When it is the first time, you are lubing your keyboard model, then this one would be ideal.
If you require something harder, then we suggest you go with the Krytox 205G. This penetrates deep into your keyboard switches. This would be suitable for those models that are more than 5 years old.
Best lube for linear switches
The lube that is thicker having a high viscosity would be suitable for linear keyboard models. In this case, we may suggest that you use the Krytox 205G for the model. They can penetrate deep and provide you with a smooth experience.
Best lube for clicky switches
Firstly, we would not suggest you lube clicky keyboard switches. That is because they can convert your switch to become quieter. In that case, there is no point in using the keyboard switches.
Moreover, we have noticed that they tend to produce inconsistent noises between the switches. This can be annoying when you are using them for your regular tasks. So, you may want to think about that before going ahead.
2. Small brush
Lubing is all about spreading the lubricant all around the keyboard switches. The best way that you can do that would be with the help of a small brush. It all comes down to the application of the switches.
You can use a small 5mm brush that can help spread the lubricant in and around the keyboard switches evenly.
3. Switch opener or flathead screwdriver
When you want to apply the lube to the switches, then you have to open the keyboard switches first. You can do that with the help of a switch opener. They are not expensive at all, and you can find them in most of the hardware stores or online retailers.
When you can't find one of them, then you can use a small flathead screwdriver. It should do.
4. Switch puller
When you want to attach your switches to the keyboard, then you have to solder them from the PCB. You may want to make use of a hot-swappable keyboard model. It is easier to remove the switches from them as no soldering is required.
You need to use the switch puller and remove the switches from the keyboard model gently.
5. Tweezers
The tweezers are another tool that can work like a charm on your keyboard model. They can really help in removing the components from the keyboard model. Besides, they do not cause any grease to stick to your hands.
6. Work area
To do this work, you will require a small work area. Here you can lube the keyboard switches without making a mess of anything. You can place the keyboard there and then remove the switches carefully.
We recommend you make use of a flat surface, like a table or desk. You can also place a newspaper or towels and then work there.
The switch components
The switch consists of 4 components and each of them is present on the keyboard switch. They include the bottom housing, spring, stem, and top housing.
How to lubricate keyboard switches?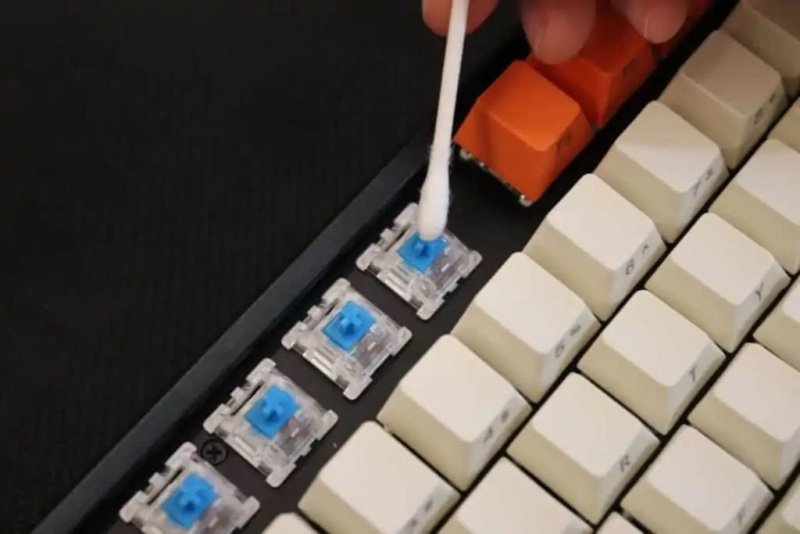 Since you know the tools that are required to lubricate your keyboard model and the components of your switches, all you need to know is how to lubricate the keyboard switches.
1. Remove the switches from your keyboard
The first step is quite apparent. You have to remove all the switches from the keyboard model. Before that please shut down your keyboard. Many users tend to do the mistake of leaving it switched on.
You do not want to do that. To remove the switches from the keyboard, you have to first remove the keycaps, and then de-solder them from the PCB. When you are using a hot-swappable keyboard, you have to remove the keycaps.
2. Remove the switches
You have now removed the switch from the keyboard, and you have pulled the switch out. You can make use of a tutorial if you want. We recommend that you make use of a switch puller. It is a tool that professionals use to pull out the switch.
You can also use a flathead screwdriver if you can find one lying somewhere in your home. Firstly, loosen the 4 clips present on the upper housing and lower housing simultaneously. Sometimes, it may seem challenging, but you can remove it gently.
Don't lose patience as some keyboard switches might not budge out with a gentle nudge. You may have to use more force to do so. We stuck our fingernails between the upper and lower housing, once we loosened the clip.
3. Lube the lower housing
Now, you have to lube the lower housing of the keyboard switches. We suggest that you do it gently. Sometimes, users are not careful, and it can damage the switch in the process. So, please be careful in doing so.
You may want to lube the inside parts of the switches, and then the part where you can find the stem rails hit. Then you need to also do it on the inside & outside of the cylinder of the switches as well.
4. Lube the spring
There are two methods that you can use to lube the spring on your keyboard switches. You will want to apply the lube on the entire spring using a brush. This is when you are doing it for the first time.
Now, you need to remove the springs from the switches and lube them in a single bag. You can lube the spring and then set it back on the lower housing. Then you can lube the stem and upper housing as it helps avoid making a mess in your work area.
5. Lube the stem
This is a pretty simple process as you need to ensure that the legs are not disturbed when doing so. You might want to lube the legs when you want to make use of the legs when you have linear keyboard switch.
You can lube the legs on a tactile switch, but you can also decrease the tactile bump that is present on it. So, we may not suggest you do that. But you would want to lube the rails that are present on the cylindrical area from where the spring attaches itself to the stem.
6. Lube the upper housing
You can lube the upper housing because it is quite simple to do. You can lube the sections where the rails of the stem have contact with the upper housing. The rest of the upper housing can be ignored.
7. Put switches back together
Now, you can place the keyboard switches back together. Though not a simple step, it can be done, if you are patient and careful. You would want to be careful using the metal leaf. You would want to line up all the components and press the switch together.
You have to also test whether the switch is working like before or not. If it is not, then remove it out, and place it back properly again.
What to do if the keyboard is not working?
Don't feel bad about yourself. You have learned to do something. When it is your first time, then you might have misplaced something or there might be a technical snag for all you may know.
When you press the switches, and some of them don't work like they should, then you can make use of the online testers that are available as well. You can take the help of a professional technician who can pinpoint the exact cause of the error.
In some cases, the metal leaf would have got damaged, which is when you have to most likely get a new switch. Anyways the professional will suggest to you on how you should go about things.
Conclusion
We have ended our discussion on how to lubricate keyboard switches. When you have the right kind of equipment and time, then you suggest that you lube the switches. Otherwise, you can even give them for service or have a professional come down to your place for that.
Lubing keyboards come with their own benefits like they provide you with a quiet, productive, and faster typing ability. Of course, you may want to know that some keyboard models do not require lubing, you can avoid doing that on them.
Did we miss out on anything in hindsight? If then, please write to us and let us know about it. Moreover, if you have doubts or queries, then please feel free to get in touch with us in the comments section, we will get back to you as soon as we can.
Is it necessary to lube keyboard switches?
Lubing keyboard switches enables you to work with it smoother, better, and quieter. If you are like us, then we prefer using a quiet keyboard. You certainly don't want the keyboard to be noisy when you are working on an important project.
Can I use Vaseline to lube switches?
Yes, you can make use of Vaseline to lube switches on your keyboard. Vaseline is petroleum jelly that is based on petroleum oil. The lubricant moves around your switches, enabling you to work with them efficiently.
Can you use baby oil as keyboard lube?
Baby oil is also alright for use as a lube for your keyboard. Just make sure that the lube is based on petroleum jelly or mineral oil. If the lube is based on these components, then it is fine, otherwise, you might want to avoid using it on your keyboard.
What can I use as keyboard lube?
You can make use of an aerosol spray lube (if using the spray lube method). When you want to use the pull-stem method, then we suggest that you use Krytox 205g0, Tribosys 3204, or Tribosys 3203 mechanical keyboard switch lube.
Can we lube all kinds of keyboards?
Yes, you can lube most of the keyboards that are available in the market. However, you might not want to lube the clicky switches. That is because lubing clicky switches can cause the accidental conversion to a quieter tactile sound.

It may also cause it to make inconsistent sounds between the switches. So, please do not lube the clicky switches.
James Smith has always been intrigued by electronic products since his childhood. After his post graduation in electronics from a popular university, he decided to pursue a career in the electronics sector. But his calling for writing about these marvellous pieces of work got the better of him. That is how UBG was started. With a writing career spanning more than 12 years, James has worked on several hundred product reviews. During his free time, he like to spend time with his pet dog and relax in the swimming pool.