When you plan to purchase top-end gaming headsets but are in a dilemma on which is the best, today is your lucky day. That is because we are going to do a comparison review of two sublime models.
In this post, we will be looking at HyperX Cloud Alpha S vs Logitech G Pro X. These two units are terrific in performance, come with top-notch sound profile, microphone capabilities are beyond most products, and their compatibility is splendid.
Knowing their features will enable you to choose the best gaming headset, depending on your preference. The Cloud Alpha S is the next in line to the Cloud Alpha. The Alpha did not fail to impress us, and we are sure that the Alpha S will not too.
It has an excellent build quality like its predecessor. Besides, the unit is extremely comfortable to wear for extended gaming sessions. The unit comes with a separate audio control feature. Gamers can find that on the USB.
Additionally, it also comes with separate bass sliders on each of the earcups. Isn't it a cool feature? But we did not find sound adjustment features that were slightly disappointing. However, they do come with the surround sound that gives you an astonishing sound profile.
The Logitech G Pro X gaming headset is a wired gaming unit infused with a barrage of customization features. It is also comfortably designed and build robust. We never got the feeling that they were cheap because they appear elegant in looks.
But they felt slightly huge, and the surround sound is not there, making it feel not very helpful at times. The unit did not do well in a loud surroundings. Its sound delivery can vary at times depending on the user.
They both are sublime units coming with intense features making them worth your time and money as well. We couldn't have been happier reviewing both the units made by reputed brands in the gaming segment.
Let us read in-depth about the comparison review on the Cloud Alpha S and the G Pro X models and determine who the winner is.
HYPERX CLOUD ALPHA S
LOGITECH G PRO X
BUY NOW
BUY NOW

PROS

PROS

The model has a premium and sleek design on it.

It has an adequate cushion on the earcups.

Its sound profile is sublime and outstanding.

The cables are versatile, not a cause for worry.

It is quite aggressively priced.
The model offers you exceptional audio quality.

It is a versatile unit having plenty of features.

It has a robust build and design.

The microphone sound quality is acceptable.

It is nicely priced under $130 in the market.

CONS

CONS

Its microphone picks up noise often.
There is a portability issue with it.
| SPECIFICATIONS | HYPERX CLOUD ALPHA S | LOGITECH G PRO X |
| --- | --- | --- |
| Product Name | Cloud Alpha S Wired 7.1 Surround Sound Gaming Headset | G PRO X Wired 7.1 Surround Sound Gaming Headset |
| Brand | HyperX | Logitech |
| Sound Mode | Surround 7.1 | Surround 7.1 |
| Connection Type | Wired | Wired |
| Built-In Microphone | Yes | Yes |
| Carrying Case | Yes | Yes |
| Headphone Fit | Over-the-Ear | Over-the-Ear |
| Adjustable Headband | Yes | Yes |
| Compatible Platforms | Windows | Windows |
| Warranty | 2 Years | 2 Years |
DESIGN & COMFORT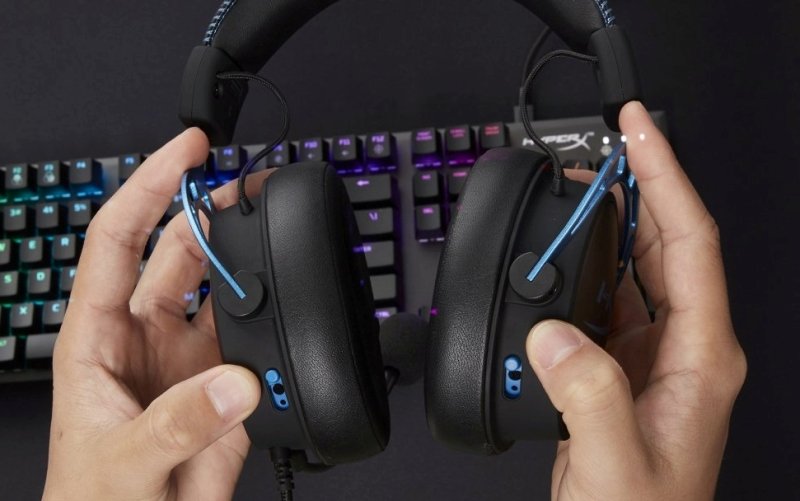 You can be assured that the design & comfort are top-notch. The models are premium models coming priced under $200. The HyperX Cloud Alpha S is a sublime gaming headset having exceptional comfort.
Our tester was overwhelmed using it for few hours on the go. Games like Overwatch and Battlefield were played to test the proper capabilities. Our tester was surprised at how straightforward they were to wear.
Though it has a microphone and cable attached, we never felt any discomfort at any moment at all. Besides, there was no complaint of fatigue and pain in the jawline because of clamping force.
It appears durable and sturdy thanks to the metal hinges. Besides, the body is quite thick and robust. The earcups are soft and deep, coming with good noise cancellation abilities on them. We thought that it was better than the Alpha.
The maker provides users with two options for earcups, namely foam, and leather. You can choose the material that you are comfortable with. When you spend a lot of time in gaming sessions, you would love to use it because of its comfort and snug fit.
We felt that Logitech had done a terrific job in its design and comfort, ensuring that users can wear them for extended periods of time. You can also swap the earcups if you want to do it. This is one of the lightest units we have tested for a long time.
BUILD QUALITY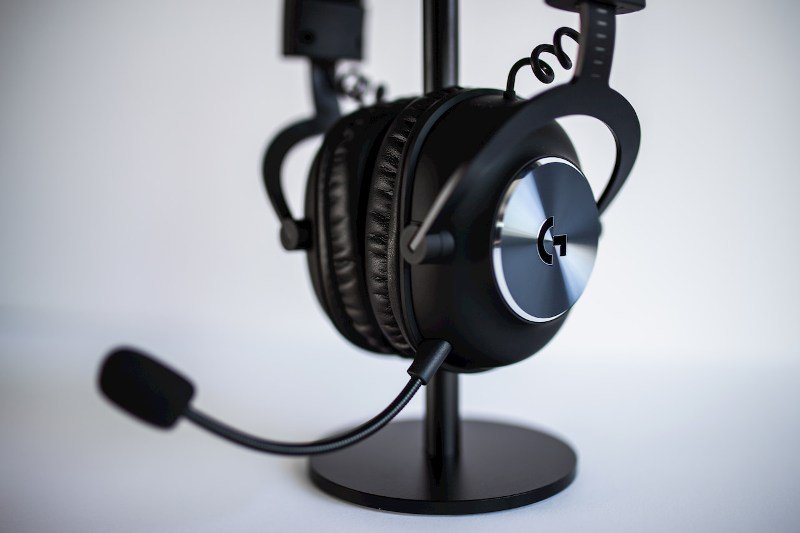 We read above that the design & comfort of the units are marvelous. We can also assure you that the build quality of both is sublime. They both are lightweight, but the manufacturer has ensured that they come robust build.
The HyperX Cloud Alpha S comes at 290 grams, making it an exceptionally lightweight unit. Once you put on the gaming headset, it is as if there is nothing on your head or on your ears. It is that good.
The red and black tones suit the headset well. They give them an elegant appearance. At the side is the red aluminum arms, and earcups are infused with black color. Sadly, we found it does not fold and swivel, which was frustrating.
The Logitech G Pro X comes as 320 grams, which is around 30 grams heavier than the Alpha S model. That doesn't make a big difference because our tester felt no discomfort when wearing them for a few hours.
This updated model comes with everything updated. So, don't be surprised to note that both externally and internally, things are changed. The appearance looks sharp, and the sound profile, as it is crisp.
We loved the removable microphone. If you are not using the microphone, you can remove it. Gamers have complimented Logitech software for its sublime usability. You can effortlessly connect your PC with the USB.
Overall, the leather and the aluminum material have given the Alpha S a solid build and appearance. However, we liked the matte finish that comes on the Pro X model. It provides a sturdy and awesome look making it appear edgy too.
AUDIO PERFORMANCE
The Alpha S USP is the dual-chamber driver. Its sound quality is matchless, thanks to the incredible response of the bass. You can hear the mids from the highs. Besides, HyperX claims to offer distinction and lower distortion.
It gives a balanced bass experience, and audio profile than the Pro X. Having said that, the unit sounds louder too. When you are in mid-range, the sounds are quite clear and crisp. Our tester was astounded by the quality.
Yes, it comes with the G-HUB software for setting the surround sound. It is a stereo headset coming with a driver of 50 mm. We loved listening to different kinds of music. When you like to play games and listen to music, then we suggest this unit.
The Alpha S comes with an advanced audio control mixer that enables you to liven your music. We liked that feature in it. We can say that the Logitech G Pro X's sound profile is one of the best in the market.
It was pretty accurate on most devices that we tested. At times the microphone audio feels slightly muffled, but the calls on zoom were much eloquent. In conclusion, the audio quality was acceptable for both Alpha S and G Pro X.
MICROPHONE PERFORMANCE
Premium headsets often provide stunning microphone sound quality. Let us find out if that is the case here. The microphone on the HyperX Cloud Alpha S is removable, meaning; you can take it out when you do not want to use it.
This is a crucial feature for professional gamers. When using a detachable microphone, it is easy to use, and the positioning is accurate. The microphone is noise cancellation and removable. You will be glad to know that the cable is braided.
However, the voice quality is not up to mark. We felt that some background voice was caught in between. This was something that the makers may have to work on. The Logitech G Pro X comes with a peerless microphone thanks to the Blue Voice technology.
This is the best microphone manufacture in the world. Along with the G HUB software, it makes listening to the G Pro X microphone a breathtaking affair. The noise is clear, and the compressor, along with the limiter, offers a cleaner sound.
We highly recommend this unit for gamers, music lovers, and moviegoers. The microphone quality on both units is quite superb. You can find that if you are playing games or on a zoom call.
When you have a deep voice, you may not have any problems communicating with anybody on the other end.
COMPATIBILITY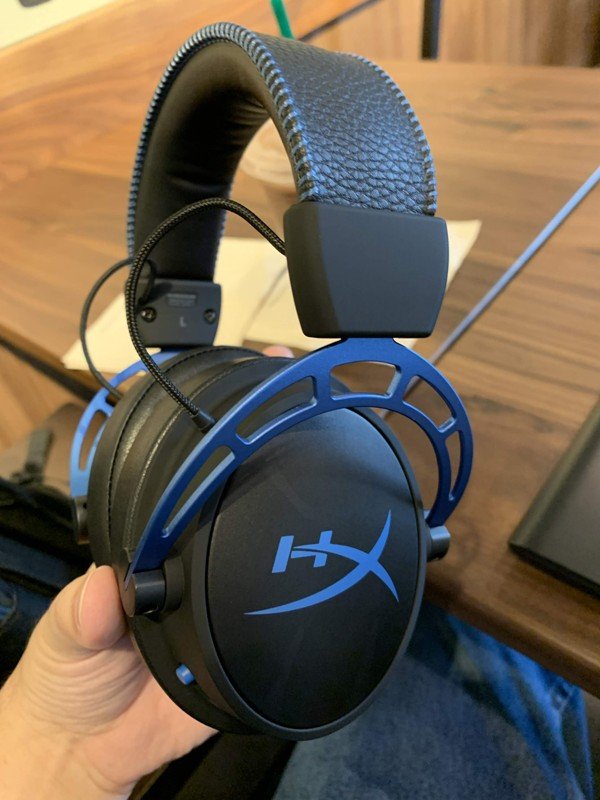 The compatibility of both the premium units is good. The Alpha S comes infused with a software called HyperX Ngenuity. It gives you a pleasant experience as far as the sound goes. There is nothing else you may be able to do with it.
Besides, you can also make use of a 1/8″ TRRS audio cable that can be detached. It can work sublimely on many gaming consoles seamlessly. It also comes with a detachable USB-A dongle. It comes with many audio controls.
They are compatible with your laptop, PS4, and PC by plugging the audio cable. You can make the headphone fully compatible with your laptop, PC, and PS4 and use a USB connection. Besides, it is also compatible with the Xbox One when you plug it directly on the controller.
The gaming unit also comes with audio controls, including surround sound, channel mixing, and volume management. On the other hand, the G Pro X works with the G HUB companion software.
It comes with the graphic EQ and EQ presets for customizing your audio settings. Besides, gamers can also set the room effects accordingly. It comes with Blue features that help customize the microphone.
You can connect with your laptop, PC, PS4, and PS5 as well using the 1/8″ TRRS cable. The device has to be connected to the AUX port. These over-the-ears are perhaps the only unit having a wired analog to USB-A adapter for operating on the PC and PS5.
PRICE
As we read at the beginning of the comparison review, these two models are premium sets. That means you got to be ready to shell out some cash. After all, when you want stupendous features on your gaming headset, it comes for a small price.
The HyperX Cloud Alpha S is aggressively priced under $150. You can, however, get it for a cheaper rate during sales or discount period. Likewise, the Logitech G Pro X is priced under $130.
Can a $20 make a difference? Well, it should not make a difference. Both the models are unique in their ways. They come with exceptional features infused in them, have a robust build, comfortable design.
VERDICT
We have come to the end of our comparison review on the HyperX Cloud Alpha S vs Logitech G Pro X. We hope you enjoyed reading the review and found out more about what you were looking for.
The Alpha S is the best analog unit in the market at the moment, courtesy of its sound performance, but its only drawback is the device you plan to connect. It is a gaming headset coming with a strong built for serious gamers.
To be fair, you may not want to expect a sensational sound quality from a $150 price gaming headset; the audio comes close. We felt that it is a value-for-money product. On the other hand, the Logitech G Pro X is a sublime PC unit.
If you noticed, the gaming headset is exceptionally reliant on the software, meaning it works splendidly on consoles pretty well. When you want something that is comfortable and provides you with immense audio customized options, then this is the one.
You can instantly feel a nice balance between immersive and atmosphere sounds using the gaming headset. We meant that background sounds are very much in tune with it. One notable feature that sets this apart from many other units would be the Blue microphone technology.
The decision was a tough one, but we managed to pick a winner between HyperX Cloud Alpha S vs Logitech G Pro X. If you search for a proper gaming headset, the Alpha S should be a good option.
However, when you want a minimalistic choice that you can take around with you everywhere and have sublime experience, then the G Pro X is the ideal choice. There you go, you know now the best option, place an order today and enjoy the experience.
James Smith has always been intrigued by electronic products since his childhood. After his post graduation in electronics from a popular university, he decided to pursue a career in the electronics sector. But his calling for writing about these marvellous pieces of work got the better of him. That is how UBG was started. With a writing career spanning more than 12 years, James has worked on several hundred product reviews. During his free time, he like to spend time with his pet dog and relax in the swimming pool.