Today's comparison review features two outstanding budget models that can make your head swoon in glory. It is not very often that we come across two gaming headsets priced under $100 and come with magnificent specifications embedded in them.
Welcome, HyperX Cloud Core vs Corsair HS50 gaming headsets. Very famous brands produce them both. HyperX Cloud, or Kingston as they are called as is a well-known maker. They are a renowned gaming headset brand in the world.
They are known for their sublime products in the segment. This model is the successor of the Cloud Drone model. But many users complained about the Drone unit and felt that it does not come with top-notch features.
Unlike it, the Cloud Core has exceptional features infused in them. It is a good unit that comes infused with simple features that are ideal for users. They come with the ability to sound as good as the HyperX Cloud II without the controls.
In a sense, when you are keen on using a straightforward model, then it has to be this unit. The fitting is quite comfortable, and so are the microphone capabilities. This unit is an under $50 headset.
Gamers can detach the microphone if they want. There is some problem with noise isolation. You may not find it suitable when traveling or using on your smartphone. The build quality was sound, and the comfort level was on par with the top-end Cloud models that we have reviewed.
The Corsair HS50 gaming headset can be described as unique in many ways. If you have used or seen a Corsair model before, then you would know about its capabilities. They are stunning and come with remarkable features in them.
It is a budget model that comes with a microphone that can be detached. This is quite the same as those found on Turtle Beach and Astro models. Its tone and the fitting were top-notch. We liked the colors of blue or green that are available in.
The unit is compatible with most devices and gaming consoles that you can find on the market. When the setup is ready, then all you have to do is plug the HS50 headset into it and begin. However, you may want to look at the competition.
They do not come with the USB adapter that you can find on the Corsair HS60 gaming headset. It is not compatible with the iCUE software meaning that you won't utilize it for your sound. That can be a drawback for professional gamers.
Without wasting our time, let us delve into the review and find out whether they are worth it. We have also given the winner at the end of the post.
HYPERX CLOUD CORE
CORSAIR HS50

PROS

PROS

The Cloud Core has a comfortable fit to it.
The product comes with the durable build quality.
It has an excellent sound quality.
It comes with an eloquent microphone for gaming and chatting.
The unit is affordably priced.
The Corsair Core is comfortable in design.
The unit is decently built.
It provides you with opulent sound quality.
Its microphone is exceptional for chatting.
The rate given is reasonably asked.

CONS

CONS

The noise isolation needs to be improved.
Sadly, it comes with no customization.
| SPECIFICATIONS | HYPERX CLOUD CORE | CORSAIR HS50 |
| --- | --- | --- |
| Name | Cloud Core Wired Gaming Headset | HS50 Wired Stereo Gaming Headset |
| Brand | HyperX | CORSAIR |
| Sound Mode | Stereo | Surround |
| Connection Type | Wired | Wired |
| Built-In Microphone | Yes | Yes |
| Headphone Fit | Over-the-Ear | Over-the-Ear |
| Adjustable Headband | No | Yes |
| Warranty | 2 Years | 2 Years |
HyperX Cloud Core vs Corsair HS50: Design & Comfort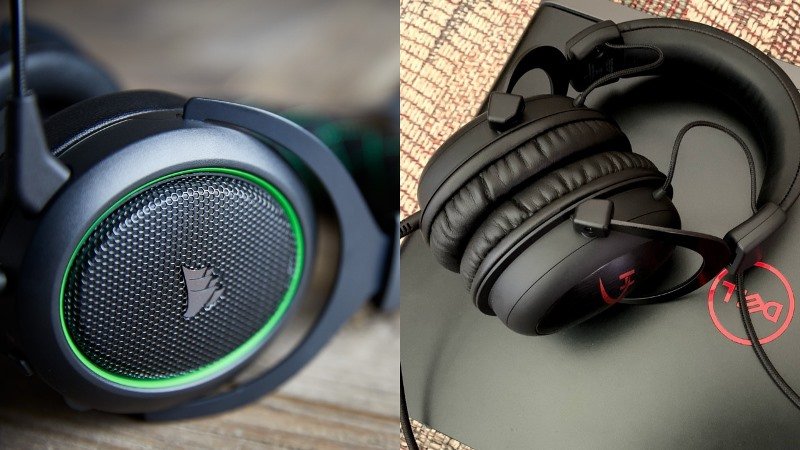 The HyperX Cloud Core gaming headset has a solid design & comfort to it. Our tester was amazed at the fact that the model was quite similar to the HyperX Cloud II. We felt that the outer layer was nicely done.
It came with black hinges and not the red hinges that you can find on most of the models in the brand. You will be mistaken for them as a premium model as they are not that flashy but come with stunning features.
The microphone also can be removed if you want to. We noticed that the earcups are large and nicely done. The padding on them is stupendous. You won't feel any discomfort whatsoever. They are well balanced on the head.
You will not find it too tight or uncomfortable. The padding on the headband is firm. Our tester did not feel tired after wearing them for an extended period of time. We can vouch for the fact that they are quite comfortable to wear.
Some users had said that the seal might cause the heat to be trapped inside. We did not feel any of that sort when we wore it for long periods of time. They are not portable either. You cannot rotate the earcups and place them flat and swivel them.
On the other hand, you have the Corsair HS50 gaming headset that is similar to most of the units produced by the brand. They are exceptionally smoothly designed. If comfort had a name in the headset segment, then besides Sennheiser, it has to be this maker.
It comes with attractive tones of green and blue. You can also find the black in some of them. The earcups are pretty comfortable to wear and expandable, depending on your usage. Additionally, they all function the same.
You can find the cushion on the earcups, the headband comes well padded, and the microphone is located on the left side of the ear cup. It is removable for you. It also has the volume wheel and the mute button for the microphone.
Similar to the Cloud Core, the HS50 gaming headset can work splendidly with the help of the cables. You can connect using the wire for devices and consoles. There is also the split microphone and the audio wire for usage.
Besides, you can find the honeycomb patterns on the outside of the headset. They allow breathing space when you wear them for an extended period. The headset can be worn even outside the home if you want and are not very heavy.
HyperX Cloud Core vs Corsair HS50: Build Quality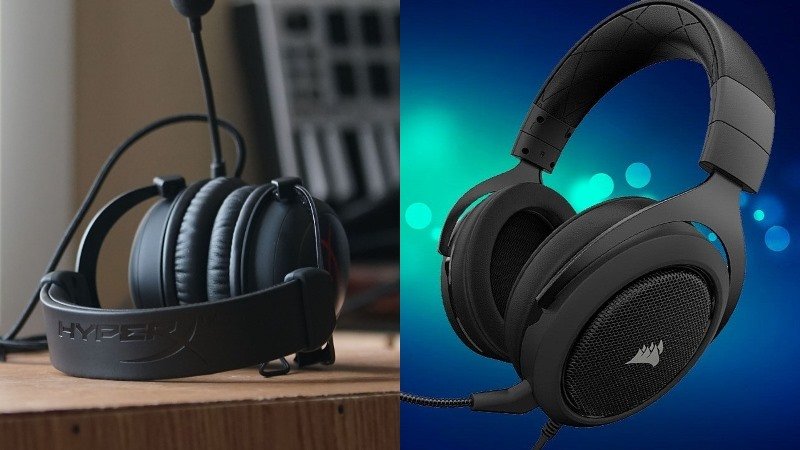 The build quality of the HyperX Cloud models was always a strong point for the maker. Though this is a budget unit, you can be assured that the headset comes with sturdy material infused. The HyperX Cloud Core has a very similar build quality to the rest of the Cloud lineup.
You can notice that the earcups are nicely padded and come with plenty of comforts infused in them. We even dropped them a few times and were surprised to notice that they did not come with any scratches.
The headband is quite sturdy and holds tight. It should easily survive any damage that may be caused, if at all. You can also find that the headband and the hinges present on the headset come with a metal frame.
But the black plates found on them have the HyperX logos that can become scratched. You can notice the audio cable that is exposed. They can be a weak point in the model. Our tester suggests that you may want to use the headset for outdoor use.
If you move your head around a lot, then they can sway along with it. Besides, when you are exercising or running swiftly, it can fall down. When you are sitting and what to move around, then the cable might get yanked too.
The Corsair HS50 gaming headset comes with the flawless build quality. You can immediately notice that the unit has a robust design. This is something synonymous with Corsair. They are well-built gaming units that come with an efficient design.
Its headband is nicely padded and is quite thick. They also come with a metal frame to be present for the yokes and hinges. The metal grilles make them appear like open-back headphones.
We felt that they wouldn't break down that quickly even if you dropped them accidentally. The swivel hinges might break if you handled them gently. You may not want to consider them for outdoor usage as they might come off if you wear them outside.
Like the Cloud Core, the cable cannot be detached, and when you suddenly move your head or get up, then the wire may get stuck. Would you please keep an eye on that? On the whole, both the headsets come with a prodigious design on them.
HyperX Cloud Core vs Corsair HS50: Audio Performance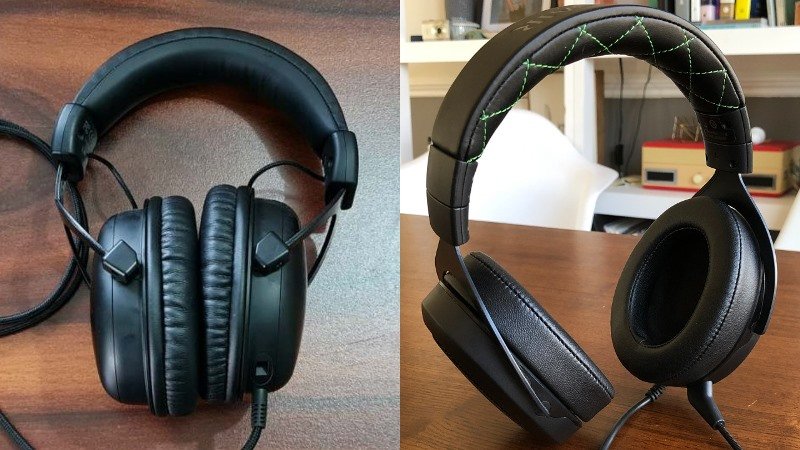 The audio quality of the Hyper Cloud Core gaming headset comes with immense performance that you would be immensely attracted to. Our tester felt that the unit came with superb sound quality and an excellent wide soundstage for picking up close noises.
It sounds beautiful, and there is no crispness on the bass. Though it comes with sufficient bass, there is not much heavy music, and you do not have to lean far into the mids. Our tester felt that the highs are pretty mild, and the mids are not too recessed.
These lay more on the bass. The Corsair HS50 gaming headset can get the job done for you in gaming. It shouldn't pose to be a difficult thing at all for an under $50 model. Our tester did a bit of digging listening to some tracks like Flogging Molly, The Rolling Stones, etc.
There is an evident lack of bass and the range of the treble. This aspect was slightly worrying for us. Unlike most of its rivals, the maker did not do too many things with the bass. You can hear the melody, vocal, and harmony.
Then we played some games, and it came out as OK. That is much we can say. The effects on most of the games were above average. We cannot blame them as this model is a budget unit. Sadly, we did not hear distractions around us.
You can dread playing in a crowded room. We enjoyed the experience given on the gaming consoles like the PS4, Xbox One, and the Nintendo Switch. While it may not win any award, it does what it is supposed to do for the $50 price range.
HyperX Cloud Core vs Corsair HS50: Microphone Performance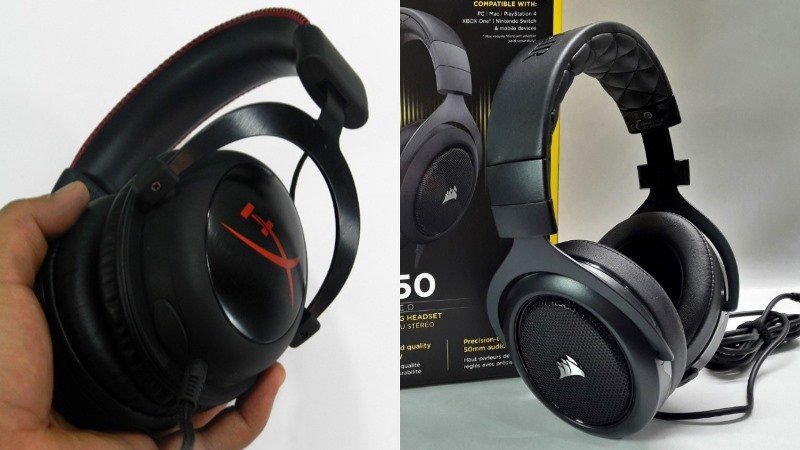 Though the HyperX Cloud Core is a budget unit, the quality of the microphone is good. It was quickly able to pick up the sounds from all directions. Sadly, the background noise also was caught effortlessly.
We listened to the tester using the microphone when gaming and have to say that the experience was quite pleasant. His voice was clear, and there were no issues in hearing it. Besides, you can find out what your other mates are telling on over the headset.
Maybe there is a slight change in the quality of the sound. It can become loud if you can position it better. However, we were worried about the 3.5mm connector on the microphone. The headset comes with an extended cable, and it can get loose and cause static issues.
The microphone quality on the Corsair HS50 gaming headset was exceptional. Its recording quality is above average. We noticed that the LFE of 523Hz resulted in the transmitted sound performance that is relatively less.
However, the HFE of 10KHz was quite astounding. Our tester has suggested models like the Logitech G432 and the SteelSeries Arctis 1 for higher recording quality. You will also find out that the microphone comes with exceptional noise handling.
HyperX Cloud Core vs Corsair HS50: Compatibility
The compatibility ability of both gaming headsets is above average. That is the most we can say about them. The HyperX Cloud Core gaming headset is not compatible with Bluetooth. When you are keen on using one, then you can use the HyperX Cloud Mix model.
It is wired connectivity and comes with minimal latency. This feature is suitable for a video view. You can play games using it. The Cloud Core has a 1/8" TRRS analog connection. You can utilize the connection on all platforms without hassle.
The microphone support is also there on your PC and gaming consoles. Using your PC, you may have to operate Y-splitter for work on your headphone and the microphone. The Corsair HS50 gaming headset comes with no dock and is not compatible with Bluetooth.
You can use them as a wired connection. It comes with no latency and is ideal for playing games and watching videos. There is not much delay between the video and audio that comes when listening or watching.
You can work with it on your PC and gaming consoles. The sound quality and microphone work remarkably well with a 1/8" TRRS connector. It comes without a base or dock. Overall, both headsets work splendidly, and you can achieve your audio gaming goals with them.
HyperX Cloud Core vs Corsair HS50: Price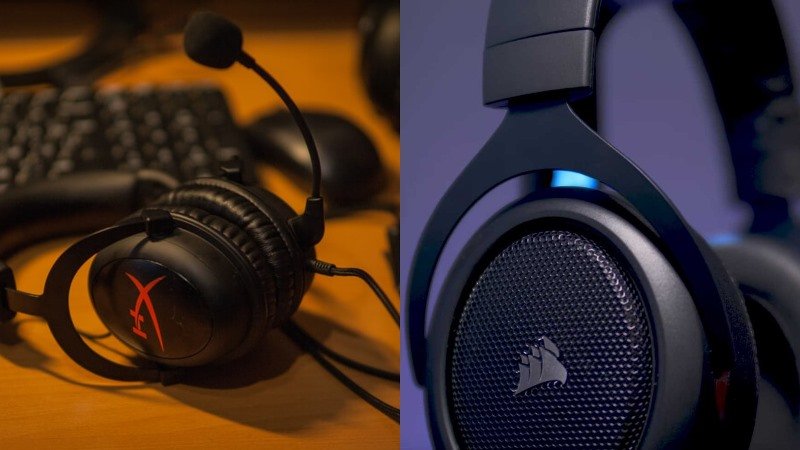 The HyperX Cloud Core gaming headset is priced under $70. That makes it $20 higher than the Corsair model that we are discussing in here. A price difference of $20 is not much, considering that both the units come with relatively similar features and specifications.
The Corsair HS50 gaming headset is priced under $50. These two gaming headsets are nothing but budget models. If you are particular about the surround sound and other top-end features, you might want to look elsewhere.
They come with specifications for the pricing, like the comfortable fit, rugged build, and exceptional audio quality. We felt that the HS50 unit is ideal for usage on your PS4 gaming console. That is because it comes with blue accents.
HyperX Cloud Core vs Corsair HS50: Verdict
We have come to the end of our discussion on HyperX Cloud Core vs Corsair HS50 gaming headsets. The budget models were quite impressive and sound in their own ways. The HyperX Cloud Core model is an acceptable model for mixed usage.
The audio performance of the unit is based on QPAD models. It is bulky, and you may not be able to listen clearly when you don't ante the volume. The control feature was sorely missed out here. However, the model is a definite recommendation.
Kingston's HyperX Cloud product lineup, apart from the 40mm Drone headset, comes with exceptional audio performance. Our tester felt that it is a good product because there is more than 5000Hz higher high-frequency, 5Hz lower low-frequency, and 3mm large driver unit.
It also comes with an in-line control panel and a straight plug. The Corsair HS50 can be the ideal unit as it has 28 Ohms lower impedance, 13dB/mW higher sound pressure level, and active noise cancellation (noise control).
You can also find that it is 33g lighter, has a control panel placed on a device, has a 0.8m longer cable, and has a tangle-free cable. This gaming headset has perfect audio reproduction for critical listening and video game effects.
It is comfortable to wear for prolonged hours. Its microphone is good but is not compatible with Corsair iCUE software. Of course, this is a budget product. Our winner in the review of the HyperX Cloud Core vs Corsair HS50 gaming headsets is the Corsair HS50 model.
It comes with additional features like a mute microphone switch and exceptional volume controls. The audio performance is fabulous, and the treble is magnificent. The HyperX Cloud Core is no slowcoach either as it comes with an excellent fit, or the microphone sound a little better. It is suitable for playing online games.
James Smith has always been intrigued by electronic products since his childhood. After his post graduation in electronics from a popular university, he decided to pursue a career in the electronics sector. But his calling for writing about these marvellous pieces of work got the better of him. That is how UBG was started. With a writing career spanning more than 12 years, James has worked on several hundred product reviews. During his free time, he like to spend time with his pet dog and relax in the swimming pool.