JBL is a reputed name in the headphones and earbuds market, and they are reputed because they provide the best sound quality and innovative features. As we are talking about the JBL, we have picked two of its best earbuds, JBL Tour Pro 2 and JBL Live Pro 2. Both the earbuds are premium earbuds, and they come with so many advanced features. We will look at all the features of these buds and compare them. This comparison will help us to understand which earbuds are better. Let's find out!
JBL Tour Pro 2
JBL Live Pro 2
PROS
PROS
Innovative screen case.
Customizable EQ settings.
Snug and secure fit.
Good call quality.
Strong noise cancellation.
Balanced sound profile.
Effective ANC.
Voice-aware transparency.
Decent transparency mode.
Multi-point pairing.
CONS
CONS
Bulky case.
Limited touch controls.
Limited long-press customization.
Limited ANC customization.
Subtle sound signature.
Bulky case.
CHECK ON AMAZON
CHECK ON AMAZON
JBL Tour Pro 2
The JBL Tour Pro 2 is one of the unique pair of earbuds that comes with significant improvements compared to its predecessor. There are so many features offered by the JBL, but one of the best features is its 1.45-inch touchscreen on the case, which gives you the option to use various functions without opening the case. You can change the equalizer settings and tracks through the case. The JBL Tour Pro 2 comes with six microphones, which gives excellent call quality and noise reduction. The comfortable fit and seal make them suitable for activities like working out at the gym. You do not need a smartphone app to access the earbud features as they come with a smart charging case. These earbuds offer adaptive noise-canceling technology, which is very good for minimizing distractions, and the special sound feature enhances the depth of sound for an amazing experience. We can say that JBL Tour Pro 2 offers all those features that you can expect from high-end earbuds like Apple AirPods.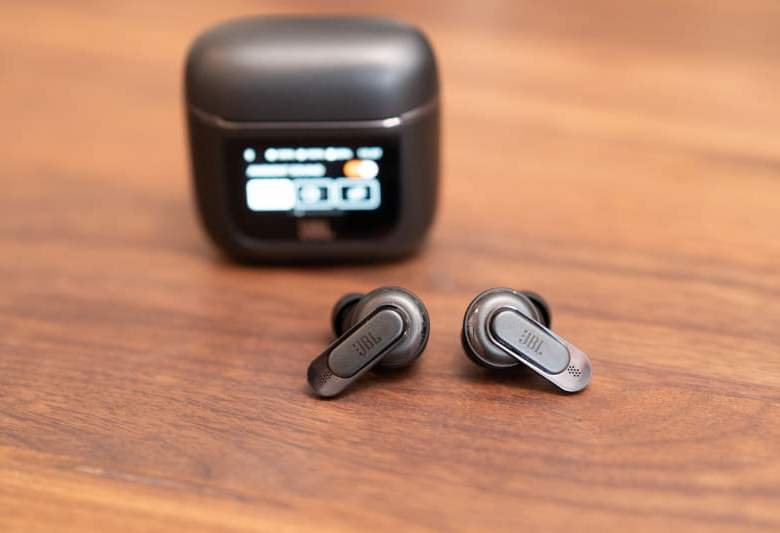 JBL Tour Pro 2 Key Features
Screen Case: The JBL Tour Pro 2 comes with a unique screen case that allows users to access various earbud custom settings directly from the case itself. This includes playback controls, volume adjustments, EQ presets, and even a "Find My Earbuds" feature.
Sound Quality: The default sound tuning of the Tour Pro 2 is described as smooth and crisp, with a bright treble and a balanced midrange. Users can also further customize the sound through the JBL Headphones app, which includes a graphic equalizer and presets.
Active Noise Cancellation (ANC): The Tour Pro 2 features effective ANC, making it suitable for reducing noise in various environments such as cafes, malls, buses, and trains. It compares well to other popular earbuds in terms of ANC effectiveness.
Transparency Mode: The transparency mode on the Tour Pro 2 is good, allowing important ambient sounds like speech to be amplified and heard clearly.
Fit: The earbuds are noted for their snug fit, which helps maintain a consistent seal for ANC performance, unlike some other earbuds that may lose ANC power due to poor seal.
Touch Controls: The earbuds have touch controls, and while they can be customized, there is a limitation where a long press function can't be assigned differently from activating voice assistants.
JBL Live Pro 2
The JBL Live Pro 2 is also a pair of premium earbuds that offers a comfortable fit and which is very important for extended use. We feel that these earbuds are not ideal for intense workouts, but they work perfectly for daily use. The earbuds come with impressive battery life, which is a very important feature for any wireless earbuds. They offer eight hours on the buds and 22 hours from the case. You will required to use the JBL Headphones app to get the flexibility in adjusting noise-canceling settings, sound, and more. Adaptive noise-canceling is very effective and works best at reducing low-frequency sounds. However, the transparency mode can introduce some white noise when set too high. In terms of sound quality, the JBL Live Pro 2 offers a balanced sound profile, with the option to fine-tune it using the 10-point EQ. The bass is punchy, and the treble can be adjusted to personal preference. The main drawback is the limited codec support, with only SBC and AAC available. Call quality is good, with six microphones ensuring clear communication.
JBL Live Pro 2 Key Features
Sound Quality: The JBL Live Pro 2 offers a balanced, middle-of-the-road sound tuning with a focus on bass. It is described as having a somewhat v-shaped sound with prominent bass frequencies and a somewhat flat, laid-back midrange. The highs have a touch of vibrance.
Battery Life: These earbuds provide up to 8 hours of playback on a single charge, with an additional 24 hours of battery life available from the charging case.
Multi-Point Pairing: Live Pro 2 supports multi-point pairing, allowing users to connect the earbuds to multiple devices simultaneously.
App Features: The JBL Headphones app offers useful custom features such as a graphic EQ, EQ presets, and a latency reduction mode for better video and gaming experiences.
Active Noise Cancellation (ANC): The ANC on the Live Pro 2 is described as pretty effective, especially in the low frequencies, though it may use white noise to mask human voices.
Transparency Mode: The transparency mode on these earbuds offers several levels of transparency, and setting it at 60 percent is recommended. This gives users an option to stay aware of their surroundings, and they can talk with surrounding people without removing the earbuds.
Voice-Aware Feature: Users can control how much of their own voice they hear during calls, making it more customizable for call experiences.
Mic Quality: The mic pickup on the Live Pro 2 is reported to be good, with a clear voice in quiet conditions and decent noise gating in noisy environments.
JBL Tour Pro 2 vs JBL Live Pro 2 Specs
| Specifications | JBL Tour Pro 2 | JBL Live Pro 2 |
| --- | --- | --- |
| Driver size (mm) | 10 | 11 |
| Number of Microphones | 6 | 6 |
| Driver sensitivity at 1kHz/1mW (dB) | 100 dB SPL@1 kHz | 105 |
| Dynamic frequency response range (Hz) | 20 Hz – 20 kHz | 20 Hz – 20 kHz |
| Impedance (ohms) | 16 | 16 |
| Charging Case Weight (oz) | 2.6 | 48.4 g / 0.106 lbs |
| Earpiece Weight (oz) | 0.42 | 4.8 g per pc (9.6 g combined)/0.01 lbs per pc (0.02 lbs combined) |
| Bluetooth version | 5.3 | 5.2 |
| Bluetooth profiles | A2DP V1.3.2, AVRCP V1.6.2, HFP V1.7.2 | A2DP V1.3, AVRCP V1.6, HFP V1.7 |
| Bluetooth frequency | 2.4 GHz – 2.4835 GHz | 2.4 GHz – 2.4835 GHz |
| Bluetooth transmitted modulation | GFSK, π/4-DQPSK, 8-DPSK | GFSK, π/4 QPSK, 8DPSK |
| Bluetooth transmitter power | <15 dBm (EIRP) | < 12 dBm EIRP |
| Charging time (hours from empty) | 2 | 2 |
| Maximum music play time with ANC off (hours) | 10 | 10 |
| Maximum music play time with ANC on (hours) | 8 | NA |
| Maximum play time (hours) | 40 | 40 |
| True Adaptive Noise Cancelling | Yes | Yes |
| Carrying case | Yes | Yes |
| JBL Legendary Pro Audio Sound | Yes | Yes |
| Water Resistant | Yes | Yes |
| Spatial Sound | Yes | NA |
| IP Code | IPX5 | IPX5 |
| Charging cable | Yes | Yes |
| Voice Assistant integration | Yes | Yes |
| Ambient Aware | Yes | Yes |
| Built-in Microphone | Yes | Yes |
| Hands-Free Call | Yes | Yes |
| TalkThru | Yes | Yes |
| Wireless | Yes | Yes |
| Speed charge | No | Yes |
| Multi-Point Connection | No | Yes |
| Touch Control | Yes | Yes |
| True Wireless | No | Yes |
JBL Tour Pro 2 and JBL Live Pro 2 In-Depth Comparison
Design
Both the JBL Tour Pro 2 and JBL Live Pro 2 earbuds themselves exude a premium and high-quality feel. Their design reflects a blend of sophistication and elegance. However, it's worth noting that these earbuds are not the smallest in the market, and they do protrude slightly from your ears. While some may prefer a more discreet look, these earbuds make a statement. They come with touch controls that allow you to perform various functions, such as tapping to pause/play, double-tapping for the next track, and triple-tapping for the previous track. You also have the flexibility to customize the touch controls for both the left and right earbuds.
A notable feature missing here is swiping touch controls, which could have been a convenient addition given the earbuds' size. Currently, if you want to adjust the volume, you'll need to tap to increase it and double-tap to decrease it. However, there's a minor issue with double-tapping too quickly, as it sometimes recognizes only the first tap, resulting in an increase in volume. These earbuds are comfortable for extended use. But after a few hours of use, you might start feeling some discomfort, particularly if you've been using the touch controls extensively.
Fit and Comfort
The JBL Tour Pro 2 and JBL Live Pro 2 offer a comfortable fit, making them suitable for extended wear. However, their size and design might not be ideal for strenuous workouts, as they can occasionally require readjustment.
Achieving a proper fit and seal is essential for both comfort and sound quality. The JBL Tour Pro 2 and JBL Live Pro 2 come with oval-shaped ear tips, which might make it a bit challenging to find compatible third-party ear tips. It's recommended to use the included ear tips, and the accompanying app offers a convenient fit test to ensure you have a proper seal. This feature is handy and ensures you're getting the best possible sound quality and noise isolation.
The Smart Case and Its Display
The standout feature of these earbuds is undoubtedly the smart case with its integrated display. The display is bright and customizable, allowing you to adjust the brightness to your preference. Surprisingly, you can even use it as a flashlight, which, while not frequently needed, adds a cool factor to the case.
Setting up the case is a breeze, and it provides quick access to various features. You can control volume, ANC modes, equalizer settings, set alarms, use spatial sound, and even change the lock screen wallpaper, among other things. This smart case truly lives up to its name, offering nearly all the features available in the companion app.
One unique feature is the ability to use the case display to help locate a lost earbud within your home or office. This can be a lifesaver if you misplace an earbud. Additionally, being able to change the equalizer settings directly from the case based on what you're listening to is incredibly convenient.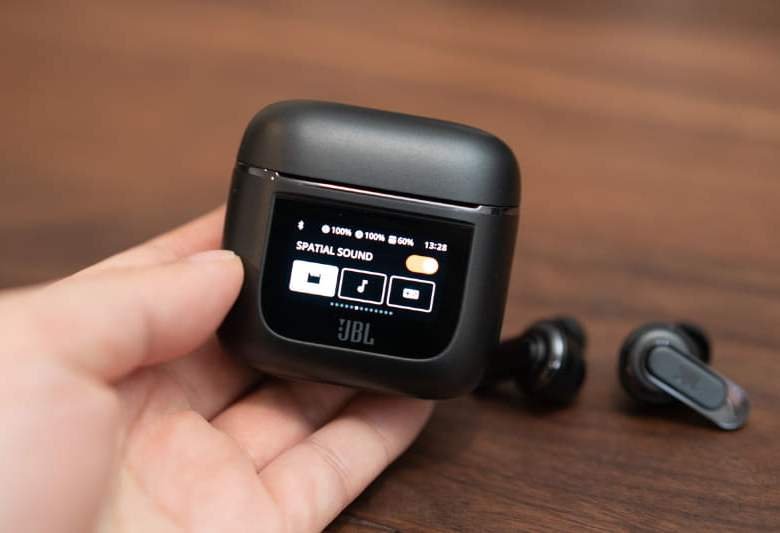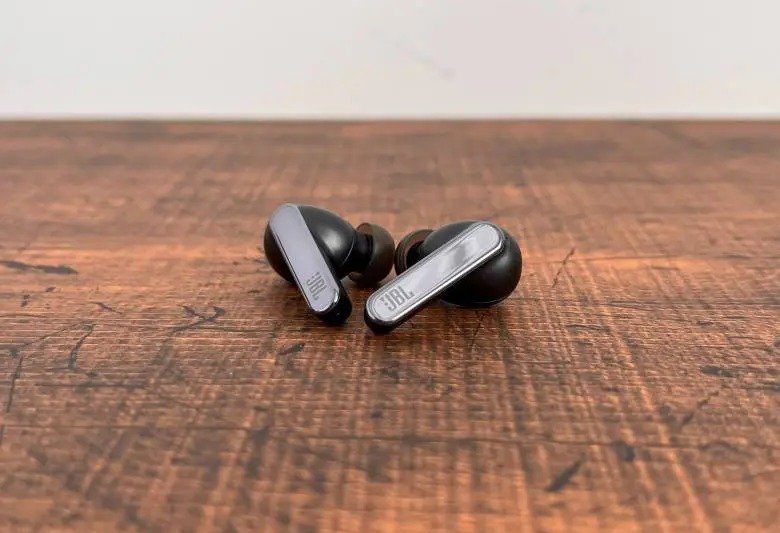 Active Noise Cancellation and Ambient Sound
Both the JBL Tour Pro 2 and JBL Live Pro 2 offer Active Noise Cancellation (ANC) and Ambient Sound modes to enhance your listening experience. You can manually adjust the intensity of ANC or opt for Adaptive ANC, where the earbuds automatically adjust the level based on your surroundings. They can also check for sound leakage from your earbuds and compensate for your ear canal, although this feature can be somewhat finicky to set up in noisy environments.
The ANC performance is decent but not groundbreaking. While it effectively reduces ambient noise, it might not compete with some top-tier ANC headphones. The Ambient Aware mode, on the other hand, allows background noise to pass through the microphones, creating a more natural and less artificial listening experience. You can adjust the level of ambient sound within the app to suit your preferences.
The TalkThru feature is handy when you want to have a conversation while listening to music. It automatically lowers the music volume and activates the ambient mode, but the implementation can be a bit cumbersome due to the touch controls' responsiveness.
Personalization Features
JBL provides several personalization features with these earbuds. The Personi-Fi feature maps your hearing by playing different frequencies in each earbud separately. While the sound quality is good, it might come across as slightly muffled, especially in the vocals. Fortunately, the customizable EQ can help fine-tune the audio to your liking.
The Spatial Sound feature aims to provide a more immersive experience but might not be to everyone's taste. It slightly reduces sub-bass and bass, making the sound feel farther away with a hint of delay and reverb.
VoiceAware is a practical feature that lets you hear your own voice clearly during calls, eliminating the need to shout. You can control the level of self-monitoring to your preference.
Smart Audio and Video Mode
The Smart Audio and Video mode offers two options: Audio mode for improved audio quality and Video mode to reduce latency by 100ms, ensuring that audio and video stay synchronized. Unfortunately, there's no shortcut for this feature on the case display, necessitating access through the app each time you want to change it.
SilentNow and Personal Sound Amplification
SilentNow is a unique feature that allows you to turn off the earbuds while keeping ANC active. This can be particularly useful if you want to enjoy peace and quiet with ANC working effectively. However, its effectiveness might vary depending on the seal of the ear tips.
For those who require hearing aids, the Personal Sound Amplification feature can amplify your surroundings' sound by 15-20 dB.
Voice Assistant Integration
The earbuds offer voice assistant integration, allowing you to use either the built-in assistant or the one on your paired device. While this feature is handy, it might not always work seamlessly, as some users have reported occasional connectivity issues with Google Assistant.
Customization and Future Possibilities
The earbuds offer a degree of customization, including the ability to customize the case display. However, some features, like Smart Audio and Video, are missing from the customization options. It would be more user-friendly if there were a home page on the case display for quicker access to features.
Sound Quality
When it comes to sound quality, JBL is renowned for its dynamic and rich audio. The JBL Tour Pro 2 and JBL Live Pro 2 are no exceptions. They feature 11mm drivers that deliver powerful, impactful bass, crisp trebles, and well-balanced mids. The customizable EQ allows you to fine-tune the audio to your liking, making these earbuds versatile for various music genres and preferences.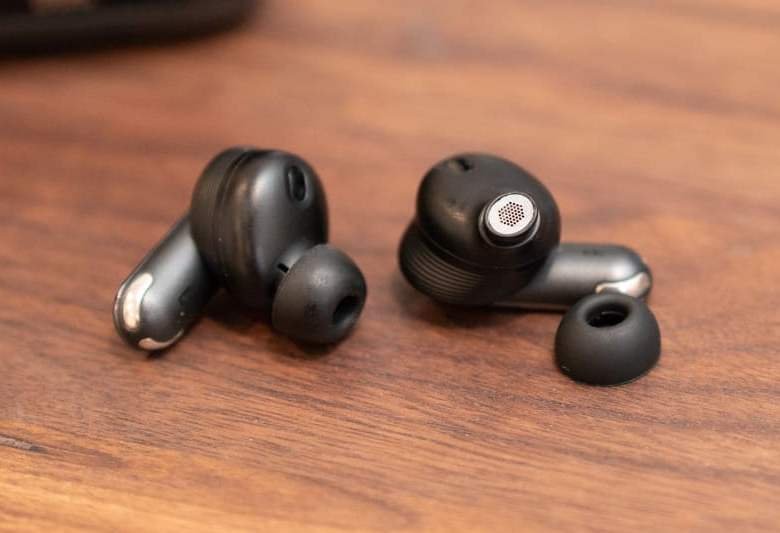 Multi-Point Connectivity
One of the standout features of these earbuds is multi-point connectivity, which allows you to connect to two devices simultaneously. This can be incredibly convenient if you frequently switch between your phone and another device, like a laptop or tablet. The setup is straightforward, and it generally works well, although there might be a slight delay when switching back to your primary device.
Battery Life
Battery life is a crucial factor for wireless earbuds, especially for users on the go. According to JBL, with Active Noise Cancellation (ANC) enabled, you can enjoy up to 8 hours of playtime, and with Adaptive ANC, up to 6 hours. During testing, the earbuds managed to deliver 6.5 hours of use with Adaptive ANC, which is quite impressive. The case provides additional charging capacity, making these earbuds a reliable choice for long journeys. With up to 10 hours of playback on a single charge and an additional 30 hours provided by the case, these earbuds boast impressive battery life. Fast charging ensures that a quick 15-minute charge can give you up to four hours of listening time, making them ideal for users on the move.
Water Resistance
Both models come with an IPX5 rating, making them resistant to sweat and splashes. While they can handle your intense workouts, it's essential to avoid full submersion in water.
Phone Call Quality
The JBL Tour Pro 2 and JBL Live Pro 2 feature a total of six microphones for phone calls. During tests, the microphone quality was clear and performed well in quiet environments. In noisier settings, the microphones still managed to capture your voice effectively, making these earbuds suitable for calls on the go.
Conclusion
The JBL Tour Pro 2 and JBL Live Pro 2 are impressive wireless earbuds that offer innovation, functionality, and excellent sound quality. The smart case with its customizable display is a standout feature, making these earbuds more than just audio accessories. Multi-point connectivity is a welcome addition for users who frequently switch between devices, enhancing their versatility.
While they may have some minor drawbacks, such as occasional touch control responsiveness and ANC performance that don't quite match the top competitors, these earbuds offer a compelling package. Their comfortable fit, clear phone call quality, and customization options make them suitable for a wide range of users. Whether you choose the JBL Tour Pro 2 or JBL Live Pro 2, you can expect a high-quality audio experience with innovative features that set them apart in the crowded wireless earbud market.
Alternatives of JBL Tour Pro 2 and JBL Live Pro 2
Sound: High-quality with Adaptive EQ.
ANC: Strong noise cancellation.
Transparency: Effective mode.
Fit: Comfortable and secure.
Controls: Touch controls.
Sound: High-res audio with clear mids.
ANC: Class-leading noise cancellation.
Transparency: Ambient sound mode.
Fit: Ergonomic design.
Controls: Touch-sensitive.
Bose QuietComfort Earbuds
Sound: Clear with strong bass.
ANC: Highly effective.
Transparency: "Conversation Mode."
App: Customizable controls.
Fit: Secure and comfortable.
Sound: Excellent with deep bass.
ANC: Effective noise cancellation.
Transparency: "Transparent Hearing."
App: Customizable controls.
Fit: Comfortable with various tips.
James Smith has always been intrigued by electronic products since his childhood. After his post graduation in electronics from a popular university, he decided to pursue a career in the electronics sector. But his calling for writing about these marvellous pieces of work got the better of him. That is how UBG was started. With a writing career spanning more than 12 years, James has worked on several hundred product reviews. During his free time, he like to spend time with his pet dog and relax in the swimming pool.