So many brands make wireless earbuds, and JLab is one of them. They have different types of earbuds in their JBuds series. The JLab JBuds Mini is the latest addition to this series. Today, we will look at two of this series's earbuds. This post is about JLab JBuds Mini vs JLab JBuds Air, and we will compare all the aspects of these earbuds to know their differences. SO LET'S START!
JLab JBuds Mini
JLab JBuds Air
PROS
PROS
Extremely compact and lightweight.
Good sound quality considering their size.
Customizable touch controls.
IP55 water and sweat resistance.
Multipoint connectivity for convenience.
Affordable price point.
Compact and ergonomic design.
Good sound quality with a focus on bass.
Longer battery life per charge compared to JBuds Mini.
Touch controls for playback and calls.
IP55 water and sweat resistance.
CONS
CONS
Smaller battery life compared to JBuds Air.
Limited bass response for heavy bass enthusiasts.
Slightly higher price compared to JBuds Mini.
Bass-heavy sound may not be suitable for everyone.
CHECK ON AMAZON
CHECK ON AMAZON
JLab JBuds Mini – The Small Wonder
The JLab JBuds Mini earbuds are touted as the smallest in the JLab universe, designed to cater to users who prefer a more discreet and lightweight audio solution. Let's see how they stack up with their diminutive size and promising audio quality.
JLab JBuds Mini Key Features
Size: Described as the smallest earbuds ever, emphasizing their compact form factor.
Weight: Weigh only 25 grams, with each earbud weighing 3.3 grams.
Design: Designed for people with smaller ear canals, providing a comfortable fit for those who prefer smaller earbuds.
Sound Quality: Offers clear and impressive sound quality, suitable for various music genres and content types.
Sound Isolation: Lacks active noise cancellation (ANC) but offers some passive noise isolation.
Battery Life: Provides approximately 5.5 hours of playtime on a full charge, with additional charges available through the case.
Charging: Supports quick charging, with 10 minutes of charging providing around 30 minutes of use.
IP Rating: Water-resistant, suitable for outdoor activities, but the case may not be waterproof.
Touch Controls: Touch-sensitive controls for playback, volume adjustment, and more.
App Integration: Offers an app for customizable equalizer settings and other features.
JLab JBuds Air – The Affordable All-Rounder
On the other hand, the JLab JBuds Air aims to provide a well-rounded wireless audio experience at an affordable price point. It has gained popularity among budget-conscious consumers by offering various features and customization options. But is it the right choice for you? You will get to know at the end of this comparison.
JLab JBuds Air Key Features
Price: Mentioned around $59, which is a budget-friendly option.
Sound Quality: Highlighted for good sound quality, making them a cost-effective choice for audio enthusiasts.
Battery Life: Impressive battery life, with the ability to last for around two days with regular use before needing a charge.
Custom EQ Settings: Equipped with customizable EQ sound settings, including JLab's signature sound, balance, and bass boost modes.
Comfort: Features foam ear tips that provide a comfortable and secure fit, enhancing the sound quality.
Touch Controls: Allows touch-sensitive controls for various functions, including answering calls and changing sound modes.
Bluetooth Range: Mentioned a good Bluetooth range, allowing you to move relatively far from your connected device.
Pairing: Easy and quick pairing process with Bluetooth devices.
Phone Calls: Supports phone calls with clear audio quality and call management functions.
Charging Case: Includes a charging case with a foldable USB connector for convenient charging.
| Specifications | JLab JBuds Mini | JLab JBuds Air |
| --- | --- | --- |
| Sound Mode | Stereo | Stereo |
| Connection Type | Wireless | Wireless |
| Wireless Connectivity | Bluetooth | Bluetooth |
| True Wireless | Yes | Yes |
| Maximum Wireless Range | 32 feet | 32 feet |
| Water Resistant | Yes | Yes |
| Built-In Microphone | Yes | Yes |
| Carrying Case | Yes | Yes |
| Microphone Features | Adjustable | Not specified |
| Headphone Fit | In-Ear | In-Ear |
| Battery Life | 20 hours | 6 hours |
| Battery Charge Time | 1.5 hours | Not specified |
| Bluetooth Version | 5.1 | 5.0 |
| Number Of Devices Connectable Simultaneously | 3 | Not specified |
| Driver Size | 6 millimeters | 8 millimeters |
| Battery Capacity | 60 milliampere hours | Not specified |
| Charging Accessory Included | Cable, Case | Case |
| Sound Isolating | No | No |
| Controls | Call, Mute | Track selection, Volume |
| Bone Conducting Technology | No | No |
| Warranty | 2 Years | 2 Years |
Design and Comfort
JBuds Mini
The JBuds Mini earbuds are undeniably compact. Weighing in at just 3.3 grams each, these earbuds are designed to fit snugly into smaller ear canals. Their small form ensures a comfortable and secure fit, making them ideal for users who may find larger earbuds uncomfortable or unwieldy.
One of the standout design features of the JBuds Mini is its discreet appearance. Thanks to their size and minimalistic design, they can easily blend into your ears. However, the choice of color can be subjective, so it's essential to pick a variant that suits your style.
JBuds Air
In contrast, the JBuds Air earbuds are slightly larger and more noticeable in the ear. While they may not be as discreet as the JBuds Mini, they offer a more substantial presence, which some users prefer. The ergonomic design has ear hooks that help secure them during physical activities.
Both earbuds come with various ear tips, including foam tips that enhance comfort and noise isolation. However, the JBuds Mini has a notable advantage in size and weight for those who prioritize minimalism and comfort.
Sound Quality
JBuds Mini
The JBuds Mini impresses with their sound quality, given their size. They offer a clear and balanced audio profile suitable for various music genres, from rock to techno. The sound experience is impressive for casual listeners, delivering crisp vocals and decent instrument separation.
However, if you're a bass enthusiast or enjoy action-packed movies with booming sound effects, the JBuds Mini might not provide the depth and punch you desire. Their compact size limits the potential for deep bass reproduction.
JBuds Air
The JBuds Air offers a versatile sound signature that caters to a broader audience. You can adjust the sound profile to your liking with customizable EQ settings. The "JLab Signature" setting provides a balanced sound, while the "Bass Boost" option enhances low-frequency performance.
If you're an audiophile or someone who values sound customization, the JBuds Air has the upper hand. They offer more flexibility in tailoring the audio to your preferences, making them suitable for a wider range of genres and use cases.
Connectivity and Controls
JBuds Mini
Both earbuds feature Bluetooth 5.3 for a stable and efficient wireless connection. The JBuds Mini offers playback, volume adjustment, and call management touch controls. These controls are intuitive and responsive, making it easy to navigate your audio experience.
One notable feature of the JBuds Mini is their intelligent "Safe Hearing" mode, which limits the volume to 85 decibels to protect your hearing. This can be a valuable safety feature, especially for younger users or those who enjoy listening at high volumes.
JBuds Air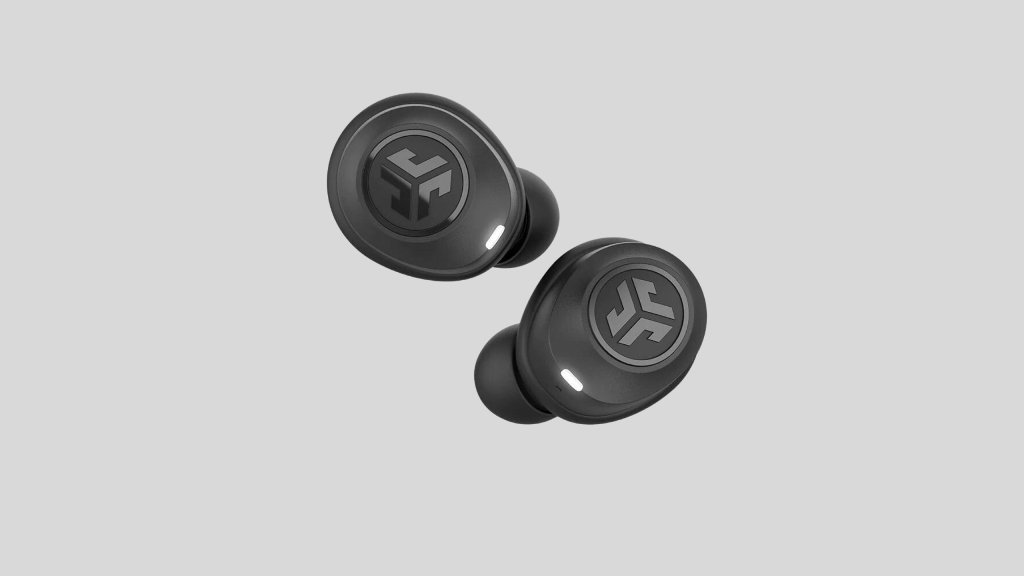 The JBuds Air also comes with touch controls, providing similar functionality for playback and calls. Additionally, they feature an "Attention Mode" that allows you to hear your surroundings while listening to music. This can be helpful during outdoor activities or when you need to stay aware of your environment.
Both models offer multipoint connectivity, allowing you to switch between devices seamlessly. This feature is useful for users who must stay connected to multiple devices throughout the day.
Battery Life
JBuds Mini
The JBuds Mini provides up to 5.5 hours of playback time on a single charge, which is impressive considering their size. The charging case can provide additional charges, extending the total listening time to around 20 hours. Additionally, a 10-minute charge can give you 30 minutes of listening, making them convenient for on-the-go use.
JBuds Air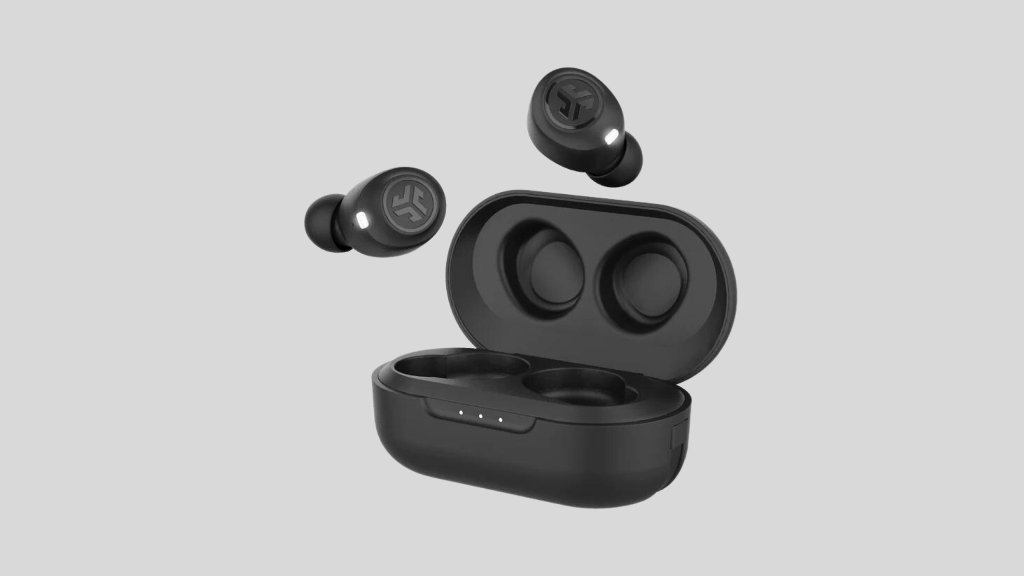 The JBuds Air offers a similar playback time of around 5 hours on a single charge. However, their charging case may vary slightly in terms of capacity. Like the JBuds Mini, they also support quick charging, ensuring you can return to your music without long interruptions.
Water Resistance
JBuds Mini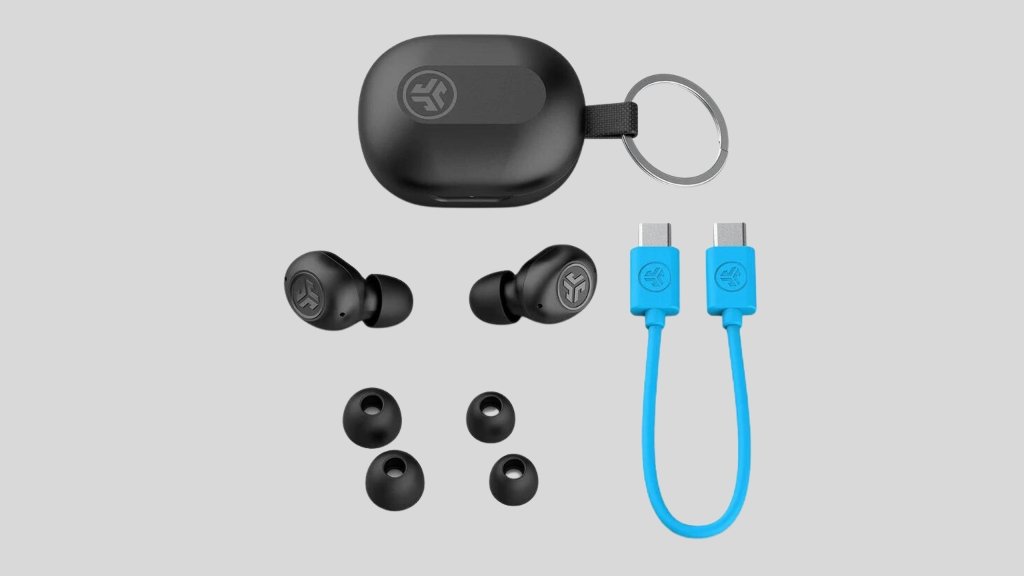 The JBuds Mini has an IP55 certification, which means they are resistant to dust and water splashes. This level of water resistance makes them suitable for workouts and outdoor activities, even in light rain.
It's important to note that while the earbuds themselves are water-resistant, the charging case is not, so you should take care not to expose it to moisture.
JBuds Air
The JBuds Air also boasts an IP55 rating, providing similar protection against dust and water. This makes them equally suitable for workouts and outdoor use, ensuring they can withstand sweat and occasional exposure to rain.
Price
JBuds Mini
At an approximate price of $40, the JBuds Mini offers excellent value for their compact design, sound quality, and features. They are an affordable choice for users who prioritize comfort and portability.
JBuds Air
The JBuds Air is priced around $59, making it a slightly more budget-friendly option than many premium wireless earbuds on the market. Their sound customization options and overall performance make them compelling for those seeking versatility without breaking the bank.
Conclusion
The JLab JBuds Mini and JBuds Air offer unique advantages that target different user preferences and needs. Here's a quick summary to help you decide:
JBuds Mini: These earbuds excel in compactness and comfort. They are ideal for users who prioritize a discreet, lightweight design. The "Safe Hearing" mode and compact form factor suit casual listeners and those concerned about hearing protection.
JBuds Air: With sound customization options, touch controls, and an affordable price point, the JBuds Air provides a versatile audio experience. They are perfect for users who enjoy tailoring their sound profile and want a well-rounded wireless earbud option.
Ultimately, your choice will depend on what you value most in your wireless earbuds – whether it focuses on minimalism and comfort or sound versatility and customization. Whichever model you choose, JLab continues to impress with its commitment to affordable and feature-rich audio solutions.
James Smith has always been intrigued by electronic products since his childhood. After his post graduation in electronics from a popular university, he decided to pursue a career in the electronics sector. But his calling for writing about these marvellous pieces of work got the better of him. That is how UBG was started. With a writing career spanning more than 12 years, James has worked on several hundred product reviews. During his free time, he like to spend time with his pet dog and relax in the swimming pool.