We will be reading about the Logitech G332 vs HyperX Cloud Stinger gaming headsets in today's comparison reviews. Logitech and HyperX Cloud are two popular brands in the gaming headset market.
They are known to produce sublime units that are widely used by professional gamers all over the world. The G332 is the successor to the Logitech G230. The G230 headset was a sublime model, and we expect the G332 to be likewise.
This being a budget model shows in the materials that the maker has used to design it. You can notice the faux leather padding and the rubber cord that is present on the headset. They are alright for the headset.
This does not make the headset quite durable or reliable. A distinct feature of the G332 unit is the flip-to-mute microphone. This is a beneficial feature that enables you to mute the microphone without removing the headset from your head.
Its audio performance is stunning, and the microphone performance is phenomenal. It is convenient to use and the cheapest you can find in the market for now. Besides, Logitech is a famous brand in the electronic gaming market.
You can find some features infused on it that are typically found on $100 priced gaming headsets. We liked the large 50mm audio drivers that provide you with eloquent sound. Gamers can now experience immersive gaming quality.
Likewise, there is the HyperX Cloud Stinger gaming headset. This is another budget model that is priced under $60. It comes with decent features embedded in it. They have designed a very comfortable and stable unit providing you with stunning features.
The audio performance is good, and so is the microphone quality. Though you can always find something better in the market at a higher rate, you may want to consider the Cloud Stinger when searching for a budget model.
Let us read on further to find out more about these two budget but exceptional gaming headsets. We have also mentioned the winner at the end of the review.
LOGITECH G332
HYPERX CLOUD STINGER

PROS

PROS

It is opulent in comfort and designed well.

You can wear it for prolonged hours for gaming sessions.

It comes with exquisite audio quality.

The flip-to-mute microphone feature is phenomenal.

The product is priced under $50, making it very cheap.
It comes with a sleek design.

Users can wear the headset for hours without any discomfort.

The unit has a stunning audio performance.

It has a fantastic microphone sound profile.

The product is priced under $60, making it low-priced.

CONS

CONS

The microphone and cable are not removable.
The mute button features need getting used to.
| SPECIFICATIONS | LOGITECH G332 | HYPERX CLOUD STINGER |
| --- | --- | --- |
| Name | G332 Wired Stereo Gaming Headset | Cloud Stinger Wired Stereo Gaming Headset |
| Brand | Logitech | HyperX |
| Sound Mode | Stereo | Stereo |
| Connection Type | Wired | Wired |
| Built-In Microphone | Yes | Yes |
| Headphone Fit | Over-the-Ear | Over-the-Ear |
| Adjustable Headband | No | Yes |
| Warranty | 2 years | 2 years |
Logitech G332 vs HyperX Cloud Stinger: Design & Comfort
The design & comfort of the Logitech G332 gaming headset is quite good. This is a budget model and comes with stunning comfort levels. We had to wear it to believe it. Thanks to the plastic material that is used on the unit, you can instantly notice that it is comfortable.
As you know, the comfort of any headset becomes crucial in ensuring that consumers choose it. The moment you notice the G332, you can see the black and red tones used nicely on it. The square-shaped earcups are quite sublime and comfortable.
The headband comes with adequate padding on it. You can also see the logo on both earcups; nicely done. Besides, our tester was able to wear it for several hours without facing any problem.
You will be delighted to know that the earcups can be rotated, enabling you for additional comfort. This is useful when you are planning a lengthy gaming session with your friends or family members.
On the other hand, you have the HyperX Cloud Stinger. If you are familiar with HyperX Cloud models, you will beware of their headset providing you with immense comfort. The same can be said about the Cloud Stinger model too.
The unit comes with oval-shaped earcups that are incredibly comfortable to wear. Our tester feels that round-shaped ear cups hold the key to comfort. Though the G332 square shape is alright, wearing it for a more extended period can be slightly strenuous.
The Cloud Stinger is exceptionally lightweight, weighing 275 grams. It also comes with 90degree rotating earcups providing you with a comfortable fitting on your head. You can also notice the black and red tones present on the body of the unit.
The logos are infused with red color that gives it a sharp look. We liked the all-black color on the headset. It comes with the HyperX memory foam for additional support on your ears when you have planned for prolonged usage of the unit.
We cannot say that it catches your eye in the color or the design. You can find that the synthetic leather on the earpads is not on par with the ones found on Razer Kraken Pro V2. Maybe not as elegant as the Turtle Beach Elite Pro Tournament Headset.
All in all, the G332 and the Stinger models come with solid comfort levels. They are exceptional in design and tone. Besides, they offer you with incredible comfort and are lightweight to handle and use even outdoors.
Logitech G332 vs HyperX Cloud Stinger: Build Quality
The Logitech G332 gaming headset comes with the exceptional build quality. As we read in the above segment, it comes infused using leatherette earpads. Besides, the rotating ear cups provide immense comfort for the prolonged gaming session.
Our tester wore it to realize that it is sized at the middle of the headset. If you have a medium head, then you will find it very comfortable. We did not experience any discomfort whatsoever wearing it throughout the day.
The makers have intelligently used the plastic material thoroughly on it. We also noticed that the model has a tone combination of black and red logos that look amazing. The angles at which they are shaped are opulent.
It offers your ears pentagon-shaped contours that are not innovative but quite appealing. The microphone is flat and quite flexible. You can tilt it according to your requirement and change directions effortlessly.
We even dropped the G332 a few times from a few feet on the ground and were stunned with no indication of a hit. On warm days, we do not see your ears or head region getting hot or sweaty at all.
The HyperX Cloud Stinger gaming headset offers you with excellent build quality. It comes infused with top-notch material. You can find that the headset cable and the microphone are attached to the left earcup.
The microphone rests on the rubber boom arm that can be flipped 90degree in a single direction. It ensures you cannot swap the sides turning the unit around. The cable is quite long at 4 feet.
It comes with a four-pole 3.5mm plug that can exceptionally work on modern devices and gaming consoles. You can use it with your laptop. The HyperX Cloud unit comes with a 5 feet extension cable, which splits into 2 three-pole 3.5mm plugs.
You can also find a slider at the underside of the right earcup to effortlessly control the volume. You can then adjust it accordingly from a connected device. Please read that the unit comes with no inline remote mute button and the microphone automatically mutes if you flip it.
Logitech G332 vs HyperX Cloud Stinger: Audio Performance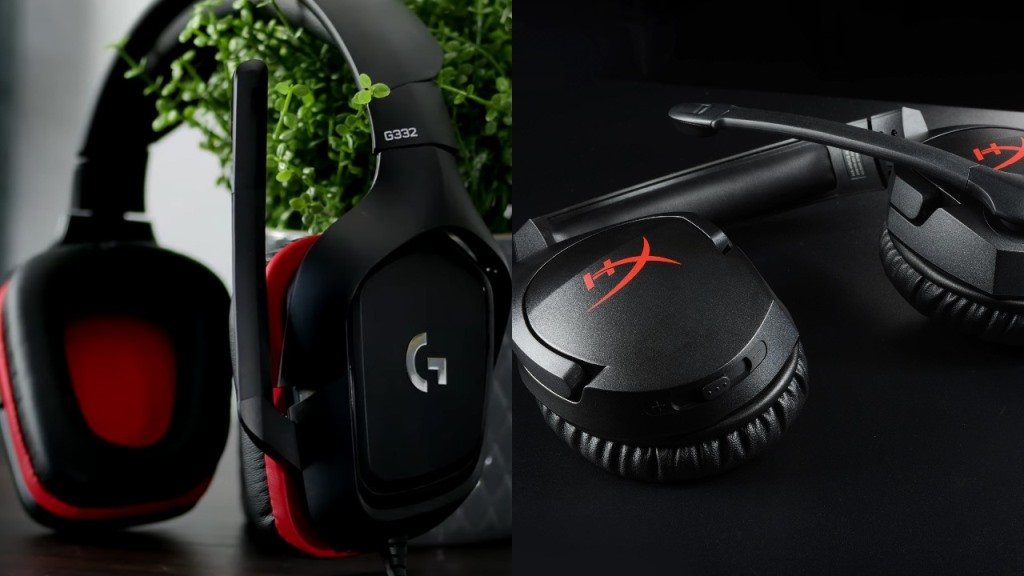 The audio performance of the Logitech G332 is quite good. You can hear the treble and mids. They are friendly and audible. But we felt that the bass is lacking. Not to mention, there was too much buzz on it.
The clamping force of the unit is strong, ensuring that you do not miss out on any of the music. This is a noteworthy feature in the headset. Hence, the pressure is just right. At times, even on expensive units, the noise leakage is there.
We found it helpful in chatting. It was able to pick up sound happening around you effortlessly. You do not hear any unwanted sound from 10 feet of the headset. Please do realize that this is a $50 unit.
However, you cannot expect the unit to provide you with stunning noise quality. This is a budget unit. Besides, there is no point in expecting too many features from it. The audio quality is acceptable.
The HyperX Cloud Stinger gaming headset is your ideal gaming headset. It comes with decent bass infused in it. This is a crucial factor for any headset. The unit does not have the capability to reach very deep into the sub-bass area.
We tried the unit on games, music, and videos and are pleased to say that they are quite excellent. There is immense throw in the depth of the voice and clarity in the music. For movies, we felt that the thump was slightly off.
Again, this is an under $60 unit, and it won't be fair to expect it to work on the likes of top-end products like Bose and Sennheiser. The mid-highs were quite good as you can hear all the noises happening around you in COD.
It comes with no voice chat and provides you with what you actually need to hear. They come against each other very clearly. When you are listening at maximum audio, it gives audio that can yield to your missions and provide you with an immersive experience.
Logitech G332 vs HyperX Cloud Stinger: Microphone Performance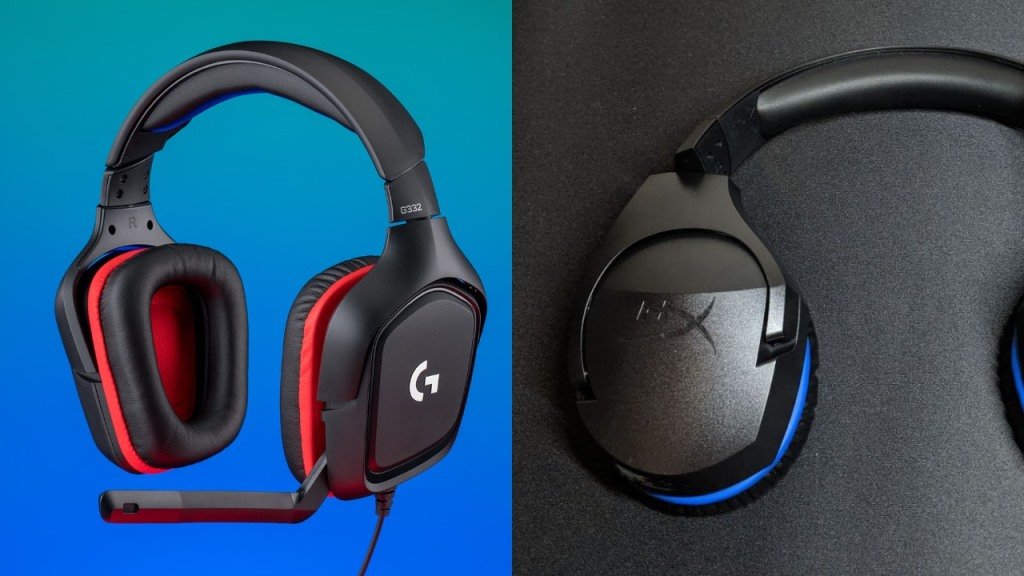 As we read, the audio performance of both the units was good; how did the microphone do? The main benefit of using budget models is that there is not much to do. You directly plug them in, and you are good to go.
The same can be said about the Logitech G332 model. The microphone quality is audible and average at best. Of course, this is an under $50 unit, and you may not want to expect wonders from it.
We tried communicating with others during our gaming sessions, and they said that a small amount of disturbance was heard. Most high-end gaming headsets do not come with any disruption.
The implementation and the recorded voice are done eloquently. You can find that they come with a small mechanism that enables you to mute the microphone with a slight tilt. In a sense, this is a flip-to-mute microphone.
The HyperX Cloud Stinger gaming headset comes with exceptional microphone qualities. You can listen to the audio sublimely. The boom arm ensures that the microphone is kept quite far away, enabling you to avoid those disturbances.
You can also listen to the speech that flows very opulent. The voice recording is stunning compared to most headsets. But you cannot notice the powerful and sensitive performance from other top-end models.
Logitech G332 vs HyperX Cloud Stinger: Compatibility
The Logitech G322 gaming headset comes with good compatibility. You can easily connect on your PC, smartphone, and other consoles accordingly. As we said, this is a straightforward model.
Likewise, the HyperX Cloud Stinger gaming headset offers you with excellent compatibility. You can effortlessly connect to your PC, PS4, Xbox One, and Nintendo Switch. We felt that Stinger has a slight lead in this segment of our review.
Logitech G332 vs HyperX Cloud Stinger: Price
In this comparison review, we have to review the price of two cheap models. It becomes quite a challenge. The Logitech G332 gaming headset is priced under $50. If you are looking for a budget model that costs you less than $50, then this is your best option.
The HyperX Cloud Stinger gaming headset is priced under $62. You have a difference of $12 or lesser. That should not make you decide on your choice. You may want to verify the features and specifications and then choose your gaming headset.
Logitech G332 vs HyperX Cloud Stinger: Verdict
Now, we have ended our comparison review on the Logitech G332 vs HyperX Cloud Stinger gaming headsets. The performance of the unit did not quite merit an award. However, the headset did exceedingly well, and our tester was thoroughly convinced about its abilities.
This is coming from a unit that is priced under $50. It is exceptionally comfortable to wear, and consumers will find it surprisingly seamless to get used to. Our tester wore it for prolonged gaming sessions and did not even once feel any discomfort.
It comes with sublime audio quality, the microphone does quite well, and the unit is simple to use. But the unit is not the best in the market. When you are on a tight budget, then you can make use of it.
Otherwise, you can still find some models priced around $60 or higher that come with better features. This is a brand for value product and worth your time and money. The operation capability can be slightly on the lower side.
On the other hand, the HyperX Cloud Stinger gaming headset is a cheap model that comes with several features infused in it. The unit is priced less than $50 and comes with exceptional comfort levels that you can get.
The Logitech G332 gaming headset could be yours if you are particular about the 5dB/mW higher sound pressure level, 2000Hz higher microphone frequency, tangle-free cable, and has voice commands.
The HyperX Cloud Stinger comes with exceptional features like it comes with passive noise reduction, noise-canceling microphone, 3000Hz higher high-frequency, Ohms lower impedance, and is 5grams lighter.
Our winner is the HyperX Cloud Stinger for the sole reason that it comes with superb features. The Logitech G332 unit is a top-notch model and can be considered too for your needs. However, in this post, you know who the winner is.
James Smith has always been intrigued by electronic products since his childhood. After his post graduation in electronics from a popular university, he decided to pursue a career in the electronics sector. But his calling for writing about these marvellous pieces of work got the better of him. That is how UBG was started. With a writing career spanning more than 12 years, James has worked on several hundred product reviews. During his free time, he like to spend time with his pet dog and relax in the swimming pool.