Last Updated on June 9, 2021 by James Smith
The middle segment of Logitech gaming headsets was pending for quite some time now. We were glad to notice that the maker has filled in the void. Logitech is a famous manufacturer in the peripheral gaming market.
We cannot deny that the manufacturer has had a smooth experience in the gaming industry till today. They are known for manufacturing sublime products for offering immersive gaming experiences for users.
You can notice that they produce sublime models in the segment. Today, we will discuss the Logitech G733 and G Pro X. It looks like these models want to make some noise. Let us find out if they worth what the maker claims them to be.
The G733 unit comes with bright colors and features in. You can instantly notice the RGB lights on it, attractive tone, sleek design, and removable boom microphone. During our research, we found that users loved it because of its streaming abilities.
The Logitech G733 unit is a beautiful gaming headset. It comes with a notable and highly lightweight design, offering you with opulent music. The companion app provides you with exceptional features for you to operate using it.
Its audio delivery is not consistent at times. You will find them not ideal for outdoor use. We also noticed that the exterior noise is not getting blocked nicely. However, when you want a comfortable and decent unit, then this is an excellent choice.
The Logitech Pro X gaming headset is another exciting product that comes with top-notch specifications. Like the G733 headset, it comes with a suitable audio, virtual surround sound mode and offers you the ability to change microphone settings.
Its microphone provides you with a stunning audio profile and works even in a noisy environment. Sadly, it comes with a huge design, and the noise isolation was not satisfactory. Despite that, they make for a sublime choice for gaming peripheral.
You will be delighted to know the gaming headsets come with the Lightspeed Wireless technology. It is produced such that its durability, comfort, and performance are truly unmatched with it.
What must you choose? Given below is the comparison review, you can find the ideal gaming headset that you should select for your requirement.
LOGITECH G733
LOGITECH G PRO X

PROS

PROS

The headset is extremely comfortable.

It is sleek in design.

It comes with a smooth audio profile.

The unit offers you with exceptional battery life.

The model is under $140, making it affordable.
The model has a comfortable design.

It has ample options in companion software.

The product has exceptional wireless connectivity.

The unit has a fantastic battery life of 20 hours.

It comes using customizable gaming software.

CONS

CONS

The headset is not suitable for wired gaming.
The product is not compatible with Xbox One.
| SPECIFICATIONS | LOGITECH G733 | LOGITECH G PRO X |
| --- | --- | --- |
| Name | G733 LIGHTSPEED Wireless DTS Headphone | G PRO X Wireless DTS Headphone |
| Brand | Logitech | Logitech |
| Sound Mode | DTS Headphone:X | DTS Headphone:X |
| Connection Type | Wireless | Wireless |
| Wireless Connectivity | Radio Frequency (RF) | Radio Frequency (RF) |
| True Wireless | No | No |
| Maximum Wireless Range | 66 feet | 49.2 feet |
| Built-In Microphone | Yes | Yes |
| Microphone Features | Detachable, Noise cancelling | Adjustable, Detachable, Noise cancelling |
| Headphone Fit | Over-the-Ear | Over-the-Ear |
| Battery Life | 29 hours | 20.0 hours |
| Warranty | 1 Year | 2 Years |
Logitech G733 vs Logitech G Pro X: Design & Comfort
The Logitech G733 unit comes in several colors like blue, white, purple, and the most common black. You can choose any color from the choices. We liked the white one. However, it can get dirty very soon.
Our tester liked the purple one as it stood out thanks to the shine. The design of the headset was attractive. It comes with a stunning and futuristic design immersed in the frame and the body.
You can note the plastic on it and the angles that are placed quite large on it. Besides, the headset also comes with 2 RGB bars at the front. This helps it to offer the image that the manufacturer has indeed produced a gaming unit.
Our tester noticed that the G733 model could not be folded. So, if you are keen on using the folding model, then you will want to look elsewhere. The strap can be worn for a lengthy period of time as it is comfortable.
The unit feels firm on the head and comes with a weight of 285 grams, which is relatively light. Likewise, you have the Logitech Pro X model having ample potential for optimization. We felt that this particular unit has an immense proportion of plastic and a shiny finish to it.
You can also notice the RGB light on it. Besides, you can find plenty of metal on the headset. The unit comes with a top-notch appearance that is an exception to what you can find in most of the products.
Not to mention, the unit is extremely comfortable to wear. The clamping force on it was proper. The model consists of the Lightspeed radio connection, DTS headphone: X-2.0 support, 50mm drivers, and integration of Blue VO! CE software.
All in all, the Pro X has a stable quality and sublime appearance. Both the gaming headsets are incredibly comfortable to wear for prolonged hours without hassle. The fact that the microphone can be removed gives you additional comfort, but you cannot fold it.
Logitech G733 vs Logitech G Pro X: Build Quality
The build quality of the Logitech G733 gaming headset is produced from a mesh material. What happens is that your skin does not feel sweaty at all. You can wear them for a prolonged time.
You can also find that it comes with sufficient space in the padding of the earcups. However, the earpads can be changed if you want to do so. Logitech does not provide the replacement. Hence, you may want to check out from third-party providers.
Its over your ear design provides you with the great force that you need for blocking outside sound. The noise suppression was quite good. It comes with no ANC on the product. Its earcups are nicely designed and come with plastic material and memory padding.
The microphone is also removable and comes quite malleable. We felt that they could survive those accidents and drops. You can keep them on your head without problems. It moves around moderately on your head, but it may not fall out if you are working out.
The Logitech G Pro X gaming headset consists of aluminum forks and a steel headband. They are durable and sublime. It comes with memory foam, and the headband is covered with leatherette.
You can also find other cloth memory foam pads that you can use on the earcup if you want. Our tester felt that the USB power cable is thick. That is a good thing. Besides, the microphone was sublime, and you can remove it when you do not want to use it.
The Logitech Pro X gaming headset is a stable unit. We are not sure if they will remain on your head if you shake your head too often. However, they are wireless units, and they won't get stuck when you want to move around.
It comes designed from synthetic leather for additional texture infused with black decorative stitching. There is also artificial leather embedded in the earpads of the unit. As artificial leather does not allow you to breathe, other alternatives can be used.
Logitech G733 vs Logitech G Pro X: Audio Performance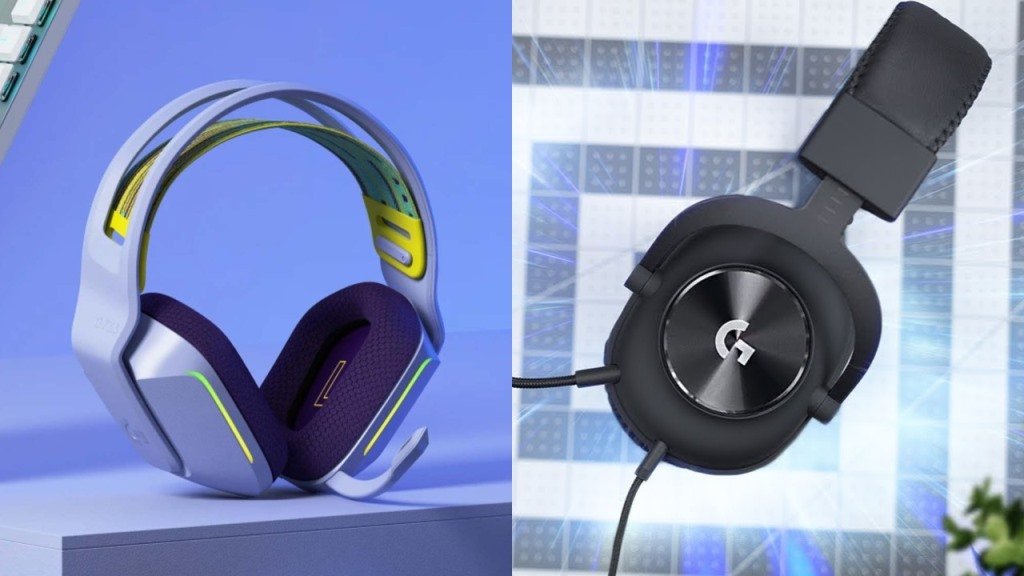 The audio performance of the Logitech G733 gaming headset was sublime. Though the sound quality was not up to the mark, we can call it top-notch. We did notice average sound blockage that caused slight hindrance when gaming or listening to music.
The sound profile was quite good. You can use them to listen to a wide range of songs and play games using them. When you like to hear the sound's punch, this product would be ideal for you.
Our tester noticed that it came with an underemphasized default bass response. The out of the box audio profile can be changed through the audio presets. You have the graphic EQ that is present in the Logitech G HUB companion software.
Its frequency response consistency was slightly low. Besides, the audio delivery was entirely dependent on the position and the fitting. On the other hand, the Logitech Pro X gaming headset comes with eloquent audio performance.
The audio profile is quite good, and you can hear the additional thump in the sound. This is ideal for playing games and listening to music. However, they are not overwhelming. The sound profile can be adjusted with the help of graphic EQ and presets found in companion software.
Overall, the Logitech G HUB companion software is one of the best in the market. Users can do a wide range of settings using it. It comes with opulent features that enable you to make full use of it.
Logitech G733 vs Logitech G Pro X: Microphone Performance
The microphone of the Logitech G733 gaming headset is clear, friendly, and pleasant to the ears. This is something that we notice only on top-end models priced in the $300 range. They come without any distortion, and the microphone frequency response has plenty of underemphasis.
It means that the voice clarity can change depending on the volume. If your voice is low and thin, then there can be hearing issues at the other end. Our tester found that the microphone can isolate the speech from the noise happening in the room.
That is an excellent thing. At the same time, the microphone of the Logitech Pro X gaming headset is relatively straightforward and free from distortion too. We were not able to distinguish the quality level as they are similar in nature.
Our tester noticed that the removable microphone comes with the exceptional recording quality. The sound quality is quite full-bodied, natural, and crisp. The microphone setting can be adjusted as you want using the BLUE VO!CE technology through the G HUB companion app.
The noise handling quality of the microphone is exceptional because of the noise gate processor. Your teammates can find out what you are talking about when speaking to them outside or in noisy surroundings.
We did switch off the noise gate, and it made little difference. However, when you are calling from a noisy room, we suggest that you use it. In conclusion, both the headsets come with exquisite microphone quality, and talking from a noisy environment is just alright.
Logitech G733 vs Logitech G Pro X: Compatibility
The Logitech G733 gaming headset can be used effortlessly on your PC, smartphone, and consoles. It would help if you plugged the dongle on the USB-A port to connect to the device you want to operate.
We tested the headset on the PC and found that it comes with a sublime sound experience. You can also use it on your PS5 and on the Nintendo Switch. Besides, the battery life is breathtaking. It can work for more than 25 hours on a single charge.
Please note that the headset does not work on your Xbox One. So, Xbox One users will have to look elsewhere. Likewise, the Logitech Pro X unit comes with impressive battery life. They can work for 20 hours.
It works on several devices and your PS4 sublimely. The unit cannot work on the Xbox One. It is characterized by high transmission speed. Sadly, you cannot use the microphone without the jack.
Logitech G733 vs Logitech G Pro X: Price
The pricing of two products from the same manufacturer can be challenging at times. However, we feel that Logitech has done a sublime job in aggressively pricing them. The Logitech G733 gaming headset is priced under $140.
The Logitech Pro X gaming headset is priced under $200. The Pro X comes with exceptional features like the PRO gaming headset design, up to 20 hours of battery life, use it for more than 15 m of 2.4 GHz wireless range, and outstanding compatibility infused in it.
Logitech G733 vs Logitech G Pro X: Verdict
This is it. We have ended our comparison review on the Logitech G733 vs G Pro X gaming headsets. When you want to own a wireless gaming headset that comes with excellent battery life, several features, and crisp audio, then the Logitech G733 unit is your next unit.
As we said in the earlier paragraph, the gaming industry has evolved it into a billion-dollar market. Today, you can find millions of gamers globally in search of quality products. Not to mention, several people are in streaming and vlogging.
We can say that the Logitech G733 serves its purpose in there. It comes with futuristic trends embellished in them. The unit comes with colorful lights at the front, an eye-catcher for the gamers.
Not to mention, the model is a perfect choice for streamers. The Pro X gaming headset has infused several exciting features in it. The unit comes with RGB lighting, plenty of plastic material on it, and a detachable microphone.
Our tester found that the Pro X unit has set new standards. The gaming headset is not only elegant in appearance but comes embedded with robust materials. We noticed that our fingerprints did not stick onto the unit.
With the oval earcups using the padded cushions, we found the comfort good. You do have the option to choose the breathable fabric material instead of the leather material. It is very ideal for PC gaming.
Based on the comparison review between the Logitech G733 vs Pro X, our winner would be the Logitech G Pro X gaming headset. The G Pro X headset is much better than the G733 product used for gaming.
It comes with a comfortable fitting, build quality, low latency, eloquent audio performance, and opulent microphone audio profile. Besides, the gaming headset also provides you with a fantastic battery life of more than 20 hours and can charge quicker.
They also come with an RGB light that can be cu
James Smith has always been intrigued by electronic products since his childhood. After his post graduation in electronics from a popular university, he decided to pursue a career in the electronics sector. But his calling for writing about these marvellous pieces of work got the better of him. That is how UBG was started. With a writing career spanning more than 12 years, James has worked on several hundred product reviews. During his free time, he like to spend time with his pet dog and relax in the swimming pool.