MSI and Asus are two popular names in the gaming motherboard segment. You can find most of their products sold like hotcakes and in the hands of many professional gamers. There is a reason for that.
In today's comparison review, we will be taking a look at MSI MAG X570 Tomahawk vs Asus TUF Gaming X570-Plus motherboards. This is like a heavyweight boxing championship where two champions are going to fight today.
MSI is a popular name in the gaming sector. You can find that this motherboard comes with the ability to mark as the best thing in the X570 redemption. Many of you will automatically be interested in it, thanks to its name that signifies warrior qualities.
We completely agree with the maker. MSI offered X570 units for $200, but this particular model gets higher at $260. Is it worth the hype? Most of the other boards that we reviewed were not really up to the expected performance, and the VRM performance was just average.
MSI did an exceptional job in producing the MSI X570 Unify, but it comes priced at $300 that is more than the capacity of most gamers. The MAG X570 would be the ideal replacement for that at the $250 mark.
We will be quite keen to check out the VRM performance. You may want to note that the Tomahawk comes with features like 2.5 Gbit networking, the Intel Wi-Fi 6 AX200 and Bluetooth 5.0, and an additional USB 3.2 Gen 2 USB port.
Likewise, we have the new excellent Asus TUF Gaming X570-Plus gaming motherboard for review today. It is a priced under $200 chipset that can be purchased from online retailers at less than $190.
Asus needs no introduction, really. If you are an active person in the electronic market, then you must have heard about the Taiwanese manufacturer. They produce sublime products along with durable peripherals.
The TUF series of products is ideally suited for gamers and aggressive users. The brand wanted to push itself and break barriers to understand the real market. We can say that Asus has done a decent job in that.
There is nothing unique about the TUF series of motherboards; it is just that they come with more performance and gives you satisfaction in using them. Thanks to the series, Asus has been able to make a mark for itself in the market.
The TUF series is more often purchased by professional gamers who are interested in using them for overclocking. They do not come expensive and can be purchased at low rates too. Users would be delighted to make use of them for their requirements.
Their main criteria would be reliability and affordability. Compared to several popular brands in the market, Asus is making a lot of noise in the market. You can find their products in most reviews that we have compiled for our readers.
Let us read to determine whether the Asus TUF model can live up to its reputation and exceptional price point to that of the sublime MAG X570 Tomahawk product that is a worthy contender for the first spot in the market.
MSI MAG X570 TOMAHAWK
ASUS TUF GAMING X570-PLUS

PROS

PROS

The installation is relatively quick and straightforward.

It comes with a 13-phase 60A power delivery.

It has 2.5G and 1G LAN connectivity.

The board comes with a USB 3.2 Gen. 1 front panel connectivity.

The overclocking and power of the unit are very stunning.
The installation process was quite fast.

It has a nice layout and design features on it.

It comes with debug LEDs.

There is the needed Wi-Fi included.

The product is priced relatively low when compared to most in the market.

CONS

CONS

It comes with only 6 USB ports on the rear I/O.
It has no front panel USB 3.1 Gen2 port.
MSI MAG X570 Tomahawk vs Asus TUF Gaming X570-Plus: Features & Layout
The MSI MAG X570 Tomahawk motherboard comes with a clean and opulent layout where you can find what you are looking for. We were stunned by the sublime design of the unit. The board comes with exceptional features embedded in it.
The layout comes with black and grey colors that give it a sublime look. You can find everything that you want exactly where they are supposed to be. The unit comes with 3 x USB3.2 Gen 2 Type-A, 1 x Ethernet LAN RJ-45, and 1 x USB3.2 Gen 2 Type-C ports.
Besides, it also comes with 1 x HDMI, 2 x USB3.2 Gen 1 Type-A, 2 x USB2.0 ports. On paper, the MAG X570 Tomahawk looks exceptional; there is no reason why it cannot be better than most in the market for the $260 price range.
This AM4 motherboard comes with sublime features & layout. For now, let us find out more about the Asus model. Its aesthetics is similar to the earlier TUF models. You can find that it comes with grey industrial heatsinks.
You can notice 4 memory slots with support for ECC and non-ECC DDR4 memory. It comes with a capacity of 128GB. The unit also includes 2 full-length PCIe 4.0 slots operating x16 and x16/x4. It also comes with HDMI 1.4b and DisplayPort video output on the rear panel.
The motherboard also has Realtek's NIC line up including the Intel AC 9260 802.11ac wireless. The unit has 6-layer PCB and an ATX motherboard. We noted that apart from the SATA connectors, headers and port placement are quoted nicely.
It comes 1x CPU fan header, 1x AIO Pump header, 3x standard 4-pin fan headers. There is also a 1x CPU option header that adequately supports PWM control modes. Additionally, you can notice that the top slot comes shielded using Asus Safe slot metal wrapping.
The Asus TUF Gaming X570-Plus motherboard is part of their TUF series known for its association with the Republic of Gamers or ROG. This has led them to become one of the most popular PC hardware vendors on the globe.
It is one of the most budget-friendly boards on the market when keeping an eye on the X570 family. The performance was good when compared to other models that we have reviewed for some time now and overclocking worked without any issue.
Let us read about the software and firmware.
MSI MAG X570 Tomahawk vs Asus TUF Gaming X570-Plus: Software and Firmware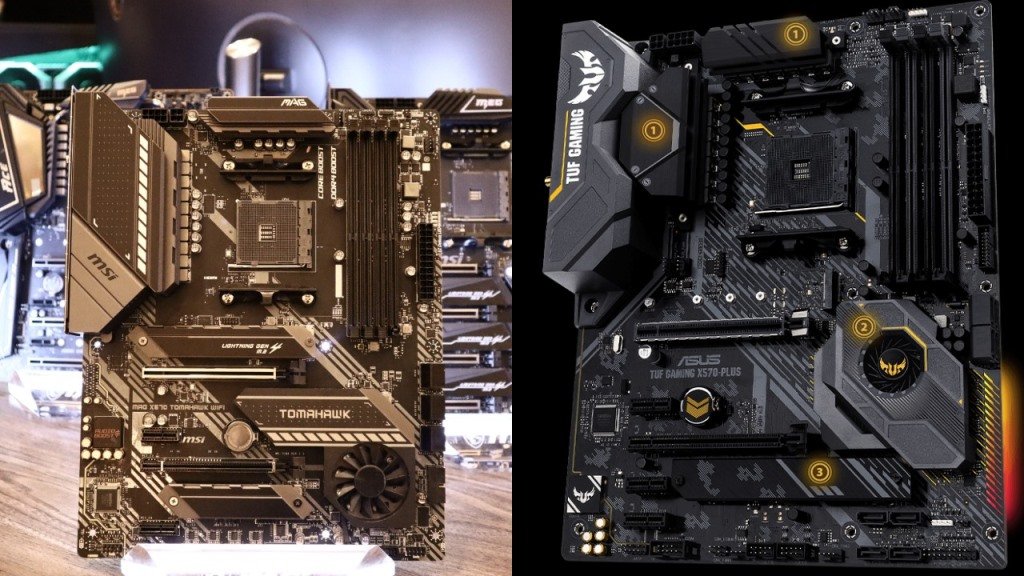 The MSI MAG X570 Tomahawk motherboard comes with spectacular features in it. Our tester felt that it could deliver a balanced quality set for a competitive price. When you expect high-quality performance, then you should be willing to shell out the money.
We were slightly disappointed that it does not consist of Wi-Fi and has 6 USB ports at the rear I/O. Our tester found that you could place a Ryzen 5000 series processor on it and watch the machine perform.
Though you have to flash the BIOS, we did not face too many problems. Many users have complained about that. You can refer to the videos provided on YouTube and follow the instructions given in there.
Besides, you can make use of the manual that contains the instructions. Our tester was able to perform it in a matter of minutes; we refute those claims from users. The Asus TUF Gaming X570-Plus comes with a sleek design.
You can be assured about the immense features and the sublime layout too. This model comes with 8 SATA ports and 4 DIMM slots. It is capable of supporting close to 128GB of DDR4 RAM. Infused in the board is also the networking and audio in the form of the Realtek L8200A GbE NIC and Realtek ALC S1200A audio codec.
It also comes with a 7.1 surround and DTS audio.
MSI MAG X570 Tomahawk vs Asus TUF Gaming X570-Plus: Overclocking
If you have read our reviews, you would know by now that we place more attention on the overclocking abilities of the motherboard. The same can be said here. Both the motherboards come with incredible overclocking capabilities.
The MSI MAG X570 Tomahawk motherboard is an exceptional choice for the quote. You can compete with the board using other expensive units having similar VRM temperatures. Our tester is genuinely stunned by the features infused in the unit.
They have resolved the heating issues that were plaguing the earlier models. Though we did find some initial heat lag in it, the unit performed well with time. Probably users who have used it for more than 6 months to 1 year can have a say on that.
We were delighted to use the MSI motherboard as it comes with features that you can find on several high-end AM4 processors. On the other hand, the Asus TUF Gaming X570-Plus unit comes with exceptional specifications.
You can overclock the Ryzen 7 3700X (if you plan on using it) effortlessly. It offers you with gaming-centric units coming with exceptional protection on several vital parts, including DIMM and PCIe slots.
These changes infused on the motherboard have made it exemplary. You would be delighted to know that it is one of the cheapest motherboards if you look for the budget X570 category. This is also ideal for solving the troubleshooting issues that you may have when you enter Windows.
Talking about the Asus model, the AMD range and X570 chipset demand have seen a massive enhancement in the price. We do realize that the needs of PCI Express 4.0 design can be quite expensive, but they are worth their cause.
When you are looking for a board that provides you with the benefits of the X570 platform, then the TUF Gaming X570-Plus could be one of the AMD motherboards of yore. Overall, we are quite happy with how TUF Gaming has racked up most contenders in the market.
In conclusion, the overclocking of the motherboard is genuinely admirable. Asus has never advertised this one as a beast or the ultimate warrior. But it did offers us close to the mark of 4.35 GHz using all 12 cores when testing on the Ryzen 9 3900X.
MSI MAG X570 Tomahawk vs Asus TUF Gaming X570-Plus: Price
The pricing of the MSI and Asus comes with a slight difference. It may play a significant role in choosing the winner for this comparison review. The MSI MAG X570 Tomahawk gaming motherboard is priced under $260.
Our tester felt that they had priced the motherboard slightly higher than they should have. The Asus TUF Gaming X570-Plus gaming motherboard is priced under $200. It comes with several features infused in it.
MSI MAG X570 Tomahawk vs Asus TUF Gaming X570-Plus: Verdict
We have ended our review on MSI MAG X570 Tomahawk vs Asus TUF Gaming X570-Plus. We hope you found it suitable for your requirement and have made a choice by now. Both the motherboards are extraordinarily noteworthy and stunning.
They come with several exciting features and capabilities for the price range. We found these two to be exceptionally capable of performing stringent functions that you usually do not get to see in most motherboards.
Additionally, it comes with 0.9 more audio channels, 1 more PCIe x1 slot, and 1 more USB 3.1 Gen 2 port. All this makes it a comprehensive package for any new PC designer. You really cannot ask for more from a unit.
The MAG X570 Tomahawk motherboard is quite impressive but is also costly. To be honest, it comes with capable specifications that can see you through on your new PC or device. But we felt that it lags in certain areas for a $250 price tag.
There is no reason why you need to spend more than $500 for the VRM thermals on your unit. The Tomahawk VRM is overkill that does not get overburdened past 90degree Celsius for the 4.3 GHz OC, and it won't matter.
It worked just fine on the Ryzen 9 3950X and stunned us even in the hot surrounding without any flaw. The Asus RUF Gaming X570-Plus motherboard would be the best option for the price at $190.
Though the Tomahawk is the ultimate warrior in terms of specifications and did its job quite well, the unit could operate 15degree Celsius cooler than it was supposed to. On the other hand, the TUF gaming peaked at 78degrees Celsius, providing you with a sublime experience.
The MSI MAG X570 Tomahawk motherboard with 267MHz higher RAM speed, 3200MHzvs2933MHz, has 3 more fan headers, 2dB higher signal-to-noise ratio (SNR), 1 more RJ-45 ports, and 2 more USB 2.0 ports.
This does not necessarily mean that X570 Tomahawk is better than the Gaming X570-Plus motherboard. However, the Asus TUF Gaming X570-Plus has 2 more SATA 3 connectors, 2 more USB 3.0 ports, excellent support to USB charging boost, and 1 more PCIe 4.0 x16 slot.
Our winner, based on the above review, would be the Asus TUG Gaming X570-Plus motherboard. When you are keen on going for the X570 unit, you might want to opt for the Asus model. You don't have to be an MSI fan to decide on choosing the MSI MAG board.
James Smith has always been intrigued by electronic products since his childhood. After his post graduation in electronics from a popular university, he decided to pursue a career in the electronics sector. But his calling for writing about these marvellous pieces of work got the better of him. That is how UBG was started. With a writing career spanning more than 12 years, James has worked on several hundred product reviews. During his free time, he like to spend time with his pet dog and relax in the swimming pool.