The graphics cards market has been witnessing a steady increase in the demand for the numerous models. You can find a barrage of graphics cards sold for reasonable prices in the market.
However, today we will be taking a look at two top-end models from Nvidia. The manufacturer is a known face in this industry. They have been at the forefront of things and have the capability to produce unique graphics cards for consumers.
We will read about the Nvidia GeForce RTX 3080 Ti vs Nvidia GeForce RTX 3090 GPUs. The announcement was made in Computex 2021 keynote. The maker knew that they had to do better than their existing popular RTX 3080 model.
Have they been able to do that is for us to find out today through the post? The Nvidia GeForce RTX 3080 Ti graphics card is a fantastic product that comes with its own features. You can notice that it has better specifications than most of the previous models released by the maker.
We are talking about the GTX 1080 GPU that was a tremendous hit among the masses when it was sold in the market. Then they brought the GTX 1080 Ti and eventually other models. They did their job exceptionally well, and users, especially gamers, were satisfied.
Unfortunately, if you look closely, the foundation of the Nvidia Ampere architecture is not changed. You can find ample support for DLSS and ray tracing. There is also a bit of improvement in the driver system.
The RTX series itself comes at top-of-the-line variants in the Nvidia products. We have agreed with them because the Nvidia GeForce RTX 3090 GPU is the best for now. This model comes with distinctive features that have never been seen before in the market.
That also includes its price point. Yes, we will be talking about that at the near end of the review in the pricing segment. It comes with powerful performance and a decent cooler system. They both cost a lot and will leave a dent in your bank balance.
If you look at the specification sheet between the RTX 3080, RTX 3080 Ti, and the RTX 3090 GPUs, it is quite apparent that the RTX 3080 is at the end. Now, from the two models, which unit should you pick out and why, and to know that, please read and find out the winner at the end.
Nvidia GeForce RTX 3080 Ti
Nvidia GeForce RTX 3090

PROS

PROS

The GPU is designed is excellent and has an opulent build quality.

The graphics card has a stunning cooler design.

It has AV1 encoding and PCIe 4.0.

It comes with a 2x 8-pin converter for new 12-pin power.

The product has a new enhanced DLSS.
The model comes with stupendous design quality.

The unit is the quickest graphics card in the market as of now.

It comes with the SLI compatibility feature in it.

It has twin HMDI ports for additional power.

The cooler in the product is exceptionally stunning.
CONS
CONS
The GPU can operate with a power limit.
Inadequate performance compared to the RTX 3080 GPU.
Key Specifications
| SPECIFICATIONS | Nvidia GeForce RTX 3080 Ti | Nvidia GeForce RTX 3090 |
| --- | --- | --- |
| Name | GeForce RTX 3080 Ti 12GB GDDR6X PCI Express 4.0 Graphics Card | NVIDIA GeForce RTX 3090 24GB GDDR6X PCI Express 4.0 Graphics Card |
| Brand | NVIDIA | NVIDIA |
| GPU Chipset Manufacturer | NVIDIA | NVIDIA |
| Model Number | 900-1G133-2518-000 | 9001G1362510000 |
| Maximum Digital Resolution | 8K (4320p) | 8K (4320p) |
| Advanced Graphics Rendering Technique(s) | DLSS (Deep Learning Super Sampling), Ray tracing | Ray tracing, DLSS (Deep Learning Super Sampling) |
| GPU Clock Speed | 1370 megahertz | 1.4 megahertz |
| GPU Boost Clock Speed | 1670 megahertz | 1.7 megahertz |
| Video Memory Capacity | 12 gigabytes | 24 gigabytes |
| Type of Memory (RAM) | GDDR6X | GDDR6X |
| Maximum Number of Displays Supported | 4 | 3 |
| Interface | PCI Express 4.0 | PCI Express 3.0, PCI Express 4.0 |
| Output | DisplayPort, HDMI | HDMI, DisplayPort |
| API Supported | DirectX 12 Ultimate, Vulkan RT, OpenGL 4.6 support | DirectX 12 Ultimate, Vulkan RT, OpenGL 4.6 |
| Warranty | 3 Years | 3 year |
PERFORMANCE
The performance of any GPU is essential. Depending on the implementation, users choose them eventually. We begin with the Nvidia GeForce RTX 3080 Ti GPU that comes with a staggering feature of CUDA cores, ray tracing, and Tensor cores.
You will also want to know that the memory speed, clock speed, and bandwidth are the same as that of the 3090 GPU. Then what exactly is the difference between the two GPUs? Is it worth even knowing the specifications?
The video memory in the 3080 Ti GPU is only 12GB, which is significantly lower than the 3090. This 4K GPU can effortlessly manage 60+ fps with the maximum settings. You can find some minor changes in games like Assassin's Creed Valhalla, but otherwise, they are good enough.
It comes with much higher performance compared to older units like the 2080 Ti. You can find close to 50% memory bandwidth. It can be enhanced to more than 50% quicker on the 2080 Ti at 4K and 1440p.
Would you please do know that the 3080 Ti model comes infused with Ethereum hashrate limiter? This value is almost the same as what was got on the previous model on the GeForce RTX 3060. Though the maker has done a phenomenal job in this unit, we hope not to return.
The Nvidia GeForce RTX 3090 GPU is undoubtedly the bigger one here in terms of specifications. It comes with massive video memory. You can notice a 24GB video memory. This makes this model ideal for rendering and high-performance tasks like graphic designing.
You would want to be smart when you are nearly going to invest around $1500 on a GPU. Please do realize that you get yourself a decent laptop or some other product with that amount.
Though GPUs play an important role in the overall performance of a laptop or gaming PC. It does not necessarily curtail that kind of amount as we are dealing with in here. This makes the 3080 Ti a reskinned version of the 3090, and nothing much.
Of course, it is cheaper by $300, that's all. Though there are some minor differences in the figures of the CUDA cores and the clock speed, you do not really catch them when you are playing games or using the GPU.
There is also the power consumption in the GPUs. It comes at 350W for the 3090 model and the same on the 3080 Ti. You may want to realize that you will shell out close to double what the 3080 model costs.
It is important that the sellers note the availability of the products in the market. Undoubtedly, that is going to be a massive predicament in the days to come if the demand is going to exceed the supply.
We are not going to deny it. The performance of both GPUs are tremendous and come with their own capabilities. However, it is without a shadow of a doubt that the RTX 3090 GPU is much faster than the other models in the market. That should give you an idea of things.
RAY TRACING & UPSCALING
The ray-tracing & upscaling is something that we take seriously because if you have been reading our reviews, it can either make or break a GPU. The graphics cards the ray tracing lets graphic designers and game developers produce the right kind of environment.
This was not possible few years ago for gamers and designers as well. Thanks to ray tracing, now gamers and users can enjoy their tasks and games with utmost glee. However, the GPU must come with the ray tracking capability.
The ray tracing on the Nvidia GeForce RTX 3080 Ti GPU is terrific. The quality mode (2x upscaling) was used in the unit, and the DLSS results were obtained. Users have commended on the capabilities got on 1440p and 1080p with 4K ray tracing.
You will be delighted to know that even the quickest models can be pushed beyond what they can actually go to. The traditional rendering techniques were used, and we can say ray-tracing comes to an area for the maker to be boasting.
Few games that come with light & effects, including Control, Fortnite, Cyberpunk 2077, Minecraft, can benefit from the RT cores present on the DLSS 2.0. Coming to the other model that is here for discussion, the 3090 GPU is a splendid choice for video gaming and designing.
This feature is possible because of the considerable video memory it has. Its temperature was around the accepted mark of 95Celcius. If you are somebody who like RGB lighting, then you will be happy. This unit has RGB lighting on it.
All in all, the ray tracking & upscaling on both GPUs are quite close enough. Since they are of the same make, you can say that the features can be slightly different from each other. The RTX 3080 Ti supports multi-GPU configurations through SLI.
Additionally, it also comes with 2 HDMI 2.1 ports, and you can find 3 DisplayPort 1.4a outputs as well. In the remaining of the GPU, you can find mainly on the 3000 series models. However, the remaining models come with similar features.
The 3090 model comes with second-generation ray tracing cores. In the tensor cores are based on the third generation DLSS for framerate boosting, OpenGL 4.6 support, and they offer decent support for a resolution of 7680 x 4320 and close to 4 monitors.
Nvidia GeForce RTX 3080 Ti vs RTX 3090 Benchmarks
3D DX9 Graphics Benchmark (RTX 3080 Ti vs RTX 3090)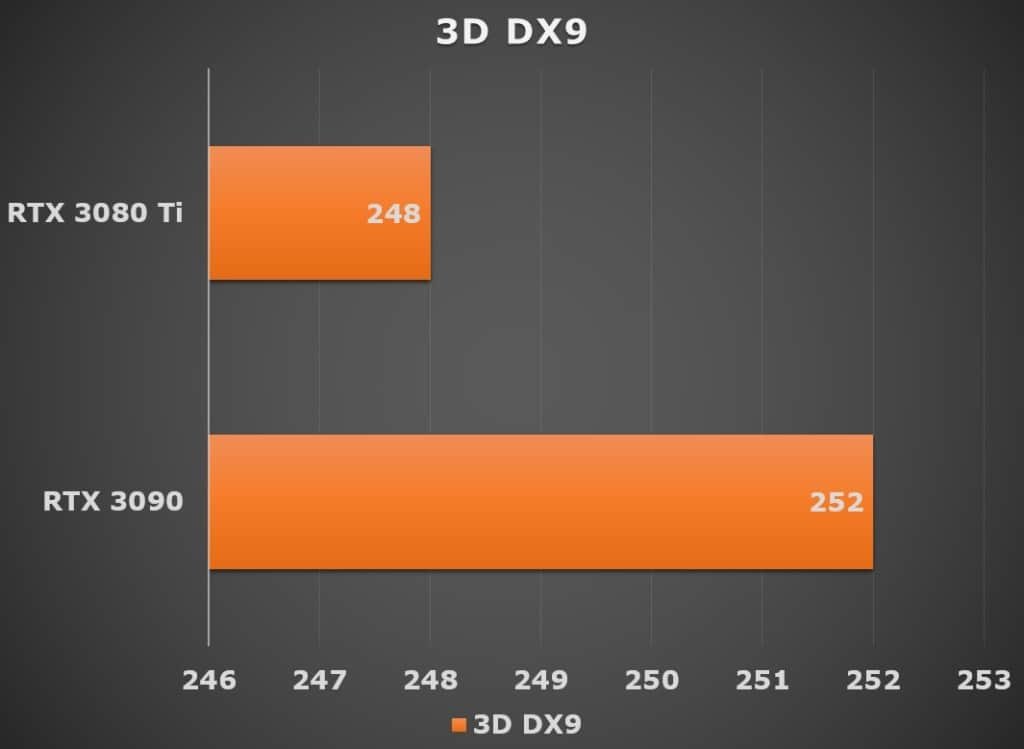 3D DX10 Graphics Benchmark (RTX 3080 Ti vs RTX 3090)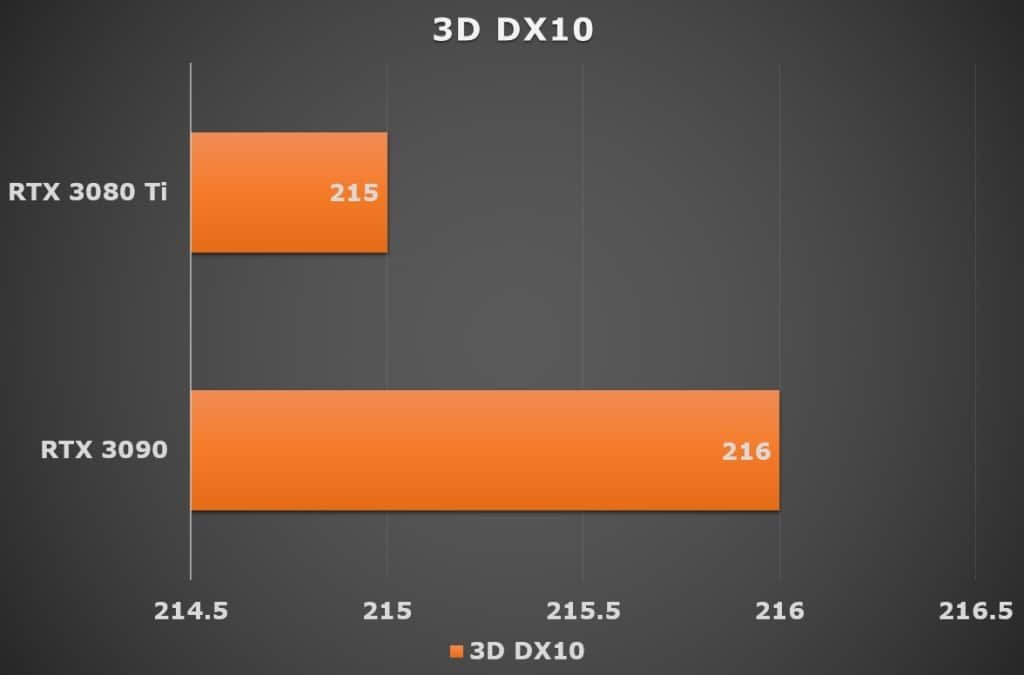 Average Score (EFps) RTX 3080 Ti vs RTX 3090
Overclocked Score (EFps) RTX 3080 Ti vs RTX 3090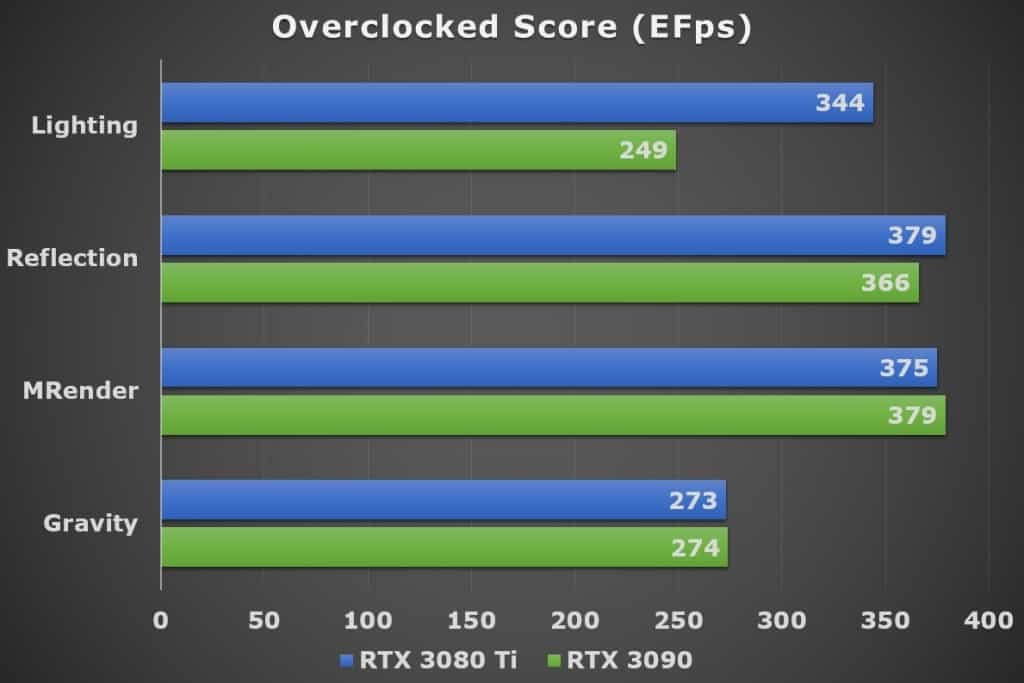 PRICE & AVAILABILITY
The Nvidia GeForce RTX 3080 Ti GPU is priced under $1200. The graphics cards that were sold before it came for a similar price and remained out of stock for quite some time. We can say that the same situation is most likely going to happen in here.
The Nvidia GeForce RTX 3090 GPU is priced under $1500. Now, as you can see, the prices of both GPUs are quite high. If you look closely, you can purchase top-end devices with them. Our tester noted that the shortage of GPUs worldwide can significantly affect pricing in a few months.
There aren't going to be any discounts on them, that is for sure. Today, you can find the RTX 3080 GPU selling for more than $1500 and the 3090, well, finds itself move than $2000. Keeping this in mind, you will want to play your cards well.
You can find the RTX 3080 Ti Founder's Edition sold for $1200 and the 3090 GPU getting sold for around $1500. We found on eBay; the 3090 unit was getting put up for $3000. Now that is close to $1500 more than its price point and on most others.
Nvidia GeForce RTX 3080 Ti vs 3090 – Verdict
This is it. We hope you enjoyed the review between Nvidia GeForce RTX 3080 Ti vs 3090 GPUs. They come with outstanding features & specifications. The Nvidia GeForce RTX 3080 GPU is similar to the performance of the GTX 1080 GPU.
Today, users can use it for playing games; it is just that they cannot push any further. Here the RTX 3080 GPU comes into play, and when you are ready to pay $1200 for the graphics card, you are spending almost $300 higher for getting more from the VRAM and a better cooler.
When compared to the RTX 3080, the RTX 3080 Ti is 10% quicker for a higher price point. Besides, the latter cooler may not be able to blend additional GPU cores and GDDR6X memory. Reading the capabilities of the RTX 3080 Ti GPU, it is similar to the 1080 Ti and RTX 2080 Ti.
However, it is a few months late the scenario. Our only argument, in this case, is that the GPU priced quite expensive. There is nothing wrong with the RTX 3080 Ti, and you may not actually mind the specifications.
The 3090 GPU is similar on levels to Titan RTX and Titan V GPUs. We feel that the RTX 3080 Ti is a good option for gaming and does exceptionally well compared to the 3080 GPU. The Nvidia GeForce RTX 3090 GPU is a good graphics card.
It is expensive and, in a way, entirely too much for merely gaming. Those of you who are into graphic designing, coding, high-performance tasks can consider using it. Using the extra video memory can be helpful for 3D modeling-related projects.
The 3090 GPU is the top-end model from the maker, and you will have to shell out a lot of money. That is arguably the best graphics card that we have seen in a long time in the market. However, we will not recommend its usage for mundane tasks like gaming and browsing.
Of course, it is a different tale when you can afford it. Our winner between the Nvidia GeForce RTX 3080 Ti vs Nvidia GeForce RTX 3090 GPUs is the 3090 unit. This model was quite obvious. However, you might want to consider the RTX 3080 Ti GPU when you can afford it.
James Smith has always been intrigued by electronic products since his childhood. After his post graduation in electronics from a popular university, he decided to pursue a career in the electronics sector. But his calling for writing about these marvellous pieces of work got the better of him. That is how UBG was started. With a writing career spanning more than 12 years, James has worked on several hundred product reviews. During his free time, he like to spend time with his pet dog and relax in the swimming pool.