If you are somebody who is having a dilemma on whether you should go in for the graphics card now, then we might be of help. You see, the market today in 2022 can provide you with some spectacular GPU models.
That is right. Thanks to the competition, low stock out there, and aggressive pricing, you can find tons of products being sold by reputed manufacturers. If you have read our reviews before, then you would know that we focus only on the most popular makes in the segment.
Today, we are going to be discussing about the Nvidia GeForce RTX 3050 vs AMD Radeon RX 6600 GPU models. You may have read in most of the reviews that you either get what is available for you at the moment or go in with an expensive model.
That is because they are available in the black market, albeit for a higher price. Today can be your lucky day. With these two models out there, you don't have to fret about it. Though some of the models still available in the market are pretty expensive, they are in stock.
That is the most vital thing for you, is it not? But we can remain positive about the situation. That is because you can expect some exceptional models in the market after a few months. Today's models are kind of mid-range and low-end.
Besides, you don't have to worry about the price point because they are under $500. Most of the top-end GPU models are above $500, and we really don't feel they bring out the best from the PC device that they are embedded in.
Hence, we decided to do some soul searching and came up with these models just for you. The Nvidia GeForce RTX 3050 GPU model may not be the most powerful of them all. It does have some credentials, but you can find them better if you look deeper.
But it is an Nvidia product, and you can expect some fireworks from where you don't normally expect most others to do. We have put it up with a sensational model in the form of the AMD. Which will do better, you think?
About a month ago, AMD released the AMD Radeon RX 6600 GPU model in the market. It became the first graphics card to make use of the Navi 23 GPU. Today, you can find the feature on most of its 6000 series products.
The issue of pricing & availability keeps on coming up in most of our reviews on GPUs because such is the state of affairs. However, the supply is better on the RX 6600 GPU model than on most of the others.
Let us, without further ado, find out more about the RTX 3050 vs RX 6600 GPU models.
You can also check our AMD RX 6600 XT vs Nvidia RTX 3060 comparison.
NVIDIA RTX 3050
AMD RX 6600
PROS
PROS
The unit has good 1080p gaming with high visual settings.

The model comes with 8GB of GDDR6 RAM.

It has adequate ray tracing and DLSS.

It offers low power consumption & low temperatures.

The GPU model provides eloquent HDMI 2.1 support.
The model is elegantly designed for a GPU.

The unit comes with a single 8-pin power connector.

There is a decent 1080p performance.

It offers you with a fantastic supply.

The pricing is reasonable among the models.
CONS
CONS
The product is slower than RTX 2060 and RX 5600 XT.
It is a lot slower than the RTX 3060 GPU model.
CHECK ON AMAZON
CHECK ON AMAZON
Pricing & Availability
The Nvidia GeForce RTX 3050 GPU model was released in the market at the beginning of 2022 for $250. But you may have to cough up more when you check the retailers and traditional stores.
In stores, you can find them for $350 or even $500. Yes, the market situation for stocks is somewhat reeling at the moment. We can expect it to get better in the coming weeks or months. With these kinds of prices, the GeForce RTX 3050 is in the AMD RX 6600 GPU model price region.
But the AMD Radeon RX 6600 GPU model was released into the market at the end of last year in 2021 for $330. You can find it in stores for $370 or even $490. We were expecting that kind of pricing from retailers.
That is because due to the given demand for GPU models, especially for Nvidia & AMD, their prices are bound to go higher. The price range between both GPU models is almost the same. That is a good thing as far as the price point is concerned for you.
Now, you can compare the two GPUs for the design & performance and then decide which to go with. Both have tremendous potential in them to make a mark in the market. The performance in the ray tracing, FSR, and DLSS will have a significant say on that.
Also read Can You Use Nvidia GPU with an AMD CPU – Is it Worth Doing?
NVIDIA RTX 3050 vs AMD RX 6600 – Specifications
| Specification | NVIDIA GeForce RTX 3050 | AMD Radeon RX 6600 |
| --- | --- | --- |
| Fabrication Process | SAMSUNG 8nm FFN | TSMC N7 |
| Architecture | Ampere | RDNA2 |
| Infinity Cache | N/A | 32MB |
| CUDA Cores/Stream Processors | 2560 | 1792 |
| ROPs | 48 | 64 |
| Texture Units | 80 | 112 |
| RT Cores/Ray Accelerators | 20 (2nd Gen) | 28 |
| Tensor Cores | 80 (3rd Gen) | N/A |
| Game Clock/Boost Clock | 1777MHz | 2044/2491MHz |
| Memory | 8GB GDDR6 | 8GB GDDR6 |
| Memory Frequency | 14GHz | 14GHz |
| Memory Bus Width/Bandwidth | 128-bit / 224GB/s | 128-bit / 224GB/s |
| TGP/TDP | 130W | 132W |
| PRICE | $249 | $329 |
Design
The design of the GPU model is one of the most crucial aspects of things. Many users and PC developers don't seem to take this point seriously. Nvidia is known for its breathtaking design qualities.
It is evident in the GPU model. The Nvidia GeForce RTX 3050 GPU model comes with a good design. It is produced on the Ampere architecture that was designed on the 8nm FNN found on the Samsung models.
The unit comes with 80 Texture Units, 2,560 CUDA Cores, 48 ROPs, 80 3rd Gen Tensor Cores, and 20 2nd Gen RT Cores. You can find that the model comes with 8GB GDDR6 memory provided at 14GHz on a 128-bit memory bus.
You would want to know that the boost clock is set at 1777MHz. It has a power consumption that is present at 130W. You can find these specifications ideal for playing some fantastic games like Assassin's Creed Odyssey and Assassin's Creed Valhalla.
The fps seemed to do well on both and were simply amazing. Users who have played such games claim most of the GPU units that are priced under $500 are not able to provide such figures. However, ray tracing is an area that works extremely well with the model.
The AMD Radeon RX 6600 GPU model has a good design that is suitable for most PC cases. That is probably the main benefit that you have when using the AMD model in the design of your PC cases.
It is based on the AMD RDNA2 architecture that was produced using the TSMC N7. You would be amazed to know that it comes with 1,792 stream processors, 28 compute units, 28 ray accelerators, 64 ROPS, and 112 texture units.
The model comes with 32MB of Infinity Cache, and the game clock is set at 2044MHz. Not to mention, the boost clock is set at 2491MHz. You can find the unit from AMD's add-in board (AIB) partners.
It has 8GB of GDDR6 memory at 14GHz on a 128-bit memory bus. It takes in power consumption of 132W, which is slightly higher than the Nvidia GPU unit. So, if you are somebody who is keen on lower power consumption, then the Nvidia model it is.
The software of AMD, the Radeon software, offers a maximum boost clock of 2704MHz. However, you will want to know that are several methods by which you can report the boost. Sometimes, you can find the graphics card infused with the MSI models.
It also comes with a manual that does not impart much information to you. For most of you, that should not be quite vital, especially when you are dealing with a digital file that should come with excellent features.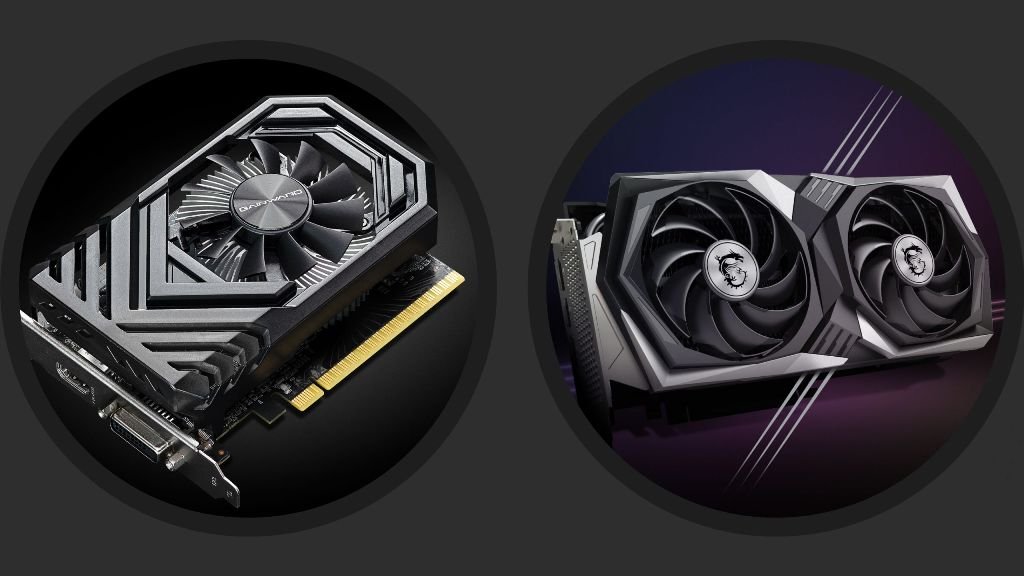 Performance
The performance of the Nvidia GPU models has always been up to the mark. They seldom give you a reason to worry about. The same can be said about the Nvidia GeForce RTX 3050 GPU. Users can play games at 1440p without having to push harder.
Some of the games could be the Three Kingdoms' Battle. There is also the Watch Dogs Legion that did pretty well at 36fps. But these figures may not get you very far in an already competitive market.
It can provide you with the additional cores and the memory that give out the higher resolutions in there. The Assassin's Creeds games came with 43fps in Odyssey. You will be delighted to know that there is a 10fps advantage present here over the RTX 3050 GPU model.
It also just goes to show that the power of the DLSS makes a massive difference in here. While users can make use of the ray tracing, you can adjust the settings to use the 37fps without getting further down.
Why would you want to use the older graphics card when you can make use of this newer model? The RTX 3050 GPU model provides you with stunning capability over more others for just under $400.
The AMD Radeon RX 6600 GPU model provides you with an exceptional performance that you can make use of in gaming. It works charmingly on 1080p games. You will be delighted to know that some older games can also be played and provide you with lively 60fps.
But higher games can cause some struggle at 1080p settings. We can say that the main problem here could be that these GPU models don't seem to provide you with exceptional features for the performance to shine.
It has been slimmed down to the Navi 23 model and provides you with a 20% reduced power than that of the XT model of the same variant. According to our research, we found that the RTX 6600 GPU model was 4% slower than the RTX 3060 GPU model.
Sometimes it becomes obvious that the gap can increase the resolution and the quality of the GPU model. That could be possible because of the Infinity Cache advantages get down when you work in high resolutions.
The RX Vega 64 is another thing that you would want to know about. It performed better when it was pitted against the XT model of the 6000 series from AMD. It is for the 1080p resolution. You will be satisfied to know that their efficiency has improved over time, with a low price.
Having 8GB of VRAM, the 1080p ultra is not a problem at all for this GPU model. We are pretty impressed with the performance of the GPU because it was able to give 95 fps. This is slower than the RX 6600 XT.
Moreover, the unit is a little slower than the RTX 3060, which is a shame, really. This shows that you do not require more than 8GB of VRAM for this resolution. If you are somebody who enjoys gaming on the 1080p, then you would not really delight with the performance.
But it is kind of acceptable. This was the general feeling among most gamers. You would want to know if the RX 5700 GPU model could give you an opulent visual at 1080p. It was present in the market until the pandemic showed up, and then there were massive shortages reported throughout the globe.
Of course, the graphics card has not lost most of its value, but the same cannot be said about the RX 6600 GPU model, which is more efficient.
NVIDIA RTX 3050 vs AMD RX 6600 Benchmarks
| 3D DX9 Benchmarks | FPS |
| --- | --- |
| NVIDIA RTX 3050 | 94 |
| AMD RX 6600 | 127 |
| 3D DX10 Benchmarks | FPS |
| --- | --- |
| NVIDIA RTX 3050 | 75 |
| AMD RX 6600 | 129 |
| Average Score FPS | NVIDIA RTX 3050 | AMD RX 6600 |
| --- | --- | --- |
| Lighting | 103 | 86 |
| Reflection | 88 | 131 |
| MRender | 85 | 184 |
| Gravity | 73.5 | 88 |
| Overclocked Score FPS | NVIDIA RTX 3050 | AMD RX 6600 |
| --- | --- | --- |
| Lighting | 110 | 93 |
| Reflection | 115 | 139 |
| MRender | 88 | 202 |
| Gravity | 77 | 94 |
FAQs
Is the RTX 3050 or RX 6600 better?
The RX 6600 GPU model is much quicker than the RTX 3050. If you notice at 1080p, the RX 6600 GPU is able to provide you with more than 62% more performance than the other unit. It is able to push the frame rate up to 98fps, which is pretty impressive.

However, the RTX 3050 GPU model tends to buckle down in the 1440p itself. You can see that its performance which was more than 80% quicker for the 67fps. This becomes a tat slow. The GPU performance of the RX 6600 GPU unit is phenomenal for the moment.
What is the Nvidia equivalent to the RX 6600?
The GPU performance of the RX 6600 is splendid. You can compare it to the GeForce RTX 2060 Super PC model if you want. Of course, there are several GPU models that you can compare to the unit.
Is the RX 6600 XT better than the RTX 3060?
As we read, the RTX 3060 has the edge over the other model in the 1440p ray tracing performance. However, the overall performance was quite similar, which is pretty interesting to know.

Some users also claim that the gaming performance is pretty much the same as when they played Apex Legends. The RX 6600 XT has a slight advantage when you play at 1080p and is slightly slower at 1440p.
Is it worth buying RTX 3050?
When you are planning on designing a PC device with top-notch graphics in there, then the RTX 3050 GPU model is an excellent option for you. It is delightful to note that the GPU unit comes with stunning graphics capability, with the top-end RTX 3060 just slightly better.
What is the RTX 3050 equivalent to?
The RTX 3050 is equivalent to the Nvidia GTX 1660 Ti. The performance of the RTX 3050 GPU model is almost on par with the Nvidia GTX 1660 Ti. Besides, you will also want to know that the GPU model has remarkable features in the form of DLSS & ray tracing for an opulent visual.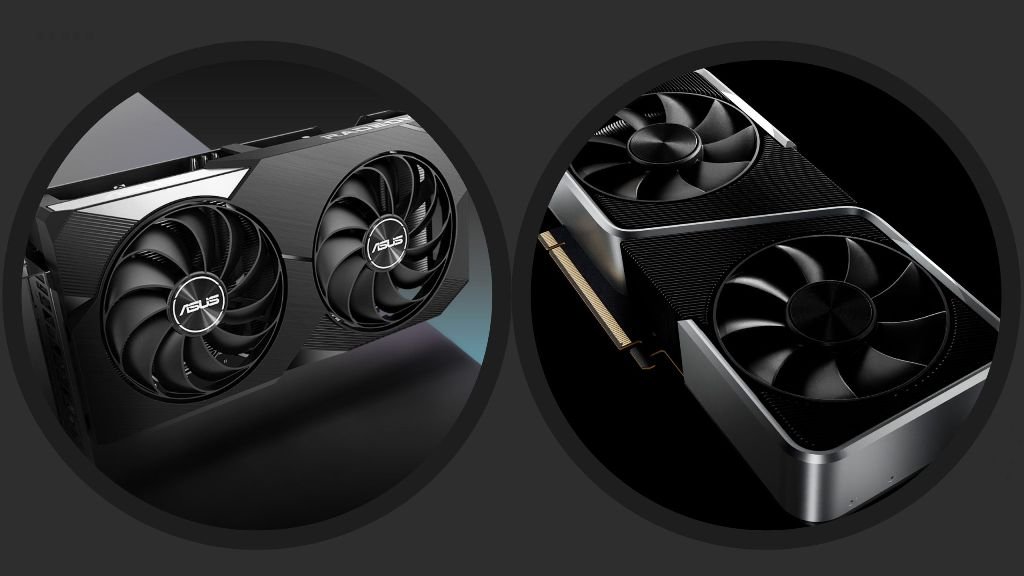 Verdict
We have ended our comparison review on the Nvidia GeForce RTX 3050 vs AMD Radeon RX 6600 GPUs. We hope that you liked what you read and were able to make your decision. Many times, we are inclined to choose the power of the two models put up for discussion.
That does not always have to be the case. Different users have varied requirements like the performance and the price quote of the products. If you are one among them, then you might be mad about the AMD Radeon RX 6600 GPU model in this comparison review.
That is because it does well in DLSS & ray tracing. However, it does not do pretty good at 1080p and has room for improvement in 1440p. The Nvidia GeForce RTX 3050 GPU model is a fantastic unit.
If you are a gamer, we would suggest that you go in for this model. You would love the gaming performance along with the price quote. The Nvidia GeForce RTX 3050 GPU model might be your true calling in the current scenario.
When you are keen on saving some money but looking for amazing performance, the model provides you with the power of DLSS, and its 1080p performance is pretty good. But you also have the AMD Radeon RX 6600 GPU model that provides you with some gains.
Users can enjoy their PC gaming and can see what the next generation offers them with. It begins at $330 and comes with the Navi 23 chip, with a good performance, but struggles at higher resolutions coming with ray tracing.
James Smith has always been intrigued by electronic products since his childhood. After his post graduation in electronics from a popular university, he decided to pursue a career in the electronics sector. But his calling for writing about these marvellous pieces of work got the better of him. That is how UBG was started. With a writing career spanning more than 12 years, James has worked on several hundred product reviews. During his free time, he like to spend time with his pet dog and relax in the swimming pool.