Normally, when you choose gaming headsets priced under $100, you have to accept some compromises like the sound or design quality. It is a known fact. Today, manufacturers have become conscious about the requirements of gamers and have produced models under $50.
These units come with good features and, more importantly, are worth your money. Among them is the Razer Kraken and the Corsair HS60. These two gaming headsets have unique features infused in them, offering exceptional sound and build quality.
This brings you to the question, are they worth purchasing for your gaming or personal needs? Let us find through this comparison review between Razer Kraken X vs Corsair HS60. As you know, $50 and $40 are hardly expensive a price to ask for.
Kraken X sounds awesome when playing FPS games and as well as racing games. They come with a good fit and comfortable wear. You will not have any problems wearing them for several hours when gaming.
They are also quality light keeping in mind this is a Razer manufactured device. We felt that it is on par with Kraken Tournament Edition. This becomes a simple recommendation when you are searching for a cheap device that may not be a definitive one.
The same can be said about the Corsair HS60. Corsair has been in this business for many years now and has been producing sublime headsets. The HS60 is an excellent product that costs under $50, making it relatively cheap, and comes with acceptable features like surround sound.
It is exceptionally designed that is ideal for outdoor use. They may not be suitable for wearing during environments where the noise levels are pretty high, like a fully functioning office or a subway train.
However, they have more than average audio, a powerful design, and comfortable fitting. The microphone is phenomenal, which made us quite impressed with the functioning. As they come wired, the latency is also good, making them suitable for playing games and watching movies.
Without wasting any time, let us read the review carefully.
RAZER KRAKEN X
CORSAIR HS60
BUY NOW
BUY NOW

PROS

PROS

The headset has a slim design.

It is one of the best-looking headsets in the market.

Its fitting is good and snug.

There is sublime sound coming from it.

It is cheaply priced under $40.
It has a robust and robust build quality.

It is exceptionally comfortable to wear for long hours.

The unit is easy to use.

This is a brand for value products in the gaming segment.

It is priced under $50, making it affordable for gamers.

CONS

CONS

It provides you with subpar audio performance.
The unit comes with average software usage.
| SPECIFICATIONS | RAZER KRAKEN X | CORSAIR HS60 |
| --- | --- | --- |
| Product Name | Kraken X Wired Noise Cancelling Over-the-Ear Gaming Headset | HS60 PRO SURROUND Wired Stereo Gaming Headset |
| Brand | Razer | CORSAIR |
| Sound Mode | Stereo | Stereo |
| Connection Type | Wired | Wired |
| Built-In Microphone | Yes | Yes |
| Headphone Fit | Over-the-Ear | Over-the-Ear |
| Adjustable Headband | Yes | No |
DESIGN & COMFORT
The Razer Kraken X models are similar to the manufacture product lineup, elegant. Razer is known for its sublime design qualities in its gaming headsets. Our tester thought that the design is not large similar to older Kraken designs.
The Kraken X appears traditional and elegant. We felt that this budget unit is perhaps one of the best-looking models made by them. Though the top-end models come with retractable microphones, this one doesn't.
You cannot blame them for not having it in a $50 unit. We felt that it was a big distraction from an otherwise sublimely designed product. The weight, comfortable earcup, and medium-size make it the most comfortable units made by Razer.
The Corsair HS60, on the other hand, is another exceptionally designed unit. It comes with a headband that is highly padded for additional comfort. You do not feel that it is quite tight-fitting wearing it.
Besides, the earcups are just the right size, unlike some units that come with large earcups. They can fit easily into large ears without problems. Sadly, the hinges do not come with the motion with a wide angle for a strong clamping feeling.
But they are comfortable and do not cause any kind of pain or fatigue wearing them for few hours. Our tester thought that they appeared premium for the price. No, you cannot get them for colorful tones, unlike most units in the market.
Additionally, they do not come with RGB lighting as they are passive. You will adore the classic appearance and padded headband. We felt a close connection with the HyperX Cloud II design model.
BUILD QUALITY
The Razer Kraken X lives up to the reputation of being a Razer model because of the solid design and build quality. Razer is known for delivering goods. It measures around 7.5 x 6.5."
The gaming headset weighs less than 9 ounces and comes with a black plastic frame that appears quite elegant. You can find the logo of Razer on the earcups that make it look sublime. As said before, the headband is sufficiently padded, giving you top-notch comfort.
The left earcups come with few buttons that are easy to access and use. You can find them with the mute button and the volume wheel on it as well. The volume wheel is slightly lower than where it should have been.
On the other hand, Corsair is known to manufacture exceptionally build gaming headsets. The same can be said about the HS60. It is solid in structure, and the frame is outstanding. Please do note that this is a $50 unit we are referring to.
The gaming headset has large earpads designed using leatherette. It comes with a leather cushion embedded in it. Our tester thought that the leather cushion inside the earcups and the clamping force were just suitable for providing you with adequate comfort.
The tilt angle was also good, meaning that it would fit any size head. Our tester has a large head, and he did not feel any discomfort at all. If you have placed the Void Elite, you will understand that this is a massive improvement from the same maker.
However, if you wear glasses or have long hair, you may feel slightly uncomfortable. which is acceptable for a headset priced in this range. The metal grills make the earcups appear as if they are open-back designs.
The HS60, like most gaming headsets, is a little too bulky for outdoor use, but the understated and high-end look and feel of these headphones will work for most. Overall, using the HS60 was a pleasant experience, and the build quality was sublime.
AUDIO PERFORMANCE
The Razer Kraken X gaming headset offers you with quality sound performance. We tested the unit with few noises, sounds, and games as well. We did that to find out how it could challenge the music genres, and it did an adequate job.
We found that the treble was excellent and suitable for gaming. That is because the vocals came quite clear, but the bass was quite off. We were disappointed by that. Our tester also felt that the sound felt bland at times when listening to metal songs.
In terms of sound quality, the Corsair HS60 offers you with exceptional audio. You can use it for gaming as it comes with outstanding support. We liked the noise-canceling capability of the unit.
Though the outdoor noise isolation does not make it suitable for travel, if you are a frequent traveler, then you would want to reconsider. Its sound leakage is worse when compared to the similarly priced models.
Lastly, it is not the best choice for watching television. However, the comfort and stability for fitness enthusiasts were there. On the whole, using the HS60 gaming headset audio experience was lovely.
All you need to do is plug it in and enjoy how it works sublimely. When you want to make use of the surround sound option, you need to install the iCue software. Though it works marvelously, the capabilities are limited, making you wonder why they even bother having their app.
But it gets the task done efficiently. When you switch on the setting, you can forget about the app because everything works just fine. Gamers should not have any trouble wearing the HS60 for long hours listening to music or gaming.
Typically, there should not be any issue wearing the gaming headset, but you may not want to expect a lot from it.
MICROPHONE PERFORMANCE
The Razer Kraken X comes with a decently performing microphone. The first thing that we want to point out is that this is not a removable unit. Usually, you can find them in top-end models, but sadly, they are not possible here.
It is the least intuitive one. Apart from that, you can connect most devices and consoles with the help of a 3.5mm audio cable. You can also make use of the splitter when you want to separate the microphone.
In conclusion, the microphone is not that great. It comes quite bland at times. We tried recording our voice and, it came clearly. However, there was little feedback. Besides, we could hear plenty of background noises that were quite frustrating.
It is suitable for a gamer, but you may not want to push it beyond that. The Corsair HS60 microphone is also functional for the given price. We found that the recording quality of the microphone was decent.
The recorded sound was quite thin, coming with some emphasis on the treble. That is a good thing because it provides you quality sound. Your voice is detailed and can be heard quite well from the person at the other end.
COMPATIBILITY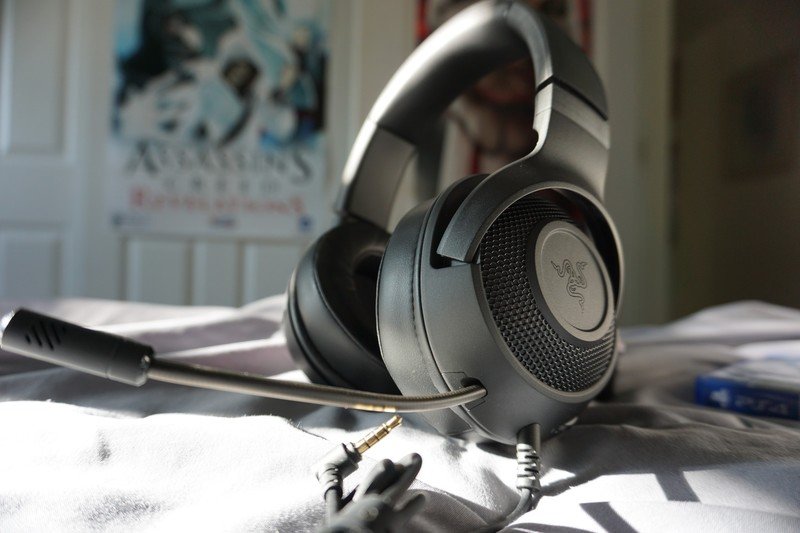 The Razer Kraken X is compatible with most devices and consoles. Some of them include laptops, PS4, and Xbox One. We played games like StarCraft: Remastered and Baldur's Gate: Enhanced Edition, getting sublime audio quality from the microphone.
But we felt that it is light on the bass. The gunplay also lacked the zing factor. We could not hear our teammates at times. On the whole, the compatibility of the headset is quite good. You can effortlessly connect to any number of devices or consoles that you want.
The compatibility of the Corsair HS60 entirely depends on the iCUE software that the maker provides. It comes with an exceptional graphic equalizer and a sublime surround sound option.
Gamers can choose the preset EQ or even design their own if they want to. As the headsets are passive in design, they do not change the setting when connecting them to other devices. You can also plug them into your PC and laptop as well.
PRICE
The Razer Kraken X is priced less than $40, making it relatively cheap or perhaps one of the low-priced units in the market today. This could be the only hindering factor that may sway consumers from choosing the HS60, otherwise an excellent gaming headset.
The Corsair HS60 is priced less than $50. Can a difference of $10 decide for you? Both the gaming headsets come infused with exceptional features them.
You can also think of upgrading once you have used them. But, when you are on the lookout for a cheap and functional headphone, then these models can be helpful in your cause. For the price, they are highly suitable for gaming, listening to music, and watching videos.
VERDICT
We have ended our comparison review of the Razer Kraken X vs Corsair HS60 gaming headsets. They both are exceptionally feature-rich units for the given price range. We can highly recommend them for those of you in search of budget products.
However, if you look at the Razer Kraken X, it is not entirely perfect despite being a product of a reputed brand. The sound quality and microphone performance left a lot to be desired. But for $50, you get what you want, and it comes solidly designed, the in-sound feature was good, and fitting is comfortable.
You can wear it for several hours without feeling any discomfort. We also liked the design features in it when compared to Razer's product lineup. You get all this for under $50, which is probably the main USP of the product.
On the whole, the Kraken X is a decent product, and shortly, we can see some tweaks on it to make it an exceptional device. The Corsair HS60 is wired headsets from the manufacture.
They are decently built and come with exceptional comfort. Besides, the sound profile is much better. The model makes use of the TRRS cable and USB. But the microphone performs much better than the Kraken X.
It also comes with outstanding surround sound providing you with more juice than most gaming headsets in the same price range. Unfortunately, it comes with a USB cable that is not detachable.
This makes them not suitable for the causal purpose. Yes, we have a winner among the two budget units. We strongly feel that the Corsair HS60 deserves to be crowned here. It comes with marvelous features, and the sound quality was convincing for a $50 headset.
ALSO READ:-
James Smith has always been intrigued by electronic products since his childhood. After his post graduation in electronics from a popular university, he decided to pursue a career in the electronics sector. But his calling for writing about these marvellous pieces of work got the better of him. That is how UBG was started. With a writing career spanning more than 12 years, James has worked on several hundred product reviews. During his free time, he like to spend time with his pet dog and relax in the swimming pool.