In this comparison review, we will be taking a look at the Plantronics RIG 800LX vs Arctis 9X gaming headset. The demand for wireless gaming headsets is gaining prominence in the gaming market.
Professional gamers are particular about the brand, audio performance, and price. The RIG 8000LX wireless products are comfortable and come with exceptional design. Besides, you can also easily access the controls that are placed on the earcups.
The controls are accessible and easy to use. Gamers also will like the battery life is breathtaking. The audio quality is nicely balanced. You can use the unit for gaming and entertainment. Unfortunately, you may not be able to use them for outdoor activities like exercising.
Few users also felt that the build quality is cheap and not premium. You may also have some distortion in the units. You can also correct them by turning the channel mixing dial to a complete low to ensure that you do not lose the audio entirely.
On the other hand, the SteelSeries Arctis 9X gaming headphone is compatible with several consoles in the market. Besides, they are also exceptionally well-built and are very comfortable to wear for several hours without any hassle.
Gamers have felt that they cannot block outdoor noise immaculately. This may not be the ideal thing that any gamer would want to hear. The audio performance is not very sublime. The software provides you with plenty of customizing features.
Let us read on to find out more about the RIG 800LX Marathon vs Arctis 9X gaming headset.
RIG 800LX Marathon
SteelSeries Arctis 9X

PROS

PROS

The headset has a modular design that is incredibly excellent.
The build quality is robust.
It has a comfortable fitting for long hours of a gaming session.
There are four EQ presets on the unit.
It can provide you with 25 hours of working battery life.
The gaming headset is very comfortable to wear for long hours.
Its build quality is top-notch.
Its music management controls are accessible on earcups.
It has a battery life of 28 hours.
The wireless system is sublime with the USB transmitter.

CONS

CONS

The gaming headset is quite bulky and has a cumbersome design.
However, the unit has inconsistent bass and treble.
| SPECIFICATIONS | RIG 800LX MARATHON | STEELSERIES ARCTIS 9X |
| --- | --- | --- |
| Product Name | RIG 800LX Marathon Wireless Gaming Headset | SteelSeries – Arctis 9X Wireless Gaming Headset |
| Brand | RIG | SteelSeries |
| Sound Mode | Stereo | Stereo |
| Connection Type | Wireless | Wireless |
| Wireless Connectivity | Bluetooth | Bluetooth |
| True Wireless | Yes | No |
| Maximum Wireless Range | 33 feet | 19.7 feet |
| Built-In Microphone | Yes | Yes |
| Headphone Fit | Over-the-Ear | Over-the-Ear |
| Adjustable Headband | Yes | Yes |
| Battery Life | 24 hours | 20 hours |
| Warranty | 1 year | 1 year |
DESIGN & COMFORT
The design & comfort of the Plantronics RIG 800LX is top-notch. They come with a robust design that is exceptionally lightweight. The modular functionality may not be compatible with all gamers.
While some might prefer the traditional shape, few gamers can be okay with the modular shape. The gaming headset is designed from plastic that makes them look cheap. The earcups come with an unorthodox design.
However, they have sufficient padding on them. Once you place the headset on your head, there is no reason for it to stick out. You will be happy with the color combination that has been done on the unit.
We liked the headband as it is adjustable and comfortable. It is similar to that of wearing a ski-band item. Their earcups are immensely colossal and provide you with ample breathing space. Besides, the padding is not very tight.
They felt quite good on our heads. Additionally, you can adjust the fitting effortlessly. We were stunned by the comfort level of the headset as it was on par with top-end units in the market. But you can utilize only 3 spots on the earcups for adjustment.
Not all gamers may be satisfied with it. They come with easy-to-work control buttons that are very accessible to your hands. It has two dials on the right side and a channel mixing control. There is a power button that can be used as a pairing switch too.
You can find an extra button on the left side that can alternate the preset EQ modes. The controls can be found seamlessly, and you can play your games efficiently. After all, you play to win.
We felt that they come with good feedback, and the dials don't offer the proper clicks when you want to set the volume mix levels. Though they are over-ear, they are breathable. We did not face any problems.
The portability may not be its USP because it comes with massive earcups that cannot be folded or made flat. The transmitter dongle can be a handicap here as it does not come with a bag or a backpack.
Besides, there is no pouch either. Likewise, the SteelSeries Arctis 9X comes with an outstanding design. The headsets are black in color, and it comes with a ski-band headband design. Additionally, the earcups are quite broad and comprehensive.
The boom microphone is retractable; the headband frame comes made from metal, unlike plastic material found in most of their products. But you will be glad to know that the SteelSeries brand is known for producing opulent models.
The earcups are extremely well padded and come in shapes and sizes ideal for gamers. Headsets come with padding material that is porous and lets in the air for adequate ventilation. Few gamers felt that the earcups are shallow and tight.
Besides, we found that the length of the strap is less and does not allow for proper adjustment. You will like the control buttons on the product are placed well for adequate access. You can find what you are looking for seamlessly, and it won't affect your gaming.
You can find several wheels and buttons that are designed well for your hands. You can use them for gaming and entertainment use as well. There is a microphone button to mute, and mixing control, and a volume wheel.
There is a Bluetooth button providing you with limited call management. Using the power button, you can cycle between EQ presets. The headset is breathable, and our testers did not feel any discomfort wearing them for lengthy gaming sessions.
However, you may not consider them for exercising or physical activities because they can heat quickly. But they are quite a good choice for gaming and entertainment. But the size is quite extensive, and they do not fold effortlessly and rapidly.
You will find it challenging as it is not portable, and you cannot make it compact. But you can make them swivel and make earcups lay flat. This makes it simpler to slide them in your travel bag and wear them on your neck without discomfort.
On the whole, both the headsets are genuinely well designed and come with a flawless comfort level.
BUILD QUALITY
The build quality of both the RIG 800LX Marathon and Arctis 9X gaming headset is solid. They are made from plastic material but are quite lightweight. We found that they can bear a few accidental falls.
Having said that, the plastic material feels kind of cheap. That is because the audio cable is exposed to your detachable earcups. This makes it risky to get damaged easily.
The stability is average and not sublime. In this sense, they are not suitable for extreme physical activities. Yes, they can bear light physical activities or jog, but not more than that. It can fall off your head.
However, they are wireless units, and you can use them flawlessly without worrying about the wire or cable getting caught on anything or equipment. This is not found on most headsets, and they get damaged because the wires tend to get caught or yanked off quickly.
On the other hand, the SteelSeries 9X comes with the outstanding build quality. We found that the earcups are pretty dense, and the headband is frame is flexible. You can retract the microphone quite effortlessly.
The headset feels quite robust compared to most of the available units in the market today. The 9X are solid headphones that seem to go along with your head effortlessly and need not fall off your head when gaming or light exercising.
Like we say most of the time, you may not want to use them when working out or physical activities like strenuous running. They can fall off your head. Overall, both headsets provide you with a more stable fit.
AUDIO PERFORMANCE
Sturdy gaming headsets often do not come with exceptional audio performance. However, you will be delighted to know that both 800LX and 9X come with outstanding audio quality. They both offer you with excellent audio sound quality.
The RIG 800LX Marathon offers you a V-shape sound profile and comes exceptionally well-balanced. It is ideal for a barrage of audio-related uses. It does not come with companion software.
When you want to listen to a different sound, you have to use four EQ presets that can be toggled using the headphones. The frequency response consistency is tremendous. Their treble delivery varies because of the headband design.
What this does is that the headset sounds slightly sensitive due to being position on your head. 800LX comes with supernatural bass accuracy. You can hear it relatively flat, and it is not too overwhelming on your ears.
The result of that is not too many thumps when listening to songs or playing games that dwell primarily on sound effects. Its mid-accuracy is relatively neutral, and the lead instruments sound just the way they should, natural, detailed, and offer solid mixes.
The treble accuracy is sublime, and you can find some overemphasis using the lower side. However, you may not hear too much of the vocals and the lead instruments. Besides, the dips and the peaks perform quite well.
The low-bass provides you with the right amount of rumble, and the dip in the high-mid can twist the lead instrument. These are closed until but sound quite natural. You do not feel resistance when hearing the sound.
Coming to the Arctis 9X, it is pretty sublime. The vocals and the lead instruments sounded just the way we wanted them to. You can listen to heavy metal or even pop. Besides, you would enjoy your gaming sessions flawlessly.
But it does not come with low bass that can be disappointing for hearing music like the EDM. The sound can be used for the graphic EQ, and you can also make use of the presets that come along with the software provided along with the package.
We were slightly disappointed with the frequency response consistency. They were quite low, and the bass and treble delivery were quite inconsistent. Hence, the result of that is that the audio is not up to the mark.
The bass accuracy is quite good, and the range sounds neutral. You can effortlessly hear and feel the punch of the instruments. But the low bass is slightly underperforming, and you may not clearly hear the thumps from action scenes when gaming.
The treble accuracy is quite impressive and sublime. We felt that the range is relatively neutral. The lead instruments and the vocals are detailed. But the treble delivery can vary at times. The peaks and the dips can perform exceptionally well at times.
The range of the bass comes well thought, and the thump and punch are top-notch. The soundstage performance is good. But we felt as if the music is coming out of our heads. That was a bit weird.
The noise isolation of the headset is inadequate, considering the fact that they cannot block out noise. Its leakage performance is good, and it does not leak too much noise. The audio performance does not have to affect your hearing when you are seated in an average office setup.
Overall, the 800LX Marathon and the 9X gaming headphone come with outstanding features. You will also be delighted to use them for gaming and entertainment purposes like listening to music and watching movies.
MICROPHONE PERFORMANCE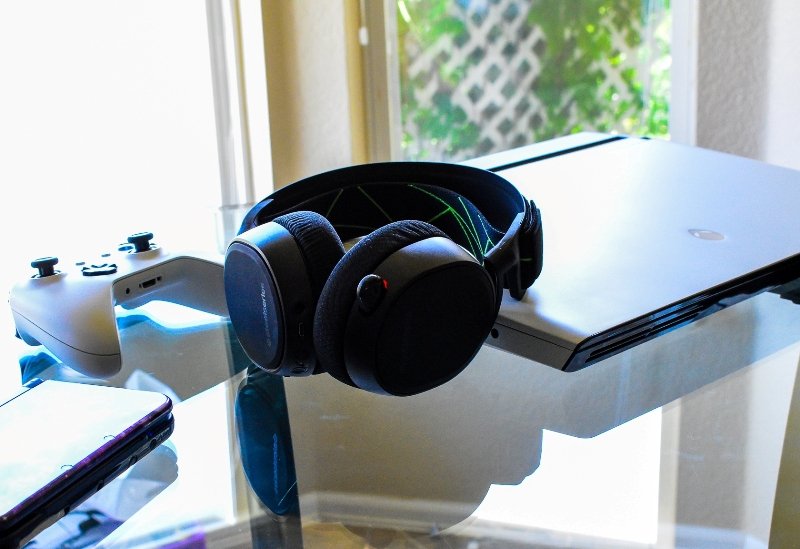 The Plantronics 800LX comes with a sublime microphone. Its recording capability is just top-notch, and so is the speech sound. Your voice is nicely audible to the individual on the other end of the line.
But we also felt that the voice sounds a bit lean at times. However, it is not muffled and works well in noisy environments. The noise handling was good, and the voice is separated when you are using it in a station or inside a shopping mall.
Probably, this factor may sway you towards the Arctis 9X. It comes with a retractable boom microphone. The recording ability is stunning, and the sound quality is apparent and bold.
The microphone is bright and enables you to hear the audio of the games stupendously. The boom microphone works sublimely even in noisy environments, but the battery performance is also astounding.
The battery works for almost 29 hours without problems. It takes only 2 hours to recharge completely. Gamers can still get the audio when the headset is getting changed. So, that should not be a problem.
COMPATIBILITY
The 800LX comes with a superb compatibility range offering gamers immense opportunities to connect with several consoles and devices of their liking. The headset does not support wired connections that effortlessly.
The headset does not have an audio cable for using a transmitter dongle. It is entirely compatible with PC and PS4 using a transmitter dongle. You can also use them with the Xbox One with a transmitter dongle.
The unit has a USB transmitter with a single input. Using the USB cable, you can switch between the device and gaming console using the transmitter. The base cannot work on several platforms, and switching between consoles is impossible as it comes with no optical input.
The functionality is also limited because you can find it challenging to connect a transmitter to the PS4. What happens here is that you cannot change the volume and the microphone balance with the headset.
Unfortunately, the unit does not come with software compatible with customization options. The Arctis 9X, on the other hand, is an exceptional product as it has a companion software called SteelSeries Engine.
You can connect the headset to a wide range of devices and consoles. To do that, you need to use a USB cable. However, the headset won't work as a wired connection on your PC. It comes with a 10-band graphic EQ and microphone level adjustment with sidetone control.
The Bluetooth auto-startup can be disabled if you are not using the unit. But they do not have multi-device pairing ability. We also felt that latency is there when videos are streamed on your laptop.
Please do note that they do not have a 1/8" audio cable, but you cannot use the microphone. You can use them on your PC and laptop only if you are using Xbox One Wireless Technology. The SteelSeries Arctis 9X holds a slight edge incompatibility.
PRICE
We will take a look at the price of the Plantronics RIG 800LX and the SteelSeries Arctis 9X gaming headset. Can the price make a difference for consumers? The Plantronics RIG 800LX Marathon gaming headset is priced under $150.
For the features that are infused in it, our testers felt that it is definitely worth it. The audio performance was on par with top-end models that are available in the market. The SteelSeries Arctis 9X gaming headset is priced under $200.
We felt that it is slightly higher compared to the Plantronics RIG 800LX Marathon gaming headset. Besides, the audio performance and the microphone were acceptable, and nothing unique about them.
However, it boils down to the brand name, we suppose. SteelSeries is a name that is extremely popular among professional gamers. So, a price difference of $50 does not have to be a major setback to the Arctis 9X gaming headset.
VERDICT
We have ended the comparison review between the RIG 800LX vs Arctis 9X gaming headset. Choosing a winner between these two terrific units was quite a hassle because they both are fantastic.
The RIG 800LX was average with the audio performance. But a headset cannot be judged only by the audio quality alone. It would help if you looked beyond that. We felt that they were quite comfortable and sublimely padded.
Besides, it came with a modular design making it very durable. It also comes with low wireless latency that is ideal for gaming purposes and entertainment. The headset has a terrific audio performance and exceptional battery working.
But they do not block noise and may not be suitable for noisy environments like your living room or office work area. You can find them slightly bully too, and the transmitter dongle comes limited for offering you connectivity options.
On the other hand, the SteelSeries Arctis 9X gaming headset is suitable for many activities. You can utilize them both wirelessly and with a wired connection. However, you cannot make use of a microphone when it is weird.
The sound profile is good, and they provide you with exceptional customization abilities. Besides, they can isolate well. But you will find them slightly on the heavy side, and not ideal wearing when exercising or doing heavy physical work.
Keeping all this in mind, we choose the Plantronics RIG 800LX as the winner. However, the SteelSeries Arctis 9X gaming headset is also a top-notch unit. It eventually comes down to your brand preference and price liking.
James Smith has always been intrigued by electronic products since his childhood. After his post graduation in electronics from a popular university, he decided to pursue a career in the electronics sector. But his calling for writing about these marvellous pieces of work got the better of him. That is how UBG was started. With a writing career spanning more than 12 years, James has worked on several hundred product reviews. During his free time, he like to spend time with his pet dog and relax in the swimming pool.