Today, we will be reviewing about the Roccat Elo 7.1 Air vs Logitech G533 gaming headsets. These two outstanding units come with stunning qualities and specifications infused in them. We had an excellent time reviewing them.
The Elo 7.1 Air is a top-notch model that is part of the Elo series from Roccat. Turtle Beach acquired the maker in 2019. Now, they manufacture gaming accessories and other peripherals for the market.
It comes with the famed Superhuman Hearing sound technology. That simply means you can hear well using it such that you know what is coming behind you. An ideal example of that would be a rocket or bullet hitting you from behind.
Gamers and professional users have adored such kind of headsets. They do not have to spend an arm to get them. They come priced under $100. That is the beauty of it. They are also wireless headsets.
We also noted that they are comfortable, and you can wear them for hours without noticing any discomfort. It is safe to say that the model is much cheaper than most wireless headsets, with solid audio features along with the virtual 7.1 surround sound capability.
On the other hand, the Logitech G533 unit is an astounding model from the maker. Logitech has been in the gaming industry for quite a while, and they know what they are doing. They were able to produce the G533.
It can streamline the whole experience without having to spend too much on it. The gaming headset does not have to cost you. We liked the comfort and the build quality. Logitech is known for its durability feature.
It also comes with exceptional audio quality. They are nice to wear, and thanks to the inclusion of the Logitech G HUB software, you can also adjust the sound quality. It comes with a non-BT wireless USB transmitter.
Like many units, they are not very suitable for outdoor usage. That can be a drag if you are somebody looking for an outdoor usage device. But their capabilities on the PC and PS4 are worth enjoying a lot.
Let us read on to find out more about them and also know who the winner is.
ROCCAT ELO 7.1 AIR
LOGITECH G533

PROS

PROS

The headset comes with a slim appearance.
It comes with a neodymium magnet.
It is a 10mm larger driver unit.
The unit comes with a detachable microphone.
The model comes with a self-adjusting headband.
The unit is comfortable to wear for long hours.
It comes with passive noise reduction.
There is adequate support for Dolby digital.
It is compatible with PS4.
The unit comes with a removable battery.

CONS

CONS

There is leakage of audio listening at a high volume.
The unit has poor leakage isolation.
| SPECIFICATIONS | ROCCAT ELO 7.1 AIR | LOGITECH G533 |
| --- | --- | --- |
| Name | Elo 7.1 Air Wireless RGB PC Gaming Headset | G533 Wireless Over-the-Ear Headphones |
| Brand | ROCCAT | Logitech |
| Sound Mode | Surround 7.1 | Surround |
| Connection Type | Wireless | Wireless |
| Wireless Connectivity | Radio Frequency (RF) | Radio Frequency (RF) |
| True Wireless | No | No |
| Water Resistant | No | No |
| Built-In Microphone | Yes | Yes |
| Carrying Case | No | No |
| Microphone Features | Adjustable, Detachable, Noise cancelling | Noise cancelling |
| Headphone Fit | Over-the-Ear | Over-the-Ear |
| Adjustable Headband | Yes | Yes |
| Battery Life | 24 hours | 15 hours |
| Warranty | 1 year limited | 2 years |
DESIGN & COMFORT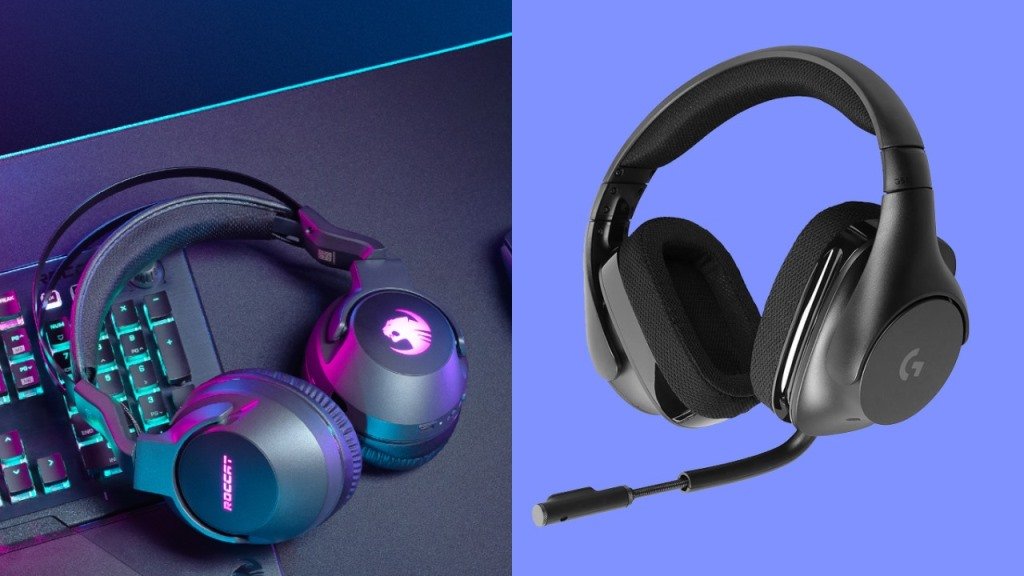 The Roccat Elo 7.1 Air gaming headset comes with an opulent design. The unit can fit you nicely, not causing any headaches. Besides, there is no squeeze in them. It comes with a sleek matte black tone running all over its frame.
The earcups come with a logo that is well lit. The metal forks hold the earcups nicely. The RGB lighting logo adorns the whole setup. This is an ideal gamers unit. It is an understated appearance for a headset, and this lets it hide the gaming pedigree.
You can find sublime touches on the gaming headset design. Our tester found that the earcups swivel, and they are quite comfortable on the neck region. That is crucial for gamers or users who wear them for lengthy hours.
We felt that the unit could effortlessly adjust to your face. It does not matter if you have a large or medium head. It takes shape and contours well. This is an under $100 gaming headset. The casing bodes nicely for the design and the make.
When you see the Logitech G533 gaming headset, the first thing that hits your mind is that it is pretty large for its size. It is heavy, too, coming at 12 ounces. The earcups are black and glossy, coming with extreme comfort.
They come with the G symbol. Besides that, you really do not notice any other features designed on them. The fit is quite good and comfortable. That is thanks to the fact that the earcups come with immense comfort.
Our tester wore them for several hours without hassle and discomfort. You can see that on the left side, the microphone extends with a flexible arm. There is also a volume wheel and a program button.
You will see that the volume wheel is slightly higher than most units. However, the rough texture of the gaming headset makes it somewhat difficult for the wearer. Perhaps, the only main drawback of the unit is the fact that it does not come with a 3.5 mm audio jack.
The unit is suitable for PC gaming. We do not know how well it performs on other consoles. Most of the reviews don't seem to the point that out. Since it costs less than $80, we really cannot blame the makers for that.
You may not want to take the G533 gaming headset with you outside for a commute. Few users felt that the rate was reasonable, but you need to purchase a new unit for your smartphone or tablet despite that.
BUILD QUALITY
The Roccat Elo 7.1 Air gaming headset comes with the stunning build quality. Roccat is known for its durability in products. Despite being lightweight, the stronger SteelSeries Arctis 1 Wireless weighs only 0.6 pounds.
The power buttons and the mute microphone button come in different sizes. You can locate them using your fingers seamlessly. The layout is quite simple and accessible. We have no complaints in there.
The headband comes with sufficient cushioning and is made from leatherette. It comes with a headband that you can adjust yourself. The clamping of the unit is exemplary. Its earcups too come with ample foam in them, not requiring any more padding.
The unit also comes with the ProSpecs Glasses Relief System. The need for you to place glasses is not required. When you want to alter the look of the logos, then you can use the Swarm software.
The side dials felt a bit awkward for us. But we did not find any usage of the headset problematic. The use was sublime and excellent. You can move around the house and when you are listening to songs.
It comes in a range of 10 yards. The fact that the Elo 7.1 Air gaming headset is 35 grams lighter than the G533 unit will not give it bonus points. However, you do feel a tat lighter using it.
But that is not much of a difference really in the long run. This is a quality-designed and engineered gaming headset. We can recommend them to anybody in search of a unit under $100.
The design and build quality of the Elo headset is genuinely second to none when you compare them to other models sold in the market. The build quality of the Logitech G533 gaming headset is one of a kind.
It is quite heavy, but the distribution on your head makes it eloquent. The earcups come with mesh fabric. The unit feels quite soft and pliable inside. There is no discomfort whatsoever felt with them.
It comes with excellent build quality. We found that the headband was flexible and nicely padded. There is a slim metal frame that supports it. Our tester felt that the earcups come quite dense and will not break if you drop them by mistake.
AUDIO PERFORMANCE
The Roccat Elo 7.1 Air gaming headset comes with astounding 50mm neodymium drivers. It comes using a frequency response of 20-20,000 Hz. It is more significant than 40mm drivers in the G533. The specifications on the 7.1 Air are good and offer you stunning audio quality.
It can deliver exceptional sound quality with the bass infused in the headset. The mids and highs were excellent. You can find the virtual 7.1 surround sound, and the positional audio cues are in DOOM Eternal.
It comes in several sound modes that include a stereo mode, where the sound hits hard. You can just about play anything you want with aplomb. This was indeed a majestic experience. Users did notice some audio leakage when listening to higher volumes.
These things happen. You did not find noticeable signal degradation on the Elo 7.1 Air unit. Gamers can see that the audio was clear. Within 20 feet from the PC, we noticed disturbances. On the whole, the audio experience in the Air was eloquent.
The software embedded in it makes the experience even better. We highly recommend that you make use of it. We tested the G533 with few games. We loved the setting adjustment provided on them.
Gamers can thoroughly enjoy their gaming sessions. It also comes with settings for surround sound and stereo. We wanted to see how it sounded in each of the settings. You can set it depending on the EQ options.
The surround sound was notable in most games. You have an immersive experience. Most of the other games provide you with opulent sound quality. Are you a music lover? Then you won't be disappointed using the G533 gaming headset.
It comes with sublime audio performance. Sadly, it does not come with an audio jack. We thought they could have provided it. Though we did not test it, we know for a fact that it would sound as pleasing as it did.
MICROPHONE PERFORMANCE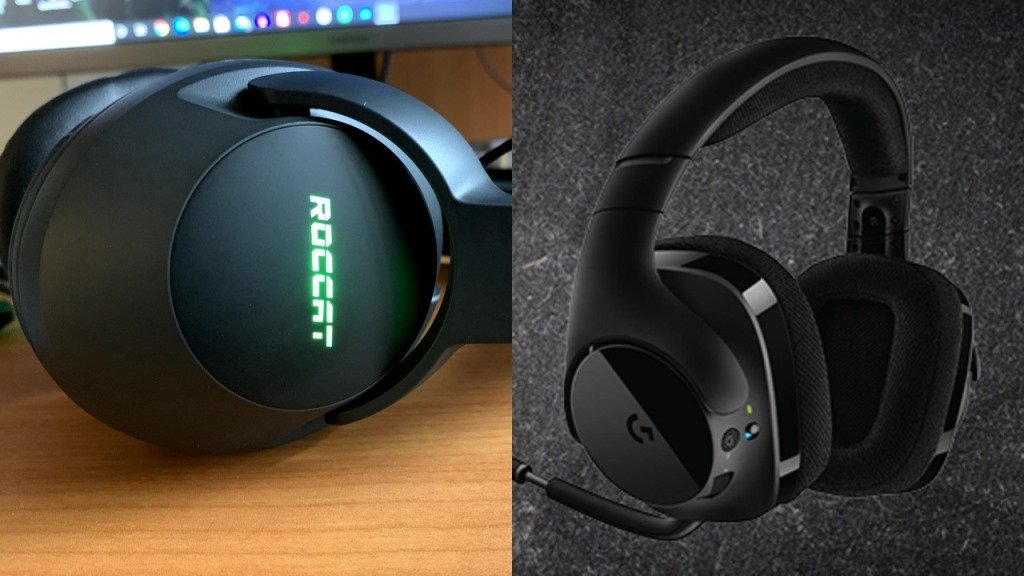 The Roccat Elo 7.1 Air gaming headset microphone is nicely tuned, enabling you to listen to the sound quite well. You can find the surge in noises at times in many top-end models. Besides, background noise is always there to ruin your call or talk with a friend or client.
Our tester made use of the noise cancellation software, and instantly he was able to hear crisp sound from the microphone. The sensitivity can be adjusted using the software. We thought that the default level was slightly high.
However, at times, it can gain and distort occasionally. We felt that if it came with a windscreen, then things would have been a lot easier. The Elo 7.1 Air unit comes with magnificent 18-hour battery life, and it worked well for 16 hours.
Sadly, the Swarm software does not provide accurate battery reading. That was worrying. You never know what the actual level of the reading is. The microphone can be detached, and we were quite delighted using this feature too.
We feel that it is high time that gaming headsets come with this feature. The microphone also comes with the TrueVoice technology providing you with the apparent noise of your voice. So, you do not have to be concerned about those calls any time of the day.
The Logitech G533 gaming headset microphone provides you with the exemplary recording quality. We were quite delighted with the recording capability of the microphone. The voice sounded quite loud and audible.
That is a good sign of a quality microphone. We do not think that you will have any issues hearing. Likewise, the individual at the other end can hear you loud and clear. They can understand you quite well.
It comes with exceptional noise handling capabilities. Your voice is separated from mild to severe noise environments. On the whole, the Logitech G533 model microphone has special audio abilities, and you will be delighted to use them.
COMPATIBILITY
The Roccat Elo 7.1 Air gaming headset comes with several audio tweaking options. It is possible with the help of the Roccat Swarm software. Gamers can use several EQ settings like balanced, MMO, FPS, Racing, instrument, etc.
Besides, users can store close to 5 profiles. Next time you use the gaming headset, you need to choose your game and genre. You are set to play or listen to music or songs. Our tester found this feature exciting and intuitive.
The mid-frequency of the headset was sublime. It was able to give you a robust approach to your gaming or activity using the model. We liked it because it sort of gives you a purpose or direction when using the unit.
The Swarm allows you to play using the bass frequency EQ. We were able to tweak a large number of features using it. The app enables you to adjust the microphone sensitivity and the bass frequency.
It was clean and friendly to operate. All in all, the compatibility and the software of the Elo 7.1 Air were stunning. Likewise, the compatibility of the Logitech G533 is matchless. It is because of the Logitech Gaming Software.
This is your one-stop for modern gaming peripherals. There is nothing much to say about it really because it does an excellent job. You can easily adjust the EQ options, monitor your battery, switch on the surround sound, and change the profile settings likewise.
You will find it extremely simple to work with. The model does well in the surround sound and the equalization capabilities. Gamers can make use of the DTS 7.1 surround sound on Logitech-specific profiles.
Please do see that the EQ options come with MOBA, FPS, and others. Our tester had a thoroughly enjoyable experience playing games, listening to music, and watching videos. We want to mention that the microphone could pick up minor sounds that most headsets usually don't.
This came in handy when speaking or talking to somebody. When the individual says low or there is too much background sound, this feature is a must. Coming with a 16-hour battery working life on a single charge for an under $60 headset is genuinely remarkable.
Besides, it worked quite well from a range of about 30 feet. The unit marvelously works like a charm on most devices and consoles with any flaw.
PRICE
The pricing between the Roccat and the Logitech does not have to sway your mind. While the Logitech is much cheaper than the Roccat, you must not forget the number of features present on the Elo 7.1 Air.
The Roccat Elo 7.1 Air gaming headset is priced under $100, making it relatively affordable and cheap. However, the Logitech G533 gaming headset is priced under $80. It is up to you to decide on the gaming headset that you prefer based on your needs.
VERDICT
We have ended our comparison on the Roccat Elo 7.1 vs Logitech G533 gaming headsets. The Roccat Elo 7.1 Air was able to impress us with its intense features. It was able to place itself above the weight class in most of the departments.
The virtual 7.1 surround sound is massive and crisp. It even comes with a wireless connection. Its headband can be adjusted by itself. We found it to be highly comfortable. Besides, the microphone also came with stunning features than what is found on many units.
But we did notice few minor problems on the Elo 7.1 Air unit that avoid intense perfection. Sadly, the battery level indicator was not accurate, and the Superhuman hearing technology is your guess.
Priced at under $100, you know that the Elo 7.1 is worth a look. It is a better option when comparing it with SteelSeries Arctis 1 wireless at the same price and virtual 7.1 surround sound. Likewise, the Logitech G533 is a gaming headset that is too hard to ignore.
It comes with mediocre usage. The headset comes with V-shape earcups that have a comfortable design and low latency. We noted that they do not come with an outdoor-friendly design and impractical for sports.
Not to mention, the noise isolation is lacking. Besides that, it is a gaming headset that is extremely comfortable to use, provides opulent sound quality for the genre, and good wireless functionality.
It is priced under $80, making it cheap and affordable compared to most models available in the market. The audio quality and the unit's versatility are slightly below par; this becomes a simple recommendation for gamers wanting a wireless gaming model.
The Elo 7.1 Air gaming headset is 35grams lighter than the Logitech G533. That does not necessarily have to be a reason for choosing the former. But, besides that, it comes with a barrage of valuable features like battery level indicator, tangle-free cable, it comes with voice prompts, and it also provides voice commands.
We decided to do with the Roccat Elo 7.1 Air gaming headset because of that. It comes with more features than the Logitech G533 gaming headset. However, when you are keen on owning a reliable, powerful, and decent unit, you can consider the G533 model.
James Smith has always been intrigued by electronic products since his childhood. After his post graduation in electronics from a popular university, he decided to pursue a career in the electronics sector. But his calling for writing about these marvellous pieces of work got the better of him. That is how UBG was started. With a writing career spanning more than 12 years, James has worked on several hundred product reviews. During his free time, he like to spend time with his pet dog and relax in the swimming pool.