Are you planning to upgrade your old GPU unit? If then, this post is meant for you. Today, we are going to be discussing about the RTX 3050 vs GTX 1660 Super GPUs. These are produced and designed by Nvidia.
As you know, Nvidia has been on a roll thanks to stiff competition from AMD. AMD has been designing sublime products over the years, whether it comes with GPUs, processors, and chips. They are pushing their rivals with exceptional models with aggressive pricing too.
Having said that, GPUs are hard to get today in 2022. If you are residing in a country like the USA, then you would understand that feeling. The supply of the models is extremely constrained as the demand is very high at the moment.
If you are somebody who specializes in developing PC gaming devices, then you would be unhappy to know that the stock is pretty less in the market at the moment. Now, we come to the aspect of how this chip can really help you out, provided you are able to get it.
The budget PC device market is a booming industry. Users prefer to buy or use budget models so that they can upgrade them now & then. A device can usually last 8-10 years if handled and used well.
A wise user may consider upgrading the GPU now & then as the models are sold in the market. Either they choose AMD models or Nvidia GPU models. Both are powerful and affordable. The RTX 3050 GPU nails that bracket well.
The RTX 3050 GPU is the newer model compared to the much older GTX 1660 Super GPU model. It comes with all the forces that you would be needing to design a decent PC device for yourself.
Likewise, the Nvidia GeForce GTX 1660 Super GPU model is another phenomenal card that users from all walks of life can make use of. The unit takes its power up a notch and provides you with a stunning boost in performance.
The best part about this aspect is that it is economical and cheap for most of you to make use of. This is something that PC designers might be interested in knowing about. Getting the right spot for 1080p gaming for a reasonable price is a good choice.
It comes with a new, improved speed and video memory that what was present on the previous 1660 GPU model. Moreover, it is the ideal GPU for those wanting to design a budget gaming PC. The GTX 1660 Super is between the GTX 1660 and GTX 1660 Ti in terms of price and ability.
When you are in search of a powerful chip in the market, then you won't regret having the Nvidia GeForce GTX 1660 Super GPU model. We might say that the Nvidia Super series has been a hit and miss of late, with some models failing to make noise in the market.
However, the GTX 1660 Super can change that for them with its exceptional performance and aggressive pricing. During our testing, we were pleasantly surprised by the opulent speed of the unit.
Though AMD released the all-powerful AMD Radeon RX 5500 GPU model, it is safe to say that Nvidia rules this part of the market. Let us now read and learn more about these two fantastic GPU models and find out who the winner is, given at the end of the post.
RTX 3050
GTX 1660 Super
PROS
PROS
The unit is the newer one.

The model provides with ray tracing support.

The unit is much quicker than an RX 6500 XT.

It is based on Nvidia's latest 30-Series Ampere architecture.

The DLSS support offers a smoother performance.
The model has a stunning 1080p resolution for PC gaming.

The unit comes embedded with exceptional performance.

It is the best graphics card for anyone on a tight hardware budget.

It is ideal for building budget gaming PCs.

The product is quite affordable for its features.
CONS
CONS
The product has a long-term stock and pricing unavailability.
The product does not have any RT cores.
CHECK ON AMAZON
CHECK ON AMAZON
Price and Availability
The Nvidia GeForce RTX 3050 GPU is priced under $250. Yes, though it is a reasonable price to begin with, it has been slowly going up due to a shortage in stocks worldwide. You may have to pay more to be able to get your hands on the GPU immediately.
The Nvidia GeForce GTX 1660 Super is priced under $230. It comes with fast GDDR6 memory and gets a massive boost in performance too. You are paying nothing extra for that enhancement in the performance.
Maybe if you had asked us a few months before, then we would have suggested you go in with the GTX 1660 Ti without a blink of an eye. Today, that scenario has changed with the release of the GTX 1660 Super into the market.
We don't see why the GTX 1600 Ti is in the market with the presence of the GTX 1660 GPU. That is because if you want to opt for the GTX 1660 Ti, you need to make use of the third-party edition you use.
RTX 3050 vs GTX 1660 Super – Specs and Features
RTX 3050
GTX 1660 Super
Interface
PCI Express 4.0
PCI Express 3.0 x16
Chipset
Chipset Manufacturer
NVIDIA
NVIDIA
GPU Series
NVIDIA GeForce RTX 30 Series
GPU
GeForce RTX 3050
GeForce GTX 1660 SUPER
Architechture
Ampere
Boost Clock
OC mode: 1890 MHz
Gaming mode: 1860 MHz
1830 MHz
CUDA Cores
2560
1408
Memory
Memory Size
8GB
6GB
Memory Interface
128-Bit
192-Bit
Memory Type
GDDR6
GDDR6
3D API
DirectX
DirectX 12 Ultimate
DirectX 12
OpenGL
OpenGL 4.6
OpenGL 4.6
Ports
Multi-Monitor Support
4
4
HDMI
2 x HDMI 2.1
1 x HDMI 2.0b
DisplayPort
3 x DisplayPort 1.4a
3 x DisplayPort 1.4
Details
Max Resolution
7680 x 4320
7680 x 4320 @ 60 Hz
SLI Support
No
Cooler
Triple Fans
WINDFORCE 2X
Recommended PSU Wattage
550W
450W
Power Connector
8-Pin
8-Pin
HDCP Ready
2.3
Form Factor & Dimensions
Max GPU Length
300 mm
226 mm
Card Dimensions (L x H)
11.81″ x 5.26″
8.88″ x 4.80″
Slot Width
2.7 Slot
Dual Slot
It is quite surprising to note that Nvidia and AMD are taking time to test their GPU models before releasing them into the market. That is a good thing in one way because you know whether the products are going to click or not.
We can see that in the performance of the GPU models discussed here against some of the units like the GTX 1650, the RX 6500 XT, the RX 570, and the GTX 1050. This is highlighted by a comparison of the RX 5500 XT and RX 480.
The manufacturers seem to be producing GPUs that are infused with incredible features & specifications in them. The RTX 3050 GPU comes with the 2560 CUDA cores and is split between 20 SMs that are able to deliver 20 RT cores and 80 Tensor cores.
The last two specs that separate the RTX 3050 from the GTX 1660 Ti model make it a better choice if you are a professional gamer. Besides, they allow for the Tensor Cores and ray tracing to enable the DLSS to be usable for a decent frame rate.
It also has a similar total graphics power (TGP) of around 130Watts. With the additional Watts, you can now make use of the extra 2GB of GDDR6 memory getting it at 8GB. Of course, it runs somewhat slow on the 128-bit aggregated memory bus.
The Nvidia GeForce GTX 1660 Super GPU model is produced based on a similar TU116 GPU. This can be found on the GTX 1660 Ti model. However, it comes with 1,408 CUDA cores. The major difference is that the GDDR6 video memory in this unit produces more memory speed of 14Gbps.
It is as quick as the VRAM in the RTX 2080 Ti GPU model. It is able to provide you with a stupendous GDDR6 for closing the gap to the GTX 1660. But of course, it does not go all the way there.
Please do consider the fact that it does not come with the RT and Tensor cores. While you can make use of ray tracing, it will process it slowly. This is something that may hinder your gaming experience.
However, you can't expect the GPU model to compete with models that are priced more than double in price. You would want to note that the ports are somewhat limited on the GeForce GTX 1660 Super.
When the EVGA GTX 1660 Super SC Ultra was tested, the DVI, HDMI, and DisplayPort gave you mild performance. If you want to make use of the GPU model, then you may also want to consider using external power to make it run.
Here, you will have to use the 8-pin PCIe power connector. It means that you may want to use the GTX 1660 Super for consuming 128Watts when it is put under pressure in most situations where you must have at least a 500W power supply.
RTX 3050 vs GTX 1660 Super – Performance

The RTX 3050 GPU model comes with a spectacular performance. You would be delighted to use a splendid model like it. You can make use of the GPU and play the games that it comes with.
But it would help if you talked about the overall package of a new release. The benchmarks of the product are more or less to the older GTX 1660 Ti GPU model; if you look at its performance of it, the DLSS & Tensor Cores make it capable of the 1440p gaming GPU.
It is based on the Ampere architecture that is kind of better than the Turing GPU of the 1660 Ti. But you can say the same about the RDNA 2 tech of the RX 6500 XT coolers. Sometimes the AMD seems to know where to place its USP features in, which gives Nvidia nightmares.
Though most users love to use the DLSS feature on their GPU, the RTX 3050 doesn't just simply stack up there. You will want to know that it is suitable for working on the 1440p display. The DLSS feature is not something that the manufacturer is very much able of.
Some of the games provide you with a pleasant gaming experience. At times, you may expect more from the new products that are released on the market. Obviously, you expect more performance from them.
You have a problem with the stock of the products. Can Nvidia provide users with the proper amount of models in due time? According to sources, now there is sufficient stock, but things may change in due time.
We are not sure about that. Whenever we have read that, the stocks seem to disappear into the thin air. Perhaps, Nvidia might want to design the much-awaited Founders Edition cards for some of these GPU models to save itself from this embarrassment.
Some of the makers may not want to increase the price levels. The market is not that great at the moment, with the US recession and other external factors playing a part in it too. Hence, they might want to tread cautiously.
We sincerely hope that the RTX 3050 cards will be available for you to get them without going above the $300 mark, just like the RX 6500 XT. The Nvidia GeForce GTX 1660 Super GPU model is a fantastic unit compared to its counterparts.
Though in some games like the In Time Spy, it can be somewhat slower than most of the other GPUs. That does not make it an issue of concern at all. But when you use it on other games, then you can notice an increase in the speeds.
Yes, the GTX 1660 Ti GPU model is kind of much faster than this model. Again, we tried the GPU model in the Metro Exodus at 1080p. The score was pretty good. Though the Ti model did well, the small counts or differences in the figures can make a huge difference in the end.
But again, nothing to worry about. In other games like Middle Earth: Shadow of War, the model performed fantastically. At 1440p, the unit can perform as it should. We were pretty impressed with that feat.
It does manage to get you those scores that you want in some games but falls off in some games as well. The performance was somewhat low in some games where it should have performed around 60fps.
As we have been saying through this review, when you have a powerful, budget GPU in your hands, then it gives you an edge definitely. The GPU is powerful and can work as good as some of the GTX 1070 levels of performance.
Today, the 1070 GPU is only acceptable for 1080p gaming. However, with next-gen consoles that are going to be released in another year having ray tracing, we feel that the RTX 2060 sound like an excellent long-term investment.
In the budget design market, every penny that you save counts. If you are a designer who specializes in budget models, then you would love to use this model. The unit is as good as its big brother and does not cost that much either.
RTX 3050 vs GTX 1660 Super Benchmarks
3D DX9 Benchmark (RTX 3050 vs GTX 1660 Super)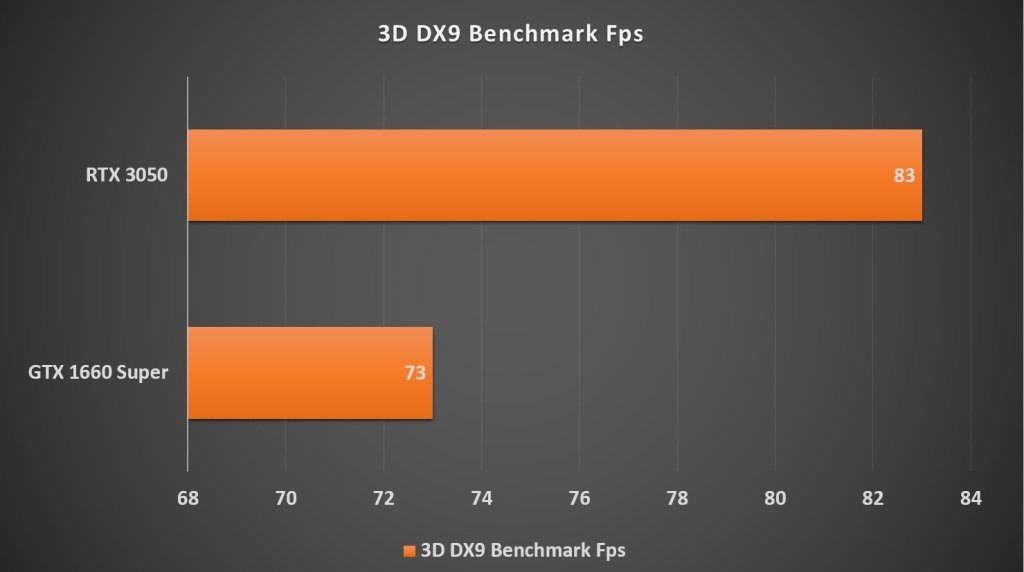 3D DX10 Benchmark (RTX 3050 vs GTX 1660 Super)
Average Score Benchmark (RTX 3050 vs GTX 1660 Super)
Overclocked Score Benchmark (RTX 3050 vs GTX 1660 Super)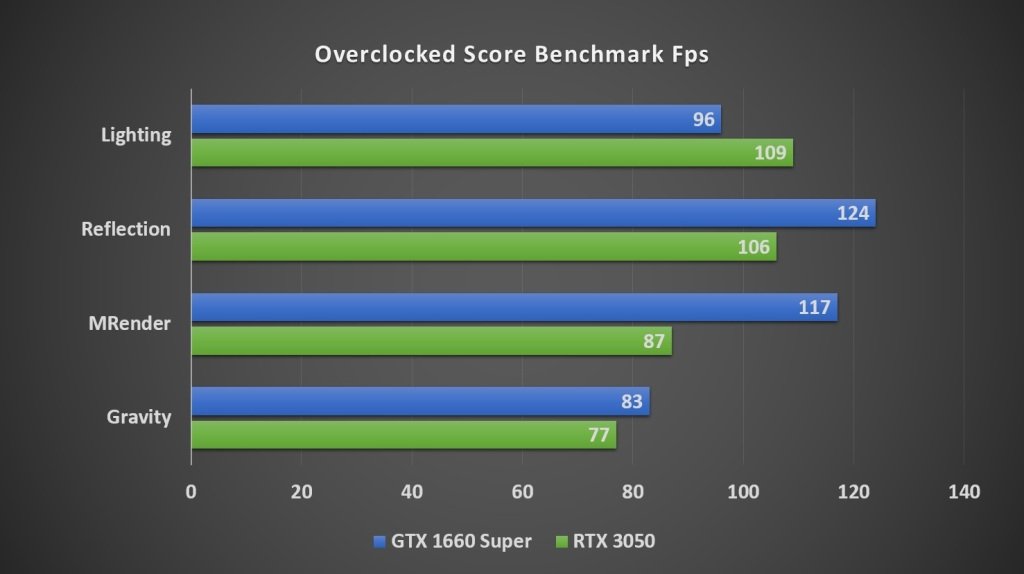 Summing Up
Both Nvidia and AMD have varied their approach to producing budget and top-end models for the market today. That is not surprising because we have a shortage of chips at the moment. While that may seem ideal for some of you, it is not for the rest of the world.
The producer has reduced the size of the chip and wants to offer you with high clock speeds. It enables you to play with 1080p gaming. The Nvidia RTX 3050 GPU model is a fantastic unit that comes with all the features that you would require.
It is 20% faster than the Radeon GPU. Moreover, it is able to offer you with close to 1440p gaming. The GTX 1660 Super GPU model is a stunning device to say. We were initially surprised by the usual rumors from the market about a new product.
It was a refresh of the 1660 and 1650. Our tester did not quite understand about it back then. One needs to see how AMD will react to this new development with their RX 5500 cards in terms of pricing & performance.
It is safe to say that the GTX 1650 Super will be pitted up against the RX 5500. Moreover, everything is done using much less of power. You would be delighted to know that when you cannot go overboard on GPU pricing, you would want to use the Nvidia GTX 1660 Super.
Verdict
We have come to the end of our review between the RTX 3050 vs GTX 1660 Super GPUs. We hope you liked what you read and could make up your decision. When you haven't, then you can read the post again if you want.
The Nvidia RTX 3050 GPU offers you with an outstanding performance for its asking price of $250. It also means that it may rise up in today's low supply of GPUs in the market. The product is in-between the earlier generation RTX 2060 and GTX 1660 Super.
The Nvidia GTX 1660 Super GPU provides you with plenty of displays. The model comes having DVI, DisplayPort input (one each), USB Type-C, and HDMI. The DLSS and ray tracing means we suggest you opt for the RTX 3050 over the GTX 1660 Super.
We do not see the point of upgrading from the GTX 1660 Super to the RTX 3050 GPU model. That is because it does not justify the improvement that comes with it. You would want to expect a reasonable upgrade between 30% and 50% to get the new hardware.
James Smith has always been intrigued by electronic products since his childhood. After his post graduation in electronics from a popular university, he decided to pursue a career in the electronics sector. But his calling for writing about these marvellous pieces of work got the better of him. That is how UBG was started. With a writing career spanning more than 12 years, James has worked on several hundred product reviews. During his free time, he like to spend time with his pet dog and relax in the swimming pool.