Soundcore, known for offering high-quality audio products at competitive prices, has consistently delivered innovative and value-packed headphones. The Soundcore Space One and Space Q45 are no exceptions. We'll examine their features, build quality, noise-canceling capabilities, sound quality, and more to help you decide which one is the right fit for you. Both headphones are designed to cater to different user preferences and requirements, and understanding their differences is crucial to making an informed decision.
Soundcore Space One
Soundcore Space Q45
PROS
PROS
Affordable price at $99.
Excellent ANC.
Comfortable lightweight design.
Long 40-hour playtime.
Customizable EQ settings.
Wear detection sensor.
Fast charging.
Premium build with metal and aluminum.
Superior noise isolation.
Impressive sound quality and detail.
Wind noise reduction for outdoor use.
Additional base boost EQ.
CONS
CONS
Plastic build may feel less premium.
Passive noise isolation is not as strong.
Likely more expensive.
Heavier compared to Space One.
CHECK ON AMAZON
CHECK ON AMAZON
Soundcore Space One
The Soundcore Space One is an impressive headphone that offers great value for its $99 price point. It boasts features such as excellent Active Noise Cancellation (ANC) with 40 hours of playtime, a multi-point connection, and a wear detection sensor, typically found in more expensive headphones. The Space One's transparency mode allows for natural conversations and has customizable settings. The design incorporates eco-friendly materials and offers three attractive color options. While made of plastic, it's lightweight and comfortable for extended use. The ANC effectively blocks low rumbles, and mid-frequency sounds with minimal hissing. The sound quality is balanced and well-suited for various music genres. The Space One provides a compelling option for those seeking quality ANC headphones on a budget.
Soundcore Space Q45
The Soundcore Space Q45, on the other hand, is positioned as a premium offering from Soundcore. While the Space One is a successor to the Life Q30, the Space Q45 offers even more premium materials, including metal and aluminum components. The headphones provide an exceptional level of noise isolation, especially in the upper frequencies, which makes it a robust competitor in the noise-cancellation department. The transparency mode is effective for natural conversations, and its microphone system helps with wind noise reduction. The controls are physical buttons, providing a familiar interface. The headphones come with two EQ settings, including a bass boost option. The Space Q45 offers impressive sound quality, providing more detailed and dynamic audio, making it suitable for complex music genres. Overall, the Space Q45 excels in delivering premium features and superior sound quality for those willing to invest in a higher-tier headphone.
Design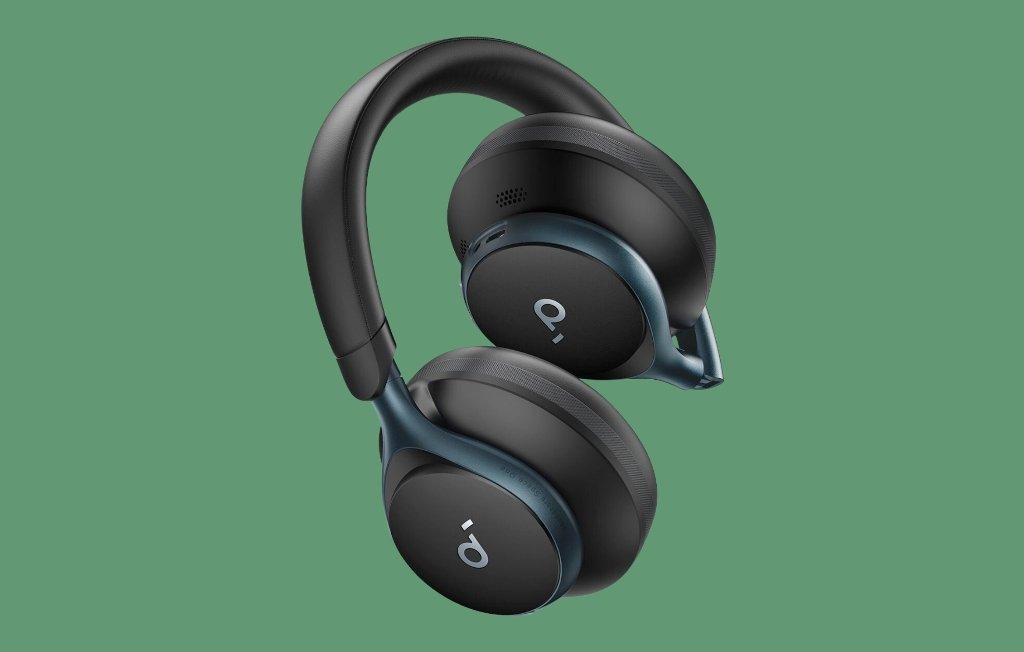 The Soundcore Space One headphones come with a sleek and compact design that balances style and comfort. Featuring a primarily plastic construction, they maintain a lightweight profile, weighing just above 260 grams. The ear cups on these headphones are engineered for maximum comfort, with the ability to tilt in all directions to provide a personalized fit. An essential design feature is the textured surface on the ear cup adjustment areas, ensuring a secure grip. Soundcore has opted for eco-friendly packaging materials, which is a commendable step. However, the accompanying fabric carrying case, though color-matching and visually appealing, may not offer the same level of protection as the hard cases included with some other Soundcore models. Space One's design is aimed at delivering a comfortable listening experience, while the budget-friendly approach ensures affordability without sacrificing style.
The Soundcore Space Q45 headphones offer a more premium and high-end design. In contrast to the Space One's plastic components, the Space Q45 incorporates metal and aluminum in key areas, boosting durability and sturdiness. These headphones feature an eye-catching aesthetic, showcasing a sleek, upscale design. The ear cups of the Space Q45 contribute to excellent passive noise isolation, ensuring an immersive listening experience. Despite being slightly heavier than the Space One, they maintain a level of comfort that is ideal for extended listening sessions. The carrying case provided with the Space Q45 maintains the premium feel, emphasizing protection and style. The design of the Soundcore Space Q45 places it in the upper echelon of Soundcore's headphone lineup, delivering a more luxurious and durable design for those who appreciate both aesthetics and performance.
Noise Cancellation and Transparency Mode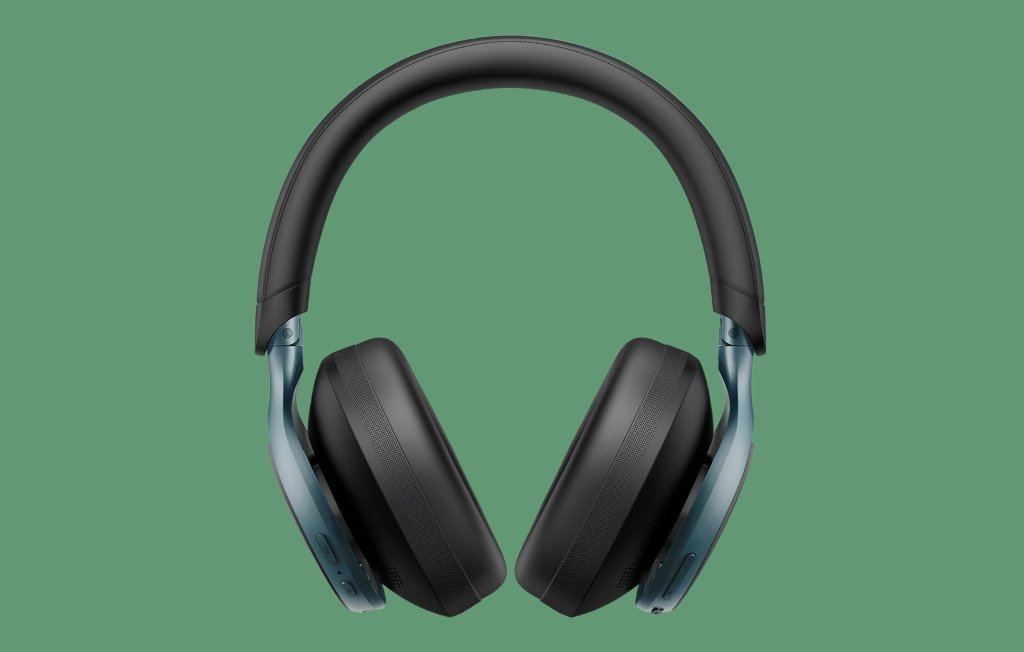 The Space One is equipped with active noise cancellation (ANC) that effectively reduces low-frequency noise, such as engine rumble and ambient chatter. It provides a transparency mode, which allows you to hear your surroundings while wearing the headphones. The transparency mode provides a natural sound, making it suitable for conversations.
The Space Q45 offers even more effective ANC, particularly in blocking out upper-frequency sounds like voices and music. This makes it a suitable choice for frequent travelers and those who want to minimize distractions in noisy environments. The transparency mode on the Space Q45 is equally effective and provides clear audio for conversations.
Sound Quality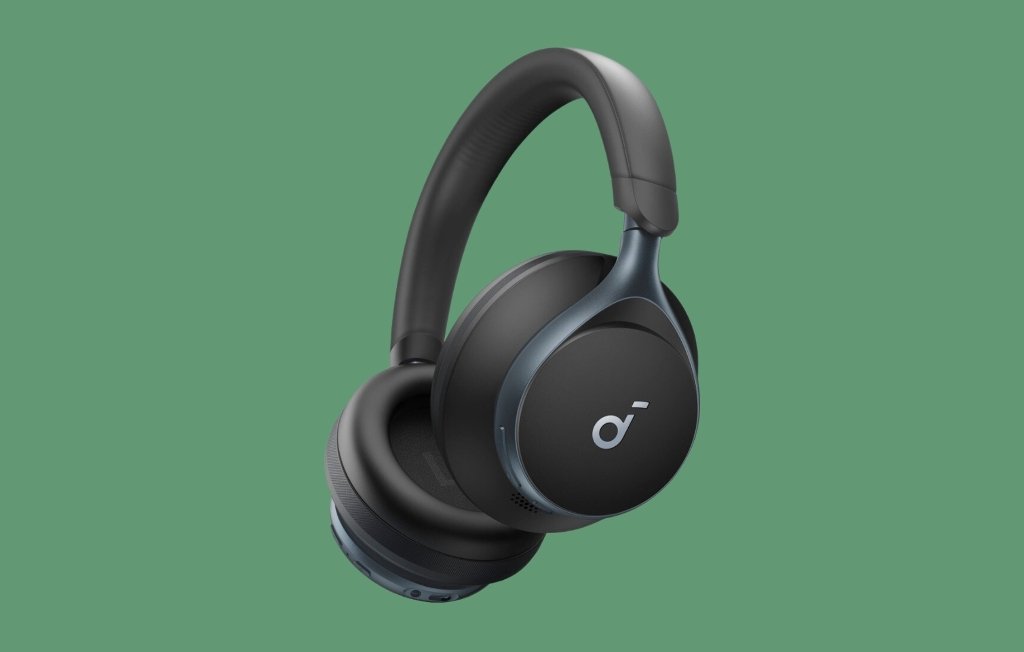 The Space One offers a well-balanced sound profile right out of the box. You won't immediately feel the need to adjust the EQ settings. The headphones provide a detailed and immersive sound experience, making them suitable for a wide range of music genres. They offer good bass, clear mids, and non-fatiguing treble. The Space One also includes a "bass boost" EQ feature, activated by double-tapping the ANC button. This feature enhances the bass for those who prefer a more pronounced low end.
The Space Q45 takes sound quality to the next level. With more detail and dynamic range, it excels in reproducing complex music genres, such as rock and orchestral compositions. The bass and treble are punchier and clearer than the Space One. However, for simpler genres like EDM and pop, the Space One's bass-boost EQ might provide a more enjoyable experience, thanks to its more balanced treble.
Battery Life and Charging
The Space One offers an impressive battery life of up to 40 hours with ANC or transparency mode activated. If you switch to wired mode when the battery is low, you can still use the headphones, but the sound quality may not be as impressive as in wireless mode.
The Space Q45's battery life is also commendable, lasting up to 55 hours without ANC. In wireless mode, it provides a similar listening experience to the Space One. Like its counterpart, you can also use the Space Q45 in wired mode when the battery is low, although it may not match the same sound quality in wireless mode.
Connectivity and Latency
The Space One offers a stable connection with minimal cutouts or stutters. It includes multi-point connection capabilities, allowing you to connect to multiple devices simultaneously. However, for the best sound quality, you can activate aptX Low Latency in the Android app, although this may impact battery life. It provides minimal latency for watching videos but lacks a dedicated gaming mode.
The Space Q45 offers a similarly stable connection and multi-point connectivity. Like the Space One, it doesn't include a gaming mode, resulting in around 300 milliseconds of latency in real-time gaming. However, for casual gaming and most other use cases, the latency is acceptable.
Microphone Quality
Both the Soundcore Space One and Space Q45 feature microphones with AI-enhanced noise cancellation for clear and natural-sounding voice transmission. The quality of the microphone in quiet indoor environments is impressive. However, external factors like wind noise can affect microphone performance, so the headphones include a wind noise reduction feature to mitigate this issue.
Conclusion
The choice between the Soundcore Space One and Soundcore Space Q45 depends on your specific needs and preferences. Here's a quick summary to help you decide:
Choose the Soundcore Space One if:
You're looking for a more budget-friendly option.
You prefer a well-balanced sound profile with the option to boost the bass.
You value a lightweight and comfortable design for extended wear.
You want a headphone with sustainable, eco-friendly packaging.
Choose the Soundcore Space Q45 if:
You're willing to invest in premium headphones with robust build quality.
You prioritize the most effective noise cancellation, especially for blocking out voices and music.
You seek a headphone with more dynamic sound quality, particularly for complex music genres.
You require extended battery life and multi-point connectivity.
Both headphones offer exceptional value for their respective price points, and you can confidently choose either based on your individual needs and priorities.
James Smith has always been intrigued by electronic products since his childhood. After his post graduation in electronics from a popular university, he decided to pursue a career in the electronics sector. But his calling for writing about these marvellous pieces of work got the better of him. That is how UBG was started. With a writing career spanning more than 12 years, James has worked on several hundred product reviews. During his free time, he like to spend time with his pet dog and relax in the swimming pool.