While playing Rainbow Six Siege, you need to identify complex audio cues. You need high quality headphones for levelling up in this game. Gun pointing enemies as you listen to their footsteps or audio cues is necessary. For that purpose, you need headsets that can deliver crystal clear voices with proper sound isolation.
Your gaming peripheral decides your gaming experience. So always look for a better gaming setup.
Some of the professional recommended best headsets for Rainbow Six Siege are mentioned below:
HyperX Cloud II Pro Wired
HyperX Cloud II pro Wired is an amazing headset that comes with an inbuilt USB sound card feature for high profile sound.  DAC feature is also present so that audio can adjust automatically according to the gaming scenario and you don't need to adjust volume each time.
You will definitely love this headset and will experience the USB surround sound while playing six siege on PC, Mac or PlayStation4. With the help of Microsoft head adapter, the headset will support Xbox as it doesn't support Xbox 360 and PlayStation 3.
A USB dongle with 3.5 mm jack connects headset to PC. Mostly in other headsets, you need a USB port and an audio jack. But here, a USB port is sufficient to connect it to devices. Thus, it saves space and reduces complexity.
Provided with the next generation 7.1 surround sound system for identifying depth and precision in positional audio. Equipped with an audio control box for automatic and easy control over game audio and voice.
You can experience 7.1 surround on PC and Mac only. You will experience stereo sound quality in PS4, Xbox One, Nintendo Switch and mobile devices through 3.5 mm connector. You can't experience 7.1 surround sound in devices other than PC and Mac because this feature doesn't work when connected via 3.5mm jack. Here, no y-cable is needed to connect it from mobile devices.
Integrated 53 mm powerful drivers provide loud and high quality audio for you to hear in-game details better. Loud and clear voices will be heard in your callouts or voice chats during gaming.
During long duration gaming marathons or streaming, your ears will not experience sweat and pressure as the ear cups are memory foam padded with leatherette wrapped in the headband. Its construction is robust, containing an aluminum frame for durability.
The microphone is detachable along with noise cancelling features. Because of the above mentioned positive traits, it is popular among gamers. It is Teamspeak and Discord Certified!
You need to update your firmware to the latest version on HyperX website so that you can enjoy full compatibility of different features.
You get an advanced audio control box with optimised boom microphone, 2 plug airplane adapter and an extra pair of earpads that is made up of breathable velour and memory foam earpads.
It lacks the built -in mic monitoring feature that is available in modern headphones. This headset doesn't allow you to check your own voice via hour headphones.
Pros
Sound card feature.
DAC feature.
Eliminate pressure from ears.
7.1 surround sound on PC and Mac.
Cons
No built-in in mic monitoring feature.
7.1 surround system is not provided in other devices like Xbox.
Not support Xbox360 and PlayStation 3.
| SPECIFICATIONS | HyperX Cloud II Pro |
| --- | --- |
| Product Name | Cloud II Pro Wired Gaming Headset |
| Brand | HyperX |
| Sound Mode | Surround |
| Connection Type | Wired |
| Built-In Microphone | Yes |
| Microphone Features | Noise cancelling |
| Headphone Fit | Over-the-Ear |
| Adjustable Headband | No |
| Compatible Platform(s) | Windows |
| Warranty | 2 years |
Logitech G PRO X Wired
Logitech G pro X wired provides pro grade performance because of its blue voice microphone technology. Blue voice mic technology provides on time filters to reduce noise and add filters like compression, de-cessing, high pass filter and so on for studio-quality sound.
You can enjoy blue voice features via Ghub gaming software. With the high pass filter, you can eliminate background noise completely which are low frequency sounds in your environment thus it helps in active noise cancellation.
Provided with Pro-G 50mm precision drivers and 6mm mic, your voice and audio during gaming will be louder and clearer. The audio response of this headset is quite good.
The next generation object based surround sound system from DTS is present. 7.1 surround sound with enhanced bass rendering, audio clarity, and proximity cues so that you can get clarity in positional audio and can identify far field and near field audio easily for pinpointing opponents before they can attack you.
With the help of an external USB sound card, you can experience pro-grade digital signal processing for long gaming marathons. You can program it with G hub gaming software.
You get pro-tuned EQ profiles for amplifying relevant parts of the voice and reducing unwanted parts. You can put your own values of EQ, save the settings to the external USB sound card and then apply it to the PC.
The microphone is detachable. You get a PC cable with inline audio control and a mobile cable with inline mic control.
Inbuilt AI delivers impressive sound quality. There is a close combat feature where you hear near object sounds clearly. You have awaken mode where it enhances your awareness in Battlefield. Activating sonar mode, will help you to find the location of your enemies nearby.
Pros
Detachable mic.
Good sound quality.
DAC feature.
1 surround sound.
Comfortable to ears.
Cons
Over dependence on software that hampers console. experience.
G hub app is only supported at PC.
Surround sound can't be experienced on console.
| SPECIFICATIONS | Logitech G PRO X |
| --- | --- |
| Product Name | G PRO X Wired 7.1 Surround Sound Gaming Headset |
| Brand | Logitech |
| Additional Accessories Included | USB External sound card, 4.92 ft. mobile cable, Y-splitter, carrying bag |
| Sound Mode | Surround 7.1 |
| Connection Type | Wired |
| Built-In Microphone | Yes |
| Headphone Fit | Over-the-Ear |
| Adjustable Headband | Yes |
| Compatible Platform(s) | Windows |
| Warranty | 2 Years |
Astro A40 TR Wired
Astro A40 TR wired is an over ear headset which is fully optimised and has a premium fit and design with quality construction. The provided boom microphone is flexible, detachable, swappable (can be positioned to any side of the headphones) and is unidirectional. The benefit of Unidirectionality in mic is that it focuses on the voice and eliminates noise.
It comes with a customizable speaker tag feature. You can customize it online through a customizer. Speaker tag is basically at the back panel of ear cups that leaves some gap to provide decent spatial Imaging. This space can create sound leakage and thus sound coming from your headphones may be audible to others sitting next to you.
You can use this headset with its amplifier known as MixAmp TR pro. It needs a cable to connect it with a headset and PC.
Here, players can customise their headphones according to the environment.
Closed Back MOD is available where you get better noise cancellation and sound isolation. It includes closed back speaker tags, leather earpads, headband pad, and voice-isolating replacement mic. Closed back noise isolation is meant for loud gaming tournaments.
You can also switch it to an Open Back MOD where you can hear natural sound as well. It allows sound to enter your ears through the ear cups back panel.
You can play six siege with the open back MOD for long gaming sessions.
You can set plenty of EQ presets for clarity at every frequency. Supports Dolby and create 7.1 surround sound in your headphones. It can comfortably be used for more than 8 hours without any strain or pressure in the ears.
You can further customise it with Astro Command Center Software. It works fine during voice chat or streaming.
The cable system is also swappable. A 3.5mm 4 pole cable when connected to headset offers in-line microphone. One In-line mute switch and a volume control wheel and answer/hang up button are also available.
Pros
Customizable speaker tags.
Swappable mic.
Detachable mic.
Lightweight.
Cons
Expensive.
Not simple to use.
| SPECIFICATIONS | Astro A40 TR |
| --- | --- |
| Product Name | A40 TR Wired Stereo Gaming Headset |
| Brand | Astro Gaming |
| Additional Accessories Included | Swappable boom microphone, speaker tags |
| Sound Mode | Stereo |
| Connection Type | Wired |
| Built-In Microphone | Yes |
| Headphone Fit | Over-the-Ear |
| Adjustable Headband | No |
| Compatible Platform(s) | Windows, Xbox One, Xbox Series S, Xbox Series X |
| Warranty | 1 Year |
CORSAIR VOID RGB ELITE Wireless
Corsair Void RGB Elite wireless provides custom tuned headphones with 50mm neodymium audio drivers. It supports the 7.1 surround sound system. The microfiber mesh fabric in ear pads eliminates any pressure from ears.
It has a distinctive design and is durable. The construction is supreme and the frame of the handset looks classy. The headband adjusts easily according to the width of the head.
You can connect it to PC or PS4. It provides low latency 2.4 GHz wireless connection upto 40 ft range. On single charge, it provides 16 hours of battery life. The microphone is omnidirectional and thus it focuses only on the person's voice rather than background noise.
You can customise it through Corsair iCUE software. Through this software you can make changes in Equaliser settings, customise RGB lighting that is mostly desired by gamers for pro level experience. Surround sound can only be experienced through the app only. Thus you get surround sound on PC and Mac only.
No lag occurs in headphones and the mic is precise. On-ear control is present along with a mic mute button. Volume wheel is present on the left side of the headphone. The mic automatically mutes when flipped up. There is a Micro USB port for charging.
Pros
Precised mic.
No lag.
LED lighting.
Cons
Not fully compatible with xbox.
The USB dongle is big.
LED lighting drains battery life.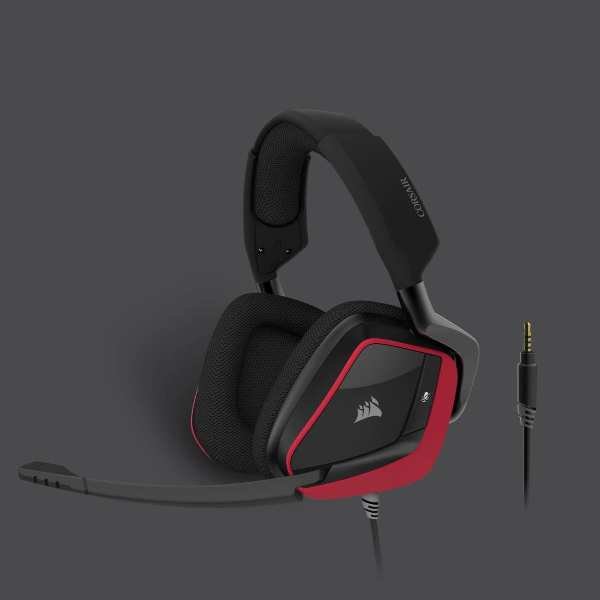 | SPECIFICATIONS | CORSAIR VOID RGB ELITE |
| --- | --- |
| Product Name | VOID RGB ELITE Wireless Stereo Gaming Headset |
| Brand | CORSAIR |
| Additional Accessories Included | USB wireless receiver |
| Sound Mode | Stereo |
| Connection Type | Wireless |
| Wireless Connectivity | Radio Frequency (RF) |
| True Wireless | No |
| Built-In Microphone | Yes |
| Headphone Fit | Over-the-Ear |
| Adjustable Headband | No |
| Compatible Platform(s) | PS4, Windows |
| Warranty | 2 years |
Conclusion
Logitech G PRO X Wired should be your first choice as it comes with blue mic technology along with that it has various modes like solar mode, awaken, immerse is provided in g hub gaming software for enhanced gaming experience.
Go for HyperX Cloud II Pro Wired, if you need a sound card feature with a good quality microphone.
Astro A40 TR Wired is for one who likes customization in games a lot. From speaker tags to open back or closed back mod, you can customise anything!
If you love LED lighting during gaming, go for this pro level gaming headset CORSAIR VOID RGB ELITE Wireless.
James Smith has always been intrigued by electronic products since his childhood. After his post graduation in electronics from a popular university, he decided to pursue a career in the electronics sector. But his calling for writing about these marvellous pieces of work got the better of him. That is how UBG was started. With a writing career spanning more than 12 years, James has worked on several hundred product reviews. During his free time, he like to spend time with his pet dog and relax in the swimming pool.