Whether you are a professional gamer or music lover, a good pair of headsets is a must. Besides, the pandemic must have robbed you of your outdoor activities. What better way to remain lively than put on a good pair of headsets, play a game, listen to your favorite track, or watch a movie.
Please note that a gaming headphone and headset are not the same. Of course, they help you do the same thing but are slightly different in features. A gaming headphone is a traditional headphone that you can place over your head.
That is about it. However, a gaming headset comes with all the bells and whistles that you can generally expect from them. For example, you have a microphone that can be detachable and have noise cancellation abilities.
To help you make your choice, we have provided you with a list of things you should consider before purchasing a gaming headset.
COMPATIBILITY OF THE GAMING HEADSET
Today, there are several gaming consoles in the market. Some of them include PS4, Nintendo Switch, and Xbox One. You can also find gamers using their laptops or PCs to play games. This is when the compatibility of the headset is crucial.
It would be best if you made sure that the headset works on all these platforms. Some of you might be particular that it is flexible. Generally, most units come with a 3.5mm connection that easily helps you work across all platforms.
This is not a major issue, but you do not want to end up with a headset that does not work on most platforms. Hence, you may want to read about the specifications or product features before placing the order.
THE HEADSET SHOULD BE COMFORTABLE
The first trait of the best gaming headset for PlayStation 4 would be the comfort factor. When you place it on your head, are your comfort enough? Remember you are going to use it for playing games for long hours.
Perhaps, you work in a call center or maybe love listening to music continuously. You do not want to be stuck with a headphone that feels awkward or uncomfortable within a few minutes of you wearing them.
NOISE CANCELLATION FEATURE
Since we are focused on gaming here, the gaming headset must come with a noise cancellation feature. The Bose QuietComfort 35 II is quite effective when you turn on the noise cancellation feature.
You can go on a busy street without hearing anything; it is that good. Most of the units come with the feature. But you have to be very sure about the effectiveness of the noise cancellation.
At times, even some units having the feature are not effective. This enables you to focus on your game, music, or movie. Similarly, you have tons of headsets that do not come with the feature but offer you exceptional sound cancellation.
THE MATERIAL MADE FROM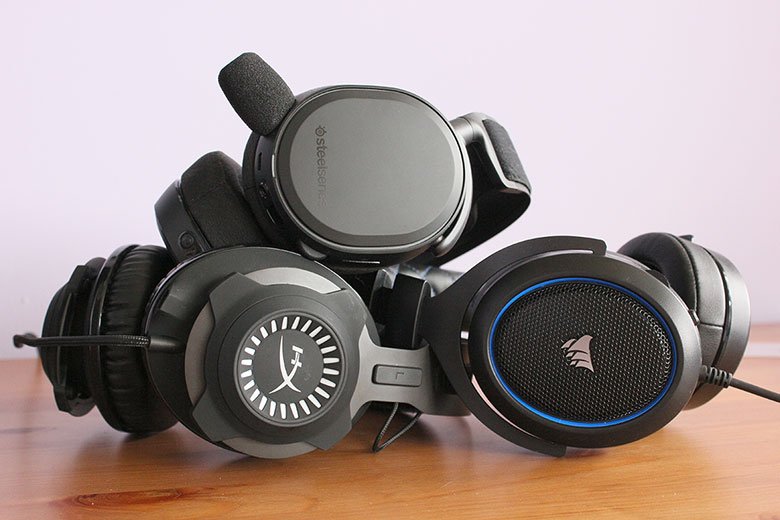 The material the headset is made from also matters. Though the plastic version is good, but it can break apart easily. If you regularly use the headphones, you can consider investing in a good model like the Razer or Logitech.
You do not want to keep replacing your headsets every alternative month. This can pinch your pocket. Instead, you can invest in a solid-looking headset that is rugged in design. The metal versions are also excellent and sturdy.
At the same time, you will want to ensure that the earcups have enough foam in them. It enables you to use it for several hours effortlessly. When the earpad is not large enough, then it may cause discomfort instantly.
THE SURROUND SOUND FEATURE
The surround sound and the 3D sound are both different. The headset must come with surround sound for 360 degrees. It comes with a barrage of standards. You have DTS:X 2, Dolby 7.1, and Windows Sonic.
You cannot find any difference between most of them. They all simulate a virtual 7.1 environment providing you with exquisite audio quality. If you are a professional gamer, then it goes without saying that you might consider using one of these.
When playing a game, you want to have an immersive experience. What is the point of playing then? Besides, some headphones come with the software embedded in them that enact the same moments of what is happening in the game.
THE PRICE OF THE HEADSET
The price of the best gaming headsets for PlayStation 4 is another crucial factor. This entirely depends on your budget. If you are alright spending $200, then it absolutely fine. However, you will be astounded by the number of choices that you have in the market for the moment.
There are tons of options within the $100 itself. So, you may want to check out the cheaper ones first and then move on to the top-end models. There are also some models that are priced at $50.
They are actually quite good and provide decent audio quality. You can even hear what is happening on the monitor opulently. But, when you are fixed on a particular model, you can make a dash for it before it disappears from the shelf.
THE LOOKS OF THE GAMING HEADSET
The looks of the gaming headset that you will place over your head may not be a major influential factor. But there is no harm in checking out the appearance of the headset. These days, you have made aggressive-looking headsets that give you the zing to play your games.
For example, when you are a hardcore racing gamer or first-person game, it is nice to have a headset like Razer Blackshark V2 and Turtle Beach Recon. They are elegant in appearance, durable in design, and are firmly placed on your head.
Questions You Need To Ask Yourself Before Buying Gaming Headset
Does Bose make one of the best gaming headsets for PlayStation 4?
Bose does make some phenomenal devices for playing games. You would love to use their models. However, brands like Razer and Logitech also offer you with plenty of options for a lesser price.
Which is better, Razer or Logitech?
Both Razer and Logitech produce some matchless gaming headsets. It boils down to your choice and the features that you are looking for. Besides, the price also will have a big say in the end. Both the models come in $100 and higher price range.
Why is the ASUS ROG Delta RGB a rage in the market?
The ASUS ROG Delta RGB is a rage in the market right now because of its tremendous abilities. It comes with a barrage of features that make it stand out among the rest. The design is eloquent, and so is the noise cancellation feature.
It comes with a unique D shape design that makes it look aggressive and suitable for gaming purposes. When you are using it, there is a LED light system on both sides that begin to glow. The unit is a feature-rich headset having immense capabilities priced at just $149.
Why is a gaming headset essential, or can I use any unit?
The manufacturers design and produce the gaming headset after intense research. So, it would be helpful for your gaming cause. Additionally, when you want to enjoy your music or movie session, then using a top-notch headset elevates your experience.
Does the weight of the headset matter when gaming with it?
The weight of the headset is one of the most important factors when choosing a unit. Whether you want to use it for gaming, listening to music, or viewing a movie, the device must fit on your head comfortably.
Usually, headsets come made of plastic, aluminum metal, and lightweight materials. But the overall weight can be felt only if you wear them for some time. Some users experience discomfort when they wear the headset for just 1 hour.
When you plan to use your gaming headset for extended hours, it would be good to choose a lightweight unit. Besides, you may want to ensure that the earcups come with adequate foam.
These were some interesting factors that you would want to know before making your purchase of a gaming headset. Remember, based on the kind of headset you are wearing; your gaming might be affected.
The market has tons of gaming headsets, and you will want to take your time in choosing the best from it.
When you are earning your livelihood through gaming, then you may want to invest in a sublime product. This will positively impact your gaming capabilities, and you stand to make good ROIs.
James Smith has always been intrigued by electronic products since his childhood. After his post graduation in electronics from a popular university, he decided to pursue a career in the electronics sector. But his calling for writing about these marvellous pieces of work got the better of him. That is how UBG was started. With a writing career spanning more than 12 years, James has worked on several hundred product reviews. During his free time, he like to spend time with his pet dog and relax in the swimming pool.