By the looks of it, the gaming headsets market is heating up immensely. When you have a search engine giant like Google producing a headset, you might want that fact. Today, we will be looking at two excellent earbuds produced by Google themself.
It goes without saying that if you are an Android lover, then you might like any of these two models slated up for review. They are the Google Pixel Buds A-Series vs Google Pixel Buds. Their new Pixel Buds A comes with a ton of features from the Pixel Buds 2.
They come with an excellent design and audio performance that makes them an ideal choice for you. They are kind of unusual because though they are new, we cannot term them as an upgrade. Yes, they sound quite similar to the Pixel Buds 2 that cost around $180.
The Pixel Buds A, however, cost you only $99, making them affordable. That is the crucial point that you would want to be seen in the earbuds. It makes these wireless headsets a value for product coming along with astonishing features in it.
It comes with an exceptional design in the form of the Pixel Buds 2. You can also notice an integrated sport fin and discrete look on it. It is nice that they do not stick out of your ears like other earbuds and were quite comfortable to wear.
Similarly, the Google Pixel Buds come with a nice charging case that helps you use it easily. Most earbuds come with charging cases that are incredibly challenging to operate. They ruin your experience when running the earbuds.
Unlike them, the charging case on this model is superb and outstanding. Out tester was quite impressed with it. The earlier model came with a charging case that was quite difficult to use. The new one is quite an upgrade from the old unit.
We can say that it is almost on par with the Sony and Apple charging cases that we recently reviewed. Besides that, the design and the audio performance of the earbuds are quite stunning. This premium model comes with astounding specifications that come at a cost.
If you are keen on upgrading your existing model or planning to use a Google product, this would probably be your best chance here. Why not read and find out who the winner of the review is at the end.
Google Pixel Buds A-Series
Google Pixel Buds

PROS

PROS

The earbud is small & stable.

The earbuds are easy to open and use.

It comes with a sublime case.

It has exceptional sound and powerful battery life.

The unit comes with stunning gestures.
The model has an opulent design.

The product has auto-pairing.

It has Bluetooth 5.0 feature on it.

It is user-friendly, and the audio quality is sublime.

The unit comes with the IPX4 rating.

CONS

CONS

It does not have a lot of noise isolation in it.
The battery life is average.
| SPECIFICATIONS | Google Pixel Buds A-Series | Google Pixel Buds |
| --- | --- | --- |
| Name | Pixel Buds A-Series True Wireless In-Ear Headphones | Pixel Buds True Wireless In-Ear Headphones |
| Brand | Google | Google |
| Connection Type | Wireless | Wireless |
| Wireless Connectivity | Bluetooth | Bluetooth |
| True Wireless | Yes | Yes |
| Headphone Fit | In-Ear | In-Ear |
| Carrying Case | Yes | Yes |
| Built-In Microphone | Yes | Yes |
| Warranty | No | No |
DESIGN & COMFORT
Though the design & comfort of the Google Pixel Buds and the Google Pixel Buds are the same, there are some notable differences between them. The Google Pixel Buds A-Series earbuds come with a sublime design.
It is unique in its own from the Google Pixel Buds. Our tester thought that it is not fair to call them the same. The light earbuds come with wings that are similar in design to that of the antennae of a bug.
It is a unique feature when you are using a budget model. The white tone on the charging case is gorgeous to notice. It comes with a G found in the touch controls. You can see that the exteriors of the A-Series have their own features too.
The entire earbuds are produced from plastic, and the rubber is used where it is necessary only. You might want to know that the lid was a little unsteady in usage. We felt that the manufacturer had trimmed the unwanted weight from the product.
This might not help its case when you drop it from a height. Its charging case comes with a USB-C connection. You cannot yank it from your PC tower using the cable as it comes with a magnet.
The charging case of the Google Pixel Buds is quite functional, having a single button. Using that, you can pair the earbud with Android devices. Our tester was delighted with small touches like LED lighting up when you open the charging case lid.
The first LED light helps you to know about the battery status and the other status of the earbuds. That means when the earbuds do not have a charge, and you need to keep them for a charge.
These small but important things are crucial for ensuring that your earbuds are designed well and are pleasant to work on. Most of the earbuds fail in this aspect. That is the main reason why we are repeatedly telling you about this feature in the Pixel Buds.
The moment you look at the earbuds, you instantly notice how small and functional they are. Additionally, they are quite slim, which was a nice thing to note. Though our tester was sure that it is not meant for people with small to medium ears, it fitted him quite well.
As soon as you wear them, you can find them fitting inside your ears quite snug and lovely. There is no scope of an element that it is there. Sometimes, when you wear earbuds, you do not quite understand whether you are wearing something or not; that is not so in here.
BUILD QUALITY
The build quality of the Google Pixel Buds A-Series is quite sturdy. Similar to most of the wireless earbuds, the charging case is as crucial as the model. They provide you with some storage so that you do not lose them when you are charging them.
It is quite small and easy to keep inside your pocket. They can hold the earbuds in place, ensuring that they come with robust magnets having a lid that can close with a good snap. Users can get close to 5 hours of playback time using the earbuds on a single charge.
Please note that like most of the earbuds sold in the market, they cannot be repaired. You only have to dispose of them when you have finished using them, or they get damaged. We liked the fact that it is designed with recycled plastic.
This is part of the manufacturer dealing with environmental changes and wants to use recycled parts from 2022. The build quality of the Google Pixel Buds is quite good. They have 3 different-sized ear tips, and the concha wing comes built-in.
You cannot swap it. If you have large ears like our tester, then the earbuds cannot position themselves ideally in well. You may have to adjust it often, and when you are playing an intense game, that is definitely something that you do not want to be doing very often.
The fitting predicably is quite loose. There is no issue when you wear them in your home or apartment. We may not suggest that you wear them outside for activities like jogging and running around.
They might fall off quickly. That is quite frustrating because they are IPX4 rated. It can handle sweat and water. These earbuds are designed with smooth plastic that is usually found on most touch-sensitive products.
So, you know that you can control playback and quickly access Google Assistant. Usually, the playback controls can be annoying to use because you might touch a button without knowing. Overall, the build quality of the Google earbuds was stunning and durable, to say.
AUDIO PERFORMANCE
This is one of the most crucial aspects of any earbud. The sound quality can decide who the winner can be. The Google Pixel Buds A-Series comes with stunning audio. Our tester loved the way they sounded.
It sounded similar to the more expensive earbuds. The sound was clear and natural, having complete sound with exceptional separation tones. You can use them for listening to most of the music genres.
Its bass boost setup does not make much of a difference in the sound quality that they produce. They lack some deep low notes, and when you are particular about your bass note, then you might want to look elsewhere.
Due to the vented shape that they come, the real noise isolation is not there. It is essential to see to that the distractions are not entirely blocked from the earbuds. Our tester noted that noise isolation is way better than the Surface Earbuds and AirPods.
On the other hand, we have the Google Pixel Buds that come with outstanding audio performance. There is a lack of noise isolation here. For the price point of $180, we felt that they could have done a better job at noise isolation, which was not the case.
When you want to use them in your office or outside, nothing much can be done. However, they offer you with opulent sound quality. The bass response could have been improved though it was marginally suitable out there for the music.
Not too sure about the gaming aspect of it. Additionally, you can switch the ear tips for that. We found that it came with a lack of sub-bass on it. The drums and the bass guitar sounded the way they were supposed to, and we liked it.
We also listened to several podcasts as we do and found them pretty good for listening to. When you reside in an apartment or a less noisy area, then it is magnificent. The same cannot be said when you are living in a hostel or overcrowded home.
There is an incredible range of 300Hz-3,000Hz that is ideal for use in speech intelligibility. Earbuds did not give any issues in hearing what the commentators have to say with everything around me.
MICROPHONE PERFORMANCE
The Google Pixel Buds A-Series earbuds come with eloquent microphone performance. You can notice that the moment you talk to somebody else on the line. The earbuds come with two microphones that can pick up the voices beautifully.
Its noise comes through nicely, ensuring that there is no reduction in the resolution of it. They provide you with a fantastic job of getting rid of the external noise too. Our tester was highly amazed at the sound that he thought in his voice when it was the noise.
It was able to block the deliberate noise from the ceiling fan. Besides, the microphone was also able to cut the voice too. If you use it in a quiet environment, you may not have an issue using it.
The Google Pixel Buds come with an excellent microphone that works pretty well. We were stunned by the functioning of it. You will see that it comes with no stem or angled area of the earbuds noticed on most wireless units.
Our tester was amazed at how well it was able to hit your voice, and the angle was good too. This shows that the frequency response present in the model needs to work phenomenally. They need to be able to pick up the voice as in here.
Your voice of yours gets nicely represented on the other side. Individuals on the other side of the room were able to hear us loud and clear. All in all, these may not be the best microphones in the market, but they did a sublime job with your natural voice.
COMPATIBILITY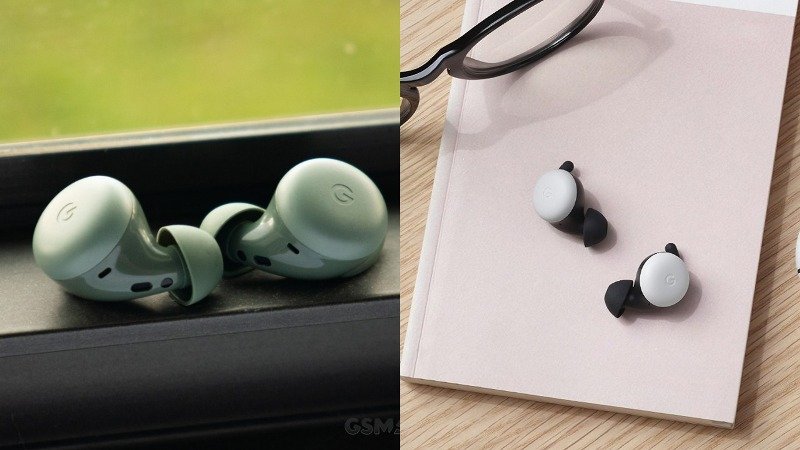 The compatibility of the Google Pixel Buds A-Series was fantastic. It is a fast pair that comes with the Android device that you can pair with Windows and Apple devices. The earbuds provide adequate support for Bluetooth and the SBC audio standards.
Most devices use them. You can only connect to one device at a single time. However, using each earbud, you can use it on its own. Users can click on both the Android and iOS devices seamlessly at home.
The surface of the earbuds is a touch for gesture controls. You can tap it once for playing or pausing it. Likewise, you can tap it twice or thrice when you want to skip a track. Tapping and holding it activates the Google Assistant, enables you to give commands and ask questions.
It comes with no gesture for usage in volume control. You can use the Android device to ensure the earbuds turn up and down volume with a small amount of background noise. When it does not, then you have to ask your smartphone.
On the Android device, the Google Assistant can be activated with the Hey Google. You can also read messages, send replies, do real-time translation with Google Translate. Besides, you perform several things with the aid of the voice assistant.
On the other hand, the Google Pixel Buds offers with solid pairing. You need to ensure that Bluetooth is enabled on your smartphone. Once you go into there, you are shown a small card that provides you with a tutorial.
This feature enables you to connect to your own Google Assistant from the earbuds. Instead of using the smartphone, you can use this feature when they are inside your ears. However, you may find it odd to talk to the Google Assistant when you are on the subway or the bus.
When you are on a connection on an Android device, you can use the features that come on it. That means the volume is adjusted automatically depending on the surrounding.
Our tester preferred the transparency mode of the AirPods Pro, but this is on par with it. The earbuds can be used on so you can appreciate music pausing without you having to do anything.
PRICE
The Google Pixel Buds A-Series is priced under $100. The A-Series does not come with the attention alerts feature that can detect some ambient sound. You can hear mild sounds like dogs barking, a crying baby, and emergency sirens that alert you to wear the buds.
Our tester was quite happy with the pricing and felt that Google had nailed it. The earbuds come with a sublime case. It has phenomenal audio and eloquent battery life. The earbuds come with stunning gestures.
The Google Pixel Buds are priced is under $180. At the time of writing, they were heavily discounted on most retailers. You might want to check them out before they got back to MRP. Both the earbuds are nicely done and priced by Google.
Google Pixel Buds A-Series vs Google Pixel Buds: Verdict
In conclusion, the Google Pixel Buds A-Series earbuds are a magnificent product. Though the model does not come with an upgrade for owners when compared to the earlier model. We felt that it is a good move by the search engine giant.
They have also priced it nicely under $100, making it relatively affordable. It comes quite manageable, with the Samsung Galaxy Buds Plus coming for $100. You can also make use of the Anker Liberty Air 2 Pro and Amazon Echo Buds that come for $130.
Unfortunately, they do not come with Google Assistant, though they sounded much better. This was a significant factor between the model and other makes. If you factor in audio quality and build quality, they are the top pick for using on your Android smartphones.
They can work splendidly on Apple smartphones; however, an iOS companion to upgrade the hardware is unavailable. When you are keen to use Apple devices, then you may not want to make a pass if you own an Android device.
The Google Pixel Buds may not be the ultimate earbuds that we have used. But it is safe to say that Google has hit the jackpot here with a product that can rummage the likes of Samsung and Apple models.
Besides the fact that you can use a number of Google features on it, you can also experience stunning audio performance. You will also be delighted to know that the charging case comes easy to use and is luxuriously designed for you.
The charging case is easy to use is exceptionally built. Additionally, the model is quite helpful and sounds reasonable enough. Though the working life of the battery is average, you may experience discomfort if you wear them for an extended period.
It comes with the Google Assistant that is just available than it is actually. Yes, the model will cost you less than $180, which might seem like a tall order. However, when you are a keen Android user, then you will notice that it is good enough.
Our winner in this comparison review between the Google Pixel Buds A-Series vs Google Pixel Buds was the Pixel Buds. We agree that you can find top-notch models that can do a splendid job with the Android device, but this was a worthy Apple AirPods rival.
James Smith has always been intrigued by electronic products since his childhood. After his post graduation in electronics from a popular university, he decided to pursue a career in the electronics sector. But his calling for writing about these marvellous pieces of work got the better of him. That is how UBG was started. With a writing career spanning more than 12 years, James has worked on several hundred product reviews. During his free time, he like to spend time with his pet dog and relax in the swimming pool.