When you want to make the leap from an ordinary keyboard to a mechanical keyboard, you are taking a certain risk with it. However, there is nothing to be regretted. The gaming models are more than just a keyboard.
They offer you tremendous potential and software. You not only get to use a stylish keyboard but a unit that has it all. There is RGB lighting, software to set up your model, and more benefits along with it.
Today, we will be looking at two astounding models of the same make in the market. They are the Logitech G613 Lightspeed Wireless Gaming Keyboard Bundle vs the Logitech G915 Wireless Mechanical Gaming Keyboard.
Logitech is a popular manufacturer in the industry. They have been producing magnificent products over the years. You can look at their headsets, gaming mice, and the like. They have made a name for themselves in the market.
Most of their products come with style and a good price to boast of. Coming back to mechanical keyboards, they are not similar to the normal keyboard. The normal keyboard uses the membrane keys, but the rubber underneath it makes a lot of bumps.
In a sense, what you have clicked may not be registered at times. This aspect occurs when you tend to type quickly. At times, typos happen, making you retype the entire sentence again. The mechanical keyboard, on the other hand, comes with spring-loaded switches.
These enable you to have an audible sound when pressed. Though they are louder than the normal keyboard, you can feel a soft touch when clicking on them. The Logitech brand makes use of its own set of mechanical keys in partnership with Omron to produce Cherry MX red.
The Logitech G613 LIGHTSPEED keyboard is an amazing keyboard that can be used for gaming and programming. The wireless design helps you place it anywhere you want to. Users can put it on the table or take it with them to the bed also if they want.
The Logitech G915 LIGHTSPEED keyboard is a fantastic wireless mechanical gaming keyboard. This model is a complete keyboard that has a barrage of features in store for you. They come with dedicated macro keys, RGB backlighting, and multi-device pairing.
Let us read and find out more about these two stunning models. We have also mentioned the winner at the end of the post.
Logitech G613
Logitech G915

PROS

PROS

The model provides stunning wireless versatility.

The typing experience is fantastic.

It is compatible with most platforms.

It has remarkably low latency.

The Romer-G Tactile switches are precise and perform opulently.
The model comes with the exceptional build quality.

The unit has customizable RGB backlighting.

It offers dedicated macro keys.

It has low profile mechanical switches providing immense accuracy and speed.

The battery working life is close to 30 hours on a single charge.

CONS

CONS

The keyboard has no backlighting.
The model does not come with a wrist rest.
Logitech G613 vs G915: Keyboard Specifications
The Logitech G613 LIGHTSPEED keyboard is a wireless keyboard. It measures quite compact with dimensions of 18.8″ x 8.5″ x 1.3″. However, the model comes with a wrist rest that cannot be removed with it and hence may seem quite large for some gamers.
It is somewhat heavy and weighs 3.1 pounds, and you can take it with you around effortlessly. You will note that the build quality of the model is sublime. It comes with a stylish finish to it. The keys on the model are the Romer-G key switches that are the same as Cherry MX brown.
The keys have a short pre-travel distance. That is very good for gaming and not suitable for typing. This is for those of you who predominantly work on typing. The keyboards support both Windows and macOS. You can use it on a dongle or Bluetooth.
That makes it very flexible. Besides, you can use it for working on a wide range of devices with ease. But it comes with a non-detachable wrist rest that makes things a little difficult for space. That does not make it portable.
Though it works on batteries, there is no backlighting that can make it un-operational in the dark. The Logitech G915 LIGHTSPEED keyboard is nicely built and elegant in design. This feature is a low-profile model that is done majestically.
Yes, it is quite expensive at above $200. But the finish and reliability are quite apparent when you view & use it. The model comes with a skeletal design that measures 22mm in height, which is quite sleek for a device.
It comes with a curved top plate. The model is produced from aluminium and magnesium. These are tough components though lightweight, but very durable. Of course, the remaining part of the keyboard is made from plastic material.
The plastic on the body is quite premium and does not make the model cheap. The keyboard does not come with a massive wrist rest that is present on the G613 unit. This aspect can annoy some users who may prefer a slim and compact design.
As we said in the earlier segment, the G915 unit comes with brown switches. The model comes designed in 3 variations of their Logitech GL mechanical keys. They come produced from the collaboration with Kalih.
They also produce mechanical keys for other brands like Razer. So, you know that the keys are very durable. Other GL keys are quite low in profile and come in 3 variations, including Tactile, Linear, and Clicky.
However, the keys are slightly loud if you compare them to other makes. The unit won't cause issues if you use inside a room or when working all by yourself. However, it can be slightly annoying when you use inside a small area and others might get disturbed by it.
It comes with a set of 5 programmable macro keys present on the left side that enables you to change the actions. This is meant for doing on gaming sequence. You will be delighted to find out that the media keys have a dedicated volume wheel.
Besides, you can also make use of the G HUB that is offered on all Logitech products. Not to mention, you can also make use of the customization options, and it can work on Windows and macOS.
But the dedicated macros keys are only programmable. You may not be able to work or use other keys present on the keyboard. That was probably the only drawback on this otherwise awesome unit.
The model's low profile is amazing to type and has three switch variants. They are the GL Tactile, GL Clicky, and GL Linear. The Tactile model is simply flawless, and they are light to press and offer you splendid typing abilities.
The brand provides you with a small G915 TKL version. The model will work the same as the rest of it. But it comes compact because of no Numpad present on it. When you search for a smaller keyboard, you may go for the TKL model of the brand.
Logitech G613 vs G915: Typing Abilities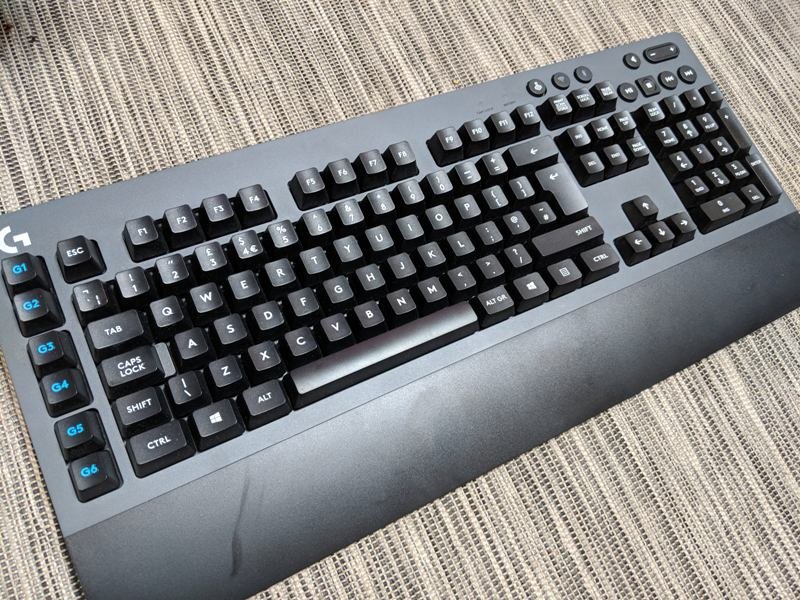 The Logitech G613 LIGHTSPEED keyboard comes with a single incline setting of around 8 degrees. It has a wrist rest that cannot be removed but is comfortable to use. As we mentioned, it is good to have a detachable wrist rest.
When you require a model that comes with the wrist rest, you can use the Logitech G PRO Keyboard. Those of you who prefer to game in the dark cannot do so with it. The wireless connectivity on the model was amazing.
It is truly versatile and perhaps one of the best in the market for the price range of under $100. It can be connected through Bluetooth, and you can connect several devices together. The model uses 2 AA batteries, and it can work efficiently for more than 12 months.
It depends on the usage, and you can find an LED indicator that lights when the battery becomes quite low. The G613 Romer-G Tactile switches come with a short pre-travel distance. They do not need a lot of actuation force.
Its keys are quite responsive and feel good to work with. They do not cause any fatigue at all. It does come with a bump that is not very disturbing. It can be felt when you make use of the Cherry MX Browns keys.
Our tester thought that the typing on the unit was excellent. They are quite stable and do not with too many typos, unlike most models that come under the same price range. Because of the short pre-travel distance, you can notice some typos that happen.
The keycaps on the keyboard look cheap. Besides, the Romer-G Tactile switches were mushy. They can be quite loud in a quiet environment. They may be not ideal for use in an office setting. However, you can consider the model when you are a heavy typist.
It comes with effortless low latency, resulting in a responsive desktop experience. The Logitech G915 LIGHTSPEED keyboard is a fantastic wireless model. Users can pair it with two devices simultaneously, one with the wireless USB receiver and the other through Bluetooth.
You can switch between the devices using the button. The keyboard's battery life is powerful as it can work for 30 hours. The backlight can be placed at maximum brightness and requires close to 3 hours to charge.
Users can find dedicated media controls and the dedicated macro keys on the left side. As we said earlier, the macro keys can be reprogramed only. You can save close to 3 different profiles using the G HUB software.
Users are provided with a total of 15 macros that is pretty decent. They can change the profiles using M1, M2, and the M3 buttons that are present at the top of the keyboard. Using the MR button, you can record the macro without using the G HUB software.
The wireless connectivity is flawlessly allowing you to pair them with several devices. You can make use of the Bluetooth connection found on them. When you want a keyboard that comes with macro-programmable keys, you can consider the Razer BlackWidow V3 Pro.
It has a decent typing quality due to the ABS keycaps, and the keys bottom out rapidly. This feature can be quite odd for some gamers. The GL Tactile switches offer you exceptional feedback when the keys are actuated.
They are quite stable and nicely spaced from each other. The chances of errors during typing are quite rare if at all they do occur. We found that the typing was good and responsive. You do not experience any sort of fatigue when using the model for lengthy periods of time.
Low pre-travel found on the keyboard can cause more unintended keystrokes. These can cause some errors once in a while. If you prefer the low-profile key design but want eloquent typing capability, you may want to select the ROCCAT Vulcan 120 AIMO.
The Tactile keys can be slightly noisy for an office environment. That is quite usual and acceptable but may not bother if the person sitting next to you is a bit far. However, it can be slightly loud when you want to use the GL Clicky switches.
Since it has low latency, you can notice that the typing is smooth and the best in the category. But you can see that it can increase quickly. This is when you want to connect the unit through Bluetooth with its USB receiver, and it should be good enough for most people.
Logitech G613 vs G915: Price
The Logitech G613 Lightspeed Wireless Gaming Keyboard Bundle is priced under $150. The model comes with superb features like the Romer-G Tactile switches. They can provide you with precise and splendid durability having a 70M click-life.
It is no surprise that professional gamers most accept Romer-G Tactile switches. The model comes with a short-throw actuation of 1.5mm. Additionally, the programmable G-keys have custom macros and are embedded with in-app commands.
You can now perform complicated actions using a keystroke. The G-keys can be assigned games, and you can customize them likewise. With the help of the G HUB, you can now customize the setup and manage the profiles.
Besides, you can also make use of commands. The Logitech G915 Wireless Mechanical Gaming Keyboard is priced under $250. The G613 keyboard costs only $70, making it much cheaper. However, the G915 comes with eloquent features that you do not want to miss out on.
It provides you with exceptional performance, and as it is wireless, you do not have to use cable. As we read, it offers you with 30 hours of battery on a single charge. There is also the magnificent LIGHTSYNC technology.
The low-profile mechanical switches provide you with the kind of speed, performance, and accuracy that you require. You are offered this kind of feature at only half of the height. There are also the GL Tactile switches offering you an opulent bump at the actuation point.
Logitech G613 vs G915: Verdict
We ended the review between the Logitech G613 Lightspeed Wireless Gaming Keyboard Bundle and the Logitech G915 Wireless Mechanical Gaming Keyboard. We hope that you liked what you read and have made up your mind about the model of your liking.
It goes without saying that the Logitech G613 model is a superb keyboard that can be used for gaming and typing. The Romer-G Tactile switches come with a striking short pre-travel distance.
This is essential for any quality made unit sold in the market today. Besides, it also comes with a low actuation force. This aspect of it makes the keys feel quite responsive. Our tester felt that the build quality lacked, and backlighting can dampen any gamer.
You can justify it by seeing the low price of the keyboard. You can consider using it for office work. Wrist rest provides you with great comfort features. The ergonomics found on the model is splendid.
Its typing is just about there, but nothing special in it. Users have not applauded this aspect of it. The Logitech G915 unit is an exceptional keyboard for gaming. That is because of the low-profile switches found on it.
The low click latency works in its favor, and the media controls are dedicated. You can now play games with ease. But you may not be able to reprogram the keys once you are done with it. The RGB backlighting makes gaming in the dark a wonderful experience.
Our winner between the Logitech G613 LIGHTSPEED vs Logitech G915 LIGHTSPEED keyboards is the G915 model. While they are both good and durable, the G915 unit comes with much better inbuilt and RGB lighting.
These are crucial for professional gamers. Additionally, the G915 model has two incline settings, and the G613 unit has only a single. There is a non-detachable wrist rest. However, the G915 GL Tactile switches are robust and provide magnificent typing abilities.