Diablo 2 resurrected is a remake of the earlier version of Diablo 2 that has been on the market for more than 15 years now. The new version comes infused with better graphics and gaming visuals.
The RPG action game comes with terrific visuals but seldom is able to replace the originality of the Diablo 2 game. But the developers have masterfully preserved the mood of the game and the storyline as well.
In this post, we will read about the Diablo 2 resurrected system requirements. To be able to play this game properly, you need to know whether your PC device has the requisite capabilities or not.
The system requirements are here to help you figure it out. You may be amazed to know that the system requirements have been increased compared to the older version. We have also taken the trouble of mentioning the earlier version system requirements, just for reference.
This will help you understand the vast difference and the progress we have made in technology for the last 20 years. However, if you happen to find the older Diablo 2 somewhere, then you can manually import the game into the resurrected version and can play it without any issues.
Diablo 2 resurrected system requirements
Please do know that just because your older PC machine can work with the earlier Diablo 2 game, it can work on the new Diablo 2 resurrected game as well. Sadly, it won't because we have the new system requirements given below.
However, if you have a recently bought PC device or gaming laptop, then you have nothing to worry about. Whatever the device, let us, without ado, read and find out the system requirements, shall we?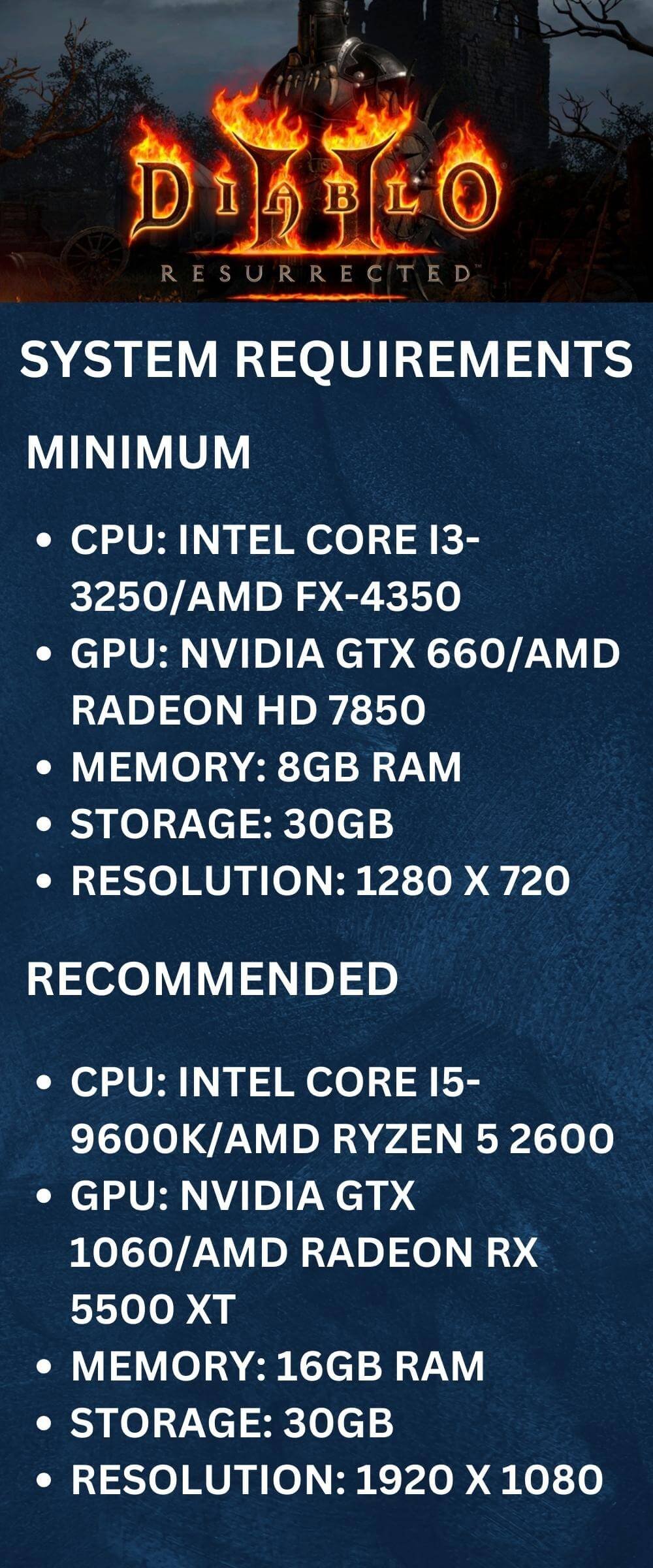 Minimum Requirements
Operating System: Windows 10
Processor: Intel Core i3-3250/AMD FX-4350
Video: Nvidia GTX 660/AMD Radeon HD 7850
Memory: 8GB RAM
Storage: 30GB
Internet: Broadband Internet connection
Resolution: 1280 x 720
Recommended Specifications
Operating System: Windows 10
Processor: Intel Core i5-9600k/AMD Ryzen 5 2600
Video: Nvidia GTX 1060/AMD Radeon RX 5500 XT
Memory: 16GB RAM
Storage: 30GB
Internet: Broadband Internet connection
Resolution: 1920 x 1080
Original system requirements in 2000
Operating System: Windows 2000, 95, 98, and NT
Processor: Intel Pentium 233 or equivalent
Video: DirectX compatible video card, 8MB Glide or Direct 3D compatible video card for optional 3D acceleration
Memory: 32MB RAM (64MB for 3D acceleration)
Storage: 650MB
Internet: 28.8Kbps or faster modem (required for online multiplayer only)
Resolution: 640×480, 800×600
How things have massively changed, haven't they?
As you can see from the above system requirements, there are new & improved graphics, stunning audio, and completely enhanced scenes. It features a range of further controller support that comes on your PC model.
You can also notice that they have newer readability enhancements, scalable fonts, and a colorblind mode. We also noticed that they have an automatic gold pickup, emote wheel, and multi-channel volume controls.
Let us tell you that if you have played the older Diablo 2 game, you will understand & know what we are trying to say to you here. Most of you would admire the fact that it is a big deal. Besides, you can swap between the OG appearance and the new look and back again too.
Did you know that some gamers are still playing the older version, even today? Isn't that amazing to know? Sometimes the modern games are just not into the ones that were released 20 years ago.
It is not often that we come across games that are still up & running even today after more than 20 years. Coming to the system requirements, you will see that the developers have provided you with an advanced specifications.
There are no system specifications offered for your MacBook. So, if you are using Apple devices, then you might not be in luck here. It is interesting to note that the previous version of the game has been extremely popular on MacBooks for many years now.
However, this game is also popular on gaming consoles like the Xbox, Nintendo, and PlayStation. When you want to play the game on your MacBook, then you can if you do some research only.
According to some users, the game operates well on the MacBook Air M1 model, and they have faced no problems so far. You might be out of luck if you want to play on a device without a dedicated Nvidia or AMD graphics card.
The game does not even support Intel's better Iris GPUs. It just won't launch at all. We researched most of the forums and learned that none of the users could figure that out themselves, so we assumed that there is no solution, just as of now.
Using the PC machine that runs on the Intel Core i7-6700, a single Nvidia 1080 GPU, you will delight in the results it produces. Even at 4K, it ran pretty well. When you work with a gaming PC or laptop, then it can work fantastically.
Supposing you own the device with an Intel Core i7-8750 and an Nvidia 2080 Max-Q GPU, then things might sparkle a bit. The Dell XPS 13 would be our ideal device for playing this game when you want the best visual results.
That is because it comes with an Intel Core i7-1065G7 and Intel-integrated Iris Plus graphics. However, some users complained that they were not able to play Diablo 2 resurrected on that device; we have no idea why.
However, the same is not about Diablo 3, as it worked properly on the same device. Anyways, the low-end Nvidia GeForce 660 GPU is quite old now, being 10 years. But you would be glad to find out that it is still in demand and is still faster than the Intel Iris Xe graphics.
Some top-end laptops do not come with the dedicated Nvidia, or AMD graphics hardware intended for gaming use. When you are somebody who is old school, then you may want to ensure that you make use of the latest PC device or gaming PC, or play it on a console, instead.
James Smith has always been intrigued by electronic products since his childhood. After his post graduation in electronics from a popular university, he decided to pursue a career in the electronics sector. But his calling for writing about these marvellous pieces of work got the better of him. That is how UBG was started. With a writing career spanning more than 12 years, James has worked on several hundred product reviews. During his free time, he like to spend time with his pet dog and relax in the swimming pool.