As a professional gamer, you tend to find something that suits your gaming requirements. You may often change your PC components depending on the market and pricing. If you are searching for a powerful PC CPU model, then you are in luck today.
That is because we are going to be discussing about two of the most phenomenal CPU models in today's market. They are the Intel Core i9 12900K vs AMD Ryzen 9 5950X CPU models. Intel has been producing some terrific PC CPU units in the market today.
That is thanks due to the intense competition from their rival makers, AMD. They have been pushing Intel to produce some of its finest, and this model is a result of that hard work. But we hope that things will be different this time.
If you have read our reviews before, then you would know that AMD CPU models tend to take the crown by the end of the comparison review. This Intel i9 model comes with everything that you would like to see.
It has the ability to take the lead in gaming over the likes of the AMD Ryzen 5000 series models. During testing, we also found that the chips were indeed competitive and productive. It is safe to say that the chips offer you with the maximum gains in overclocking performance that we have seen in a very long time in the last several chip generations.
The notable aspect of this Intel chip is the new Alder Lake architecture that it comes with. We noticed that it has immense DDR5 memory and PCIe 5.0 interfaces. Do we have a winner on our hands?
The AMD Ryzen 9 5950X CPU model is a humungous unit that is overkill for gamers and content designers. When you want a powerful consumer-grade AMD CPU, then you may have just got it.
This AMD's Ryzen 5000 series is manufactured on the Zen 3 architecture. This is the successor of the Ryzen 3000 series that used the Zen 2 architecture. The model comes with a core count of 16 with 32 threads that are total.
On paper, you would be delighted to know that this unit is truly a monster. Using the 7nm manufacturing process and architecture, the maker has been able to make rapid progress from the CPU model.
On the whole, the CPU unit has been quite impressive during the tests, but we would like you to know that it comes at a cost. You need to shell out just under $1000, and that can be considered steep for a gaming PC having a fantastic computing performance.
Let us learn more about these two fantastic CPU models without wasting time. We have provided the winner at the end of the post.
Intel Core i9 12900K
AMD Ryzen 9 5950X
PROS
PROS
It has a splendid single-threaded performance.

The multithreaded performance is good.

There is a PCIe 5.0 and DDR5 memory.

It has a phenomenal overclocking ability.

The unit comes with a competitive price.
This model has 16 cores/32 threads.

It has a Zen 3 architecture with 105W TDP.

It can provide a breathtaking performance.

It comes unlocked for terrific overclocking.

The unit comes infused with the PCIe 4.0.
CONS
CONS
There is, sadly, a platform price.
The CPU model is pricey.
CHECK ON AMAZON
CHECK ON AMAZON
Intel Core i9 12900K vs AMD Ryzen 9 5950X – Price & availability
The Intel Core i9, a 12900K processor, is priced at less than $590. This is way cheaper than what AMD has priced their model that is being reviewed in this post. We were quite surprised because it is usually the other way around.
It looks like Intel have taken a leaf out of AMD's book in aggressively pricing their gaming PC CPU model. They have got it to spot on in this case. Based on the testing that we did on the model, it is indeed a fast-gaming CPU, providing you with unprecedented gaming performance.
This Alder Lake processor has what it takes to beat stupendous AMD CPU units. The AMD Ryzen 9 5950K processor is priced at less than $800. At the time of writing, it came for a discounted price of $535.
The 16-core Ryzen 9 5950X model, is the ideal choice for those who specialize in designing content and require multithreaded in the top-end CPU market segment. We can say that the model is impressive, but the maker could have done something about the rate.
Intel Core i9 12900K vs AMD Ryzen 9 5950X – Architecture & specifications
The Intel Core i9, 12900K CPU model, comes with new Alder Lake architecture that we feel could be the game-changer here. This model represents the very best from the Intel flagship of models from the 12th generation of processors in a very long time.
It has infused the Alder Lake architecture in its most elegant format. This means that the CPU model comes with more speed, more cores, and bandwidth when compared to most of the other units.
The primary change that you can see in this unit is the hybrid Core architecture that actually defines the entire chip. It is the first CPU model that comes embedded with the Intel 7 process node.
It was known as the Intel 10nm SuperFin. It is quite surprising to note that Intel has in a long time not used this 14nm process node. We feel that the manufacturer has decided to break free from the 14nm and caused significant damage to the maker.
Using Alder Lake, they have wanted to make use of a node where the CPU model is able to have the flexibility and make the producer focus on the Alder Lake chips. You will want to know that the P-Cores are based on the Golden Cove microarchitecture.
This means that the chip is ahead of the Willow Lake microarchitecture that is otherwise seen on most of the Intel 10th Gen mobile Tiger Lake processors. When you compare it to this Core i9 model, they are somewhat lower in performance.
The i9 12900K CPU model comes made up of 16 cores and 24 threads. It looks like the maker has been able to get a decent count of the core when compared to AMD's mainstream gaming PC CPU models.
AMD has had the lead for some time now among the 16-core 32-thread. You may know that the Ryzen 9 was released into the market in 2019. We were surprised to note that this model is able to beat the top-end Ryzen 9 model in many threaded applications.
It looks like AMD has some unfinished homework to do that Intel capitalized on working out. This model is based on Intel's new hybrid x86 design and provides the manufacturer with what they have been looking for a very long time.
The Alder Lake architecture is able to provide it with a stunning performance with the help of the quick Efficiency cores (E-cores), providing it some amazing speed. It is good to note that those 'little' E-cores have the Gracemont architecture.
It is able to offer IPC improvements to Intel's core designs. Our testers knew that the 'Intel 7' manufacturing design was indeed the 10nm SuperFin. Though it happens to be the second development in Intel, it is actually a first for desktop PC models.
The AMD Ryzen 9 5950K CPU model is based on a non-Threadripper processor. When you pair the processor to a mid-range GPU, you can design a compelling gaming experience. That is possible because of the 16 cores and 32 threads.
It is astounding to note that the maker has placed 16 cores along with the multithreading support. Please do note the fact that the CPU model comes with a thermal design power (TDP) of 105W.
When you have several threads and cores to work with, then it makes working on the different processes simple. It is suitable for those of you seeking multi-tasking and content designing. There is also the PCIe 4.0 support that needs a B550 or X570 motherboard.
You would want to know that the Ryzen 9 5950X CPU unit has a Precision Boost 2 and Precision Boost Overdrive. These two technologies are ideal for overclocking. It makes them more accessible and more stable.
The CPU model increased 19% for instructions per clock (IPC) when we compared them to the previous units. We also noticed that the CPU model came with low latency, and a unified design, enabling cores and cache to work in tandem.
| Specifications | Intel Core i9 12900K | AMD Ryzen 9 5950X |
| --- | --- | --- |
| General | | |
| Vendor | Intel | AMD |
| Released | October 27, 2021 | October 8, 2020 |
| Type | Desktop | Desktop |
| Instruction Set | x86-64 | x86-64 |
| Codename | Alder Lake-S | Vermeer |
| Model number | i9-12900K | |
| Socket | LGA-1700 | AM4 |
| Integrated GPU | UHD Graphics 770 | No |
| Performance | | |
| Cores | 16 | 16 |
| Threads | 24 | 32 |
| Base Frequency | 3.2 GHz | 3.4 GHz |
| Turbo Boost Frequency | 5.2 GHz | 4.9 GHz |
| Bus frequency | 100 MHz | 100 MHz |
| Multiplier | 32x | 34x |
| L1 Cache | 64K (per core) | 64K (per core) |
| L2 Cache | 14MB (shared) | 512K (per core) |
| L3 Cache | 30MB (shared) | 64MB (shared) |
| Unlocked Multiplier | Yes | Yes |
| Power | | |
| Transistors | – | 19.2 billions |
| Fabrication process | 10 nm | 7 nm |
| TDP | 125 W | 105 W |
| Max. temperature | 100°C | 95°C |
| iGPU | | |
| Integrated Graphics | Intel UHD Graphics 770 | |
| GPU Base Clock | 300 MHz | |
| GPU Boost Clock | 1550 MHz | |
| Shading Units | 256 | |
| TMUs | 16 | |
| ROPs | 8 | |
| Execution Units | 32 | |
| TGP | 15 W | |
| Memory support | | |
| Memory types | DDR5-4800, DDR4-3200 | DDR4-3200 |
| Memory Size | 128 GB | 128 GB |
| Max. Memory Channels | 2 | 2 |
| Max. Memory Bandwidth | 76.8 GB/s | 47.68 GB/s |
| ECC Support | Yes | Yes |
| PCI Express Version | 5.0 | 4.0 |
| PCI Express Lanes | 20 | 20 |
Intel Core i9 12900K vs AMD Ryzen 9 5950X – Performance & overclocking
It was what we expected; the Intel Core i9, 12900K CPU model, was able to shine in the testing. The maker is taking things on a large scale with the new Alder Lake architecture. It has the ability to get the gaming crown, often by a decent margin.
This does say loads in the efforts that Intel has been taking in the right direction. Architecturally, the Golden Cove P-Cores do appear to be doing several wonders for gaming capabilities.
Some games like Far Cry 6 always did well on most of the AMD CPU models, and we were pleasantly surprised to note that they worked splendidly on this Intel model. Unfortunately, the Intel Core i9 12900K processor comes with no bundled cooler.
It also requires an LGA1700 motherboard. The AMD Ryzen 9 5950X CPU model is a fantastic unit on paper. But how does it perform in real-world testing? It depends on the motherboard that you want to make use of.
We liked the X570 platform because of the lower temperature. In case you were not aware, the gaming CPU models tend to reach high temperatures when they are pushed further. The same can be said about the Ryzen 9 CPU unit.
We may suggest that you use a GPU like the GeForce RTX 3090 because it works without issue. We can say that the model is definitely overkill for most gaming and enthusiast PC builds. Really, for PC gaming, you may try out different options.
This model makes use of the 7nm manufacturing process, and they have made the required improvements to latency. It helps in getting more from the CPU model. We felt that the CPU unit is ideal for content creators, graphic designers, and gamers.
Having said that, the Ryzen 9 5950K CPU model does not come with a cooler included, and the Ryzen 9 5900X is a better value for most. The Intel Core i9 CPU model does a fantastic job. But it is against the Ryzen 9 5950X unit, which is probably one of the best CPU models in the market.
It is able to take just about anything that we throw at it. However, we strongly feel that the Intel model was simply the better gaming chip in the performance and overclocking department. There were too many areas where the AMD CPU model lagged.
Intel Core i9 12900K vs AMD Ryzen 9 5950X Benchmark
Single-Core Performance
Power Efficiency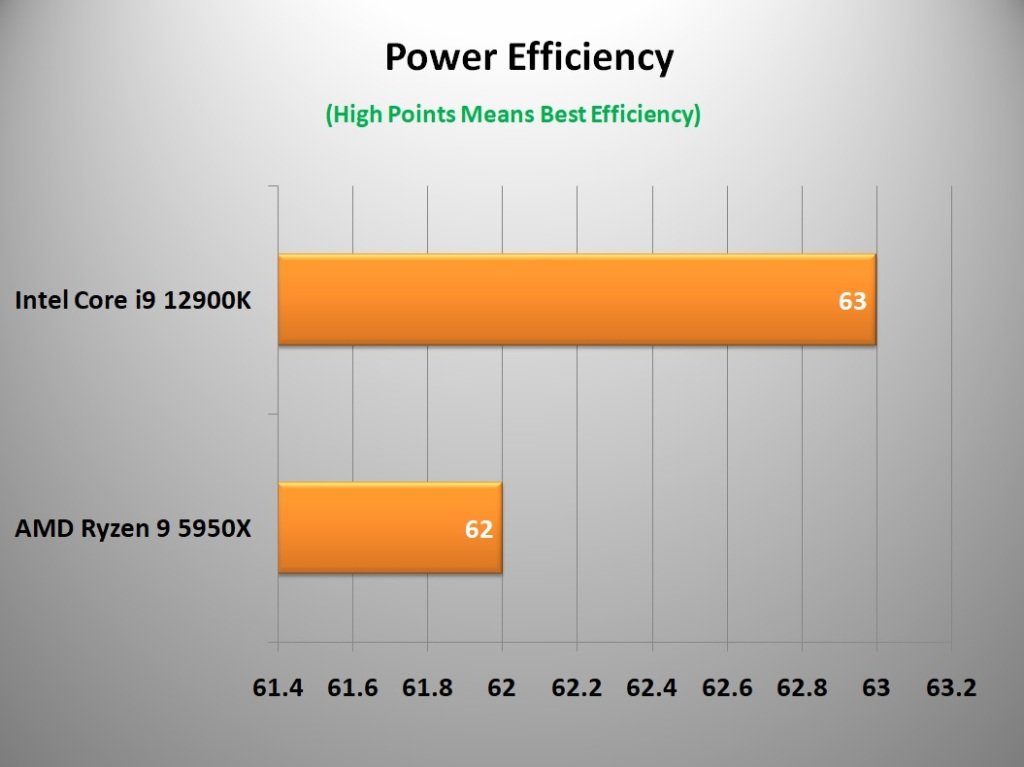 Cinebench R23 (Single-Core)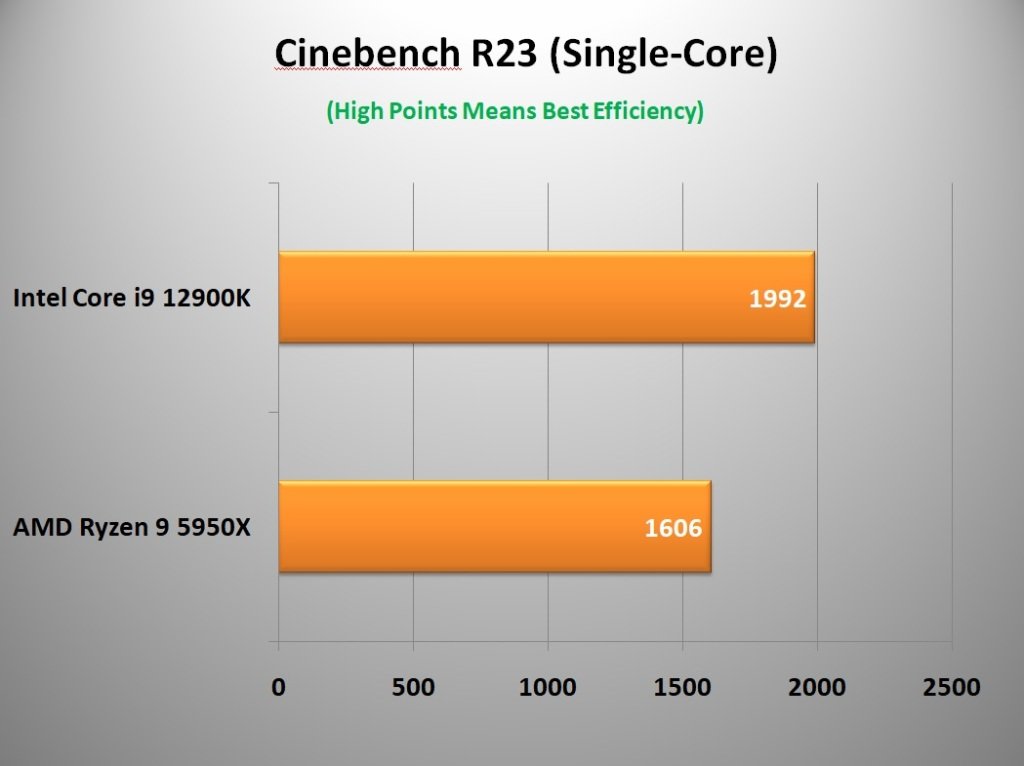 Cinebench R23 (Multi-Core)
Passmark CPU (Single-Core)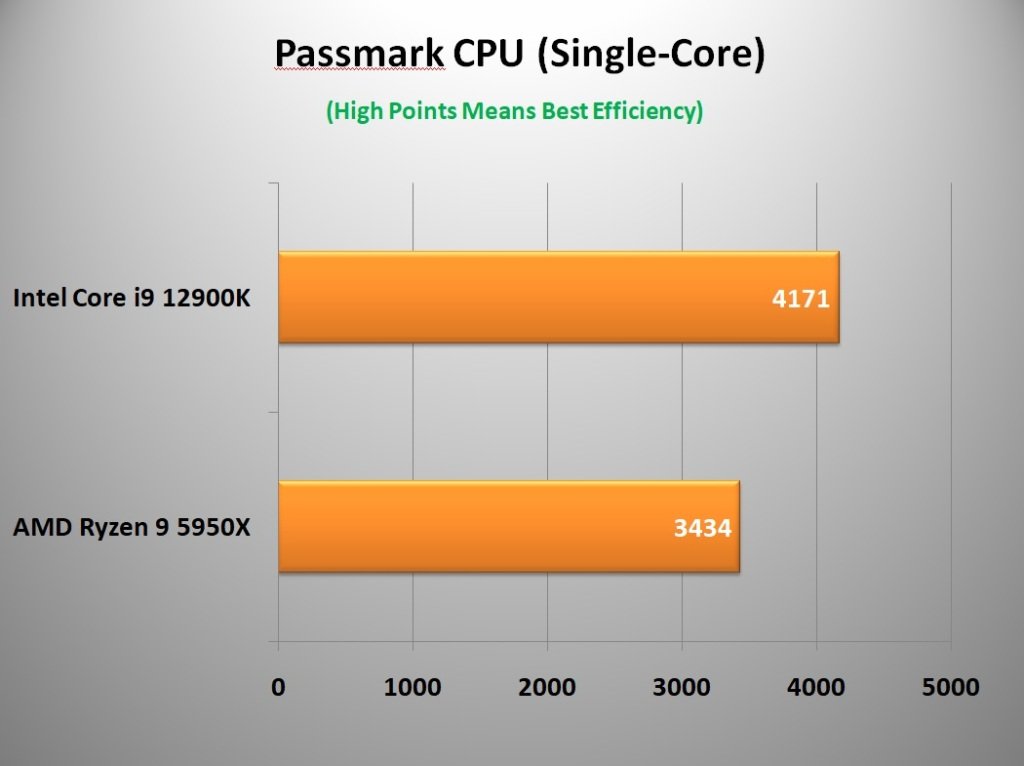 Passmark CPU (Multi-Core)
Geekbench 5 (Single-Core)
Geekbench 5 (Multi-Core)
Average Score (Pts)
Overclocked Score(Pts)
Summary
The Core i9 12900K wants to gain first place in the best CPU for gaming. We give our support to that cause. It is nice to know that Intel has managed to get back into its groove by producing stupendous models like these and competing aggressively with the likes of AMD.
Intel has made use of a robust architecture that seems to have done the trick here. Besides, they have made use of a new approach, process, and platform. These are some of the specifications that many users have been waiting patiently for them to do.
It completely obliterates the earlier Intel processors in most of the metrics. We tested the model and are delighted that it performs exceptionally well in multithreaded performance, single-threaded performance, memory performance, and clock speed.
If you are a professional gamer, then you would be delighted to work with the Intel Core i9 12900K CPU model. That is because it can provide you with the performance you look for in streaming, gaming, and capturing those crucial moments.
This is when you might be tempted to go for the cheaper models they produce, like the Intel 5 series models. But these models do not come with the capabilities and the specifications of the Core i9 for PC gamers.
We also thought that they decrease your graphics card to 4K, as most of the other modern processors may do. The model provides you with the most spectacular technology in the world. We cannot say more than this.
AMD is doing its best to eliminate the clean lines between the primary PC CPU models and the top-end PC CPU models. They have been manufacturing some stunning CPU models of late, which is quite visible in the market shares over the last 10-15 years.
They have taken the mantle from Intel and are still wearing the crown if you look at the gaming PC CPU market & segment. But Intel has made a good comeback with some models like the one we have discussed in here.
This unique 16-core Ryzen 9 5950X CPU model is one of the best we have seen by far from AMD. The maximum you can really compare it with would be the Intel Core i9 10980XE Extreme Edition.
We really don't see why you can go further. The reason for that is AMD simply can't beat this kind of core. When you require a CPU model for developing high-content applications, then you may need one this-like unit.
This greatest in-line Zen 3 processor provides you with amazing core power that most Intel CPU models fail to do. We can feel the power of this processor when performing top-end tasks like graphic designing and others.
When you are somebody who wants exceptional gaming performance, needs 32 threads worth of computing power, and an unlocked CPU model, then look no further. Likewise, when you are not interested in spending $800 of your money on a CPU model.
Besides, if you don't need so many cores, and are satisfied with a 6-core gaming ability, then you know what to do now. This AMD Ryzen 9 5950X CPU model is a powerful & efficient unit. It sure is a thorn for Intel, as far as we know.
The Ryzen model provides everything that you can ask for as far as the performance requirements are. It can take on Intel models any day. However, we are not able to understand the pricing of this CPU model.
We feel that this was a massive letdown on AMD's part. Though they have provided you with a decent discount, for now, $800 on a model is not something that is justifiable on any day for the given specifications.
With $400, you can get yourself a CPU model that comes with 8 cores and 16 threads in the Ryzen 7 5800X. You can go in this CPU model when you need an unlocked processor, a unit that has a total of 32 threads and a solid multi-core performance.
FAQs
Is Intel Core i9 12900K good for gaming?
The Intel Core i9-12900K is the fastest CPU model and can provide you with an exceptional gaming experience for the price. With the Alder Lake processor able to beat AMD units, you can use the excellent pricing and stunning performance for doing all kinds of tasks.
Is Intel Core i9 12900K worth it?
The Intel Core i9 12900K CPU model is definitely worth it. As we read in the above answer, it is the best currently in the market in 2022 when you are looking for a processor that can help you perform several tasks like content creation, high-end gaming, and stunning graphics.
Does the 12900K run hot?
The Core 12900K model works like a GPU model by default. It can reach at very high temperatures of 90 degrees Celsius. However, it comes with 8 hyperthreading-enabled performance cores, a total of 24 threads, and 8 efficient cores, making it run quite hot.
Is Ryzen 9 5950X better than Intel Core i9 processors?
The AMD Ryzen 9 5950K could be better than the Intel Core i9 processors. This was found when we tested the models in the multi-core benchmarks. However, it is not that good when it comes to its PCIe 4.0 and DDR4 support when you can make use of it in an upgrade in AMD systems.
Is Ryzen 9 5950X better than i9-12900K?
Sadly, the answer is no. When it comes to the Intel Core i9 12900K CPU model, various things simply stood out in the latter unit. The Core i9 12900K unit is four times quicker than the Ryzen 9 5950K CPU model in the threaded Cinebench test.

Besides, it was faster in the POV-Ray testing as well, which is a crucial aspect of the whole testing process. This proves to you that the hybrid architecture of these CPU models comes with phenomenal ability, though they come with a lower thread count.
Verdict
The winner in this comparison review is the Intel Core i9 12900K CPU model. Though the AMD Ryzen 9 5950K CPU model is even more capable than the Intel model, we were blown away by the pricing of both models.
We decided to go in with the Intel unit because of two reasons, namely, the pricing and the flexibility that it offered. Otherwise, the Ryzen 9 5950X model is a fantastic unit that can provide you with immense specifications and abilities.
The AMD Ryzen 9 5950X CPU model is a dazzling unit that comes with everything that you may require. It is the new king that is found in the consumer-grade processor and quite fast, coming with incredible headroom and for enthusiast application.
If you want to design a top-end laptop model, then go with this CPU model. But you may get the Intel Core i9 12900K CPU model when you want something better fitting the gamer's profile and don't mind the added platform costs.
James Smith has always been intrigued by electronic products since his childhood. After his post graduation in electronics from a popular university, he decided to pursue a career in the electronics sector. But his calling for writing about these marvellous pieces of work got the better of him. That is how UBG was started. With a writing career spanning more than 12 years, James has worked on several hundred product reviews. During his free time, he like to spend time with his pet dog and relax in the swimming pool.