When you are keen to get a new smartwatch that can help your cause, then the Fitbit Charge 3 & Fitbit Charge 4 models are sublime options to consider. Which one do you want to choose for your fitness monitoring regularly?
That is why we have compiled this review so that you can make the right choice. We have compared some of the main differences between the two models with each other. This would give you an idea of which would be the ideal unit for your cause.
Fitbit has been around in the market for many years now. They have produced some phenomenal smartwatches over the years. You may have heard about the Versa and the Sense models.
There were outstanding in their ways. They came with remarkable features and impressive specifications. However, their primary line of products has been the Charge series. Though the market has seen the release of the Charge 5, the Charge 3 and the Charge 4 are fantastic choices for the users.
The Fitbit Charge 3 smartwatch is a good option for you. The model has helped the manufacturer regain lost ground. It could be called one of the most accomplished models providing an array of features that a company offers in a band design.
It has splendid features like sleep & heart rate monitoring; it has a lightweight design and a larger screen. You will want to know that it comes with a wide range of tracking modes and is also resistant to water.
Likewise, the Charge 4 smartwatch is an exceptional model to own. It comes with onboard GPS and a host of other features as well. These features can help you keep track and monitor your regular health too.
Besides, you get to own a Fitbit branded smartwatch. You will be delighted to know that the model comes infused with the GPS, Spotify, and Fitbit Pay features that help you make a contactless payment.
You can also use the model without having your smartphone along with you. It is helpful when you are on a walk, cycling, or running. If you are somebody who loves to go hiking, then you can make use of it as it helps you to track your hike route.
However, it is similar in design to the predecessor model, the Charge 3, which can put you off. But the pricing remains the same. In America, the Charge 3 model is priced higher than the Charge 4, but in most other countries, the Charge 4 is quite expensive.
It comes with a barrage of features that make it the best among you can get for yourself today. You may have other options as well. Let us now read this review to understand them better. We have given the winner at the end of the post.
Fitbit Charge 3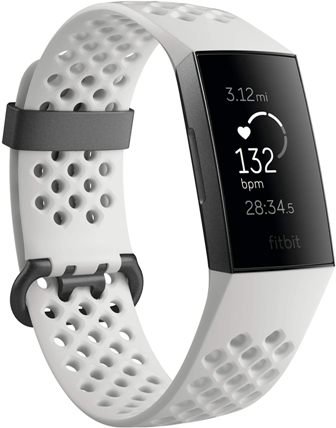 ---
PROS
The smartwatch comes with an elegant design.
The display is bigger than the earlier models.
It provides you with accurate sensors.
It comes infused with excellent smartphone notifications.
The product is resistant to water.
CONS
The smartwatch comes with a monochrome display.
Fitbit Charge 4
---
PROS
The unit is lightweight.
The model comes with a built-in GPS.
It offers you with your regular workout statistics.
It provides tracking for swimming activities.
The product is Spotify compatible.
CONS
The smartwatch lacks music storage.
Fitbit Charge 3 vs Fitbit Charge 4: Design & Features
The Fitbit Charge 3 smartwatch comes with an opulent design & features. It comes with a delicate & similar rectangular monitor. Besides, the band's design is almost the same as what was seen on the Charge 2 smartwatch.
However, they have designed this model somewhat differently. There is a minor difference. We can say that based on the fact that the unit is pretty slimmer and thinner. Additionally, it is lighter too.
It is because it is produced from aluminum material, not stainless steel. Doing that ensures the unit is much lighter than the previous ones. As a result, the model also feels quite comfortable to wear all day.
Those of you who do not like using press buttons might like this model. It does not come with press buttons. It is a touchscreen unit that has tap movement. You can use your finger on the display. That means you can use features using your finger.
It comes with an inductive button on the left side. You can use it to wake the model. Moreover, it offers the model a vibration that lets you know it works. However, it takes some time to get used to.
You can also find a PurePulse heart rate monitor. That allows you to monitor your heart rate, which happens to be a crucial feature found on most models. It also comes with the SpO2 Pulse oximetry sensor.
This may not be a new feature as it is found on most models sold in the market. You also have the design of the strap. We found it to be quite elegant and pleasing to the eyes. Unlike the earlier model that came with metal, a small button ejects the strap when pushed.
Additionally, you can change the straps effortlessly. Yes, we did notice it comes with plastic material. It does feel cheap and not premium. But acceptable for the price point. When you compare the model to other trackers, it is simpler to use.
A notable feature of the Charge 3 model would be the display. It comes much larger than what you would find on the Charge 2 unit. Though black & white, you can find the fact that it has a resolution enhancement and an elegant touchscreen.
We cannot say it is on par with the Ionic series of Fitbit, but it is able to display information clearly. You can see what you want outdoors without flinching your eyes. Unfortunately, you may not find the monochrome display useful for that cause.
But it enables you to keep your battery in check. Before we forget, the model comes with a resistance feature. That is a good thing. It not only protects your watch from sweat but also from water.
The Fitbit Charge 4 model has an exceptional design and features. However, many users have claimed that it is designed quite similarly to that of the Charge 3 unit. You can note the rectangular shape and its design of it.
But you can use a Fitbit Charge 4 Standard Edition that comes with a different Rosewood color and sturdy strap produced from silicone. This model is exquisite in looks and can be worn for parties and formal events.
Not to mention, you can effortlessly change the smartwatch straps as and when you like. They come in two lengths that can be chosen depending on your wrist size. You would be glad to know that the OLED display has good clarity.
You can view the information under the sun without issues. It will have been good if the monitor is able to remain bright. That happens only when you use the wake button on the side or move your wrist.
But we assume that it saves the battery usage. A notable feature of the Charge 4 model is that it comes with a Spotify playlist. You need to have your smartphone next to you and have the membership to Spotify Premium subscription.
Besides, you can also make use of Fitbit Pay and make online payments. Your bank should have this facility for you. This feature is present in the Charge 3 model but works only in Australia now.
The UK and American users need to either use the Charge 3 special edition or Charge 4 smartwatch. The Charge 4 model can be charged using the USB cable and connecting to the connectors.
It takes 60 minutes for a complete charge. The maker claims the charge to last for 5-7 days. We are glad to say that while testing the model, we found that it can work for that many days. But we can say that the battery can operate depending on your use.
Fitbit Charge 3 vs Fitbit Charge 4: Setup & Performance
The Fitbit Charge 3 might be more than 3 years old now. But you would be amazed to know that it is still in great demand because of its opulent setup & performance. The performance is quite slick.
It could be the maker's first model infused with breathtaking features. This gives it the advantage for users to track their health better, unlike the Charge 2, which came with basic features.
Most of the characteristics of the earlier model have been carried down to this unit. Some of them include guided breathing for relaxation, 24/7 heart rate tracking, and also workouts. It can also help in tracking walking, running, and weight training.
The smartwatch does not have a GPS feature that could be useful for runners, hikers, and campers. If you are an enthusiast, then you may want to look elsewhere. The battery life of the Charge 3 is around 7 days. In the earlier model, it was 5 days.
At the most, it should work for 5 days or lesser with ease. On the whole, the Charge 3 is a fantastic smartwatch to use. Though it does not come with the in-built GPS, it can work on your smartphone.
It comes with the weather and timer and also gives notifications. You can also keep track of your swimming, walking, and running. The Fitbit Charge 4 smartwatch has a good setup & performance.
It is pretty evident that the unit comes with remarkable features—a touchscreen and a button on the left side of the model. It comes infused with the controls. You can raise your hand, press the button to wake the screen, and then swipe it to use the menus.
We are delighted to let you know that the monitor is bright to look at. When you swipe the screen up, you can go through your data. Our tester noticed this model does not have aggressive vibration, unlike other models.
If you swipe it downwards, you can view the texts and calls. Supposing you do not want to be disturbed, you might want to press and hold the monitor. Using the app, you can be able to perform a wide range of activities.
The activity tracker is just about pleasant and satisfactory. You cannot call it the best out there in the market. You can view the distance, speed, and heart rate. You can become a Fitbit Premium member, which you can use for free for 90 days.
When you don't want to use it, you can cancel it within 60 days of use. The maker provides you with several features that can come useful for your monitoring and health conditioning if required.
Fitbit Charge 3 vs Fitbit Charge 4: Price
The Fitbit Charge 3 Fitness Activity Tracker is priced under $150. At the time of writing, it is priced under $135. It was released in 2018. This model might be helpful when you love to swim and do water-related activities.
It has a resistance of up to 50 meters. Besides, you can also wear it inside the shower. You can connect it with your smartphone for real-time pace and distance outdoors. There is also a radio transceiver compatible with Bluetooth 4.0 with a range of 6 meters.
The Fitbit Charge 4 Fitness Tracker is priced under $130. It was released in 2020. You would delight in the fact that it can measure your heart rate and calories burned. The unit can provide you with comprehensive monitoring & sleep tracking features.
For some weird reason, the Charge 3 is priced higher than the Charge 4 in many countries. For example, it is around $180 & $190 in Australia, respectively. Similarly in the UK, it is priced at £120 & £100, respectively.
However, the models were priced almost similarly when they were released at $150. There are few differences between the two models as they come with similar features. The Charge 3 & Charge 4 have monochrome OLED displays with 5ATM water-resistant.
Fitbit Charge 3 vs Fitbit Charge 4: Verdict
There you go. We have ended our comparison review on the Fitbit Charge 3 Fitness Activity Tracker vs the Fitbit Charge 4 Fitness Tracker. We hope you liked what you read and were able to make up your mind.
If you haven't, then you can always read the post again. The Fitbit Charge 3 smartwatch has adequate enhancements compared to the earlier model, the Charge 2. However, it could be this model when you are looking for a slimmer and lightweight model.
Besides, the model has a large display and several new tracking features that make it worth the money you spend on it. However, the Charge 4 model is a good model and remains a solid contender compared to many other models.
The unit does not come with onboard GPS and does not need to be a deal-breaker when you are on a budget. The Fitbit Charge 4 smartwatch is similar in appearance to the predecessor and has a good touchscreen.
It comes embedded with several new features lacking in the Charge 3 that make it a better model by default. When you are somebody who wants to keep track of your working out sessions and maintain a healthy lifestyle, then this unit is just for you.
The Fitbit Charge 3 smartwatch could be the better model as it comes narrower, thinner, and has a built-in camera remote control function. Besides, it comes with a higher maximum operating temperature and is produced for diving purposes.
The Fitbit Charge 4 smartwatch is an exceptional choice because it has GPS, automatically syncs, and comes with NFC. It has call control, a barometer, and keeps track of your calorie intake.

If you love to go on a hike, then you would find the route tracker helpful, and it is shorter. Our winner in this comparison review between the Fitbit Charge 3 vs the Fitbit Charge 4 smartwatches is the Charge 4 model.
The Charge 3 model is a cheap unit with decent features like OLED displays and 5ATM water-resistant. Besides, it has other notable features like being lightweight and having a large monitor.
On the other hand, the Charge 4 model, comes infused with terrific specifications. You can use the water-resistant feature, regular workout statistics, and Spotify. Though you may not use the in-built GPS often, the contactless payments make it an excellent option.
James Smith has always been intrigued by electronic products since his childhood. After his post graduation in electronics from a popular university, he decided to pursue a career in the electronics sector. But his calling for writing about these marvellous pieces of work got the better of him. That is how UBG was started. With a writing career spanning more than 12 years, James has worked on several hundred product reviews. During his free time, he like to spend time with his pet dog and relax in the swimming pool.