Why does the brand name matter to us? In the gaming segment, the product's brand plays a crucial role in consumers purchasing them year after year. It is safe to say that the gaming industry is a billion-dollar sector.
Logitech and Razer are two famous brands that are commonly used among gamers. You can find professional gamers worldwide either using the Razer gaming headset or the Logitech gaming headset.
They are quite popular. This comparison review will discuss two great gaming headsets: the Logitech G PRO X vs Razer Blackshark V2. We can say that the units are among the best-wired gaming headsets available in the market.
They come with outstanding features that are typically not found in several models. Besides, you will be happy to know that they do not cost you an arm. They are priced under $200, and the V2 comes priced lower.
Are they worth your time and money? The models can surprise you with their audio performance. Besides, they are quite stable and robust. Can the pricing of the models cause any upsets?
Why don't you read the post and find out yourself?
LOGITECH G PRO X
RAZER BLACKSHARK V2

PROS

PROS

The model comes with a robust design.

You can feel the opulent fitting.

It provides you with several features.

There are many configuration options.

It has an audio cable smartphone compatible.
It has a robust design.

The fitting is exceptionally comfortable.

The sound reproduction is neutral.

It has a detachable boom microphone.

It is priced cheaper than the other models.

CONS

CONS

The noise isolation could have been improved.
However, the USB sound card is not compatible with Xbox One.
| SPECIFICATIONS | LOGITECH G PRO X | RAZER BLACKSHARK V2 |
| --- | --- | --- |
| Product Name | G PRO X Wired 7.1 Surround Sound Gaming Headset | Blackshark V2 Multi-Platform Wired Esports Headset |
| Brand | Logitech | Razer |
| Sound Mode | Surround 7.1 | |
| Connection Type | Wired | Wired |
| Built-In Microphone | Yes | Yes |
| Carrying Case | Yes | No |
| Headphone Fit | Over-the-Ear | Over-the-Ear |
| Adjustable Headband | Yes | Yes |
| Warranty | 2 Years | 2 years |
DESIGN & COMFORT
We begin with the design & comfort of the Logitech G Pro X vs Razer Blackshark V2. Now, the models must come with a comfortable design and fit. Based on our testing, we found out that they come with different build sets.
The Logitech models are known for their robust frame and design. It is made from metal and has a thick black steel design. We also felt that the headband cushion was adequately provided in the head model.
The same can be said about earcups. They come made from memory foam. You can also find additional earcups that are covered in velour. It is suitable for those of you with long hair or those who wear spectacles.
The headset is of plastic, and you can find the logo on both sides. Overall, the design feels quite comfortable and friendly. The same is seen on the Razer BlackShark V2. As we said at the beginning itself, the Razer model is known for its gaming headset.
The unit has a metal headband along with a memory foam cover. You can also find the hinges made from a wireframe. This is something that we did not like because it looked cheap. On the whole, both gaming units provide you with immense comfort.
You can wear them for those long gaming sessions without breaking into a sweat. While the G Pro X comes with sublime comfort, the Blackshark V2 earcups covered in mesh fabric sublimely manage heat.
BUILD QUALITY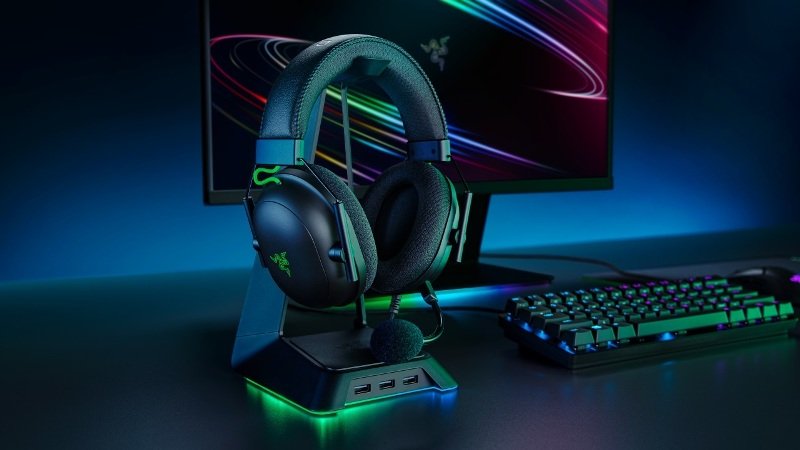 The moment you pick up the Logitech G Pro X, you realize how lightweight it is. Though you know that it is solid, you do not feel that you hold something made from top-notch material.
Thanks to the low weight, it is comfortable to wear for those lengthy gaming sessions you intend to have with your friends during the weekend. We liked the earcups padding as they were pretty thick and lovely.
You can feel the faux leather on the interior ring and exterior ring. The earcups give your ears an incredible feel and adequate support. The clamping force comes at a moderate level, ensuring that they do not come off just like that.
On the other hand, V2 comes a bit lighter and is more suited for long gaming sessions. Testers were able to wear the headphones for 2-3 hours without any discomfort. We felt that the G Pro X control scheme is placed well.
They come with two audio cables that have different in-line remotes. We also liked the braided cable because it is suitable for gaming. The microphone button for mute comes with a volume wheel.
You can use the audio cable for smartphone use. Besides, you also have a multi-purpose button that allows you to play music and pause it when you want. V2, on the other hand, comes with a non-detachable cable.
Its metal hinges between the earcups are weak as they can easily break if you don't use them carefully. Likewise, the V2 is durable headsets that are lightweight, and you do not feel them on your head at all.
Given that they come with exceptional design & comfort, their build quality is also excellent. Thanks to their identical connection modes, you do not have to be surprised to find out both the Logitech G Pro X and Razer BlackShark V2 offer you with exceptional gaming experiences.
The V2 comes with a plastic build, and that cuts down on headband tension. Additionally, the weight of the unit is also adequately reduced. However, the long-term durability of the unit can be a concern when you look at the V2 Pro.
AUDIO PERFORMANCE
Pro X and V2 have similar audio performance. However, they are not the same. Our testers found that the mids and bass were slightly better on the V2. The G Pro X treble can be very quiet, not giving you the ideal audio track you want to hear.
These notes can affect the hearing quality too. But they are manageable and should not be a factor to decline the headset or a deal-breaker. When listening to high-pitched music, the frequency response is a crucial factor.
We could hear the strings and cymbals clearly. The Blackshark V2 provides you with substantial isolation effects. We felt that is because of the earcups as they are quite thick. If you pair them with the headband tension, then it provides outstanding audio.
We were pretty taken aback by its ability to turn down passive noises that can otherwise ruin your soundtrack. This was a notable feature in the headset. The Logitech G Pro X is reasonable and provides you with average sound quality.
Mild noises and sounds do not have to be an issue with it. For example, you can easily sit comfortably with it around your AC or TV turned with medium volume. However, when you are on the subway or in a noisy street, then things become challenging.
Overall, the G Pro X and the V2 are on the same level. There was not too much of a difference between the two headsets. All the notes and the sounds are good and highly suitable for gaming purposes.  
MICROPHONE PERFORMANCE
It was a surprise to note that both the G Pro X and the V2 had powerful boom microphones. This was something that you do not get to see often. The G Pro X boom microphone comes with the exceptional recording quality.
Our voice could be heard eloquently and reasonably naturally. Your voice can be heard well even though you are calling up from a noisy environment. It could be from your car, in the subway, or from an average setting office.
However, you cannot use the microphone directly on your PC or laptop. That is because you will need to connect it using a Y-splitter on the ports simultaneously. It enables you to communicate on the audio and microphone efficiently.
The headsets were also connected on the analog connection to the laptop, and they worked. Besides, you can also use a USB soundcard. It also comes with a microphone that can be detached any moment you want.
The boom microphone on the V2 has a decent recording quality. The voice comes naturally and crisp. We used the headset along with the USB soundcard on it. However, users may notice a slight difference when using the unit.
Both the headsets attenuate bass frequencies typical of most gaming unit microphones. You would want to know that when the microphone de-emphasizes bass notes, it avoids the proximity effect.
The blue voice option in the G Pro X offers splendid noise isolation in the boom microphone. This can make all the difference in the gaming headset. You really ought to use it to believe it. Sadly, we cannot do the same about the V2.
Overall, both the G Pro X and the V2 offer you with exceptional boom microphone units. When you are keen on hearing top-notch sound effects on your headset microphone, then we encourage you to try out either of the headsets.
COMPATIBILITY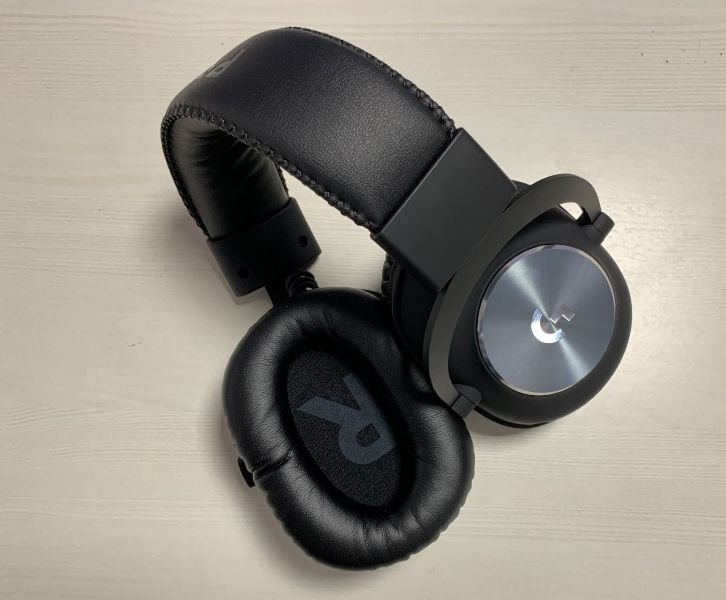 You will be delighted to know that the Logitech G Pro X and the Blakcshark V2 come with similar connectivity options. The units come with 3.5mm connections for you to connect efficiently on consoles having a USB adapter to connect on your laptop.
Thanks to the G HUB companion software, you can connect on to anything. Besides, you are provided with sublime sound quality. It also comes with room surround effects. You can now make use of the Blue Voice feature for customization options.
Using the wired two 1/8″ TRRS cables, you can obtain audio and microphone support. However, they must come with an AUX port for compatibility. The analog to USB-A adapter can be used on your PC or laptop; it also works on your PS4 but does not on the Xbox One.
Gamers may want to note that the Razer BlackShark V2 is not compatible with the Xbox One or the Xbox Series One. If you own them or are keen on using your new gaming headphone on your Xbox One, then you might want to look elsewhere.
PRICE
In most cases, the pricing can break the deal in gaming headsets. Can the price be a crucial factor here? The good thing is that both of them are priced under $200. The Logitech G Pro X gaming headset having blue voice technology is priced under $200.
However, the headset is available for less than $140 or lower during sales and discounts. This is for those of you who are keen on purchasing the G Pro X. Similarly; Razer BlackShark V2 Gaming Headset is priced under $100.
You may not want to be misled into thinking that it does not come with top-notch features. As you read in the post, the Logitech models come with exceptional features. But the Razer units are meant exclusively for gaming uses.
Nevertheless, gamers are particular on using either of the two names as a headphone when they play. Depending on your usage, budget requirements, you can place the order. You won't be left disappointed.
VERDICT
To be honest, it was a tough call. Both the Logitech G Pro X and Razer Blackshark V2 are sublime models. They come with plenty of features that you would expect from a gaming headphone. The G Pro X microphone is slightly better than the V2.
The design and the texture of the headsets were other aspects that we have to consider. Luckily, they do not feature LED light arrays and are not bulky. Sadly, they are not strong enough to last time.
They can break if you do not handle them gently. Having said that, both headphones support a wide range of gaming consoles seamlessly. Besides, you can also make use of the virtual surround sound on your PC or laptop.
They work effortlessly, and all you have to do is plug them into your console, and it is done. When you are not particular about the features and are okay with a decent headset, then you can go ahead with the V2.
But when you are particular about the audio performance, then you can consider the G Pro X. We have not listed the price of the online sellers because they can vary from time to time. Choosing a winner between these two sublime models was a tough ask.
However, we felt that the Razer Blackshark V2 has the edge over the Logitech G Pro X.
ALSO READ :-
James Smith has always been intrigued by electronic products since his childhood. After his post graduation in electronics from a popular university, he decided to pursue a career in the electronics sector. But his calling for writing about these marvellous pieces of work got the better of him. That is how UBG was started. With a writing career spanning more than 12 years, James has worked on several hundred product reviews. During his free time, he like to spend time with his pet dog and relax in the swimming pool.