If you are wondering how your PC machine can run Minecraft, then you are reading the right post. Minecraft is a popular game that is played by professional gamers all over the world. To be able to play the game efficiently, you may want to know the basic requirements.
Today, we are going to tell you all about the minimum & recommended requirements. So, what are the minimum & recommended system requirements? We will say to you about the system requirements for Minecraft.
What Is Minecraft?
Minecraft is a video game that was developed by Mojang and was created by Markus Notch Persson. The game was released in the market using the Java programming language initially in 2009 and then officially in 2011.
As a player, you can make use of the 3D-designed game, find new works, be able to extract the raw materials, create tools, and build structures of your choice. You can choose the game mode, then fight the mobs that are controlled by your PC system.
Besides, you can also play against other players in the same world. You would be happy to know that the game has received several awards and is also claimed to be an influential video game.
Many users may want to install the game and play it on their PC machine. If you belong to them, then welcome to the fantastic game. However, you may want to know the minimum requirements for doing so is it not?
Though the minimum requirements are not much, you will want to know that it is not easy as you think. So, what are the minimum & recommended system requirements for playing Minecraft?
Minecraft system requirements – Minimum and recommended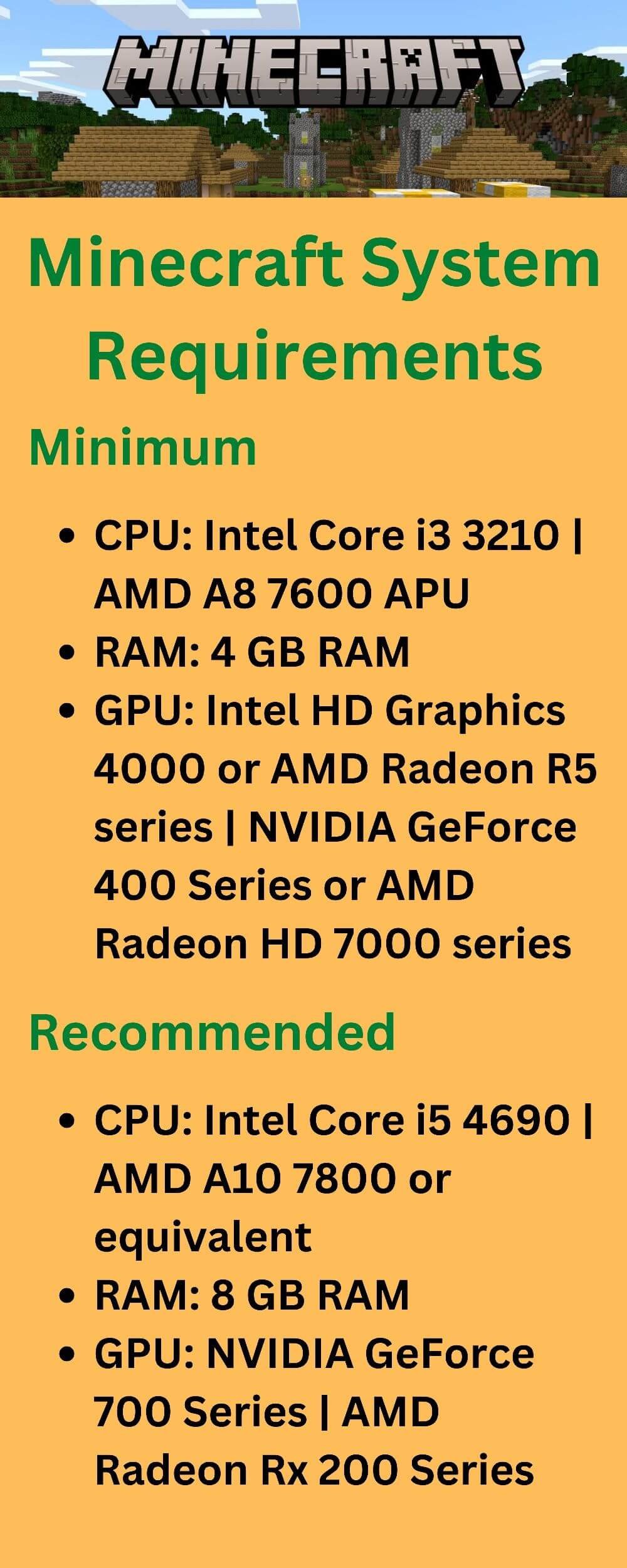 We will find out more about the minimum & recommended system requirements for running Minecraft.
Minimum Minecraft System Requirements
CPU: Intel Core i3 3210 | AMD A8 7600 APU or equivalent
RAM: 4 GB RAM
HDD: At least 1GB for game core, maps, and other files
GPU: Intel HD Graphics 4000 or AMD Radeon R5 series | NVIDIA GeForce 400 Series or AMD Radeon HD 7000 series
OS: 64-bit Windows 7 or later
Screen Resolution: 1024 x 768 or better
Network: Broadband Internet connection
Your PC device can work flawlessly on Minecraft with the use of the minimum requirements. But, when you want to experience the game and all its features indeed, then we would suggest that you make use of the recommended system requirements for Windows 10.
Recommended Minecraft System Requirements
CPU: Intel Core i5 4690 | AMD A10 7800 or equivalent
RAM: 8 GB RAM
HDD: 4 GB (SSD recommended) available space
GPU: NVIDIA GeForce 700 Series | AMD Radeon Rx 200 Series
OS: 64-bit Windows 10
Screen Resolution: 1024 x 768 or better
Network: Broadband Internet connection
Using these recommended system requirements, you can enhance the Minecraft experience. After finding out both the minimum & recommended system requirements, how do you now check for the PC unit specifications?
FAQs
Can Minecraft run on 2GB RAM?
Yes, Minecraft can run on 2GB RAM. Though the minimum system requirements of Minecraft are not really impressive, you will need to make use of the DX 11.0 GPU, like the Intel HD Graphics 4000, or Radeon HD 7000 series card, or GeForce 400 series card.
What does Minecraft require to run smoothly?
The minimum system requirements to work on Minecraft are having a memory of 2 GB RAM, GPU (Integrated) Intel HD Graphics or AMD (formerly ATI), and Radeon HD Graphics with OpenGL 2.1.

You can also make use of the GPU (Discrete) Nvidia GeForce 9600 GT or AMD Radeon HD 2400 with OpenGL 3.1 & HDD of a minimum of 200MB for the game core. Your PC unit should have the above written to work smoothly & efficiently.
Why is Minecraft so congested?
At times, Minecraft can feel & seem congested because of the immense traffic that builds up on the servers. Sometimes, it could be due to the route of your internet connection of yours. These factors can cause the game to slow down and offer inefficient & annoying speeds.
Can I run Minecraft without a graphics card?
Though you don't require a dedicated graphics card to work on Minecraft, you will need to have a GPU model installed on your PC device. As we read, Minecraft is not a demanding game, but you need to have an integrated GPU model in your system.
Can low-end PC play Minecraft?
Yes, a low-end PC device should be able to play the Minecraft game without much hassle. However, it may not provide you with opulent visuals like you get on top-end PC machines. When you are alright with that, then what is stopping you from playing the game?
Final thoughts on Minecraft system requirements
Summing up, we read about the minimum & recommended system requirements of the game Minecraft. It is an extremely popular game, which is why we feel that you may want to own a top-end PC machine for eloquent results.
Please know how to check whether your PC unit meets the minimum system requirements. When you want to have a phenomenal gaming experience, then you may want to make use of recommended system requirements.
Have you made use of the minimum or recommended system requirements when playing Minecraft? What were your thoughts on it? Which one was better suited for you? Please do write to us in the comment zone, and we will reply to you as soon as possible.
Happy gaming!
James Smith has always been intrigued by electronic products since his childhood. After his post graduation in electronics from a popular university, he decided to pursue a career in the electronics sector. But his calling for writing about these marvellous pieces of work got the better of him. That is how UBG was started. With a writing career spanning more than 12 years, James has worked on several hundred product reviews. During his free time, he like to spend time with his pet dog and relax in the swimming pool.