Sony is a popular Japanese electronics manufacturer that has dominated the industry for several decades now. There is no denying the fact that we, at Undergadgetbudgets are massive fans of Sony products.
You may find us writing about Sony products and doing comparisons on them in our write-ups regularly. They have the ability to produce affordable, top-notch quality manufacturing models for the masses.
The best part about the Sony headphones is that they do not let you down. The sheer design, build quality, and audio performance are simply sublime to say. Most of the headphone awards belong to Sony, which is not surprising.
Can Sony do the same with the wireless earbuds category, this is what we are going to find out today. We are going to be reading about two awesome models from them, the Sony WF-C700N vs Sony WF-C500 wireless earbuds.
How does the newly released C700N face up against C500? It is like pinning two heavy-weight boxing champs with each other. So, you may know that the winner does not mean, that they are superior.
It means, that it was a hard-fought victory. On that amazing note, let us find out more about these two fabulous units. The WF-C700N wireless earbuds are able to deliver premium quality at a low price.
If it can put a challenge to the C500 earbuds, then we can say that they are among the finest wireless earbuds around at this price point. The C700N earbuds have decent quality noise canceling, sufficient battery life, and aptX adaptive.
Likewise, the C500 earbuds come with the bare essentials that include a decent battery life of 10 hours, Bluetooth 5.0 (compatible with SBC and AAC codecs), IPX4 waterproof rating, and voice-assistant control.
However, we liked the fact that the C700N comes with a wind noise reduction structure that renders calls less distorted. You may also like the multipoint Bluetooth, which lets you connect wirelessly to two Bluetooth devices at once.
We do not have to remind you that we can have only one winner here, although the C500 model is superbly equipped for the price. We have mentioned the winner at the end of the post.
Sony WF-C700N
Sony WF-C500
PROS
PROS
Very comfortable fit.

Detailed, dynamic, and sound quality.

Enhanced presentation.

Easy to use.

Comes with most signature Sony features.
Compact and comfortable design.

Robust build quality.

A well-balanced sound.

Strong connectivity.

360 Reality Audio and DSEE support.
CONS
CONS
Lacks multipoint Bluetooth.
Average battery life.
CHECK ON AMAZON
CHECK ON AMAZON
Sony WF-C700N vs WF-C500 – Price & availability
The price of any earbuds or headphones for that matter is a crucial aspect of things and that is why, we have placed them first on our matters of discussion. The Sony WF-C700N wireless earbuds are priced under $120, which is quite reasonable for the features.
You may find them priced under $150 on some online retailers. You can find them in colors of black, white, and violet color options, while the WF-C500 comes in black only. On the other hand, the Sony WF-C500 wireless earbuds are priced under $100.
Some users have pointed out that they can be found discounted, as low as $69 on Amazon. We are glad to say that they both come with similar features, but the C700N unit has the important noise cancellation for an additional $20, making it far more enticing.
Even at their original asking price of $100, the C500 is a steal. Today, they do come with some significant reductions, they are the bargain of the century. The C700N is a new model and obviously costs more for now.
Winner: In our opinion, we have to go with the pricing alone, and the Sony WF-C500 wireless earbuds are the winner being priced under $100.
Sony WF-C700N vs WF-C500 – Comfort & design
Any headphones should not make the user compromise on their comfort or design. The same can be expected here. But the Japanese giant makes sure that its earphone does not get in your way and provides proper comfort.
One at both the models indicate to you how similar they are in design and build quality. This was quite surprising. But there are some key differences. The Sony WF-C700N wireless earbuds are extremely comfortable to wear for long hours.
They do not cause any strain on your ears. However, since these are in-ear models, you may want to remove them once in a while and listen to them at a low-to-medium volume. We also felt that the C700N earbuds came in some amazing colors as well.
This is something that is seldom seen in the earbuds category. They usually come in a few sets of colors like black, white, red, or blue. That is about it. But here you have a wide range of amazing colors to choose from.
There is lavender, sage green, black, and white. The C500 on the other hand comes in green options and orange. This is a personal choice and preference. However, in our book, the colors do not matter much, when the comfort & design of the earbuds are sublime.
The Sony WF-C500 wireless earbuds are somewhat larger than the C700N model. The simple reason for that is, the C500 is used with the 5.8mm driver, and the C700N is used with the 5mm driver.
The fitting of the C700N is fantastic as they are designed with a premium plastic charging case we well. Users have commended on the fact that they fit quite well on the ears, and you do not get a feeling that they might pop out any time.
We were truly satisfied with the textured surface of the C700N unit as it offers you with an amazing grip as soon as you place it inside your ears. Likewise, the C500 unit is comfortable. The C700N has a speaker grille at the front of each bud, and a pill-shaped charging case.
On the other hand, the C500 earbuds have a plain plastic coating and a solid build quality. There is also IPX4 water resistance on both models. We felt that the C700N can provide you with more comfort and fit.
Yes, the C500 is good to wear for a solid 2-3 hours without any form of discomfort. But you feel that they might come out sometimes when you walk around gently. Besides, the physical buttons can create some kind of issues on your ears, when pressed.
Winner: The winner is quite clear here, the Sony WF-C700N wireless earbuds. They were immensely comfortable, soft, and portable.
Sony WF-C700N vs WF-C500 – Audio performance & connectivity
The audio performance & connectivity of a headphone or earbuds is very crucial. After all that is the primary reason for any user getting one in the first place. So, how do these two models fare?
Perhaps, we can say that this is what separates the men from the young guns. The Sony WF-C700N wireless earbuds have a refined sound profile that can handle bass-filled music with aplomb.
The mids and highs are also treated similarly. This is something that you can get to see on the top-end Sony models. The vocals and the instrumentation are more pronounced, while the reverberation on choruses is opulent.
The earbuds are compatible with the headphones connect app. There is also the 360 Reality Audio and DSEE that do quite well on the model. It enables the spatial-audio-engineered tracks to sound clear and provides you with plenty of clarity.
Both the models support the SBC and the AAC but do not support Sony's audiophile-grade LDAC codec. Though the model does not come with the ANC system, but the Adaptive Sound Control too.
This feature helps you to adjust according to your environment. We liked the fact that through the wind noise reduction structure, you can make calls opulently, without disturbances. The voice calls are clear, natural, and transparent.
We can't say that it is a complete disaster for the C500 earbuds. Though they do not come with features like ANC, they have voice control and hands-free calling. The Sony C700Ns feature active noise-canceling.
The C500 do not. Sony's expensive wireless earbuds do have the ability to grab the attention of what it wants. It can give immense weight, and texture to the earbuds. Moreover, you can notice the balance and the performance, which is amazing for a $150 product.
The bass and the vocals are extremely clear, which is something we normally do not find on most earbuds. Yes, the C700N has lived up to its hype. According to some websites, the Sony WF-C500 wireless earbuds are also known as the "best sub-$100 wireless earbuds they have listened to in a very long time."
They have described the audio performance as stupendous, and rhythmic. You can hear the powerful lows and crisp highs. The mids are slightly under-emphasized which gives a sense of likeness to them.
Moreover, with the help of the Sony headphones connect app, you can get sound personalization. It can be done through the customizable EQ and multiple presets. The amazing features including DSEE can be used to improve the quality of compressed audio files.
We are delighted to mention about the 360 Reality Audio, as it can be optimized for use with hi-res streaming platforms like Tidal. Though the C700 model is not going up against a $50 pair of earbuds, they have to be worried about having a serious fight on their hands.
The punch from the C500 unit is mind-blowing. Once things click on the C500, they can be unstoppable. The balance of the music, songs, and tones on the C500 has to be heard to be believed.
We can vouch for the fact that the award-winning unit comes with sublime control, shape, and texture across the audio world. However, we did feel that the bass is somewhat low, and the soundstage a little limited.
We have to now decide based on the value for money. This could play a spoilsport for the C700N, but when you are an audiophile or a gamer, then we know for sure that you will throw the price factor out of the window.
Control scheme
We will read about their control scheme. This is another important criterion to choose earbuds. If you have used or operated the Sony earbuds before, then you may know that they are simple to work with.
You can work on all the functions including voice assistance, playback, call management, volume, and listening mode activation. It can be activated through long-hold gestures, single-press, and multi-press.
The Sony WF-C700N wireless earbuds can provide you with better tactile feedback. There is also digital assistance that offers stable speech recognition. Sadly, it does not come with voice-activated features like Speak-to-chat, and auto-pause/play.
The Sony WF-C500 wireless earbuds come with the right side for everything apart from the volume, which is found on the left side. We found that the buttons are also quite challenging to press as well.
You may notice that it has a music player and battery level indicators. You will also find Bluetooth 5.2 which works well for a stable range. However, the C700N comes with adaptive ANC and transparent listening modes.
This is something that is grossly missing out on the C500 model and can land its downfall. Though priced more, the C700N is justifying its cause here with several fantastic features infused.
Some users have mentioned about the ambient sound feature that is powerful. It can pick up conversations from about 4 blocks away. Overall, the control scheme and the apps are wonderful to use.
Winner: With a barrage of features that provides opulent features, the Sony WF-C700N wireless earbuds are our winner in this section.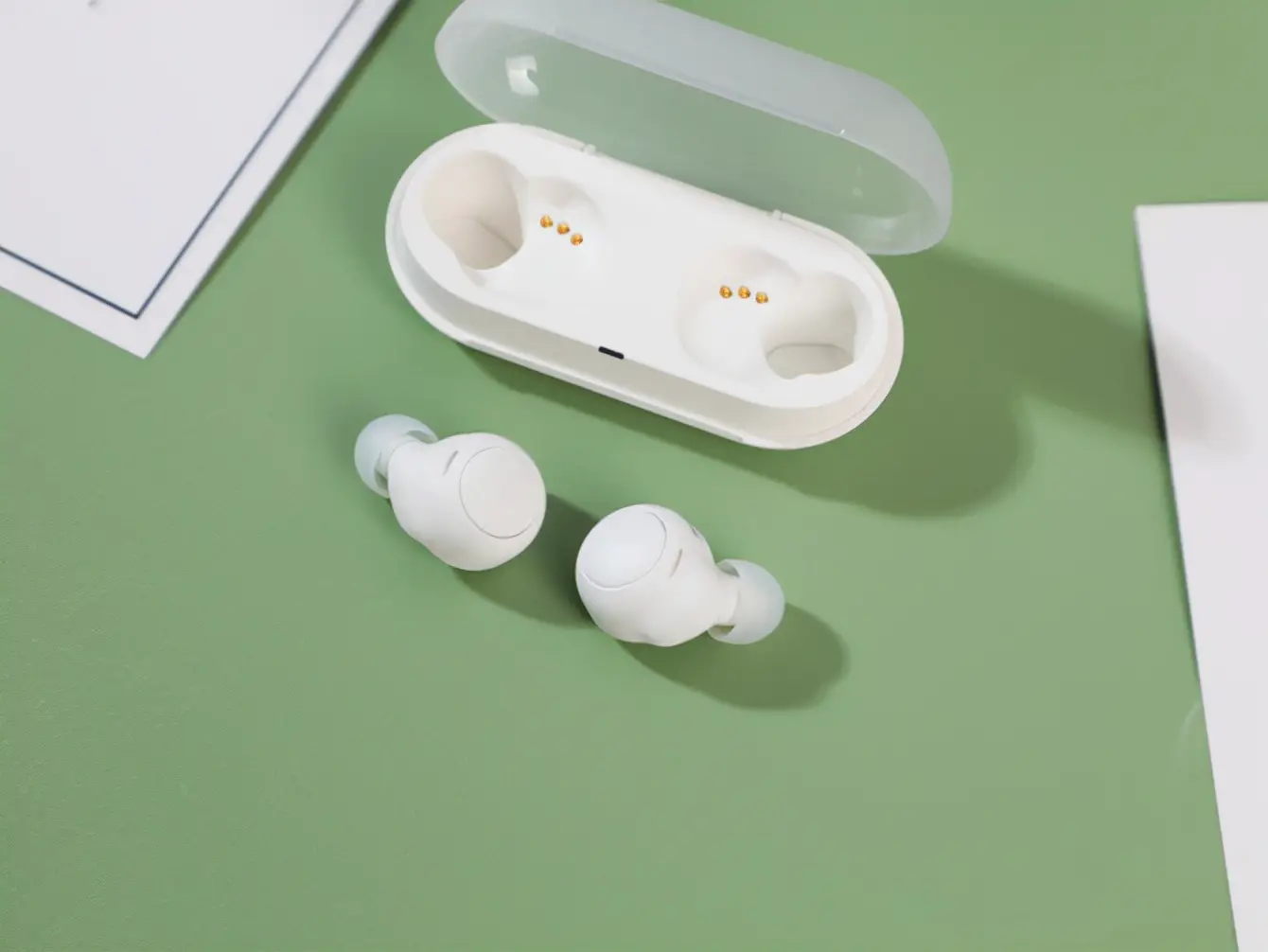 Sony WF-C700N vs WF-C500 – Microphone & battery life
What about their microphone & battery life? As far as wireless earbuds go, they need to click the gun here. Otherwise, users might not be attracted to them. How do these two models fare? Let us find out.
The Sony WF-C700N wireless earbuds are one of Sony's better calling headsets. The video calls and communication came with positive feedback. The person at the end can hear you loud & clear, though they were using smartphones instead of earbuds.
Users have complimented the ability of the earbuds to work well with the wind resistance. This prevented the outdoor noise from entering the conversation. The Sony WF-C500 wireless earbuds provide a good calling ability when you require a good model.
Sadly, that is about it because there is nothing else left to add. You can hear some muffling during the calls. The battery life of the models is similar with 10 hours on each of them. When using ANC, it can drop down to 7 hours or even lesser.
That is quite acceptable and understandable. The Sony WF-C700N charging case can provide you with 24 to 28 hours, the Sony WF-C500 charging case offers you with 20 hours only. This is quite less than any AirPods model, and they do not support wireless charging.
Winner: The Sony WF-C700N wireless earbuds are our winner in this segment with 10 hours of playback, and 24 hours on the charging case.
Verdict
Our winner in the comparison post between the Sony WF-C700N vs WF-C500 wireless earbuds is the Sony WF-C700N wireless earbuds. To be honest with you, this was not as straightforward an affair as it seems.
It was a far tougher call than many results above might suggest. We do admit that the C700N model came infused with more features like ASC, wind noise reduction, and ANC, that can provide you with enhanced audio performance, and updated technical specifications.
We crown the victor to Sony's latest creation. These are tremendous earbuds that can be purchased for a mid-range quote. We found them better sounding than most of the top-end wireless buds.
These had a well-balanced audio, and Sony's blend of some fabulous sound-enhancing technologies. We do feel that there could be some enhancements done in the call quality, the design of the earbuds, and the noise canceling was top-notch.
However, this is expected from a model that is newly released in the market. Unlike, the C700N model, the older C500 model provides you with you a brand for value, decent sound quality, and more features, than most units sold for the same price, in the market today.
We were also stunned by the build quality and comfortable design. They can last for at least a decade if used properly. When you are ok to spend more than $150, on a pair of versatile wireless earbuds, then we would not argue with you.
However, if you are a crafty user who is alright with a decent pair of wireless earbuds that cost around $60, then the C500 model would be suitable. Summing up, the Sony WF-C700N wireless earbuds are a good model that gives a huge win for the Japanese manufacturer.
It combines phenomenal fitting, amazing features, and more importantly, superb audio quality. Basically, it is a sublime unit that comes at a hugely attractive price. The Sony WF-C500 wireless earbuds have a good design and awesome sound features that make them one of a kind.
Besides, it is priced quite low for a pair of earbuds. At the end of the day, the choice is going to be yours. When you are in search of stunning earbuds that come with everything you are looking for, then the C700N is the best choice, when you want something cheaper, then go for the C500.
James Smith has always been intrigued by electronic products since his childhood. After his post graduation in electronics from a popular university, he decided to pursue a career in the electronics sector. But his calling for writing about these marvellous pieces of work got the better of him. That is how UBG was started. With a writing career spanning more than 12 years, James has worked on several hundred product reviews. During his free time, he like to spend time with his pet dog and relax in the swimming pool.