We are pretty confident that most of our readers love playing first-person shooting games, is it not? Among them, Valorant is probably the most popular FPS game because it comes elegantly designed and provides you with an adrenaline rush like no other game till now.
This free-to-play FPS game was developed and published by Riot Games to be played on your Windows gaming PC or any PC device, for that matter. The game was codename Project A in October 2019.
Having said that, you may want to make yourself aware of the minimum & recommended system requirements to play this game. In this post, we will be finding out about the minimum & recommended system requirements.
The good news is that it is not too heavy, and you can go ahead with a mere AMD Radeon X1600 GPU. But when you want to get the thrill of playing this superb game, please make use of the recommended system requirements like AMD Radeon R9 280 GPU and enjoy it.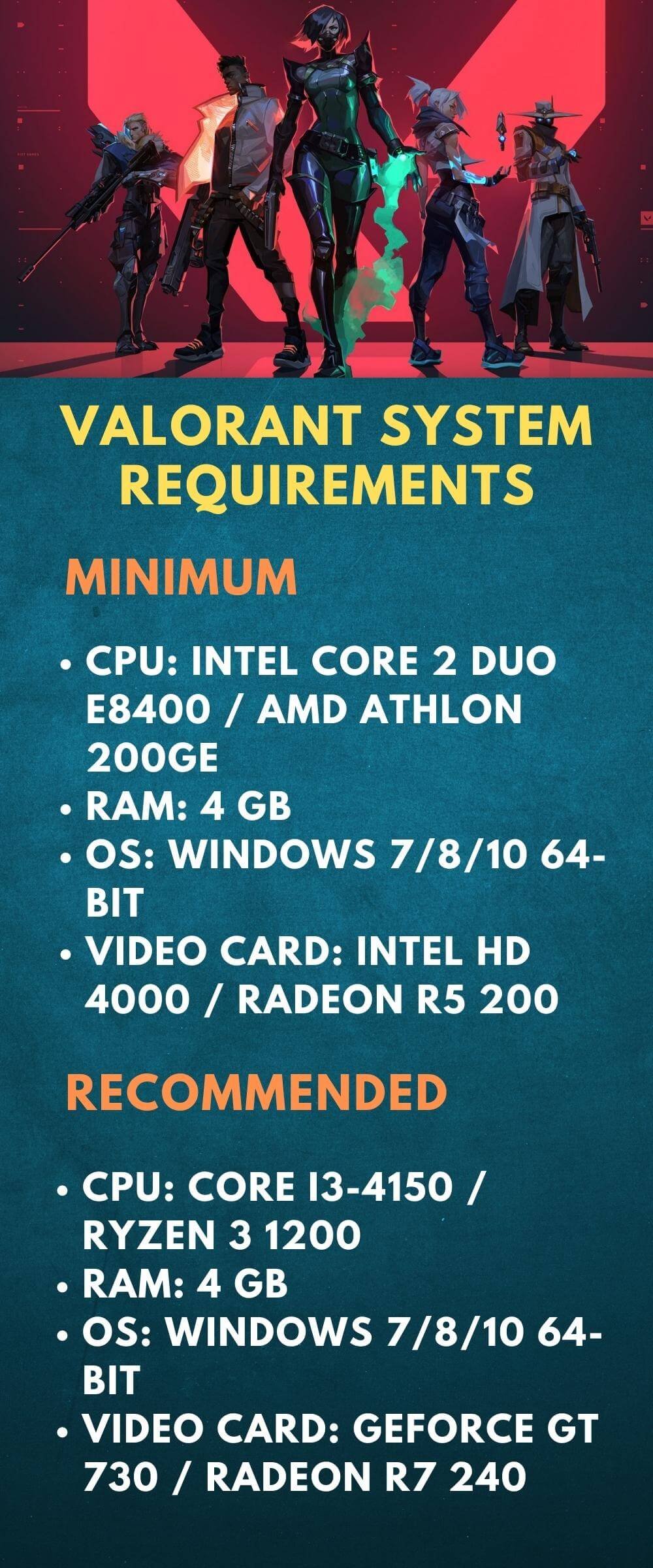 Valorant System Requirements (Minimum)
Below are the Valorant minimum system requirements:
CPU: Intel Core 2 Duo E8400 / AMD Athlon 200GE
RAM: 4 GB
OS: Windows 7/8/10 64-bit
VIDEO CARD: Intel HD 4000 / Radeon R5 200
PIXEL SHADER: 3.0
VERTEX SHADER: 3.0
Valorant System Requirements (Recommended)
Below are the Valorant recommended system requirements:
CPU: Core i3-4150 / Ryzen 3 1200
RAM: 4 GB
OS: Windows 7/8/10 64-bit
VIDEO CARD: GeForce GT 730 / Radeon R7 240
PIXEL SHADER: 5.0
VERTEX SHADER: 5.0
DEDICATED VIDEO RAM: 1024 MB
Reviewers have complimented the game developers for helping them to play this amazing game for free. Besides, it is an excellent choice for gamers due to its low system requirements. This is something we have seldom seen in most FPS games, which otherwise require you to have plenty of top-notch requirements.
According to most gaming sites, more than 80% of PC machines were able to pass the minimum system requirements, which itself is a fantastic thing to know. You can consider using the Intel HD Graphics 3000 as the minimum GPU requirement.
The game has its own critical reflexes, which you need to make than merely pointing at your target and shooting. Sadly, the minimum system requirements of an Intel HD Graphics-3000 GPU caused several PCs to crash.
We may suggest the use of the Geforce GTX1050 Ti GPU to enable gamers to meet with a flawless PC performance. Not to mention, you might opt for the Intel Core i5-4460 CPU dominating the battle.
As you read, you require just a Windows 7 or Windows 11 operating system. You can make use of the 4GB RAM, having 23GB storage space in there. The visuals depend on the kind of resolutions you infuse into the PC device.
This is when it is recommended that you make use of 60fps and then also choose with the discrete GPU. Gamers can use an AMD Ryzen 3 1200 or Intel Core i3 4150 processor that is blended with an AMD Radeon R7 240 or Nvidia GeForce GT 730 for intense performance.
When you want to play professionally, then we may suggest that you use the top-end game system requirements, as this will get you 144fps. It is possible with the help of the Intel Core i5 4460 or AMD Ryzen 5 2600X.
You may use the GPUs of Nvidia GeForce GTX 1050 Ti or AMD Radeon R7 370. Coming to the system latency, you may choose the GeForce GTX 900 series GPU or the higher models. This helps you to move around better and shoot efficiently.
After all, that is the whole purpose of this game. Please make use of an SSD storage space PC system because it can offer you with an advantage over the HDD. It is a known fact in the hardware industry.
However, it can load only as fast as your server. So, your internet connectivity comes to play in here. An important update would be the release of the Valorant patch 5.08. It was released on October 18, 2022.
A new agent Harbor has been brought in to balance the characters present in this game. You may want to update yourself on the changes and the bugs that have been fixed. This truly is an excellent step by the gaming developers who are listening well to the gamers.
Valorant settings
We thought of providing you with some ideas that can help enhance your Valorant system requirements when you are not too keen on upgrading your PC device. You may want to decrease the material quality to improve the boost of fps.
You can also consider decreasing the PC device detail quality & texture quality to the next preset down. When you are working on the anti-aliasing on the Valorant settings menu, then you can turn the setting down or switch it off. Please make sure to run a higher AMD or Nvidia GPU model to get the ideal performance results.
FAQs
Can Valorant run on 4GB RAM?
Yes, you can play the Valorant on a PC that has 4GB RAM. However, you may want to upgrade your PC system from the minimum to the recommended system requirements for getting the best possible results.
How many GB RAM is Valorant?
The minimum system requirement for playing Valorant would be 4GB RAM, but you can choose higher RAM for better gaming performance. You can make use of Windows 7, 8, and 10 operating systems. You can also consider using the Windows 11 OS.
Can Valorant run without a graphics card?
Yes, it is a CPU-based game that can work using your processor only. However, gamers prefer using a graphics card because it provides them with immense gaming performance and capabilities for letting them play with ease. You can use either the Nvidia or the AMD GPU.
Can i3 laptop run Valorant?
We are not sure about that because it is ideal for working on a device that runs on the Intel i5 processors. According to some gamers, the game works fine with the 2017 i3 Mobile CPU and MX130 Gfx on Med-High settings on 4GB RAM or 8GB RAM as well.
What is a good FPS for Valorant?
Valorant FPS game is known for its minimum system requirements. So, any fps should do this game. The game offers you with exceptional image quality in the lowest graphics settings. Besides, it provides you 200-300+ fps, which is better than most of the graphics.
Conclusion
This is it. We hope you are enlightened on the minimum & recommended system requirements for playing Valorant. This is a unique FPS game that comes with plenty of action and drama.
To enjoy the best gaming results, we suggest you choose the recommended system requirements rather than the minimum requirements. We have also mentioned the different CPU & GPU model combinations that provide you with ultimate results.
You might consider using them. Please feel free to share this post with your friends or Valorant gaming enthusiasts, as they may benefit from it. Do tell us about your experience once you have played the game on the minimum & recommended system requirements.
James Smith has always been intrigued by electronic products since his childhood. After his post graduation in electronics from a popular university, he decided to pursue a career in the electronics sector. But his calling for writing about these marvellous pieces of work got the better of him. That is how UBG was started. With a writing career spanning more than 12 years, James has worked on several hundred product reviews. During his free time, he like to spend time with his pet dog and relax in the swimming pool.