If you like games that deal with shootings, escapes, and warzones, then the Escape from Tarkov might come to mind. The game features a wide range of RPG elements in it and comes with fantastic firepower too.
As a player, your leading role is to get away from the place called Tarkov, which is quite evident from the name itself. A player has only one life in the game. That means if you die, then you have to begin all over again.
So, it would help if you were extremely careful; otherwise, you lose all. However, in this post, we are going to be discussing about the Escape from Tarkov system requirements. You need to beware of the requirements to play the game.
You do not want to download the game on your PC unit only to find out that you can't run the game the game because of the hardware. In this article, you will learn more about the minimum and recommended requirements of the PC.
Escape from Tarkov System Requirements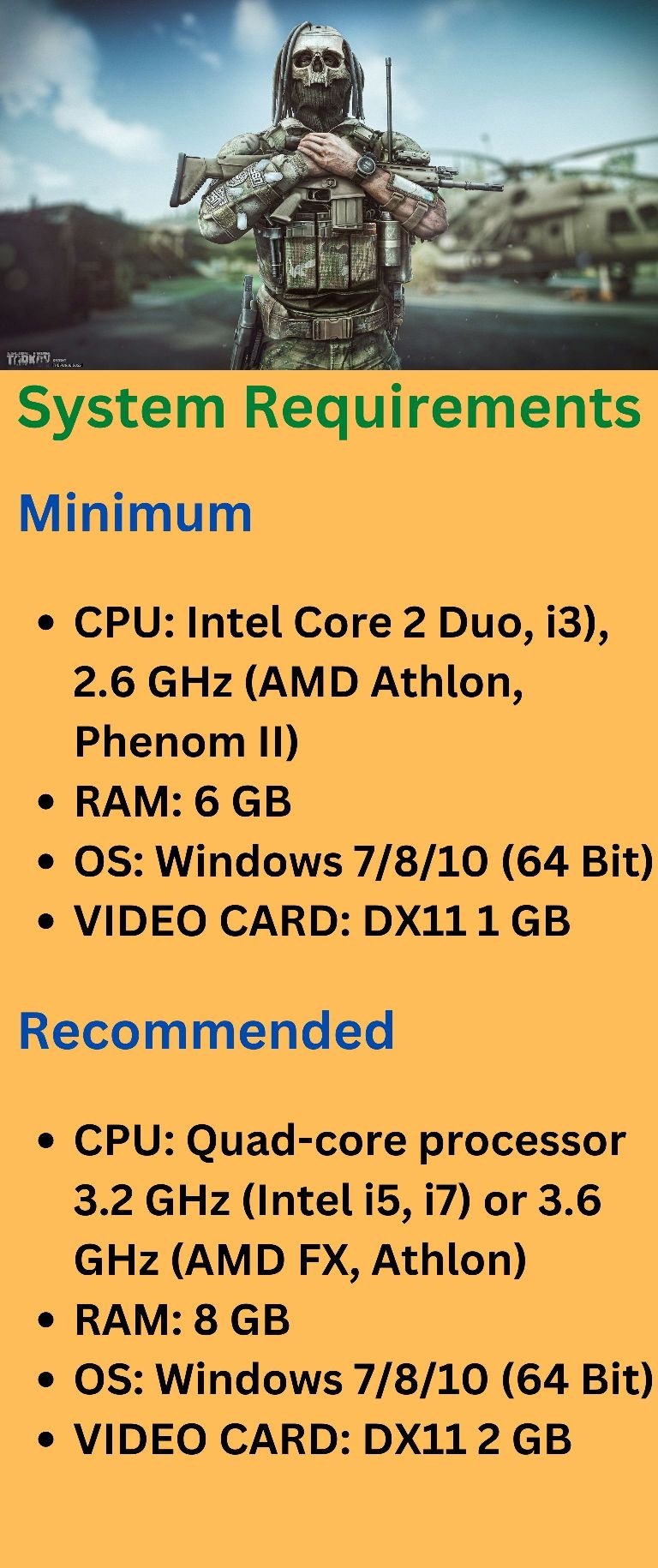 Escape from Tarkov Minimum Requirements
CPU: Dual-core processor 2.4 GHz (Intel Core 2 Duo, i3), 2.6 GHz (AMD Athlon, Phenom II)
CPU SPEED: Info
RAM: 6 GB
OS: Windows 7/8/10 (64 Bit)
VIDEO CARD: DX11 compatible graphics card with 1 GB memory
PIXEL SHADER: 5.0
VERTEX SHADER: 5.0
SOUND CARD: Yes
FREE DISK SPACE: 8 GB
DEDICATED VIDEO RAM: 1 GB
Escape from Tarkov Recommended Requirements
CPU: Quad-core processor 3.2 GHz (Intel i5, i7) or 3.6 GHz (AMD FX, Athlon)
CPU SPEED: Info
RAM: 8 GB
OS: Windows 7/8/10 (64 Bit)
VIDEO CARD: DX11 compatible graphics card with 2 GB or more of memory
PIXEL SHADER: 5.0
VERTEX SHADER: 5.0
SOUND CARD: Yes
FREE DISK SPACE: 8 GB
DEDICATED VIDEO RAM: 2 GB
If you have read the above, then you would notice that the game requires only Intel Core i3 2.4 GHz, an Intel Core 2 Duo, AMD Athlon, or an AMD Phenom II 2.6 GHz. However, the gaming developers also suggested that you use an Intel Core i5 or an i7 3.2 GHz, an AMD FX, or an AMD Athlon 3.6 GHz.
You may want to use the Intel Core i7 10th gen, which is quite affordable and powerful. When you are on a budget, then you might want to use the AMD Athlon 3000G, which comes having a 3.5 GHz clock speed and supports overclocking.
GPU
The GPU model that can support DirectX 11 can effortlessly support the game quite well. But you will be delighted to know that there are several models that can do the job for you. Some of them include NVIDIA Titan cards, NVIDIA 460, NVIDIA RTX, and AMD's 5000 series.
You can also make use of the Radeon Fury/X, Vega, and RX 5700/XT. When you want to play the game in 1440p, 144 Hz, ultra-high graphic settings, then you may use NVIDIA GeForce RTX 2070 Super for 60 FPS.
When you want to use some cheaper, then you can consider the 1080p that can be found on the GTX 1660. This model is way cheaper than the 2070 super GPU model. When you want to use a low-priced model, then you can opt for NVIDIA GeForce GTX 460 or AMD Radeon HD 6870.
RAM
The game requires at least 8GB RAM for you to be able to play it properly. But you can use the 12GB RAM for efficiently running the game. We felt that the 12GB RAM offers you more control over things.
You can utilize several applications that require RAM space even when they are not opening. You can make use of the RAM allocating techniques for Escape from Tarkov, using more RAM. Gamers can also get 16GB RAM for under $100, which can be helpful.
Storage
You may want to ensure that you have a minimum of 8GB of storage space. Please do not download the game if you do not have that kind of space in there. The gaming developers may not suggest more than that though it may need around 12GB of storage space.
When you have a lot of data on your PC machine, then you may want to go in with 128GB of space. Otherwise, it is okay. But we suggest that you go in for a minimum of 512GB SSD or 1TB HDD storage space to be on the safe side.
These days, you got plenty of data to store, and by the time you know it, your PC device becomes full. Some of the best SSD brands include Kingston, Western Digital, Corsair, and Samsung, and for HDD, you may go in with Western Digital & Seagate.
Operating System
The operating system of the PC device is the most vital thing for any game. You can run the game efficiently on Windows 7 or 8. Moreover, you can also consider using it on Windows 10 with 64 bits.
Getting the latest Windows OS might be a good idea because you have plenty of features on them. Besides, it can run quicker, better, and marvelously. Why not make use of Windows 10, then, and it has adaptability settings and a bunch of advantages too.
FAQs
Do you need a good PC to run Escape from Tarkov?
The Escape from Tarkov requires an Intel Core i3 2.4 GHz, Intel Core 2 Duo, AMD Athlon, or AMD Phenom II 2.6 GHz. Some gamers suggest that you make use of the Intel Core i5 or Intel Core i7 3.2 GHz, an AMD Athlon 3.6 GHz.
Is Tarkov a challenging game to run?
EFT, or Escape from Tarkov, is not a challenging game to play or run. If your PC machine has the required components, then it is capable of running the game. You know that it can handle those situations efficiently.
Can a low-end PC run Tarkov?
Yes, a low-end PC can run and work on Tarkov effortlessly well. But you may want to switch off the Antialiasing and make use of the FXAA difference. Though it is a minor change in the framerate, it can make a world of difference between the game and your PC unit.
Can a GTX 1050 run Escape from Tarkov?
You can work on the GTX 1050 on the Escape from Tarkov properly. It is a known thing that 1080p can work efficiently on the game. Besides, the 1440p resolution can work opulently as well, and may go up to 4K with some settings adjustments.
Can you run Tarkov without a graphics card?
Your PC machine requires a minimum of 1GB video card, which is also DX11 compatible for passing the GPU requirements. It is quite a low requirement that these cards have to meet the specifications of the Radeon HD 6850 and the GeForce GTX 460.
Conclusion
This is an excellent game that comes with phenomenal graphics and provides you with immense excitement. The FPS game offers you with decent specifications and minimum PC requirements.
Though you can play the game using the minimum PC requirement, you may want to make use of the maximum PC requirements for an eloquent gaming experience. When you play the game using high quality, then you may want to make an investment.
If you found this helpful post, then please feel free to share it with your friends or colleagues who love to play this game. They will be indebted to you. Besides, please do share your thoughts and experience with us in the comments section.
James Smith has always been intrigued by electronic products since his childhood. After his post graduation in electronics from a popular university, he decided to pursue a career in the electronics sector. But his calling for writing about these marvellous pieces of work got the better of him. That is how UBG was started. With a writing career spanning more than 12 years, James has worked on several hundred product reviews. During his free time, he like to spend time with his pet dog and relax in the swimming pool.