Wireless gaming headsets are in great demand today, and as we witnessed last year, this year in 2021 too, we may see a major influx of them in the market. Today, we decided to review exceptional models in the market and find out which among them is the best.
They are the Logitech G935 vs G933 gaming wireless headsets. The models come with a fantastic design, similar in nature. Unlike what many gamers and users think, the G935 need not be merely an updated version of its G933 counterpart.
If you already own the previous model, we do not feel it necessary for you to upgrade. But the G935 offers you with sublime surround sound and audio effects that were entirely missing on the G933 model.
The G935 is comfortable, but you may feel tight on your heads at times. That is because it has a bulky design, and it does not isolate noise. Its boom microphone is suitable for gaming and works splendidly on the Logitech G HUB software.
The wireless component provides you with intense flexibility that some users might consider. On the other hand, the Logitech G933 has all the elements infused in it to make a great gaming headset.
They include low latency, good audio quality, and exceptional microphone. Besides, they are also comfortable and robust in design. You can find the regular cable with it. You can effortlessly work on your smartphone, laptop, and console.
In this review, we will compare the features of the Logitech G935 vs G933 to find out which one is better than the other. This will help you decide which model is suitable for your sound and gaming requirements.
Let us read the following post carefully.
LOGITECH G935
LOGITECH G933
BUY NOW
BUY NOW

PROS

PROS

It comes with a comfortable and durable build.
This is a robust unit.
The app is impressive and works fantastic.
It comes with a remarkable battery life of 12 hours.
It has more compatibility than most units.
The design is sleek and tremendous.
It provides exceptional microphone quality.
It has a decent battery that works for 8 hours.
There is low latency in wireless connection.
It comes affordably priced under $110.

CONS

CONS

The model is slightly expensive, priced under $150.
It comes with compatibility issues.
| SPECIFICATIONS | LOGITECH G935 | LOGITECH G933 |
| --- | --- | --- |
| Product Name | G935 Wireless 7.1 Surround Sound Gaming Headset | G933 Artemis Spectrum Gaming Headset |
| Brand | Logitech | Logitech |
| Connection Type | Wireless | Wireless |
| Wireless Connectivity | Radio Frequency (RF) | Wi-Fi |
| True Wireless | No | No |
| Maximum Wireless Range | 66 feet | 65.6 feet |
| Built-In Microphone | Yes | Yes |
| Headphone Fit | Over-the-Ear | On-Ear |
| Compatible Platform(s) | Mac, Windows | PlayStation 3 |
| Warranty | 2 years | 2 years limited |
DESIGN & COMFORT
The Logitech G935 fits exceptionally on your ears sublimely. They are very comfortable and rest perfectly on your head. That is because it comes with a firm and soft cushion. It is crucial for playing those prolonged gaming sessions with friends.
The headset does not feel awkward at any moment. Few users felt that initially, the unit feels a bit heavy, but once you place them on your heads, it turns out light. The ear cups are lightweight and come with plenty of padding.
The same can be said about the Logitech G933, as its ear cups come with a lot of padding. Gamers will not feel too overwhelming. Our tester never felt as if his ears were being pressured. However, if you have a long beard or long hair, then it can be an issue.
When you look at the Logitech G430 headset, it was quite heavy, and the headband is not suitable either. Both the Logitech G935 and the G933 come with adequate comfort and exceptional design.
BUILD QUALITY
The Logitech G935 promises to be the most versatile unit in the market today. That is because you can function on any console and adapt to anything that you throw at it. The unit is pretty solid and is robust.
A small thing that our tester noticed on the headset is that it retains the fingerprints on it. This is something that you may want to watch out for. It comes with wavy curves, lovely earpads, and sleek RGB lighting.
Measuring at 7.4×7.7×3.4 inches, the unit is not as heavy it is. It weighs around 13 ounces and comes with a plastic chassis that is shiny and matte. The headband and earcups comes with outstanding geometric patterns.
The G933 comes with full RGB customization and the G logo. It also comes with three programmable macro keys having a mute button at the back. You can also find the volume dial at the back on the left side of it.
The Logitech G933 is a flexible headset. You can connect it to any device that you want. It is huge and has plush earcups. Along with the padded headband, it enables you to move around effortlessly, but it may take time to get the right fit.
On both the earcups, there are panels that you can remove seamlessly. On one of the panels, you can find the battery and on the other panel comes to the USB adapter clip when being transported.
AUDIO PERFORMANCE
The audio performance on the Logitech G935 was top-notch. The sound blew us. That is because it has the DTS 7.1 surround sound infused in it. Besides, you are provided with several equalizer options.
It is suitable for usage when gaming or listening to music. The mids and the lows are outstanding, so is the sound profile. Sadly, we could not hear the noise in the distance in shooting games.
You can enjoy the sound quality in games like Tales of Vesperia, Kingdom Hearts, and another incredible game, StarCraft: Remastered. We do want to mention that the balance of the sound was second to none.
You can feel both the bass and treble sublimely. Its vocals, music, and sound effects are matchless too. They may not be on par with the Bose models, but it is good enough for headsets that are costing less than two hundred dollars.
Some notable features of the Logitech G933 would be the programmable buttons and an RCA cable. This sublimely enables you to watch movies and play games of your liking. You can seamlessly hear the footsteps that are being you.
The highs are not very harsh, but they are present. You can feel the emphasis on bass and the high-end. Talking about the G933 powers in audio, they are acceptable. But you may not want to expect too much from them, keeping in mind they are priced lesser than the G935.
Both the models are closed-back, and you mostly do not hear any outside sound. Though they are cranked, there is sound leakage from the headset when you are on high volume.
MICROPHONE PERFORMANCE
The G935 microphone is sublime and provides you with incredible powers. You can easily hear the voices from the other end. It was clear and loud. This is something that we do not come across often among gaming headsets microphones.
It comes with a bit of reverb and might pick up the happenings in the background, which can be annoying. However, the gaming headset microphone should see you through having gameplay and casual chats online without much hassle.
The Logitech G933 microphone can be folded on the left side as and when you want. Additionally, you may find it extremely difficult to pull it back and the position how it should be. We felt that positioning it can be annoying.
The chats were crisp, and people on the other end can hear your voice solid, and it is suitable for tactical gaming purposes. Since they surround sound options with the help of the software, you can also use them.
Both the Logitech G935 and the G933 come with a sublime microphone. You can speak to your friends, clients, and gamers, and they can hear your voice crisply. However, we did feel that it came with plenty of ambient noise.
COMPATIBILITY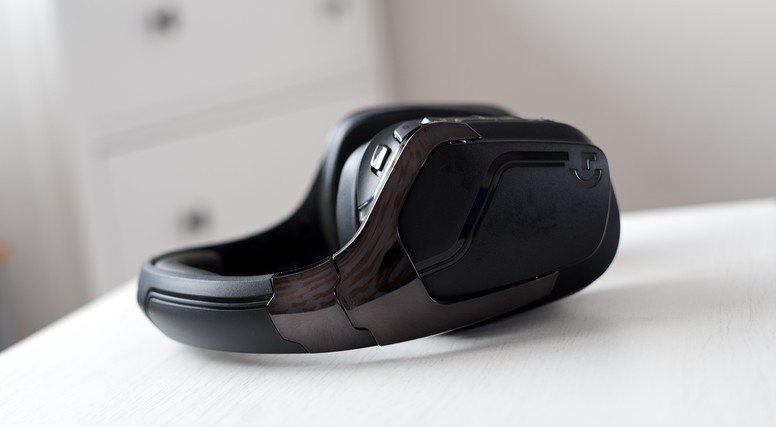 For unleashing the true powers of the G935, you need to connect with its G Hub software. There is no need to worry about it because Logitech designs the app. So, you are covered. It lets you customize your requirements.
Gamers can do a barrage of settings like choosing the illumination profiles, chasing the audio options, equalization options, and 7.1 DTS surround sound. We were not convinced with the lighting of the unit.
You cannot synchronize it with other Logitech gaming devices. If you do not use the lighting, then the battery can work for 15 hours efficiently. Gamers can flawlessly connect to the device with the 1/8″ / 3.5 mm Jack, 2RCA Output, or USB Port.
These are available with the package that is delivered to you in the Logitech G935 unit. To connect the G935 to the internet, you will need to download the software or driver. The Logitech G933 works effortlessly on your laptop and PC.
We were utterly astounded by the powers of it to connect wirelessly. It was as good as the wired units. One notable feature of the product would be the wireless range. You can seamlessly move around up to 30 feet without affecting the audio range.
You must not have any problem setting up the PC in your living room or study room. The software is similar to the G935, and we did not find much of a difference. You can use the software to adjust the equalizers, choose the audio profiles, and customize its RGB lighting.
Gamers can effortlessly set up the kind of surround sound that they want using the headset. This was amazing because the volume and microphone levels were adjustable too. It also comes with three programmable key functions to map specific commands.
We noticed that in the compatibility segment, the G935 is preferable to the G933 because the former is compatible with your laptop, PS4, Xbox One, and on your PC. The G935 model works sublimely on your Windows 8.1, Windows 8, Windows 7, and Windows 10 OS.
So, depending on your personal choices, preferences, and requirements, you can consider choosing the Logitech G933 model over the Logitech G935 unit. But we were highly impressed with the G925 compatibility performance.
PRICE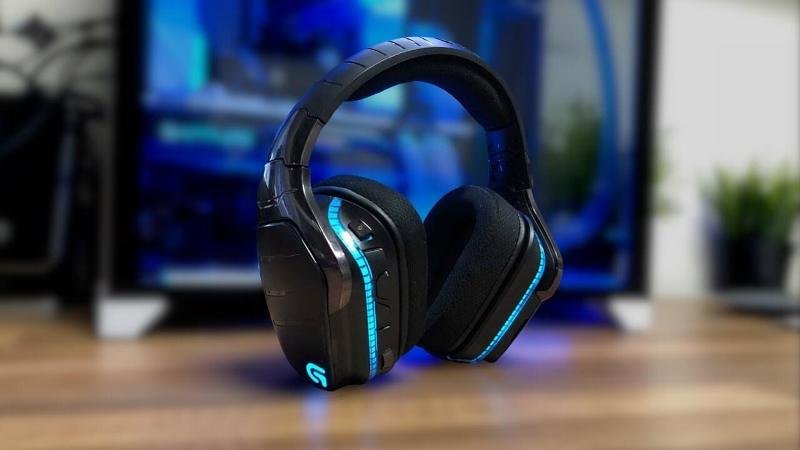 If you have read about comparisons till now, you must be wondering why you even bother to read further. You would be stunned sometimes to know that small little things like the pricing can play a massive role in the final deal.
The Logitech G935 is priced under $150 and is close to the $130 price range. You can get it for $10 cheaper during sales or the discount period. However, the Logitech G933 is priced less than $110, and you can get it for even $100.
That gives you a price difference of more than $30 at least. It is a lot of money. If you remove the pricing, then the Logitech G935 wins miles ahead, but if you include the pricing of both units, students and younger gamers might be attracted to the G933.
VERDICT
The Logitech G935 provides you with exceptional audio quality and is an excellent option for critical listening. That is because of their versatile sound profile. This is highly recommended for those of you working from home.
But as we read above, the ventilation and breathability of the headset are lagging. Their design comes heavy and not suitable for travel and sports activities. You cannot manage to isolate noise from it.
The low latency enables you to use it for entertainment purposes and gaming sessions. Besides, the microphone is phenomenal. The Logitech G933 is ideal to use as a home theater. It comes with exceptional sound, low latency, and a splendid microphone.
Before we make our decision, we want to talk about the pricing one more time. If you are on a budget or having financial constraints, then you can choose the Logitech G933. It is a splendid model and comes priced close to the $100 range.
However, if you are alright spending close to $150, then the Logitech G935 is an ideal choice because it offers you remarkable features and capabilities for the price range. We were thoroughly impressed by its looks, robust design, microphone capabilities, and sound quality.
Without a doubt, we proclaim the Logitech G935 the winner of the battle between Logitech G935 vs G933. The G935 is a way better option for you as it manages to win in the comparison segments that we read above in the review.
James Smith has always been intrigued by electronic products since his childhood. After his post graduation in electronics from a popular university, he decided to pursue a career in the electronics sector. But his calling for writing about these marvellous pieces of work got the better of him. That is how UBG was started. With a writing career spanning more than 12 years, James has worked on several hundred product reviews. During his free time, he like to spend time with his pet dog and relax in the swimming pool.