Today, you can get off those annoying wires & cables, and instead choose a pair of decent Bluetooth wireless headphones. We at, underbudgetgadgets have provided you with some of the best Bluetooth headphones in 2023 for your family.
Headphones simply meant that you had to deal with those annoying cables, that could get caught on any object, when you move around. You may have experienced those situations and completely understand what we mean by that.
We have some good news for you. Today, that situation has changed for the better, thankfully. Using Bluetooth headphones, you can move around freely in extreme freedom without having to worry about the wires getting in the way.
You can connect to your source device, without having to be plugged into it. However, you must know what kind of device to get that blends with your taste, connectivity options, and budget. Don't worry, we have got your back.
We have given a list consisting of the best Bluetooth headphones available today. You will be truly amazed to find out that the wireless headphone market has come a long way. We have seen a massive infusion of technology blended with hardware support.
That is in the form of Bluetooth technology, better sound quality. That has provided the masses with an abundance of options to make. When you want to block the background noise, then you do so with the help of wireless noise-canceling headphones.
Besides, when you are worried about the water-resistant feature, then you can use those headphones. Likewise, when you prefer using Apple devices, which does not find mentioned on our list sadly, you may make use of compatible devices.
Finally, you have to take a look at the budget of the Bluetooth headphones. During our research on wireless headphones with Bluetooth, we noticed that they were fairly expensive. However, when you want opulent sound performance and can afford it, then you would want to make use of it.
Best Bluetooth Headphones in 2023
Below is a list of some of the best Bluetooth headphones in 2023. We gave importance to their sound quality, fitting, material used, and of course, their connectivity. Here to help you from wasting your time & money on a sub-standard model, let us get started on this post.
1. Sony WH-1000XM5 Wireless
Our first product on the list of the best Bluetooth headphones in 2023, would be the Sony WH-1000XM5 Wireless Industry Leading Headphones. Sony is a popular headphone producer that has been doing well in the market all these years.
Their WH series has smashed all records in the market, and it comes as no surprise that the maker keeps upgrading their series almost every year. Last year, in 2022, they came up with the 1000XM5 model, which seems to be a nice upgrade over the 1000XM4 unit.
Let us read and find out whether it is worth upgrading to the new model or sticking to the older headphone. The 1000XM5 unit comes with eloquent features throughout. Users have claimed that the sound quality, connectivity, and battery life has been improved.
The model comes with an opulent noise cancellation-two processors control that consists of 8 microphones. These are meant for decent noise cancellation. You can be assured that you won't hear anything on the outside with these in your ears.
That is also possible using the auto NC optimizer, noise canceling is automatically optimized depending on the environment. The sound quality is superb, and that has been engineered to perfection along with the processor V1.
When you are somebody looking for a decent microphone, then this model will make you happy. It has hands-free calling with 4 beamforming microphones. Users have commended on the precise voice pickup and advanced audio signal processing.
The battery life is good at 30 hours, and it comes with a quick charging feature of 3 minutes for 3 hours of playback. It is ultra-comfortable & has a lightweight design infused having soft-fit leather.
The multi-point connection lets you quickly switch between devices, and you get to take these effortlessly in the sublime case. The intuitive touch control settings come with a host of features like control volume, pause play skip tracks, answer phone calls, and activate voice assistant.
You can use the speak-to-chat and quick attention mode to stop your music and allow the ambient sound. Using the instant pause/instant play, you can automatically pause when you remove the headphones.
They start again when you place them back on your head. The sound signature left a lot to be desired. The model is priced under $399. The unit is almost priced at $400 making it pretty expensive. We understand that not everybody has that kind of money.
However, when you want the very best in the industry, then you may want to be willing to shell out that kind of money.
2. Bang & Olufsen Beoplay HX
Second on the list of the best Bluetooth headphones in 2023 is the Bang & Olufsen Beoplay HX – Comfortable Wireless ANC Over-Ear Headphones. Bang & Olufsen is a popular brand in America, and their models are used worldwide.
Their models are durable, and reliable, but are sadly priced quite high. However, that should not deter you from using the unit for your regular activities. Let us read to know more about this model, and why you may want to get it for yourself.
The model has been produced opulently for extended wear in mind. Users have liked the comfortable & lightweight build of the unit. It also comes with an elegant touch control. There is also a powerful ANC that compensates for background noise.
It has a powerful battery life of 30 hours like the Sony model that we just read about. Besides, the authentic Scandinavian aesthetics give a minimalist design. The audio performance is one of the best in the market with a well-balanced bass and treble performance.
The unit has a clear midrange for you to enjoy music the way the artist intended. There is also a customizable sound EQ where you can customize your audio preferences with the Beosonic Tuning.
You have to get that from the Bang & Olufsen app. We also saw that the setup is quite easy & simple, with a quick Bluetooth pairing. The model work with the iPad, iPhone, and Android devices as well.
The model is priced under $500. It is quite expensive, there is no doubt about it. But when you want the optimum features that we read above, then you might want to give this a try and see for yourself.
3. Bowers & Wilkins Px7 S2
Third on our list of the best Bluetooth headphones in 2023 is the Bowers & Wilkins Px7 S2 Wireless Noise Canceling Bluetooth Headphones. Bowers & Wilkins is a famous headphone maker that has been based in England since the 1960s.
This model is a worthy upgrade to the PX7. It comes with a newly redesigned and optimized acoustic system. Moreover, you can also notice an all-new angled drive unit design. You can be assured of comfort, and it has a powerful motor system.
It delivers class-leading audio performance with increased clarity. The ANC or active noise-canceling feature in the headphones is tremendous and works like a charm. It can block all unwanted noise and offers stupendous music quality.
The external microphone can be adjustable to enhance voice clarity. You can speak clearly to the person who is at the other end. The luxury design provides you with a comfortable fit and is made from contemporary technical fabrics and lightweight polymer arms.
Users have commended the headphones for the ear cushion fit, to ensure optimum comfort for extended use. The unit is easy to set up, with the iOS/Android compatible with the B&W music app.
You can use the multi-function button on the ear cup to choose a wide range of different functions. The model has a battery life of 30 hours from a 2-hour charge. Moreover, the headphones also come with quick charge support that can deliver 7 hours of playback from 15 minutes.
It is suitable for traveling to offices or on a personal journey. The model is priced under $400 and is on the higher side. However, it comes with a wide range of features like optimum comfort, it is lightweight, impeccable sound performance, and sublime battery life.
4. Bose Noise Cancelling Headphones 700
Next on our list of the best Bluetooth headphones in 2023 is the Bose Noise Cancelling Headphones 700. Bose, a popular German brand is widely used the world over. Their models are known for their impeccable sound quality, and they are extremely durable.
Most of their models can last up to 8-10 years if used properly. These amazing noise-canceling headphones come with 11 levels of active noise-canceling. It allows you to enjoy listening to what you want including songs, podcasts, and making calls sublimely.
The sound quality in these Bluetooth headphones is nothing short of amazing. You can hear everything that you want because they are crisp and have a full bass. The microphone found on this model is good too, helping you to talk during noisy and windy environments.
You can make use of the head up and hands-free. You are also provided with simple access to voice assistants like Alexa and Google Assistant. You can do a barrage of features with them including music, weather, navigation, and more.
There is also the intuitive touch control on the earcups. It comes with a premium design that is built for comfort. The earcups are quite lightweight, and produced from stainless steel, designed for providing you with the ideal fit.
The battery life is sublime with 20 hours of wireless battery life on a single charge. There is also one touch to listen to Spotify, where you can discover new music by tapping and holding the right earcup.
You can make use of them with the help of Alexa too by placing a call to a Bose smart device or the Amazon Echo device. It can be done with the help of the Alexa mobile app. There is also the Bose Simple Sync technology to use with select Bose smart soundbars for a personal TV listening experience.
You can control the sound volume with the help of independent volume controls. Users have commended the headphone on the Bluetooth connectivity that can work for up to 33 feet or 10 meters, which is why we had to have this model on our list.
The model is priced under $380. It is somewhat on the higher side of things, but with so many specifications, and amazing Bluetooth connectivity, you can bet that the model can provide you with outstanding sound performance as well.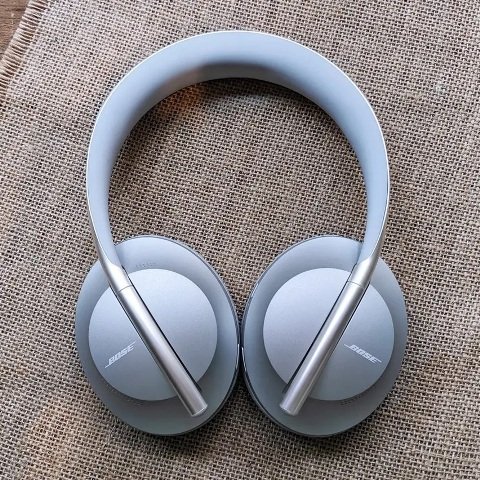 5. Sennheiser Momentum 4
Our final product is the Sennheiser Momentum 4 Wireless Headphones. Sennheiser is another German brand that has been making astounding products for the last several decades now with great aplomb.
You now enjoy an incredible music quality, because of the model's audiophile-inspired 42mm transducer system and aptX adaptive. They provide you with an amazing sound performance when listening to music.
It comes with a personalized sound through the smart control app. You need to adjust the sound according to your individual use. It can be done with the help of the integrated equalizer, sound modes, and presets.
Users have complimented the ANC feature on the headphones that provides you with a distraction-free. There is also an adjustable transparency mode that lets you know the happenings around you.
The comfort and battery life of the headphones is truly amazing. You can notice that the model is lightweight and can be folded using the padded headband. You will love the elegantly cushioned ear pads for true comfort.
This model provides you with a superb 60 hours of battery life, with the option of fast charging. The microphone capability of the headphone is truly fantastic. It comes with four digital beamforming microphones to make sure that it has a high-quality voice pick-up.
It can also automatically suppress the wind noise for optimized calls and easy access for the voice assistant. It has a speaker frequency range of up to 6 Hz to 22 kHz. The model is priced under $380.
While it is highly-priced, which is fine because it comes infused with plenty of features. But we can assure you that the product is highly rated by several online retailers. Why not try it out today, itself?
Conclusion
This is it. We have ended our write-up on the best Bluetooth headphones in 2023. We hope that you were able to make up your mind on the model of your liking. If you haven't, then you can always read the post again.
Perhaps, you may have missed out on something. We have provided you with everything that you need to make your choice on the Bluetooth headphones. We have given you with the product description, pros & cons, and the eventual winner.
The Bluetooth headphones are not only convenient to wear, but also easy to use, and move around with. We recommend the Sony WH-1000XM5 Wireless Industry Leading Headphones. The connectivity and the sound performance are simply out of this world.
However, all the models mentioned on the list are incredibly good and come with sublime features in them. Did we miss out on your favorite model? Is there something that you would like to say in this post?
If then, please write to us in the comment section, telling us about your favorite model, and your experience using it. We would be delighted to hear all about it. What are you waiting for, go ahead and get the best Bluetooth headphones for yourself.
What is the best Bluetooth headphone & why?
Through our research, we came across some fantastic models that have tremendous capabilities, and features infused in them. However, we found the Sony WH-1000XM5 Wireless Industry Leading Headphones to be the best in 2023.

It comes with phenomenal features like industry-leading noise cancellation-two processors control 8 microphones for noise cancellation. The sound performance is one of the best at the moment, engineered to perfection with a processor V1.
What is the difference between wired headphones and Bluetooth headphones?
A wired headphone comes with wires that do not allow you to move around when wearing them. However, the Bluetooth headphones allow you to move around freely, because they do not come with wires or cables.

They operate with the help of Bluetooth connectivity that can work up to 30 feet, which is good enough for any home or apartment. But you may not want to go too far away from the source device like the PC, laptop, or tablet.
Which brand has the best wireless headphones?
According to our research, brands like Sony, Sennheiser, and Bose produce the best Bluetooth headphones. Though there might be other brands like Apple and JBL, it entirely depends on your requirements and preferences.

How much do the best Bluetooth headphones cost?
As we read on this list, decent Bluetooth headphones cost above $200. There are headphones priced above $500 as well. However, you can find Bluetooth models that cost under $200 too. But it depends on your budget, requirements, and audio performance preference.
Are there alternative Bluetooth headphones worth considering?
Yes, several alternative Bluetooth headphones are worth considering. You have several models from Apple, Samsung, and even Bowers & Wilkins. These brands produce some of the best units that are available in the market for you.
James Smith has always been intrigued by electronic products since his childhood. After his post graduation in electronics from a popular university, he decided to pursue a career in the electronics sector. But his calling for writing about these marvellous pieces of work got the better of him. That is how UBG was started. With a writing career spanning more than 12 years, James has worked on several hundred product reviews. During his free time, he like to spend time with his pet dog and relax in the swimming pool.